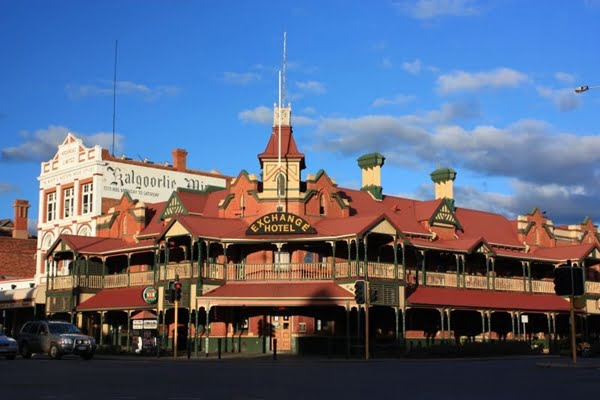 Kalgoorlie is Western Australia's largest outback city. It's about 600kms east of Perth. In 1989 Kalgoorlie and its twin city, Boulder were amalgamated to form Kalgoorlie-Boulder, although it's widely referred to as Kalgoorlie these days.
It is here that you can get a real insight into gold rush history and mining today as Kalgoorlie is still an active mining region today, and is responsible for a tenth of the world's total gold production.
Gold Rush History

Paddy Hannan is credited with discovering the first gold in Kalgoorlie in 1893. This started a goldrush in the 1890s.Life was tough and disease and lawlessness was widespread. The region became quite prosperous and this can be seen in the beautiful grand old buildings which have been preserved. In its heyday Kalgoorlie supported 93 pubs and 8 breweries! Today mining still takes place with many large mining concerns.
Here's my top 10 things to do on your visit.
1.Paddy Hannan's Statue – see who started it all. There's a bronze commemorative statue in the main street with the original one in the town hall.
2.Super Pit – you have to check this one out.


It is one of the biggest open cut mines in the world. It is the biggest producing gold mine in Australia. To date it has produced more than 50million ounces of gold.
3.Historical buildings – you can check out historic buildings, pubs and even brothels of the goldrush era. Visit the Post Office which was completed in 1899
4.St Mary's Church
This beautiful heritage listed federation gothic style church was built in 1902. It's known as the Church of Gold as legend has it that the bricks (which came from Coolgardie) contain a small gold deposit within each brick. The church is on the corner of Brookman and Porter Streets.
5.The Mining Hall of Fame recognizes the individuals that have make this industry so important to the nation. There are interactive galleries and a Minerals Gallery.
6.Australian Prospectors and Miners Hall of Fame. Explore Kalgoorlie's first gold mine. Travel 36 metres underground, with a retired miner. You can witness a gold pour demonstration and try your hand at gold panning
7.Gribble Creek Walk and Cycle Way provides a well planned route which you can follow to discover the town of Kalgoorlie, and many of its attractions.
8.Relax in a park. Try the Arboretum, Centennial Park, Chinese Garden of Remembrance, Hammond Park.
9.Miniature Bavarian Castle – said to have 40,000 gemstones decorating the façade. It's over 100 years old.
10.Visit the Roayl Flying Doctor Base. They do such a superb job and are a vital service for the outback.
and just one more….visit a pub and meet the locals.
There is heaps more to do. Check out these websites for more information. Thanks to these organisations for supplying photos.
www.kalgoorlietourism.com
www.australiasgoldenoutback.com
www.kalgoorlieaustralia.com
www.kalgoorlie-australia.com.au
Getting there.
By Car
The Indian Pacific Train crosses the Nullarbor Plain from east-coast Australia to Perth a few times a week.
You can catch a flight from Perth, Adelaide and Melbourne.