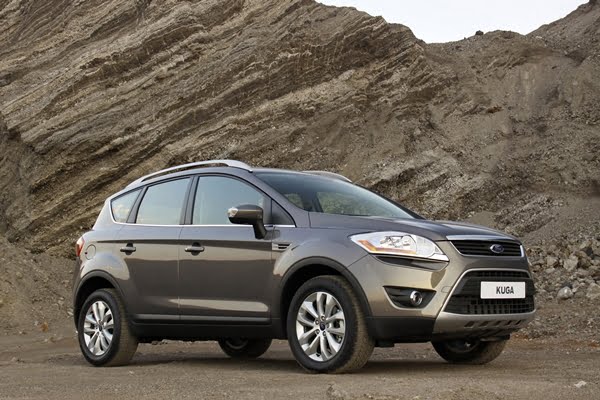 The Ford Kuga is Ford Australia's latest entry into the highly competitive compact SUV market and promises a blend of rewarding on-road driving quality and surprising off-road capability.
"With the Ford Kuga we are delivering to customers a highly capable, expressive and charismatic vehicle," said Brad Brownell, Vice President Marketing, Sales and Service for Ford Australia. "The Ford Kuga will appeal to those customers looking for something a bit different and help extend Ford Australia's model range.
"Its distinctive design DNA – shared with other Ford products in our portfolio – Ford's acclaimed on-road vehicle dynamics and premium-like product quality are just some of the highlights Ford Kuga will deliver to customers in this competitive market segment."
Importantly, the Ford Kuga customers will have peace of mind as the compact SUV will be available with myFord Capped Price servicing.
Sound foundation
The Ford Kuga is based on Ford's acclaimed C-car architecture – already well proven in the Ford Focus. With Ford Kuga, the designers and engineers have successfully integrated key driver and passenger requirements for a compact SUV into the distinctive design.
The exterior is handsome and sporty; demonstrating how the company's flexible design form language can be applied successfully to the crossover genre.
Well-balanced and with good proportions, the dynamic Ford Kuga provides spacious accommodation for driver and passengers despite being based on a compact footprint.
A high-quality interior has been designed to complement the exterior to offer a highly practical and contemporary vehicle.
The Ford Kuga comes with full-time, 'intelligent' All-Wheel-Drive (AWD) and will be
available in a choice of two distinct series levels – Trend and Titanium. Both models are powered by Ford's acclaimed Duratec 2.5-litre 5-cylinder turbocharged petrol engine.
A high level of standard equipment includes Dynamic Stability Control (DSC) with combined Anti Rollover Mitigation (ARM), and ABS with Electronic Brakeforce Distribution (EBD), both significant driver assistance technologies, plus Ford Kuga models are equipped with a 'Ford Power' start button. The Ford Kuga also gains a strong safety structure that makes extensive use of high-strength steels, which helps contribute to a 5-star ANCAP safety rating.
The Ford Kuga has been styled and finished with a high level of attention to detail. Every aspect of the car has been designed and manufactured to promote positive emotional responses from the driver and passengers.
Ford Kuga also demonstrates Ford's acclaimed driving dynamics, a strong and competent safety pedigree, high levels of quality and craftsmanship and a competitive crossover package. A high seating position, 'intelligent' AWD and sensible stowage areas also make the SUV a very attractive proposition.
"We're confident that the Ford Kuga's arrival will raise the bar in the hotly contested crossover segment," Bob Graziano, President and CEO, Ford Australia, said. "The vehicle's styling and a long list of features will appeal to customers across a number of segments."
At a Glance
A new addition to Ford Australia's SUV portfolio – a compact SUV (sports utility vehicle)
Ford Kuga wears Ford's signature styling DNA
5-star ANCAP safety rating
Impressive on-road driving dynamics with substantial off-road ability
"Intelligent'' Haldex AWD system and two distinct series – Trend and Titanium
Powered by Ford's acclaimed Duratec 2.5-litre 5-cylinder turbocharged petrol engine
High level of standard equipment on all Ford Kuga models include Dynamic Stability Control (DSC) with combined Anti Rollover Mitigation (ARM), ABS with Electronic Brakeforce Distribution (EBD) and 'Ford Power' start button
AWD system distributes engine torque up to a ratio of 50:50 front-to-rear
Optimised noise, vibration and harshness (NVH) contribute to relaxed driving and ease of communication
Plastic front guards reduce weight and provide enhanced damage protection
Ford Kuga is built at Ford's Saarlouis plant in Germany
Ford Kuga will be available with myFord Capped Price Servicing
Ford's latest compact SUV delivers in the areas of smart technology, quality, sustainability and safety
Price:
MLP – $38,990* – Trend
MLP – $44,990* – Titanium