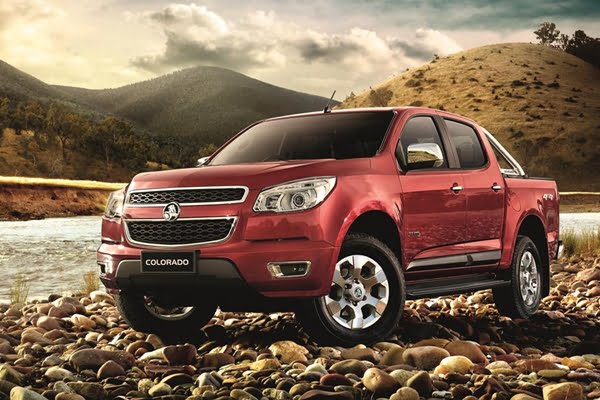 Holden has announced recommended retail pricing for the tough new-generation Colorado model range ahead of the light truck's local launch in the second half of this year.
Holden Colorado will range from $26,990 for the DX 4×2 Single Cab, powered by a 2.5-litre turbo diesel engine with manual transmission, to $51,990 for the top-of-the-range 2.8 litre diesel LTZ Colorado 4×4 Crew Cab with automatic transmission.
The new high-riding Colorado will be sold in three body styles, Single Cab, Space Cab and the family-friendly Crew Cab, and four models – DX, LX, LT and LTZ.
All Colorado models powered by the 132kW 2.8-litre diesel powertrain will benefit from a class-leading towing capacity of 3.5-tonne, while the new 4×2 DX Single Cab featuring Holden's 110kW 2.5-litre turbo diesel engine will have an impressive three-tonne towing capacity.
The Colorado workhorse will also boast a one-tonne payload across the range2 – regardless of powertrain – and will be available in 4×2 or 4×4 guise across all Single and Crew Cab models, while Space Cab will be 4×4 only.
Holden offers a six-speed automatic transmission as a $2,000 option on every model except the entry level DX cab chassis, which is available with a 5-speed manual transmission only.
Holden Executive Director Sales, Marketing and Aftersales, John Elsworth, said he was pleased to announce the Colorado model line-up and pricing well ahead of launch.
"With this announcement, customers can now pre-order a Colorado at their Holden dealer before the end of the financial year, and secure the first deliveries," Elsworth said.
"Like our Dealers, we're really keen to show customers what a great product we have with this new generation Colorado.
"We've been able to put together a really competitive package with impressive diesel performance, great driving dynamics and a one-tonne payload on every model.
"Colorado has been developed for the global market with significant Holden input. The Holden Colorado will have a suspension tune that's unique to Australia and many of the accessories have been developed locally to specifically suit our conditions.
"With four Colorado models and three different body styles in either 4×2 or 4×4, we have a Colorado to suit every customer.
"And the icing on the cake is Colorado's 3.5-tonne towing capacity on all models equipped with the new 2.8-litre turbo diesel engine."
The 2012 Holden Colorado will be packed with lifestyle and comfort features including Bluetooth® connectivity, power windows, two auxiliary power outlets, auxiliary input, USB port and iPod® compatible audio system.
Colorado will also have a comprehensive array of safety features with Electronic Stability Control, ABS, driver and front passenger airbags and side curtain airbags standard across the range.
Holden will release a full list of specifications and features for the new Colorado range closer to its mid-year launch. In the meantime, customers can preview and register their interest at: www.holden.com.au
COLORADO PRICING AND MODEL LINE-UP
Recommended Retail Pricing:
4×2 SINGLE CAB RRP
DX Cab Chassis 2.5L TD MT $26,990
LX Cab Chassis 2.8L TD MT $27,990
LX Cab Chassis 2.8L TD AT $29,990
4×2 CREW CAB
LX Cab Chassis 2.8L TD MT $33,990
LX Cab Chassis 2.8L TD AT $35,990
LX Pickup 2.8L TD MT $35,490
LX Pickup 2.8L TD AT $37,490
LT Pickup 2.8L TD MT $36,490
LT Pickup 2.8L TD AT $38,490
LTZ Pickup 2.8L TD MT $40,990
LTZ Pickup 2.8L TD AT $42,990
4×4 SINGLE CAB
DX Cab Chassis 2.8L TD MT $34,990
LX Cab Chassis 2.8L TD MT $35,990
LX Cab Chassis 2.8L TD AT $37,990
4×4 SPACE CAB
LX Cab Chassis 2.8L TD MT $40,490
LX Cab Chassis 2.8L TD AT $42,490
LTZ Pickup 2.8L TD MT $47,490
LTZ Pickup 2.8L TD AT $49,490
4×4 CREW CAB
LX Cab Chassis 2.8L TD MT $42,990
LX Cab Chassis 2.8L TD AT $44,990
LX Pickup 2.8L TD MT $44,490
LX Pickup 2.8L TD AT $46,490
LT Pickup 2.8L TD MT $45,490
LT Pickup 2.8L TD AT $47,490
LTZ Pickup 2.8L TD MT $49,990
LTZ Pickup 2.8L TD AT $51,990
Holden will offer seven exterior colour choices, which are:
Colorado 4×2
• Carbon Flash* – metallic black
• Summit White – solid white
• Nitrate* – classic silver metallic
• Royal Grey* – metallic grey
Colorado 4×4
• Summit White – solid white
• Carbon Flash* – metallic black
• Royal Grey* – metallic grey
• Nitrate* – classic silver metallic
• Blue Mountain* – metallic light blue
• Oceanic Blue* – bright metallic blue
• Sizzle – bright metallic red
*Prestige paint is an additional $550