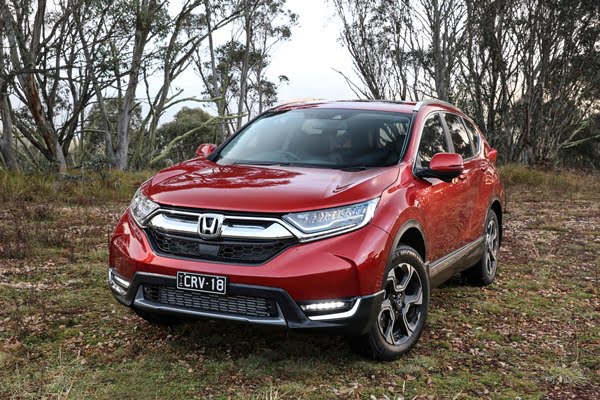 Honda has launched their 5th generation CRV to the market. The all new Honda CRV comes in 5 model variants, both 2WD and AWD, but with one engine and transmission combination. Interestingly Honda has introduced into the CRV the option of a seven seat variant, but in 2WD only.
The previous Honda CRV 's have been very successful with over 9 million sold worldwide and over 170,000 sold in Australia. The 5th generation CRV is totally new with 0 % carryover from the previous model.
Of particular interest to OzRoamer readers is the two AWD SUV models. These are the VTi-S and the VTi –LX both 5 seat models.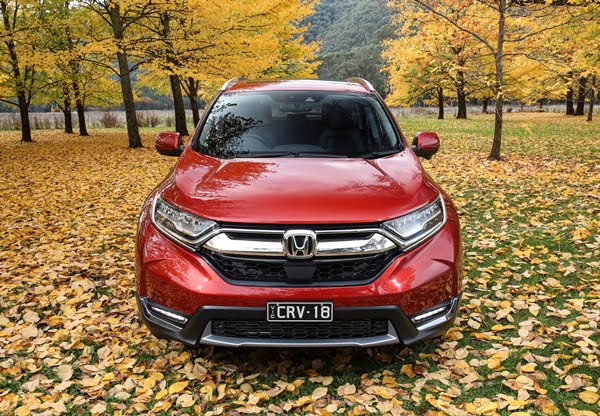 Almost everything has improved. The vehicle is slightly longer, slightly wider with more ground clearance, an improved CVT and more powerfull and economical engine. The ground clearance is now 208mm, towing capacity is 1500kg for the AWD versions with a tow ball rating of 100kg.
We tested the Honda CRV over a full days driving that covered most of the conditions that a family is likely to encounter, including dirt roads, back roads, school zones and freeway driving.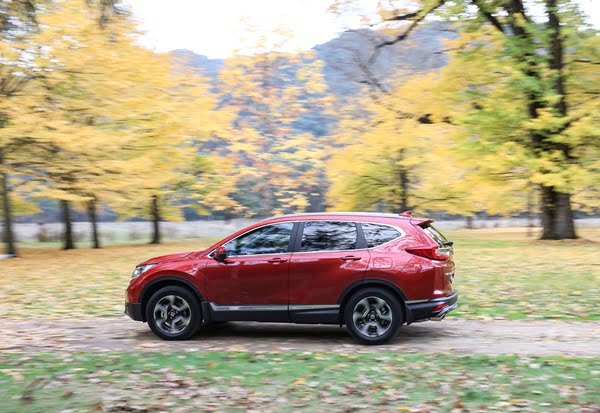 External looks are purely subjective, but to my mind the CRV doesn't look too bad and maintains iots svelte proportions even though it has grown. The side rear look has that now popular upswing for the rear window but unlike some other vehicles it fits the CRV. The front and rear both seam integrated and even the large external rear mirrors don't seem to extrude.
So there is a big tick for the design.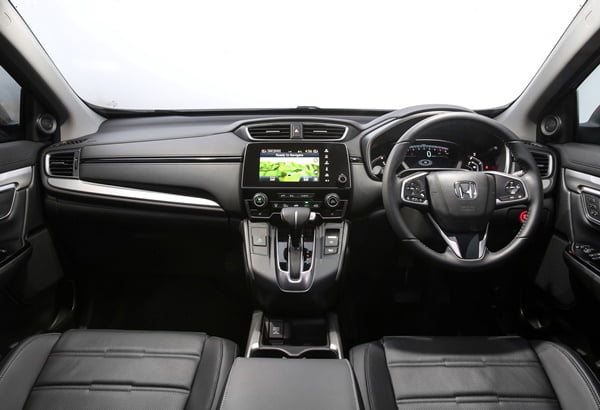 Internally is where you notice the redesign most. Honda made a big fanfare about the internal space and to be fair it was warranted. The front seats are very comfortable, right from the entry level model through to the top of the range. I am 190cm tall, and even though they restrict the front seat travel a little for rear leg room, I could slide the seat far enough back and adjust it to find a comfortable driving position. The height and reach adjustable steering wheel is thick rimmed and feels good in the hands.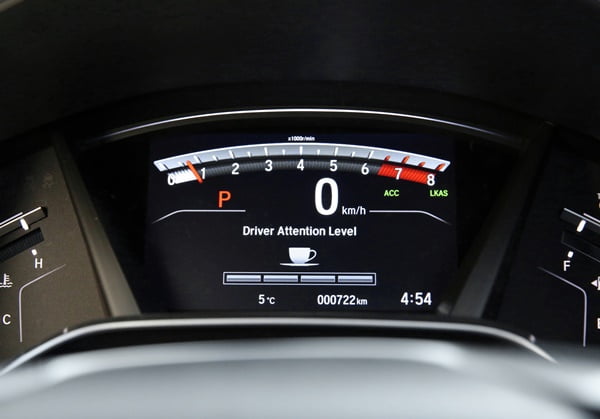 Honda has designed an alternative dash that has digital readout and a host of information. It is unusual but easy to read and clear to understand. Stalks for the indicators are proud of the steering wheel spokes so easy to see and access. The wheel houses what has now become familiar controls.
Honda has long mounted the transmission lever on the centre stack. This is not only convenient but allows a flexible centre console arrangement that they have made the most of. It provides more storage than everything else in this class, with the exception of the Captiva, and that is no reason to buy the Captiva.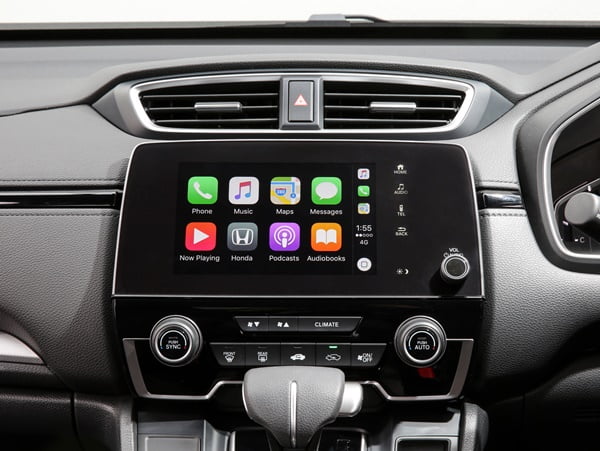 All Honda CR-V models feature a 7.0-inch Advanced Display Audio touchscreen with Apple CarPlay®  and Android® Auto operating system that offers a wide range of useful features and capabilities. The Advanced Display Audio system offers most  popular audio formats, including AM/FM radio, Bluetooth® connectivity with audio streaming,  digital radio (DAB+) and compatibility with the  Apple CarPlay® and Android® Auto platforms.
One key feature is that the 'A' pillars are resigned to provide more visibility through roundabouts and corners etc. Visibility through the rear is pretty good, but another key feature is the reversing camera, which has three modes and provides excellent clarity.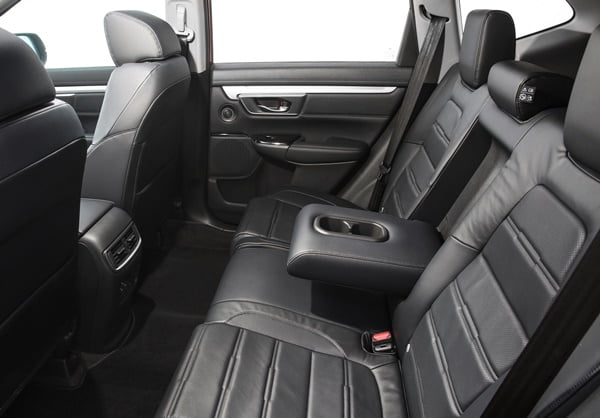 So front seats and room is good for both passengers. The rear seats again are comfortable, with a flat footwell and plenty of head, shoulder, leg, knee and foot room, even for someone that is 190cm tall like me. Visibility is also improved. And there is a fold down centre arm rest for drinks and two USB ports for the kid's electronic gadgets. The rear doors open 90 degrees to allow ease of access.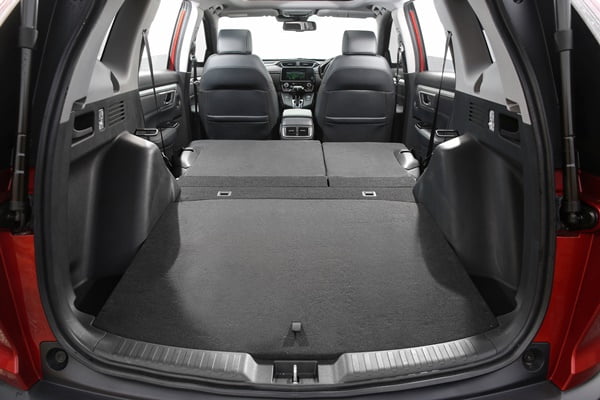 The rear seats also fold flat to give a rear boot area some 1.83m in length with plenty of volume as well. One failing for a family vehicle is the fact that child seat tethers are at the roof in the rear not on the seat backs. This severely restricts the flexibility of the vehicle and is a major flaw.
The boot area has an adjustable height rear door that has safety sensor if someone's fingers are in the way or behind the door when it opens. The load area is lower and voluminous. There is a full size spare alloy as well.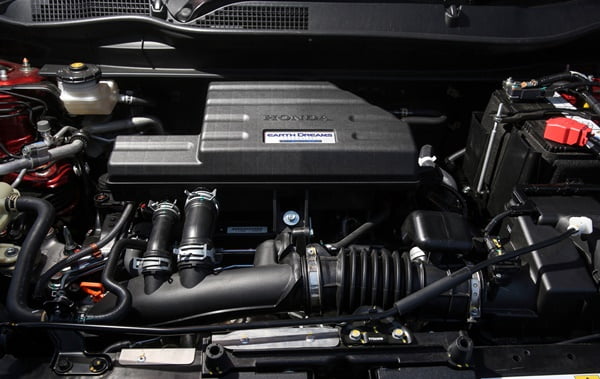 The VTEC turbo in line 4-cylinder engine provides 140kW @ 5600rpm of power and torque of 240Nm @ 2000-5000rpm through a new CVT and has either 2WD or Real Time AWD with Intelligent Control System™. available. The CVT doesn't like outright acceleration, but is responsive and with the flat torque delivery, the CRV is easy to drive and economical. Road noise is minimal and feedback through the electric assisted steering is enough to provide a pleasant drive.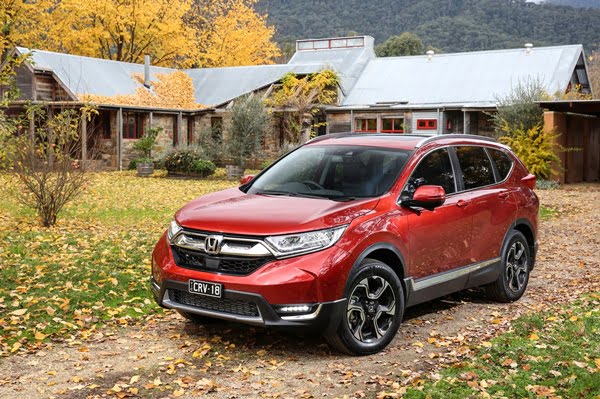 The revised suspension gives the CRV a smooth ride over most surfaces and it was surprisingly composed on the dirt section. Bear in mind that these are only AWD SUV's and they will probably see no more than a dirt track to a camping spot or river etc. However for those times when some more ground clearance is needed it is a handy 208mm as mentioned. Approach and departure angles prevent the CRV from anything more adventurous.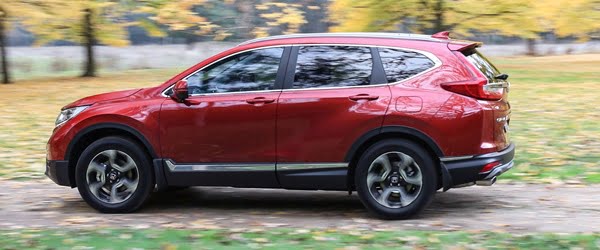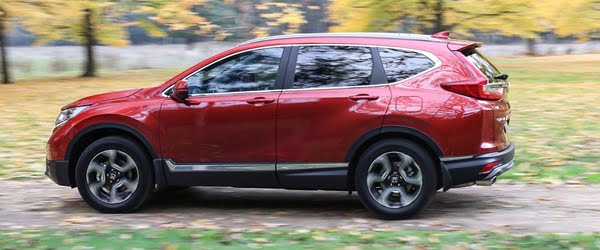 The flat torque curve will assist with towing, however the tow capacity is a modest 1500kg and the tow ball rating at 100kg limits what can be towed even more. Honda also has some accessories such as a storage pod that is for the family that has a bit of luggage etc.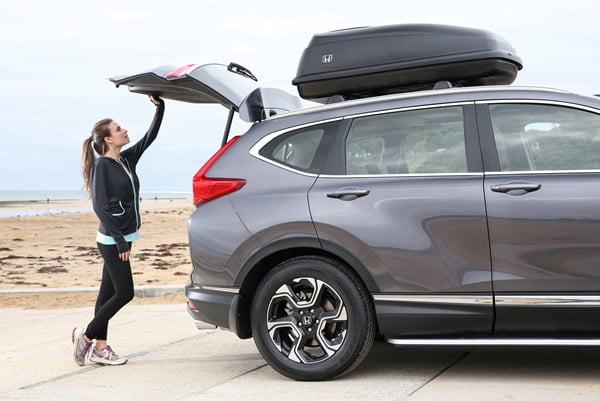 There is a host of standard safety features and on models that include Honda Sensing, the features includes the following driver-assist: – Adaptive Cruise Control (ACC) with Low Speed Follow (LSF) – Forward Collision Warning (FCW) – Collision Mitigation Braking System (CMBS) – Lane Departure Warning (LDW) – Road Departure Mitigation System (RDM) – Lane Keeping Assist System (LKAS).
So to sum up my initial thoughts on the all new Honda CRV. It looks good, is packed with standard features, has more useable space inside with class leading rear seat leg room, is priced competitively and is backed by a 5 year unlimited kilometre warranty. The decision not to harness the child seats behind the seats and run the straps to the rear roof is a major flaw.
The all new Honda CRV is set to shake up this segment of the market