HUMMER H3… well what can we say about a vehicle that is just so out of sync with current trends in the automotive industry and yet invokes so much emotion. The bright orange Hummer H3 Luxury we drove for a week was in the top three vehicles for attracting attention from …. well just about everyone.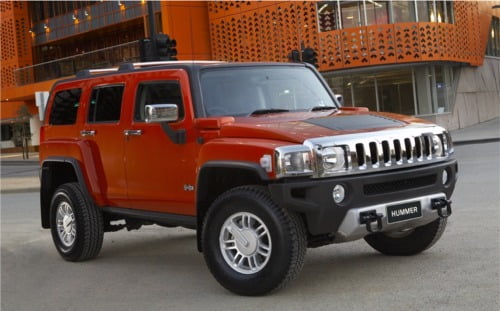 There are so many things it does so well and so many it's appalling at.
We had the Hummer H3 Luxury in a burnt orange colour that was perfect for blending unnoticed in the traffic. It had cream leather seats and thick carpet.
It's an absolute statement…. Look at me I am cool!!!!!
The HUMMER family began with the H1 ALPHA. A truck designed to be the most off-road capable vehicle on the planet. With the H2, HUMMER made a more accessible vehicle without off-road sacrifice.
The H3 is a consumer-oriented version that is better suited for daily use. However the question is more if it is suited to daily use.
What's Good & Not so Good
What is good?
· Heaps of Street Cred
· Off Road ability
· Feel good factor
What is not so good?
· Fuel economy – atrocious
· Internal space
· Archaic handbrake
The first thing you notice is that it has presence. It looks imposing, but really is not that big?
Even at a glance you immediately know the H3 is a HUMMER. The signature 7-slot louvered grille, oval headlamps, large tyres, low glass-to-metal ratio, the near vertical lines of the rear and sides of the vehicle and the rectangular windows are all classic HUMMER cues. And like all HUMMERS before it, many of these styling cues also serve certain functional purposes.
H3 packs authentic HUMMER style and capability into more compact dimensions. Compared to the famous HUMMER H2, H3 is 39mm shorter in length, 171mm shorter in height and 73mm narrower, allowing it to navigate city traffic and still deliver HUMMER trademark crawling and climbing capability.
The swing gate is mounted with a full-sized spare wheel and remote keyless entry with a panic button provides the driver with a heightened sense of security.
External features include: fog lights and halogen headlamps, five 16 x 7.5 inch alloy wheels, remote entry with panic alarm, roof cross bars and mirror caps
Inside, Comfort & Features
The immediate feeling when you first sit inside the hummer is being confined. For a vehicle that looks so big and bulky outside there is very little inside space. The extreme high doorsills and small windows exacerbate this. Spend a little time driving it and that same feeling becomes quite comforting as it cocoons you in the drivers position.
Get behind the wheel of the H3 and you'll notice that the bigger H1 Alpha influences many of the cockpit controls and features. From the rotary control switches to the individual gauge bezels to the soft touch caps on the control switches, you'll notice everything is logical, organised, easy to use and accessible. The exception if the handbrake that looks like I should be in a vehicle from last century.
In addition, you'll find a host of other features like the numerous front and rear standard assist handles that make entry easier and offer support in severe off-road terrain. The unique "Nissha" finish on the driver information centre and the perforated leather stitched steering wheel make the inside feel more luxurious.
All seating is finished with double stitched seams that give it a premium look. The front and back row seats also come with dual density foam and soft bolsters to provide additional comfort and support during severe off-road manoeuvres. Rear seat is better for two and legroom is not the best.
There is however reasonable boot space and more with the flexible rear folding seats.
Features: Automatic transmission standard, cruise control, electro-chromatic rearview mirror with eight point compass, power windows, six-disc in-dash CD, Monsoon sound system, leather seat inserts and 60/40 split rear seats, electric heated front seats with eight way power adjustment, leather wrapped steering wheel, exterior chrome package including door handles and glass sunroof.
Safety
Standard active safety features on all H3 models include: StabiliTrak® stability enhancement system, traction control, ABS and dynamic rear proportioning brakes. Passive safety equipment including dual front airbags with passenger sensing system and curtain bags is also standard on all H3 vehicles
Performance. Engine, Transmission & Suspension etc
All H3 models are powered by a 3.7 litre in-line five-cylinder petrol engine, developing peak power of 180kW at 5,600rpm and peak torque of 328Nm at 4,600rpm2 with 90 per cent of peak torque available between 2,000 and 6,000rpm. The Vortec 3700 engine has dual overhead cams and variable valve timing. This is mated to a 4 speed automatic transmission that is well behind its competitors these days.
Official fuel consumption (ADR 81/01)3 for combined highway and urban driving is 13.8 litres (manual) and 14.5 litres per 100km (automatic), in line with similar mid-size SUVs. In real life though its atrocious using in excess of 18litres per 100km around town.
H3 has a tight turning circle of 11.3 metres, comparable to an average size passenger car, and compact proportions, making it easy to negotiate in urban environments.
Front suspension – Independent SLA torsion bars, 46mm monotube gas-charged shocks and 36mm stabiliser bar. Rear suspension – Multi-leaf, semi-elliptic dual-stage leaf spring, 46mm, monotube gas-charged shocks and 25mm stabiliser bar.
Off Road & Towing
The H3 is designed to get you safely through most off-road obstacles with its fully welded steel frame, embossed front skidplate, 216 mm of ground clearance, and full undercarriage protection. The H3 is also particularly capable in water, being able to ford 610 mm of water at 8 km/h and 407 mm of water at 32 km/h. And a 37.5º approach angle will help you avoid getting stuck on obstacles.
It will climb a 60degree slope, traverse a 40degree side slope and climb a 407-degree vertical step. That's excellent!.
H3 offers a choice of two electronically controlled two-speed Borg-Warner transfer cases. The standard transfer case available on H3 and Luxury, delivers a crawl ratio of 45.1:1 in manual form, and 36.8:1 for automatic.
H3 Adventure specification takes the vehicle's off-road, rock-hopping capability to the next level with a super strong crawl ratio of 68.9:1 in manual transmission, and 56.2:1 in automatic.
During day-to-day driving H3 is full-time 4WD, with 40 to 60 per cent front-to-rear torque split in 4 HIGH OPEN. When driving on slippery surfaces such as ice, snow or sand, drivers can engage 4 HIGH LOCK, which locks torque split 50:50 front to rear and drive is transferred to the front or rear wheels as needed.
Drivers tackling challenging off-road situations can engage 4 LOW LOCK, which creates a totally different set of gear ratios. For H3 and H3 Luxury the transfer ratio is 2.64:1 and the extreme H3 Adventure boasts a transfer ratio of 4.03:1, which is the most aggressive transfer ratio GM has installed in a production vehicle.
It has a braked towing capacity of 2040kg, which is below what is expected in this market segment
As we mentioned earlier what can we say about a vehicle that is so obviously politically incorrect not only for what it is but what its origins stand for.
Well we love it.
Its faults make it endearing (most anyway) and it is a supremely cool piece of transport.
Its great off road, easy to drive around town, certainly has personality and is relatively cost effective.
It desperately needs a decent diesel motor auto transmission combination. Its 4-speed transmission mated to what is an underpowered petrol motor just chews fuel. The handbrake style and placement is just crap and it is smaller than you imagine inside.
Would we buy one? Absolutely, probably the H3 Adventurer though and use it for heavy off road use. It is as good as the Jeep Rubicon and the Land Rover Defender but is heaps more comfortable to drive than either of them.
Behind the Wheel
qqqqs
Comfort
qqqqs
Equipment
qqqq
Performance
qqq
Handling
qqqs
Practicality
qqqs
Safety
qqqs
Fit for Purpose
qqqqq
Towing Ability
qqqq
Off Road Ability
qqqqq
Value for Money
qqqq
Fuel Economy
qqq
Build Quality
qqqqs
AAG Overall Rating
qqqs
Green Vehicle Rating
qqq
CO2 Emissions g/km
320 CO2 g/km
Fuel Economy L/100km (ADR comb)
13.5L/100km
Alternative
Mitsubishi Pajero Exceed
Alternative
Jeep Wrangler Rubicon
Alternative
Nissan Patrol
Warranty
3 yr, 100,000 km
More Technical Specifications
http://www.hummeraustralia.com.au/