An iconic KOMBI has been converted to Electric power only. The aim was to take a classic 1970s VW Kombi and bring it into the 21st century by converting it to a totally electrically-powered vehicle (EV).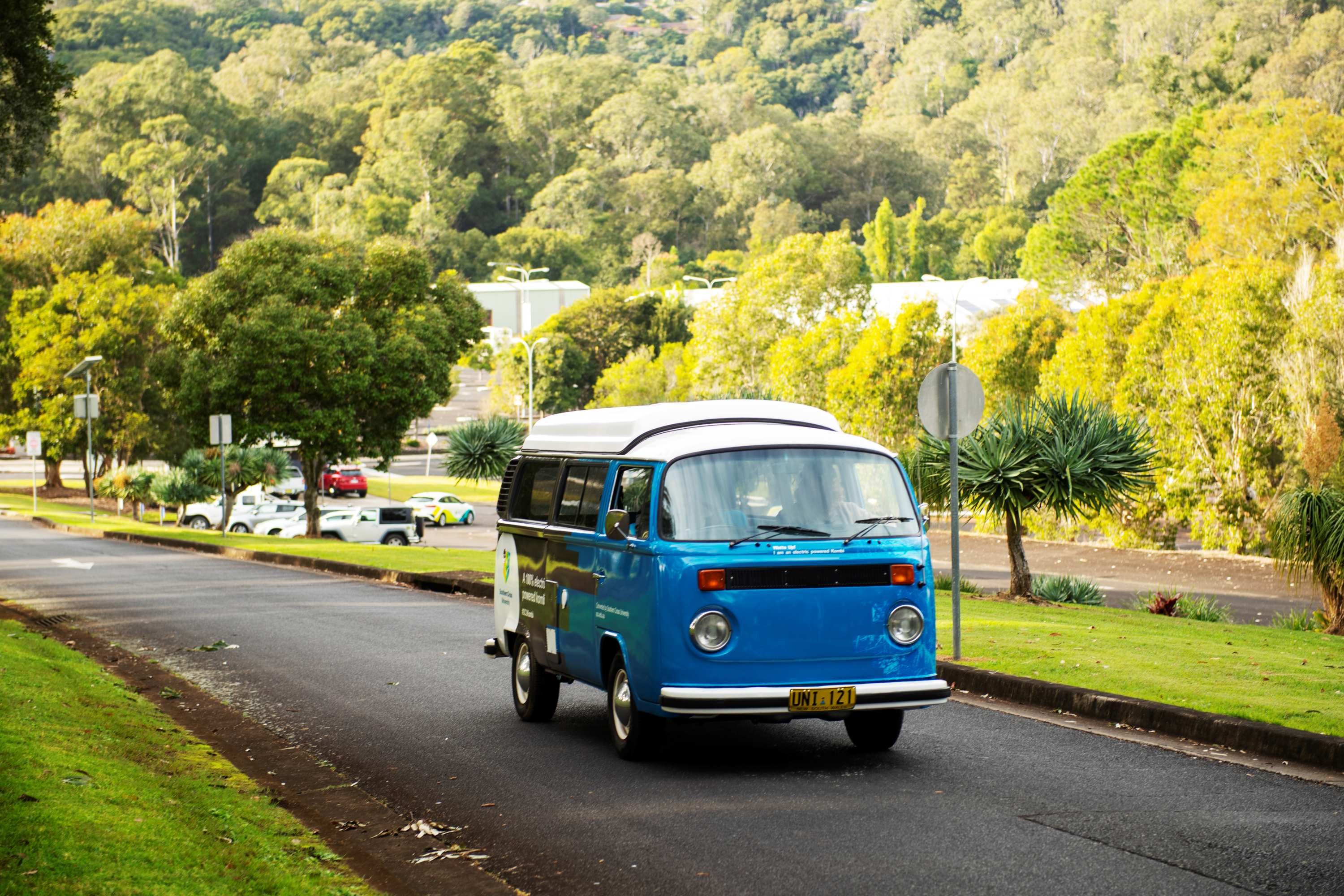 From concept to reality took 18 months but now the Kombi is fully roadworthy and capable of cost-effective, pollution-free, long-distance travel.
Decked out with eye-catching Southern Cross colours and a brightly coloured retro interior, the Kombi is a unique symbol of what ingenious engineering can achieve.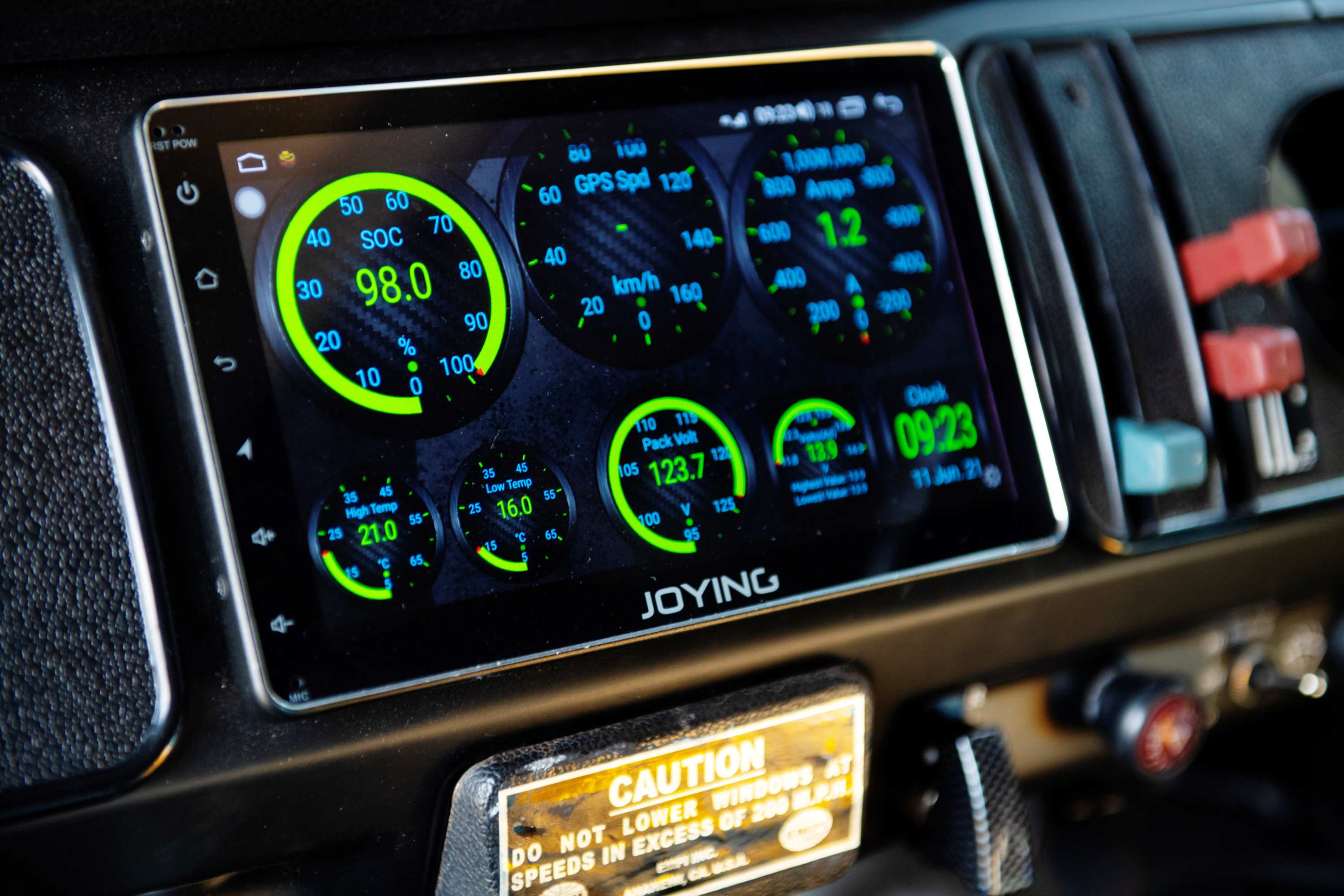 It has a 88kW AC SRIPM electric motor coupled to a 4-speed gear box and draws power from 10 5.3kWh batteries sourced from a written-off electric vehicle. Add in power steering and the technology allows this EV conversion to outperform a conventional combustion-powered Kombi on all levels.
Andy Naughton, of electric classic car conversion business EV Machina, is a Southern Cross Environmental Science graduate who was commissioned to undertake the conversion, using his own customised solution.
"The batteries are split into two encased packs, one between the front seats and the other in the rear engine bay, with both being charged simultaneously. An elaborate battery management system controls the delivery and distribution of power," said Mr Naughton, who also won a 2018 Clean Energy Hackathon run through the University's Enterprise Lab.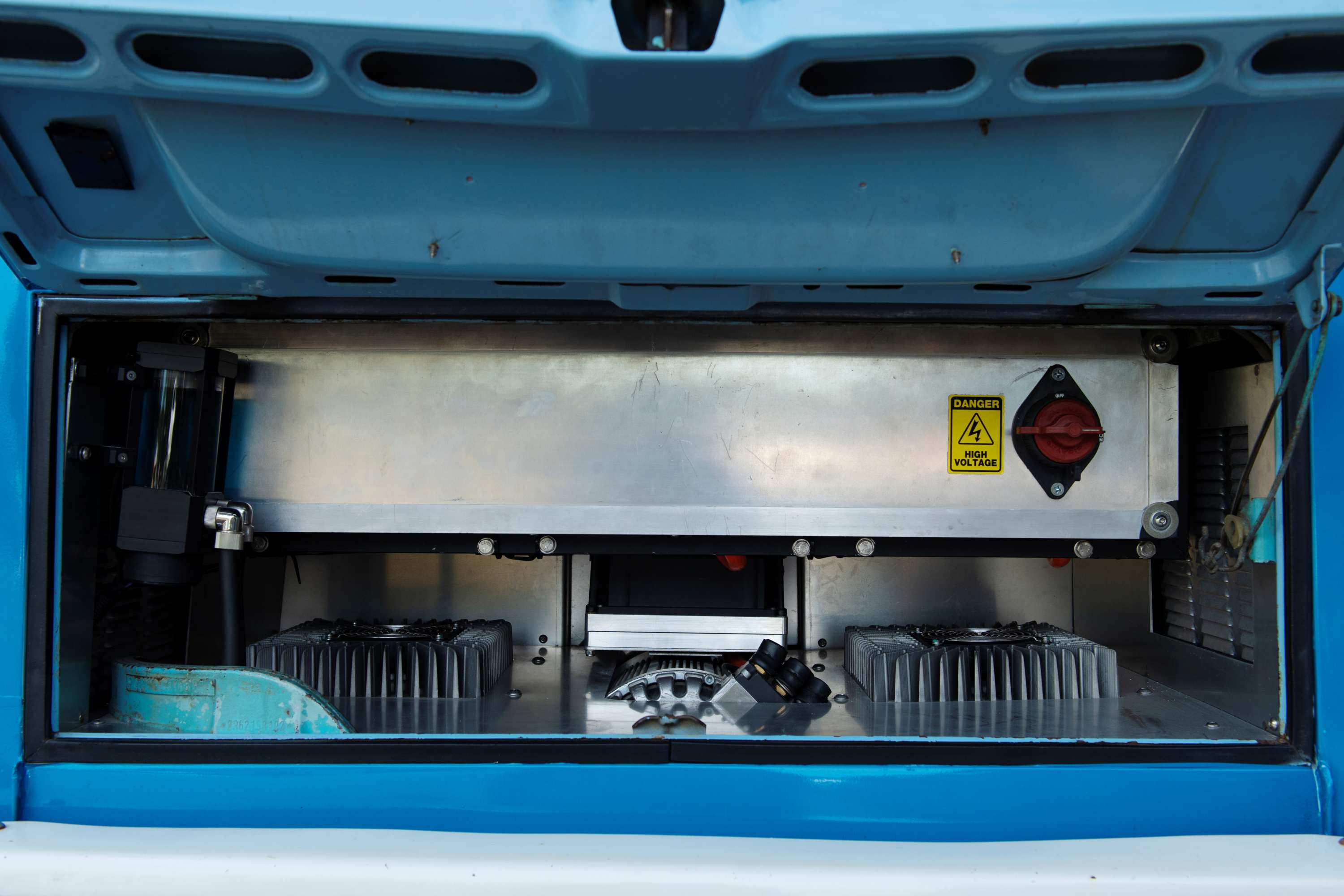 "This particular combination of the range, the power, the idiosyncrasies of a Kombi – all add up to make it one-of-a kind electric vehicle conversion. And we had to learn along the way – there was no workshop manual for this one.
"The car has incredible torque and its acceleration is not what Kombi drivers would expect, that's for sure.
"VW purists might miss that Kombi engine sound but with the whole world moving away from combustion engines this offers a great compromise of keeping old vehicles on the road with new technology," Mr Naughton said.
Chair of Engineering and Information Technology at Southern Cross, Dr Ricardo Vasquez Padilla, said the Kombi was a wonderful opportunity to have students involved at the cutting-edge of technology and engineering systems.
"One of our students helped with the CAD (computer-aided design) of components and then saw them through to manufacture. It was a great hands-on experience," he said.
The 18-month project, jointly funded by Investment NSW's Boosting Business Innovation Program, delivers on four fronts:
A retro-fitted electric vehicle with a driving range that suits regional Australia.
A tangible – and mobile – learning resource about renewable energy available for schools nationally.
The project was led by a Southern Cross graduate and included hands-on electrical and mechanical engineering experience for current students.
The new electric Kombi complements another existing Southern Cross renewable energy project – the solar-powered Sunflower that delivers remote power.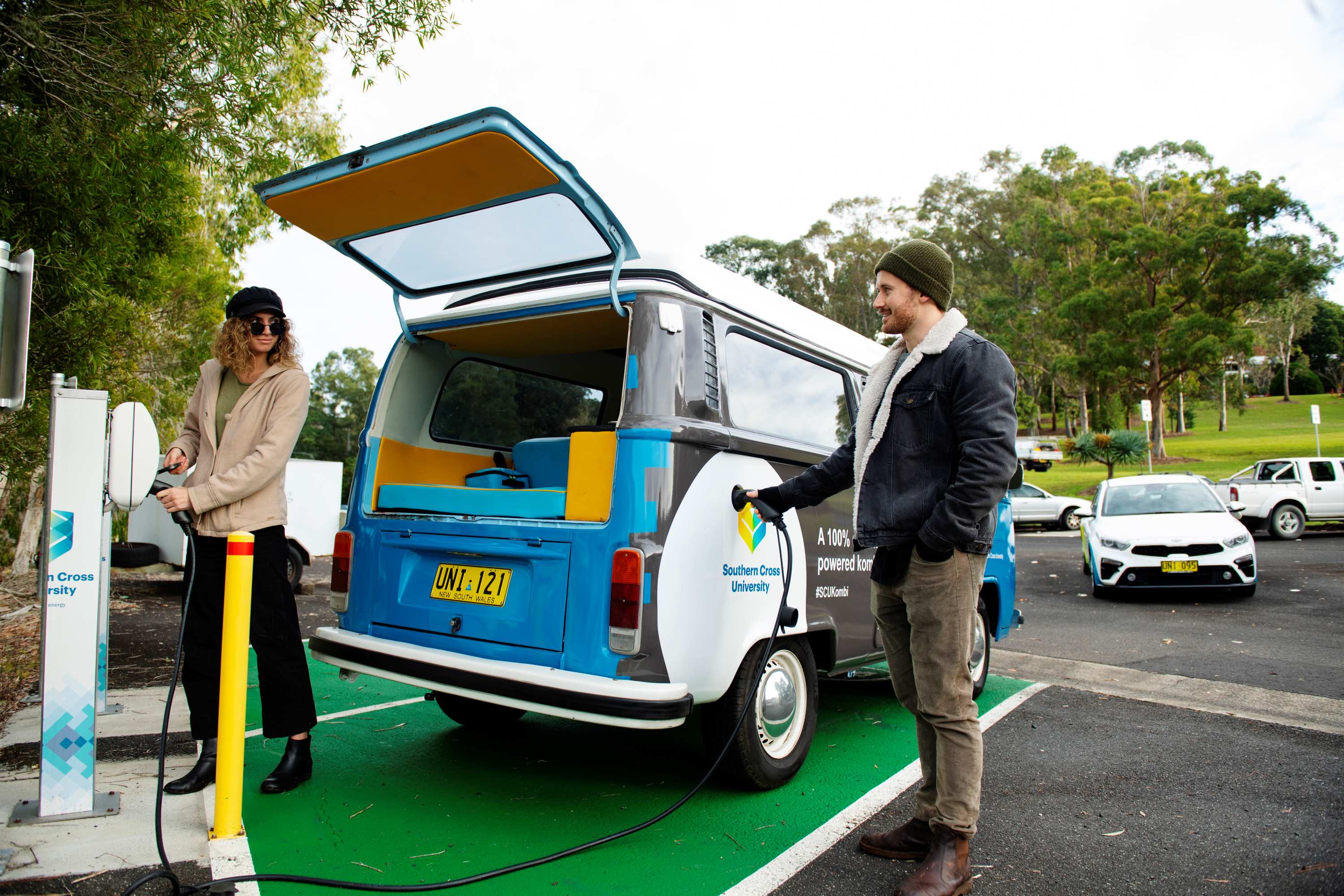 Southern Cross Vice Chancellor Professor Tyrone Carlin said the electric Kombi is now part of a narrative about a University determined to find solutions to today's challenges.
"One of our goals was to create a Kombi that had a range that was practical for regional Australia, and at 200km or even more per charge, we believe we have achieved that," Professor Carlin said.
While contemporary electric vehicles, such as Tesla, are emerging with long-range capacity, most converted vehicles – especially those with the aerodynamics of a Kombi – have been limited to the 80km-160km range.
"The romance and nostalgia attached to Kombis generally, but particularly in the Northern Rivers, only adds to the story of this vehicle," the Vice Chancellor said.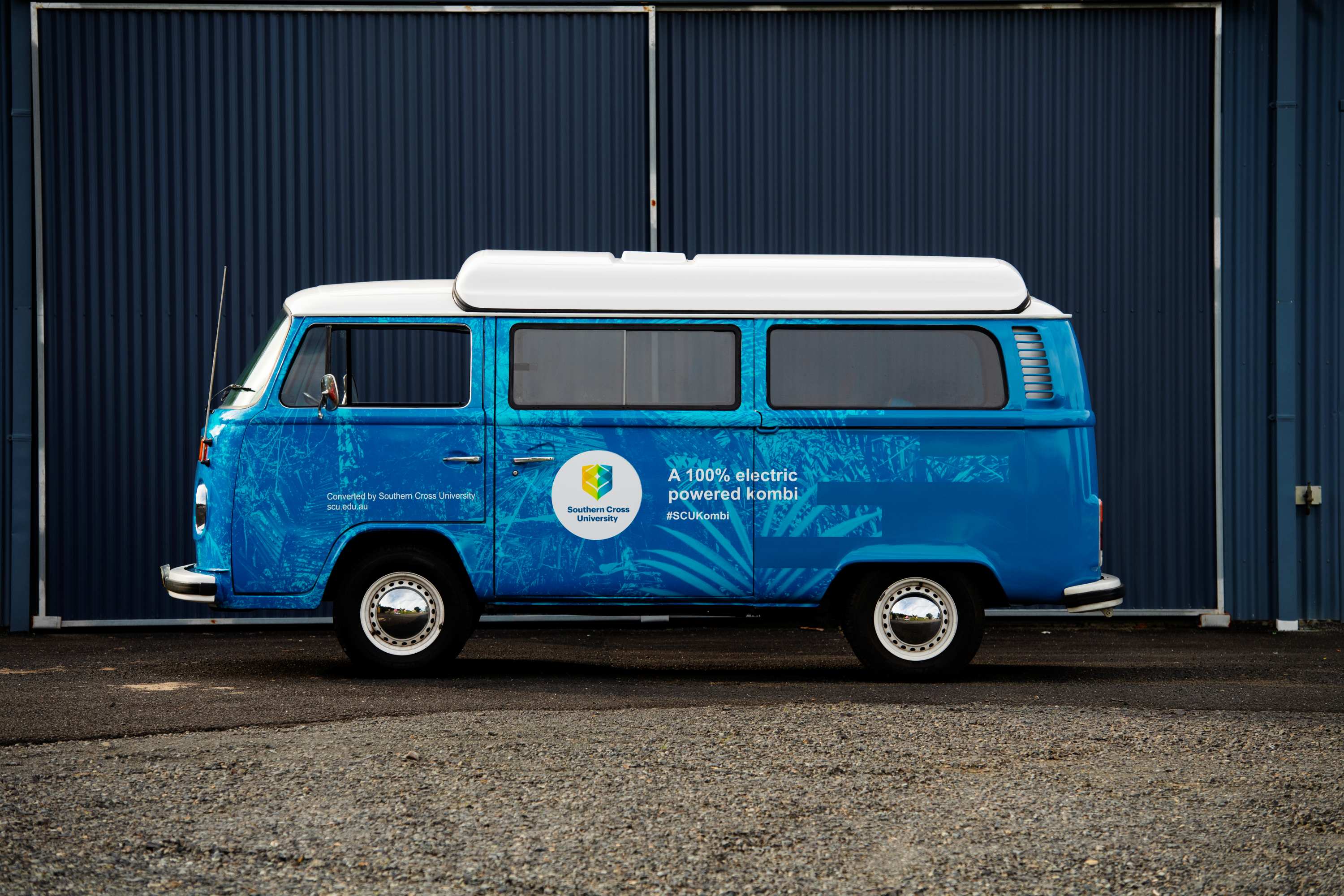 The vehicle's EV conversion features:
Motor: 88kW AC SRIPM electric motor with custom-built aluminium transmission adapter plate attached to original transmission
Batteries and Charging: 53kWh water-cooled lithium battery pack (10 x 5.3kWh batteries); 6.6kW onboard AC charging system for faster charging on the road
Braking: Electric pump-boosted disc brakes with additional motor braking (off-throttle pedal and on-brake pedal) for regenerative braking increasing efficiency
Power steering: Speed-variable custom electric power steering system allows for better manoeuvrability
Gears: 4-speed gearbox
Dashboard connectivity: Web-connected display with android operating system and OBD connection to motor and battery information; Adjustable regenerative braking modes with a dashboard toggle switch plus a drive-neutral-reverse switch; Reverse camera
Cruising speed: 110km/h highway cruising speed
Optimum highway range: 200 – 200 kilometres
Optimum urban traffic range: 250+ kilometres
Visit www.scu.edu.au/kombi to learn more.