Isuzu MU-X is one of the best towing vehicles on the market, especially when you consider the bang for your buck with capability, economy and ease of towing. The latest MU-X takes a great towing vehicle and makes it better. 
Isuzu MU-X Highlights
Unique Australian-specification All-New MU-X now capable of towing 3.5-tonnes braked.
Generous payload and axle weight capacities to accommodate accessories.
Equipped for the long haul, with an 80-litre fuel tank and a range of up to 1,000kms per tank.
4WD models feature 'Terrain Command', a Rear-Differential Lock and Rough Terrain Mode as standard.
Engineered to travel, the All-New MU-X combines the latest in driver-assist and safety technologies, improved capabilities including 3.5-tonne braked towing and increased payload capacities for tourers and families who don't pack light.
Coupled with new-levels of refinement and equipment to match the famed dependability of the previous-generation that has solidified the MU-X as a favourite amongst Australians for close to a decade, the All-New MU-X in its unique Australian-specification is set to continue its popularity.
The first-generation MU-X has long been a favourite amongst families and travellers as a spacious, versatile and dependable multi-purpose seven-seat SUV. Derived from the award-winning Isuzu D-MAX ute, the MU-X has been the #1 selling 'ute-based SUV' for the past seven years.
At home in the suburbs during a typical nine-to-five working week, on the open road with a caravan in tow and off the beaten track when the road ends, the MU-X has proven its place as the versatile solution for many families in need of a vehicle for all occasions.
"For years, the MU-X has been a favourite with travelling motorists, caravaners and families—the perfect all-rounder that ticked the boxes for so many Australians," said Isuzu UTE Australia's Managing Director, Hiroyasu Sato.
"I'm proud to say that this will continue with the All-New MU-X, with its 3.5-tonne braked towing capacity, generous storage and carrying capacity and refinements inside and out set to continue that trend."
"We asked our customers what they valued and what we could improve on, and their feedback has led to this latest-generation MU-X. It truly is a vehicle influenced by the feedback of Australians, for Australia."
With customer surveys detailing that half of all Australian Isuzu owners tow with their vehicle, Isuzu engineers have introduced a new lighter and stronger body-on-frame chassis with new coil spring suspension, which affords the All-New MU-X a braked towing capacity of 3.5-tonnes.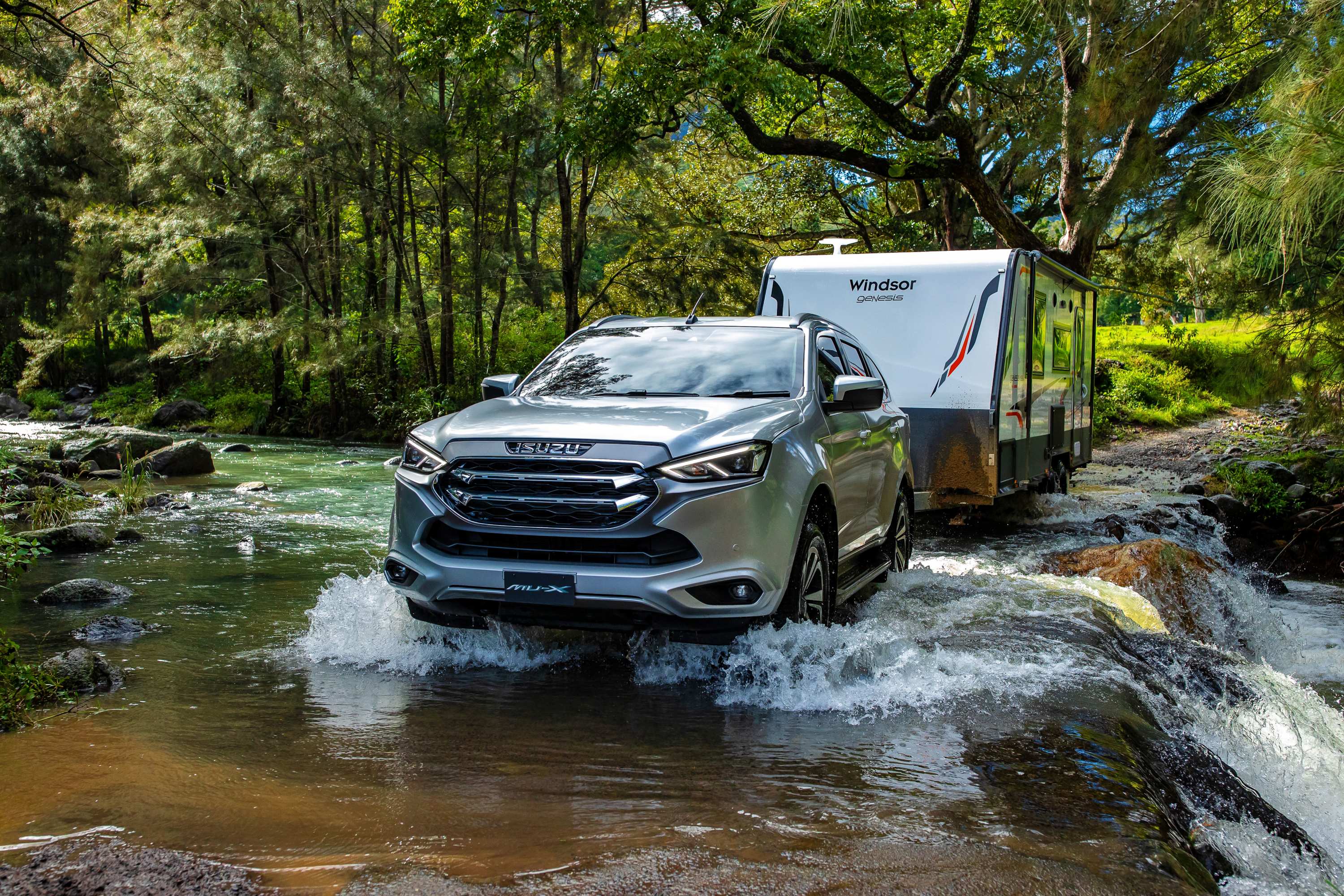 Isuzu MU-X Body and Chassis
Regarded as the backbone of a vehicle's strength and capability, the new chassis is extensively constructed with high-tensile steel. Through the adoption of wider (+14%) and taller (+34%) longitudinal chassis rails with additional reinforcement by way of an extra lateral crossmember and a new rear subframe cradle, the All-New MU-X improves longitudinal and torsional rigidity by +25% and +23% respectively.
Eight large body mounts keep the body secured atop of the chassis, which is now constructed using double the amount of ultra-high and high-tensile steel that was used in the previous-generation MU-X. The manufacture adds an additional 157 spot welds across key areas of the body and an innovative ring-structured manufacturing design; which integrates the B, C and D-Pillars with closed cross sections. Overall, the body is +10% stiffer and stronger in comparison with the preceding MU-X.
This chassis and body combination is the strongest and most durable ever seen in a MU-X, featuring improvements in corrosion-resistance, rigidity, capacity, quietness and safety.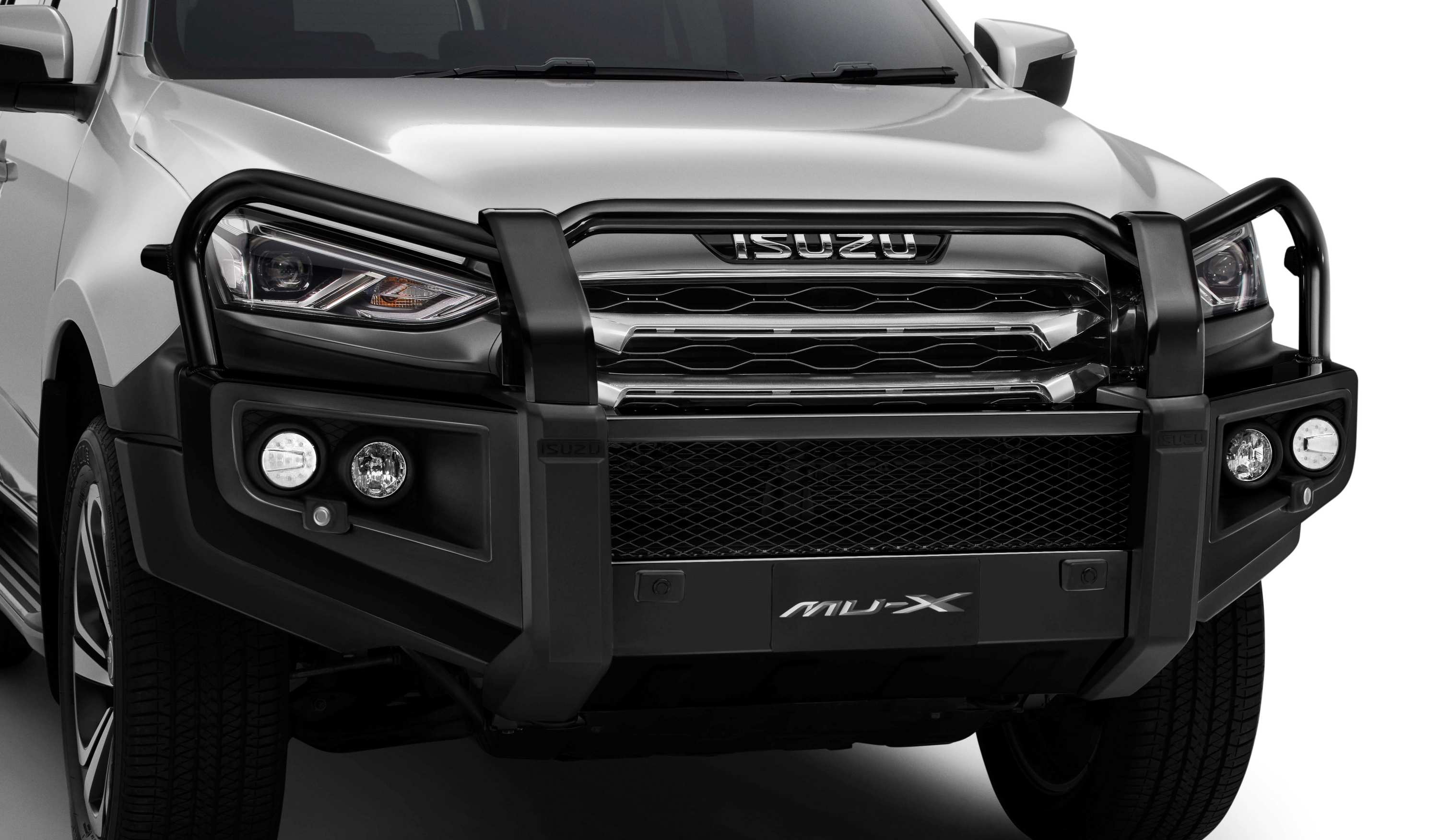 Isuzu MU-X Suspension
Improvements to the ride, comfort and handling have been made by redesigning the suspension—a tune engineered for Australian customers looking to tow. Improving on the independent front suspension (IFS) design for improved ride and handling, up front is an all-new double wishbone design with new high-mounted upper-control arms.
The wider span upright arms further helps to maintain camber and caster angles and geometry composure; maintaining a wider contact patch with the road and vastly improving cornering stability and performance. This improves control of wheel geometry during compression and extension, whilst optimising the roll centre geometry and improving vehicle handling and dynamics.
An increase in front spring rate further stiffens the front axle; enhancing chassis composure, corner stability and front axle load capacity, without compromising ride or handling. A heavily redesigned 34mm-diameter front anti-roll bar further aids in optimising roll centre geometry and reducing body roll.
Overall, the improved IFS design ensures the All-New Isuzu MU-X remains stable, predictable and comfortable when on-road, while maximising axle droop, flexibility and traction when off-road.
The five-link coil spring rear suspension has been completely redesigned to handle an increased payload when towing, whilst still remaining comfortable when unladen. Stiffer than the previous MU-X, rear coil spring rate has been increased to 2.56kgf/mm, allowing for increased payload capacity when loaded up, with minimal vehicle pitch and squat.
Redesigned to reduce unwanted body roll and improve vehicle composure, the 23mm diameter anti-roll bar has a 36.6% wider span than the previous model—measuring 1,250mm in width across the axle up from 915mm—which better manages sprung mass in corners. Overall, the new coil spring suspension offers more flexibility, load-carrying capacity and enhanced handling and dynamics than the preceding MU-X.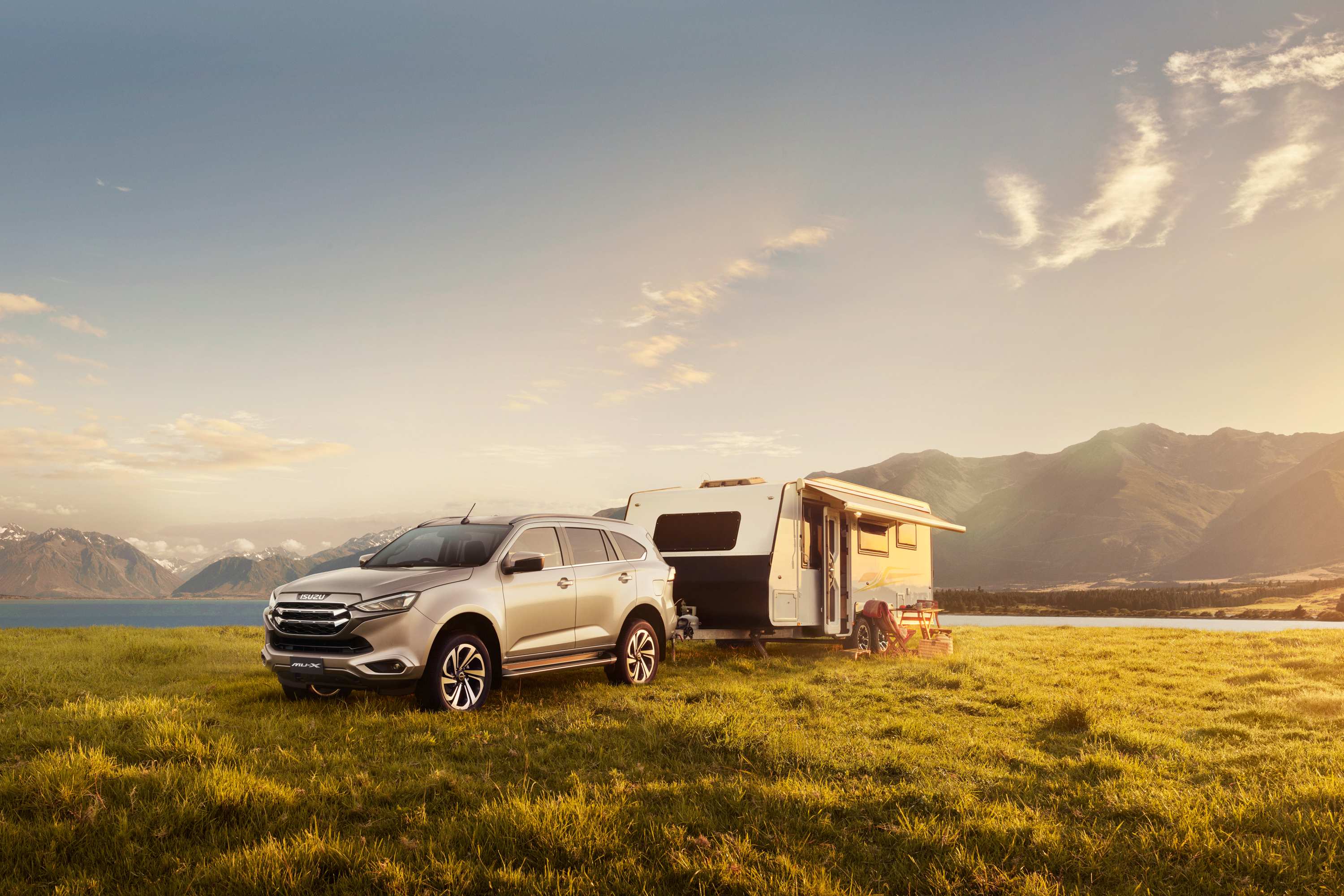 Isuzu MU-X GVM, GCM and Payload Capacities
Combining the lighter and stiffer chassis with the more versatile and capable suspension tune, not only have Isuzu Engineers increased the All-New MU-X's towing capacity to 3.5-tonnes, but they've increased the payload capacity, Gross Vehicle Mass (GVM), Gross Combination Mass (GCM) and axle loads.
The GVM has increased by +50kg on each model to 2700kg or 2800kg depending on the vehicle's 4×2 or 4×4 drivetrain configuration. The GCM scales in at 5900kg—a sizable increase of +150-250kg when compared with the previous-generation MU-X. Front and rear axle loads have also increased by +100kg and +50kg respectively, allowing for more room for accessory and frontal protection fitment.
Vehicle payload capacity varies across the range, with the MU-X LS-M 4×4 able to carry up to 665kg; ideal for families that don't pack light when on the road for an extended trip.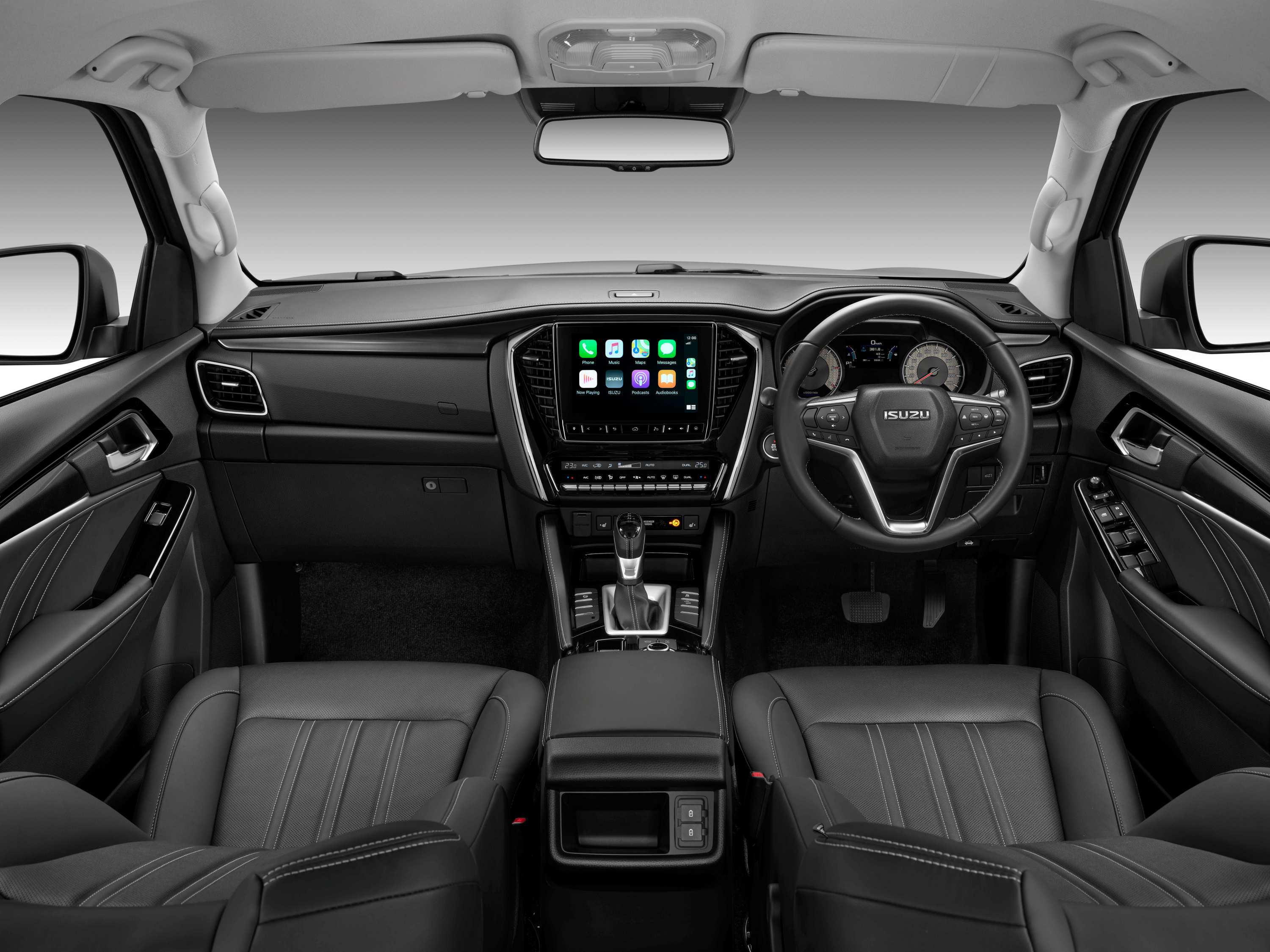 Isuzu MU-X Interior
With the majority of Australian motorists spending upwards of three-hours on average behind the wheel each day, the interior of the All-New MU-X has been designed to maximise occupant comfort and space, no matter how long the journey is.
Seven-seats, each trimmed in either premium cloth or leather-accented upholstery combines quality with comfort with each pew individually reclinable; a welcomed addition whilst on the road. It also features a plethora of cavernous storage solutions, including dual glove boxes, smart phone nooks, twelve drink holders and best-in-class rear storage capacity of any ute-based SUV caters for the masses.
Catering for Australia's adverse climates, all variants feature air conditioning vents and controls across all rows, with LS-U and LS-T models further benefiting from dual-zone climate control.
The LS-T takes comfort in cooler climates a step further, with the quilted leather-accented front pews featuring variable heating, and a Remote Engine Start feature—which allows the driver to start the vehicle remotely to warm or cool the interior.
Featuring the latest in connectivity and infotainment technology, at the heart of the interior is a new 9-inch high-definition infotainment system (LS-U and LS-T), with LS-M variants sporting a 7-inch screen. Smartphone mirroring is standard across all models, with Android Auto™ and wireless Apple CarPlay® conveniently ensuring that Android devices and iPhones® respectively remain connected. In the LS-U and LS-T, planning the route ahead is also simple and intuitive with in-built Satellite-Navigation.
Maximising its carrying potential with customer feedback in mind, rear luggage access has been improved with a higher and flatter load surface, with LS-U and LS-T models featuring a power tailgate for easy use. Internal rear storage volume has increased to a total of 2,138 litres (SAE measurement) with the 2nd row and 3rd row folded flat.
With just the 3rd row folded, the MU-X can accommodate 1,119 litres of storage and with all rows unfolded to accommodate seven-occupants, rear cargo volume is 311 litres—more than enough to fit a full-size golf bag, a folded-up pram or a week's worth of shopping.
All in all, the All-New MU-X is the most relaxing, comfortable and spacious vehicle ever designed by Isuzu.
Isuzu MU-X Powertrain
While strength to carry is important, torque and efficiency is key to getting there, and back again. Renowned for its dependability, durability and real-world efficiency, Isuzu's 4JJ3-TCX 3-litre, turbo-diesel engine and 6-speed automatic transmission powers the All-New MU-X. Power and torque outputs have been increased to 140kW at 3,600rpm and 450Nm at 1,600-2,600rpm—a 10kW and 20Nm improvement over the preceding-generation's mill.
Optimised for towing, hauling and efficiency, midrange torque has been improved, generating 400Nm from 1,400rpm through to 3,250rpm. Impressively, 300Nm is produced from just 1,000rpm—just above idle—a benefit to four-wheel drivers who require low-down torque for crawling up hills in low-range. The result is a linear delivery of torque across the entire rev-range and a welcomed improvement in both drivability and performance, particularly when towing or under load.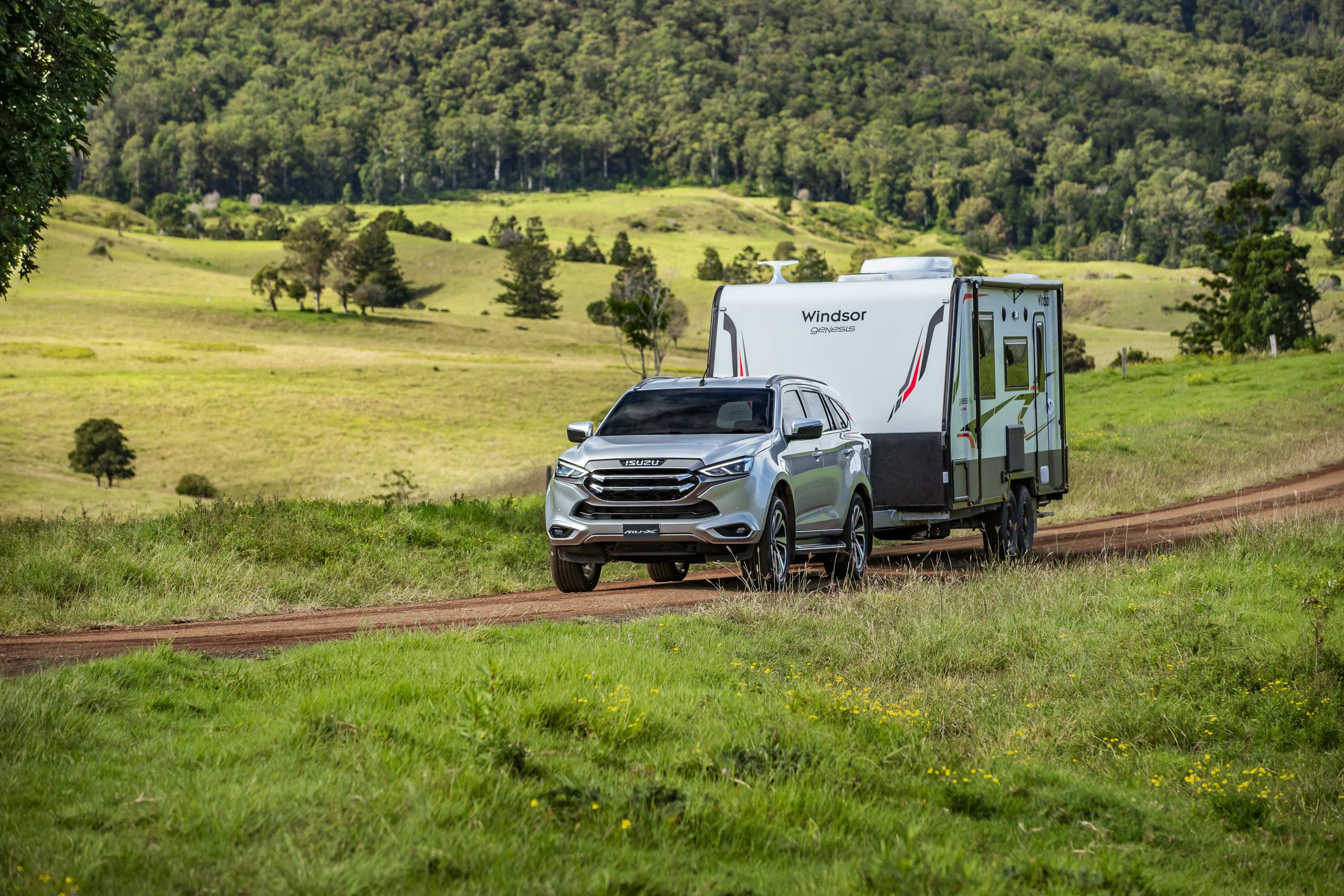 With lower exhaust emissions than any Isuzu before it, the 4JJ3-TCX in the MU-X pairs the proven Diesel Particulate Diffuser (DPD) with a maintenance-free Lean Nitrogen Oxide (NOx) Trap (LNT) and H2S Catalytic Converter within the exhaust system, which significantly reduces harmful particulate matter, NOx and Hydrogen Sulfide (H2S) exhaust emissions.
Maximising range between fuel fill-ups, the All-New MU-X further benefits from a 23% larger fuel tank, increasing fuel capacity to 80-litres—an important update fuelled directly by feedback from towing and touring motorists. With official combined-cycle fuel consumption figures returning 7.8-8.3-litres/100km, the best of the All-New MU-X range has the capability of travelling upwards of 1000-kilometers on a single tank of diesel.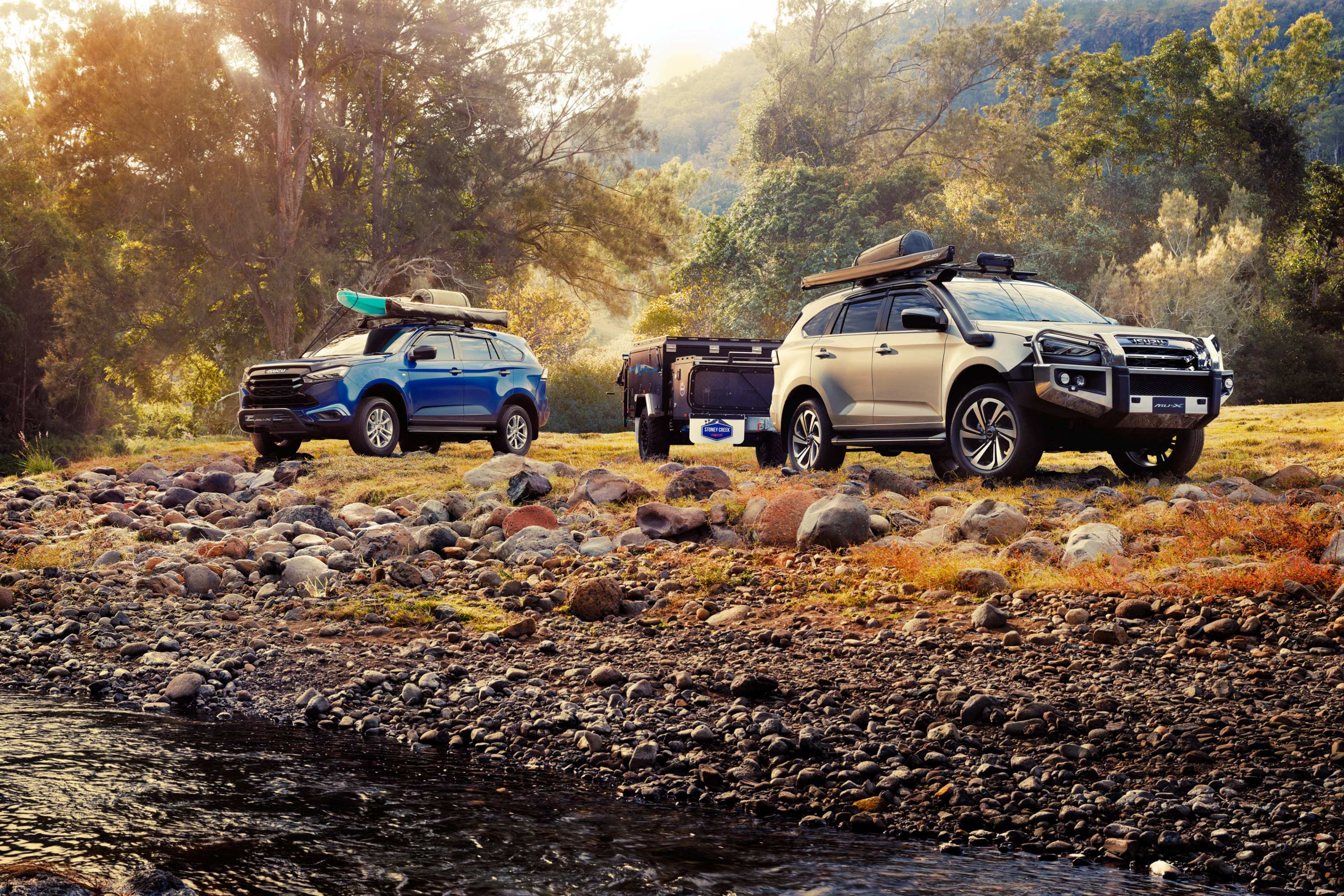 Isuzu MU-X Off-Road
Engineered with the hardware to get you out there and back home again, all 4×4 variants come equipped with 'Terrain Command' Control, which allows the driver to seamlessly switch between 4×2-High, 4×4-High and 4×4-Low drive modes at a twist of a switch, in under a second.
Compared with the previous-MU-X, the dual-range transfer case is more efficient and durable, transferring drive to the front axle via a stronger front shaft and a pair of stronger and thicker CV shafts.
At the rear, a new stronger one-piece carbon steel tail shaft replaces the outgoing item and transfers torque to the rear differential—which now features an electromagnetic rear differential lock, which is conveniently activated at the press of a button.
Drawing air from the front of the vehicle, the engine air intake has been heavily revised with a labyrinth of sealed airways that enables the MU-X to wade through water of up to 800mm, at a constant pace of 7km/h.
An optional engine intake snorkel can be installed using the pre-fabricated pathway in the internal wheelhouse—a specialised conduit crafted during vehicle assembly that is unique to the Australian-specification MU-X.
Mitigating the likelihood of water ingression during water crossings, differential breather hoses are routed and vented clear above the 800mm wading depth capacity.
Extensive 1.5mm-thick steel and 5mm-thick poly-composite underbody protection protects vital powertrain components from debris and ground strikes when off-road, whilst the 80-litre polyurethane fuel tank is encased with an additional layer of aluminium shielding for additional protection.
Maximising traction and driveability in technical, slippery and rough conditions, all MU-X 4×4 models feature a 'Rough Terrain Mode' electronic off-road driver aid. Effective at controlling excessive wheel spin, the system measures slippage via wheel speed sensors and finely modulates brake force to each individual spinning wheels, which in turn redistributes torque to the opposing-wheel on the same axle with more grip.
This maximises drive transfer to the surface by proportioning torque to the wheels with the most grip; for optimal driveability, tractability and torque transfer to the terrain, with little to no loss to momentum.
With more suspension travel than the previous-model, a new stronger body and chassis and a new 3-litre turbo-diesel powertrain with selectable 4WD providing torque and drive, the All-New MU-X is as capable churning through soft sand on Fraser Island as it is traversing the Gibb River Road.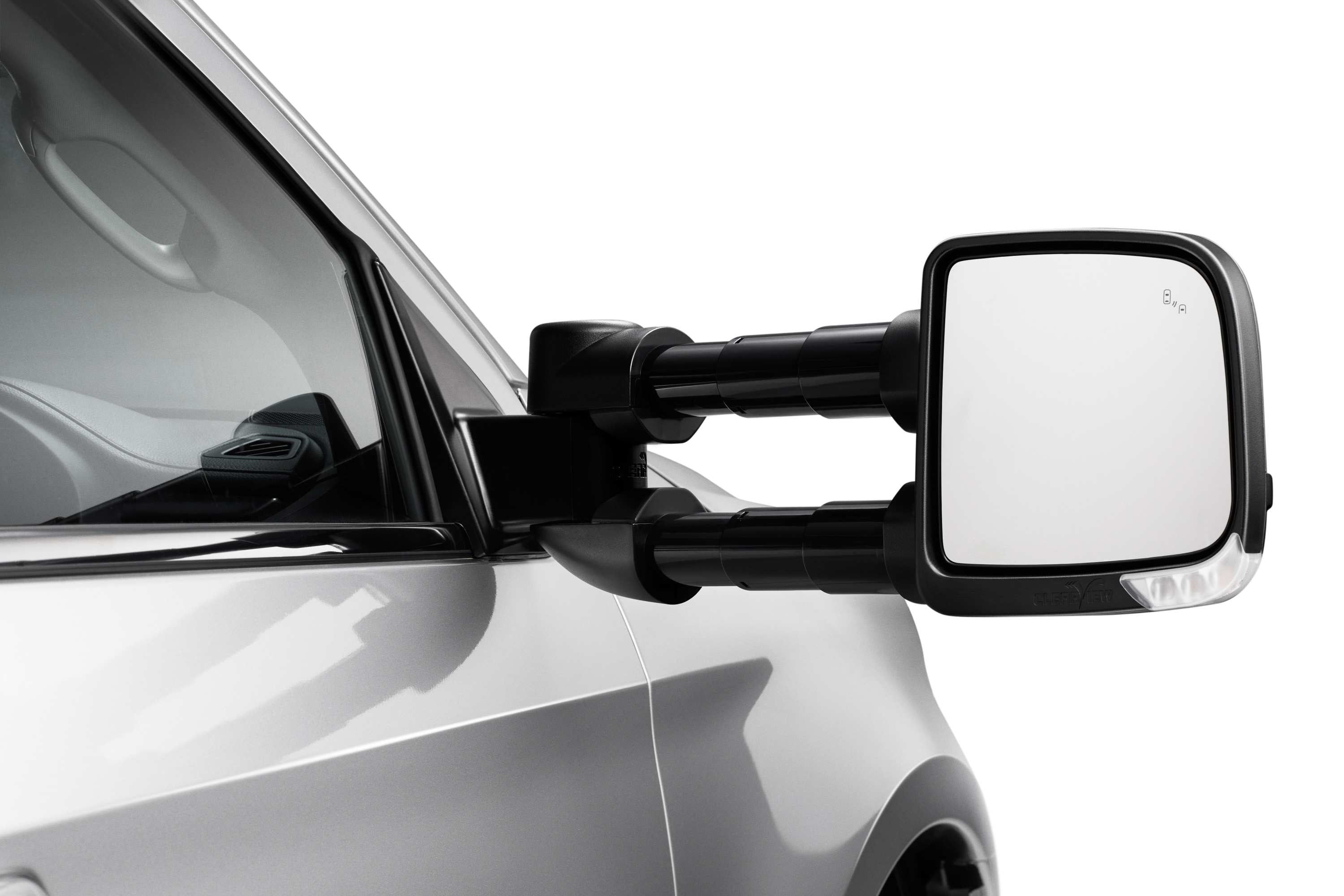 Isuzu MU-X The Extra Gear
With new touring and towing capabilities comes an expansion to the Isuzu UTE Genuine Accessories catalogue, with a selection of touring and towing focused accessories engineered specifically for Isuzu vehicles. These include frontal protection by way of steel or alloy bull bars and nudge bars, a genuine tow bar kit with either a 7-pin or 12-pin plug, a pair of ClearView extendable towing mirrors with power-fold function and integrated Blind-Spot Monitoring alert lights and LED indicators, genuine Electronic Brake Controller (EBC), and available for the MU-X for the first time, a genuine Weight Distribution Hitch (WDH)—which has all been designed and tested to work in harmony with the on-board safety systems and allow you to get the most out of your vehicle when towing.
No matter the terrain, the route or the trailer in tow, the All-New MU-X range with 3.5-tonne braked towing is more capable than ever before. The customer-driven improvements elevate the All-New MU-X towards the front of the pack and Isuzu's seven-seat SUV is set to remain a popular choice on Australian roads, tracks and caravan parks.