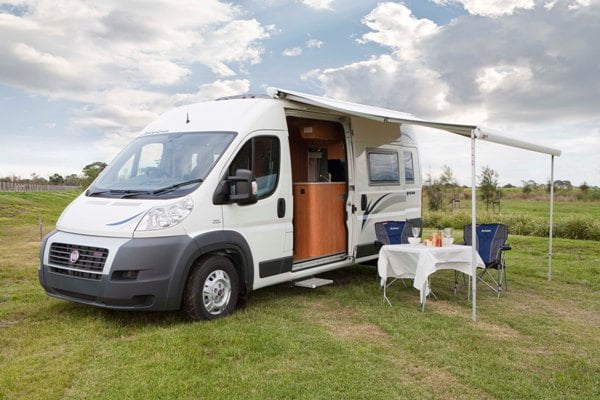 The Jayco Campervan is back on the market after a two-year hiatus, built on the Fiat B Class Ducato. The Jayco Fiat Ducato Campervan offers a budget friendly opportunity.
The popular category has been upgraded so that it can continue to offer Australian travellers the opportunity to take a budget-friendly trip across the country, or a simple weekend away.
Jayco's Marketing Director, Andrew Ryan, said Jayco is excited to be offering customers a new, improved Fiat B Class Campervan.
"Many people find our Campervans the most logical solution for their travelling needs and budget. Campervan owners use their vehicle all year round because it's easy to keep in the garage or driveway and can be used as a vehicle for regular transport while at home," Mr Ryan said.
The cosy interior comes with standard features that bestow functionality and guarantee comfort: driver and passenger swivel seats create a relaxed living area, plus an in-built shower and toilet with a 50-litre grey water capacity mean that travellers never have to set foot in a shared bathroom vicinity again.

The campervan is designed to sleep two people, and includes a unique bed design which folds away allowing easy access to the rest of the living space. The interior is fitted with a two-burner cooker, a deep bowl sink, a microwave and a ten inch TV and DVD combination – everything an adventurer needs to relax after a busy day of sight-seeing.
Also included is an awning for outdoor living, double glazed windows and an electric step to enable ease of entry and exit. Additional extras include a silver external cab finish, rear bike racks and alloy wheels.
Equipped with an automated manual gearbox and a 3.0 high performance turbo diesel engine, used in many of Jayco's larger motorhomes, the campervan guarantees drivers plenty of power on the road. The vehicle has a towing capacity of 2.5 tonnes which means it's able to tow bikes, boats and any other toys for all active pursuits.

"Our campervans are manufactured by Fiat and fitted-out in Jayco's state of the art facilities in Dandenong, Victoria. Both companies have the highest standards in quality manufacturing," Mr Ryan said.
Mr Ryan believes that Campervan owners enjoy freedom and flexibility in their travels.
"Owning a campervan means that you can go wherever you want, wherever you want," Mr Ryan said.