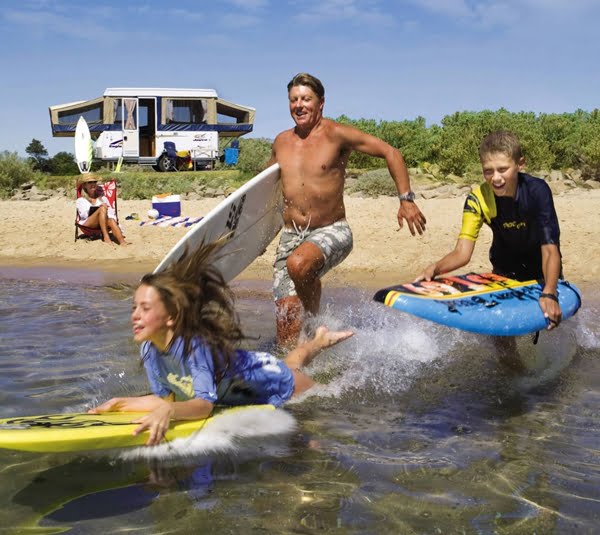 Jayco Caravans, Campertrailers and Motorhomes are the ideal way to spend your Christmas and New Year holidays according to the manufacturer.
For anyone who loves the freedom summer brings and isn't sure how to spend the Christmas and New Year break, consider a few weeks on the road in a brand new RV from Jayco.
A far cry from daggy caravan holidays of the past, Jayco's range includes models and makes to suit every holiday maker. From the adventurer to the young family and roaming retiree, an RV holiday is just what's needed to appreciate the real Australian summer.
Andrew Ryan, Jayco Marketing Director, said first-time RV buyers are often surprised at the versatility and affordability of Jayco's range.
"More people are beginning to realise that RVs aren't just for baby boomers.
"Our Toy Haulers, for example, are specifically designed with the young Aussie man in mind. They're perfect for the adrenaline junkie who likes to take their motorbike or surfboard with them wherever they go," Andrew said.
According to Andrew, RVs are also gaining in popularity with Gen Y road trippers.
"Campertrailers are the latest must-have for this group. It's essential for the coastal road trip and the summer festival circuit. Just hook one up onto the back of the car and off you go – they're very easy to tow, are comfortable to live in and are affordable as well," Andrew said.
Andrew said that pop-tops are great for the family market, providing space, versatility and comfort for time on the road.
"Pop tops, such as the Discovery and Sterling models, provide the extra room up the top, but can still easily fit in a garage while you're not on the road.
"I still have fond memories of family caravan holidays when I was younger. Caravan parks have lots of amenities and are great places for the kids to run around," Andrew said.
For those who take their time on the road seriously, Jayco also manufactures motorhomes, aimed squarely at the grey nomad.
"Why buy a beach house in one place when you can buy a motorhome which can take you to every coastal town in Australia?
"Many of our customers adore the lifestyle a motorhome brings. Not only do they get to experience different Australian destinations, but they meet lots characters in the caravan parks as they go about their trip," Andrew said.
So when booking your holidays for this year, consider making it an RV Christmas. Young, old or in between, it could be the start of many summers to remember.