The Jeep Patriot combines the packaging and interior flexibility of a sport-utility vehicle with the performance, handling, fuel economy and price of a compact car. Safety features, such as standard side-curtain air bags and standard Electronic Stability Program (ESP), add to Jeep Patriot's tremendous value.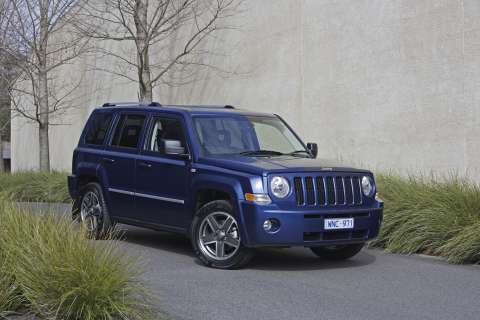 The Jeep Patriot features a monotone Dark Slate Grey interior, an all-new dashboard, centre stack and instrument panel, door trim panels and centre console with split lid for added storage space. The new dark grey interior is both pleasing to eye and will maintain its appearance through all life's little mishaps thanks to standard Stain Repel technology. The all-new dashboard features a matte, smoother look while the new centre stack features chrome accents to brighten the new round air vents, shift bezel, door spears and cluster rings. The all-new centre console and door trim panels are redesigned and additional padding for improved comfort.
To reduce noise and to give the latest Jeep Patriot a quieter ride, the engine compartment and interior floor insulation has been improved. Tuning improvements to the engine exhaust also have been made. Suspension tuning has been revised, giving the Jeep Patriot a more comfortable, smoother ride.
"This is the complete package and a world class product, exactly what the Aussie punter is asking for from a compact SUV," said Gerry Jenkins, Managing Director, Chrysler Australia.
Innovative technology affords Jeep Patriot more capability than any other vehicle in its class. The Jeep Patriot is offered with Freedom DriveTM, a full-time, active four-wheel-drive system with lock mode.
UconnectTM Navigation has now been stepped up to a 30GB hard disk drive (up from 20GB) and continues with a 16.5 cm (6.5 in.) touch-screen display, CD/DVD/MP3/WMA/JPEG DVD, USB and audio jack, voice command and an available iPod control lead.
Two Jeep Patriot models, Patriot Sport and Patriot Limited, are available for the Australia and New Zealand markets during October 2009.
Design
The Patriot is unmistakably Jeep and is designed to appeal to compact SUV buyers who want classic Jeep styling. The Patriot exudes the brand's key attributes of mastery, authenticity, freedom and adventure, while also offering excellent fuel economy and interior flexibility.
Jeep Patriot is built for maximum cargo volume, rugged driving conditions and excellent utility. Patriot's face is classic Jeep, featuring the brand's signature seven-slot grille, a robust front bumper and round headlamps.
An upright windscreen and rear screen combine to create Jeep Patriot's easily identifiable side view. Classic Jeep design cues include signature Jeep trapezoidal wheel openings. Patriot's high beltline completes the vehicle's side profile.
The rear of the vehicle features an upright backlight and bold bumpers, both of which contribute to the Jeep Patriot's interior spaciousness and add to its rugged appearance and capability. Four doors and a rear lift gate provide easy access to Patriot's spacious and functional interior. An integrated black full-length roof rack and rail moulding with a soft edge channels water over the roof and provides a smooth fit and finish. The roof rack is functional and features five tie-downs for securing items.
Patriot rides on a 2,635mm wheelbase with a 1,520mm wide track. The wheel placement enhances vehicle stability and ride quality. Large wheels and tyres combined with the Patriot suspension design contribute to 203mm of ground clearance. The low-profile design of the rear suspension also maximises rear seat and cargo room.
All Jeep Patriot models are available in Jeep Green, Deep Water Blue, Bright Silver, Inferno Red, Stone White and Brilliant Black. .
Jeep Utility, Both Inside and Out
Jeep Patriot's flexible interior gives buyers the capability to do more in terms of seating friends and storing gear. A command-of-the-road seating position gives drivers an added feeling of control.
At the rear, Jeep Patriot has 1,014 millimetres of headroom, 1,000 millimetres of rear seat leg room and 536 litres of cargo space with the rear seats upright. Cargo space grows to 1,357 litres with the rear seats folded flat. The fold-flat rear seats also recline to provide added flexibility and comfort. Rear cargo space expands to 1,775 litres when the front passenger seat back is also folded flat. The fold-flat front passenger seat creates a table-like surface for versatility and makes way for storing gear everything from a 2-metre ladder to skis or snowboards.
The Jeep Patriot has many clever and unique interior features that add functionality not typically found in a compact SUV, including:
An available 458-watt nine-speaker Boston Acoustics Premium Sound Group with subwoofer and two articulating speakers packaged in the tailgate; when the tailgate is open, the speakers can swing down to face rearward and play music to augment outdoor activities
UconnectTMsup> Navigation has now been stepped up to a 30GB hard disk drive (up from 20GB) and continues with a 16.5 cm (6.5 in.) touch-screen display, CD/DVD/MP3/WMA/JPEG DVD, USB and audio jack, voice command and an available iPod control lead.
Dual purpose, self-recharging removable cargo lamp, which is mounted in the headliner above the cargo area and can pop out of the bezel to serve as a flashlight
Sliding centre armrest with 76 millimetres of travel to accommodate a variety of drivers in comfort
Fold-flat front passenger seat that creates a table-like surface for added versatility
Flexible 60/40 split rear seats that fold flat and also recline
Stain Repel seat fabric – an easy-care, soil-repellent and anti-microbial textile that protects seats from stains, odours and discolouration – standard on Sport models
Jeep Patriot's dashboard, centre stack and instrument cluster have been given a superior smoother look and a matte finish, while new circular air vents are surrounded by tasteful chrome. The centre console now has a split lid to boost storage space and as with the door trim its arm rests have more padding for increased comfort.
The instrument panel provides convenient storage compartments for added utility. The glove box door swings down to provide a large, single bin, while an open bin above the glove box provides additional easy-to-reach storage space.
ENGINEERING
Jeep® Chassis Offers High Levels of Performance, Capability and Fuel Economy
Freedom Drive 4WD system provides confidence in all-weather driving conditions
2.4-litre petrol engine targeted to improve fuel efficiency over other four-cylinder engines
Optional second-generation Continuously Variable Transaxle (CVT) gives customers improved performance and fuel economy
Thanks to the Freedom Drive on-demand system – which only engages four-wheel drive when it's needed on or off-road – the Patriot is a car that gives its owners the very best of both worlds: the fuel-efficiency of a conventional hatchback and the go-anywhere ability and all-year confidence customers expect of a Jeep.
The key to Freedom Drive is an Electronically Controlled Coupling (ECC) attached to the rear differential. Lighter, more precise and easier to calibrate, the ECC controls the amount of torque going to the rear wheels by means of an electronic control module and a two-stage clutch, ensuring the best traction in any situation.
The whole system is specifically designed to work seamlessly with the car's various safety systems, the Electronic Stability Programme (ESP), Anti-lock Brakes (ABS) and Brake Traction Control (Brake Lock Differential) system.
Whereas some four-wheel drive systems concentrate on off-road performance or simply improving traction, Freedom Drive also improves the car's on-road handling. Between 40 and 100kph, the system is designed to improve the car's stability in corners, applying torque to the rear wheels to help the car turn more easily and reduce any understeer.
Unlike other systems, however, Freedom Drive doesn't only come into action when there's front-to-rear slippage. Instead, sensors recognise when extra traction will be needed and the system automatically transfers torque to the rear wheels. When this isn't the case – cruising on the highway, for example – the car runs in front-wheel-drive only, minimising any losses through friction and inertia, and therefore improving fuel economy.
In addition, for the ultimate versatility, at speeds up to 15kph, the driver can also engage an off-road mode at the flick of a switch. This activates the enhanced off-road features of the system and the ECC ensures that the torque is split evenly between the front and rear wheels, giving the best traction in very tough conditions such as snow, mud or off the beaten track.
Jeep Patriot has 203mm of ground clearance, a 21-degree approach angle, 33-degree departure angle and 20-degree breakover angle.
FREEDOM DRIVE 4WD SYSTEM IN MORE DETAIL
Electronically Controlled Coupling (ECC)
The heart of Freedom Drive is the ECC. Electronically controlled and working in tandem with the car's other safety systems. It assesses the conditions and distributes an appropriate amount of torque to the rear wheels, almost instantaneously.
In normal driving, the Patriot operates in front-wheel drive only. The four-wheel-drive system requires no driver input or control and the system continually assesses conditions so that it distributes the power in the most appropriate way and improves the vehicle's dynamic behaviour.
Unlike all-wheel drive systems that rely on pumps or viscous fluids to transfer torque; this system requires no front-to-rear slippage for activation. Instead, the control unit takes into account a number of factors, including the car's speed, turning radius and wheel slip, and when it senses that more torque is needed on the rear wheels, an electromagnet operates a low-torque clutch which, in turn, applies the main clutch, sending power seamlessly to the rear wheels.
One of Freedom Drive's operating modes is to respond to the position of the accelerator. So, when the driver wants to use a lot of power, the system clamps the ECC and automatically sends some torque to the rear wheels, splitting the drive between all four wheels. This avoids front wheel slippage as power to propel the car is transmitted to all four wheels.
A second operating mode takes feedback from the same wheel-speed sensors as used by the ABS and ESP systems. In this way, any slippage from the front wheels is detected, and power is immediately sent to the rear wheels to compensate. If, for example, a driver tries to pull away when the front wheels are on ice and the rear wheels are on a dry road, the system ensures the car pulls away effectively.
At the same time, the system takes into account what the car is doing. When it recognises that the car is making a tight turn, for example, it will reduce the amount of power going to the rear wheels to reduce any binding in the transmission.
Above all, this is not a system operating in isolation. All the time, it works with the other safety systems, such as the ABS and ESP, to help the driver maintain control of the car with the ECC working to regulate power front-to-rear, and ESP with All-speed Traction Control working side-to-side.
Off-road, too, the new system automatically offers more traction. For really sticky situations, the driver can engage the 4WD Lock feature at speeds of up to 15kph. To activate the Jeep Patriot's off-road mode, the driver pulls up on the chrome T-handle and a '4WD' message flashes up on the dashboard. This mode ensures that the ECC evenly splits the torque between the front and rear axle for improved traction and also activates four other features:
First, to avoid the transmission binding, the system will automatically modulate the coupling when it senses the car is turning back onto a dry road. Secondly, the traction control is turned off so that the car can move more easily over loose surfaces, such as mud, sand, gravel or snow. The settings of the ABS are adjusted to allow more sustained wheel lock-up, which leads to shorter stopping distances on loose surfaces. Finally, when a driver puts the car into this Lock mode, the off-road setting for the Brake Lock Differentials is activated. When the ABS/ESP sensors recognise that one wheel is spinning faster than the other wheel on the same axle, they apply the Brake Lock Differentials to stop it spinning. This then directs torque to the other wheel on the axle, allowing the car to maintain forward momentum on slippery surfaces or if one wheel is completely in the air.
ABS
An anti-lock braking system is standard on all models and helps to maintain directional control by preventing the wheels locking up, as well as (in most cases) reducing overall stopping distances. The system uses the same sensors as the ECC control unit to measure the rotation speed of each wheel and, when the ABS control unit activates the system, it adjusts the hydraulic pressure at each wheel, allowing them to rotate, but not to lock up, ensuring the driver can always steer.
Off-road ABS
Also standard on all models is a version of the ABS system designed specifically for off-road use. This takes advantage of the fact that, on loose surfaces such as gravel, sand and mud, braking distances are shorter if a car's wheels have a certain degree of lock up, ploughing through the surface and building up a 'wedge' in front of the wheels, which helps to slow the car. With conventional ABS, the wheels would not lock up, so the wedge could not form, and stopping distances would be longer.
To activate this system, the driver needs to take no direct action. The wheel sensors include a rough road sensor, and when they recognise the kind of oscillation that can only result from being off-road, the system is automatically triggered. Likewise, when the driver selects the 4WD Lock mode by flicking the T-handle on the centre console, the system is automatically triggered, allowing more sustained lock-up on these 'ploughable' surfaces.
ESP
ESP is also standard on every model and includes several separate parts: hydraulic Brake Assist, All-speed Traction Control and Electronic Roll Mitigation.
In common with the ABS, the system helps the driver maintain control by assessing information from a variety of sensors and acting on it. By measuring the steering angle, yaw (turning) rate, lateral acceleration, wheel speed and vehicle speed, the system works out the driver's intended course. It then compares this with the actual course and, when the two differ, the ESP is activated, applying the brakes or shutting off the throttle to allow the driver to regain control.
This system comes into its own not only on low-friction surfaces (wet roads, snow, ice and so on), but also on hot, dry tarmac where a thin layer of oil can form, and it includes three modes: full-on, partial and full-off.
The default setting is full-on, but the driver can press the ESP button on the dashboard once to put it into partial mode, where the traction control is turned off and the ESP works at a higher threshold, coming in less aggressively. Alternatively, the driver can press the button for 5 seconds to turn the system completely off, an action which is confirmed by a warning chime and a message flashing up on the dashboard.
Electronic Roll Mitigation
The ESP system already helps to prevent the car from rolling over by limiting violent manoeuvres, but ERM goes one stage further by aiming to prevent the wheels from lifting from the road in an even more extreme situation.
When a car turns suddenly, most of the cornering loads go onto the outside front wheel, and this weight is increased further because of the body roll that naturally occurs at the same time. In an extreme situation, because of the position of the car's centre of gravity, the two inside wheels can lift off the ground, causing the car to roll as it 'trips' over the front wheel.
To counteract this, ERM brakes the outside wheel – nearly to the point of locking up, but not quite – to cause it to slip, because a tyre in slip cannot support such high cornering loads. As a result, the car's path becomes straighter, reducing the cornering loads and preventing a rollover.
Brake Assist
Tests have shown that, in an emergency, drivers often don't hit the brakes hard enough to ensure the shortest stopping distance. To counteract this, the ESP system measures the brake pedal application rate and, when it senses that a driver is making an emergency stop, it automatically applies maximum pressure to the brakes to give the shortest possible stopping distance.
Traction Control
Part of the ESP system, the traction control system is tuned for on-road use in normal operation. It helps to maintain mobility by applying the brakes and, sometimes, closing the throttle to cut wheelspin when the car is accelerating. However, off-road, it reverts to Brake Lock Differentials operation, as described below.
Brake Lock Differentials
These are a further part of the ESP system and calibrated for on-road use, further improving the car's mobility. They are particularly useful on split-friction surfaces – when one wheel is on bitumen, another on gravel, for example.
With a standard differential, most torque would go to the wheel with least grip, which is far from ideal. To counter this, the Patriot uses the brake control hardware, which is already on the car. When the ABS/ESP sensors recognise that one wheel is spinning faster than the other wheel on the same axle, they apply the brake on it to stop it spinning. This then directs torque to the other wheel, allowing the car to maintain forward momentum.
Off-road Brake Lock Differentials
When a driver puts the car into Lock mode, the off-road setting for the differentials is activated. The principle is exactly the same as described above for on-road use, but the off-road settings allow the system to work for longer, giving extra forward mobility in extreme off-road circumstances, such as when one wheel is completely in the air. .
Transmission & Engine Performance
2.4-litre Petrol Engine
The Jeep Patriot features a 2.4-litre petrol with dual Variable Valve Timing (VVT), produces 125kW and 220 Nm of torque. Dual VVT which helps optimise the torque curve at all speeds, produces more power, better fuel economy and a smoother, quieter ride than engines without dual VVT. The 2.4-litre engine places Patriot amongst the best in the segment for power, torque, top speed, acceleration and towing capacity, all with fuel economy that is comparable to lower displacement engines.
Manual Transmissions Add Efficiency and Sportiness
Jeep Patriot's 2.4-litre petrol engine is mated as standard to a five-speed manual transaxle with overdrive and synchronised in all forward ratios.
The manual transmission provides high performance, durability, quiet operation and smooth shifting. Fuel economy is also enhanced through efficient operation. The shifter is packaged in the centre stack within easy reach of the driver.
Continuously Variable Transaxle Improves Fuel Economy
The 2.4-litre petrol engine is available with an optional automatic Continuously Variable Transmission (CVT). The all-new Jeep Patriot uses the newest generation of CVT, offering several advantages compared with previous CVTs.
The Jeep Patriot's CVT continuously varies the transaxle ratio, providing an infinite number of gear ratios and allowing the engine to stay in its most efficient operating range. The transaxle uses two "V" pulleys and a steel push belt to vary the input speed to output speed ratio instead of traditional discrete gear ratios activated by clutches or bands.
Through the use of electronic controls, Jeep Patriot's CVT provides a familiar engine feel while delivering improved fuel economy. For example, drivers will experience an appropriate rise in engine RPM during acceleration rather than an instant rise to the maximum engine RPM.
"Our engineers have calibrated Patriot's CVT to provide a throttle response that feels very natural to the driver while the Auto Stick feature gives the driver manual control and the feeling of six stepped gears."
Chrysler's CVT contributes a six-eight per cent improvement in fuel economy compared with a traditional four-speed automatic transaxle. Eliminating up shifts allows the transaxle to engage the torque converter clutch almost immediately when accelerating and to keep it engaged throughout speed changes. This eliminates torque converter slippage common in stepped transmissions and results in more efficient operation, especially during city driving.
The CVT also improves vehicle performance compared with a traditional automatic.

TECHNOLOGY
Jeep® Patriot Pinpoints Cutting-edge Sound Systems and Technologies
New on Jeep Patriot is the Technology Group, Jeep's state-of-the-art vehicle multimedia system, consisting of UconnectTM Navigation Media Centre Radio, Uconnect Phone, iPod Control and the premium Boston Acoustics® sound system.
Uconnect Navigation provides entertainment, information and communication through an AM/FM/MP3/WMA/DVD/NAV radio with a 6.5-inch touch screen that allows you to navigate the system easily and also includes a full mapping 3D satellite navigation system. Storage has been increased with a 30GB hard drive (up from 20GB) which allows you to store photos, playlists and songs as well as rip, stash, organise and shuffle up to 4,200 digital music files from CDs and the integrated USB port. An Audio Jack is also included for MP3 connectivity. Uconnect phone allows you to talk on your Bluetooth® compatible phone hands-free and includes voice activation in six languages.
The brand new iPod Control allows full integration of iPod® controls via an adaptor in the glove box. The 476-watt Boston Acoustics® premium sound system, with ingenious flip-down tailgate speakers, provides optimum sound quality with nine speakers including a powerful subwoofer, in perfect balance to provide a formidable sound experience.
Audio performance on all Jeep Patriot sound systems is characterised by a smooth octave-to-octave tonal balance, natural frequency response and uncoloured presentation, free of distortion. The system features a flat frequency response, which is a desirable behaviour in high-quality, audiophile-calibre speakers like those in the Patriot.
BODY/STRUCTURAL ENGINEERING
Advanced technologies give Jeep® Patriot excellent durability, ride and handling, and body stiffness, while reducing noise, vibration and harshness.
Jeep® Patriot underbody designed to meet demanding durability requirements
High-strength steel reduces weight, improves impact performance. Sealers and sound-absorbent materials create a quiet interior.
When developing Jeep® Patriot, engineers used high-strength lightweight and sound-absorbent materials to create a safe, quiet body structure that is designed to both meet impact performance criteria and be durable enough to be a Jeep.
Jeep Patriot's unitised body includes a structural safety cage to provide excellent occupant protection.
High-strength Steel Reduces Weight, Improves Impact Performance
Jeep Patriot's body components combine to form a structural safety cage that provides occupant protection in the event of an impact. By mass, 40 per cent of Patriot's body structure is constructed of high-strength and hot-stamped steel, making for a high level of combined advanced steel technologies.
The Jeep Patriot uses a tailor-rolled, hot-stamped steel B-pillar. Its two-piece B-pillar construction features a lower section made from mild-strength steel to maximise energy absorption, which is combined with a tailor-rolled, ultra-high-strength upper portion for enhanced occupant protection.
For rear-occupant side-impact protection, Jeep Patriot also features a hot-stamped steel cross-car beam that is bolted to the body structure underneath the rear seat. During a side-impact event, the beam works together with the integrated foam in the rear doors to transfer impact energy from one side of the vehicle to the other. The beam is designed to take up to 60 per cent of the load during a side-impact event. Steel beams within the front and rear doors provide additional side-impact occupant protection.
The dual-phase steel – used in Jeep Patriot's front and rear rails, tunnel reinforcements and floor cross members – represents some of the steel industry's latest technology. In the event of a high-speed front impact, the structure and steel combine to protect the occupants by absorbing the impact energy in a controlled manner. Dual-phase steel tunnel reinforcements and floor cross members also allow the rails to handle greater impact loads than conventional steel. The steel's structural benefits also make the Patriot stiffer for better ride quality and a quieter interior.
Sealants and Sound-deadening Materials Create a Quiet Interior
Jeep Patriot's use of sealers and structural adhesives is world-class, giving customers a smooth ride with minimal road, wind and powertrain noise.
Seam sealing, which was previously only added to the inside of a vehicle's body, is applied to both Jeep Patriot's interior and exterior, adding stiffness to the body and reducing noise, vibration and harshness (NVH) characteristics. Patriot's doors are triple sealed above the beltline and double sealed below to form a strong sound and moisture barrier. A continuous, one-piece channel weather strip mounted in the upper door frame provides effective sealing against wind noise and water leaks.
Jeep Patriot also includes an NVH package designed to isolate passenger compartments from powertrain noise. This includes balance shafts on the 2.4-litre petrol engine, a low-rumble intake manifold, acoustic engine box silencers, fender silencers, isolated air-conditioning lines, a three-layer metal-plastic-metal oil pan, select-fit engine bearings and tappets, wheelhouse outer silencers, sound-deadening material in the instrument panel and carpet with sound barrier.
Aerodynamic and Appealing
Extensive development went into shaping the Jeep Patriot's upper body and rear liftgate to ensure the vehicle is both functional and visually appealing. The roof, rear side D-pillar and tail lamps also were shaped to help separate the air cleanly.
Engineers designed several of Jeep Patriot's exterior body features to reduce wind noise. Large exterior rear view mirrors are designed to provide good visibility while minimising aerodynamic drag and turbulent wind noise. Patriot's windscreen water channel and radio antenna were refined in the Chrysler Group's state-of-the-art Aero-Acoustic Wind Tunnel to minimise wind noise. A lip on the trailing edge of the bonnet directs air flow over the wipers, reducing wind noise inside the vehicle.
The following additional features help reduce drag:
An air dam under the front fascia streamlines the air flow around the Jeep Patriot, rather than under, increasing air flow to the cooling system
Front and rear tyre spoilers designed into the fascia and side sill moulding direct air around the tyres to reduce drag
Two large underbody panels help close out a cavity between the floor pan and the fuel tank to eliminate drag-inducing turbulence
The muffler is angled up slightly at the rear, and its height is tuned to direct air flow out from underneath the back of the vehicle
Body-side character lines are optimised to reduce drag

SAFETY
Jeep® Patriot Occupants Encircled in Safety and Security
The Jeep® Patriot gives customers a high level of safety in the compact sport-utility vehicle (SUV) segment. The safety technologies standard on the Patriot include driver and passenger front air bags, supplemental side-curtain air bags, Electronic Stability Programme (ESP), All-speed Traction Control, Brake Assist, Electronic Roll Mitigation (ERM) and Anti-lock Braking System (ABS) with rough-road detection.
The Jeep Patriot also offers a high level of security, including a removable/rechargeable interior flashlight, Sentry Key® engine immobiliser and a security alarm.
The following combination of safety and security features reinforces the Jeep brand's commitment to safety and security:
Advanced multi-stage driver and passenger front air bags (standard): This system classifies the severity of an impact event. The resulting deployment could be low, medium or high output, or in certain instances, none at all
Anti-lock Braking System(standard): Senses and prevents wheel lockup, offering improved steering control under extreme braking and/or slippery conditions
BeltAlert(standard): Periodically activates a chime and illuminates an icon in the instrument cluster to remind the driver to buckle up if not properly belted
Brake Assist (standard): Applies maximum braking power, providing the shortest possible stopping distance when the vehicle senses a panic brake condition
Brake/Park Interlock(standard with CVT automatic): Prevents automatic transmission from being shifted out of Park, unless the brake pedal is applied
All-speed Traction Control(standard): Senses drive-wheel slip and applies individual brakes to the slipping wheel(s), and can reduce excess engine power until traction is regained
Child-protection rear door locks(standard): Disables the rear doors' inside-release handles via a small lever on the door-shut face
Child seat anchor system(standard): Eases installation of compatible aftermarket child seats
Constant force seat belt retractors(standard): Distributes the force of the front seat belts according to the load or force exerted on them.
Crumple zones(standard): Compress during an accident to absorb energy and prevent transfer of that energy to vehicle occupants
Electronic Roll Mitigation (standard): An extension of ESP, this system uses the input from the ESP sensors to anticipate if the vehicle is at risk of entering a potential roll situation. It reacts immediately, applying the brakes individually and modulating throttle position as needed to mitigate the roll situation
Electronic Stability Programme(standard): Enhances driver control and helps maintain directional stability under all conditions. Provides the greatest benefit in critical driving situations, including turns, and is especially valuable when driving on mixed surface conditions such as snow, ice or gravel. If there is a discernible difference between what the driver intends through the steering and the vehicle's path, ESP applies selective braking and throttle input to put the vehicle back onto the driver's intended path
Energy-absorbing steering column(standard): Utilises two hydro-formed coaxial tubes that can move relative to each other and allow the column to move forward for enhanced energy-absorption during a crash.
Enhanced Accident Response System(standard): In the event of an accident, automatically turns on the interior lighting and unlocks the doors after air bag deployment, making it easier for emergency personnel to see and reach the vehicle occupants. Also shuts off the flow of fuel to the engine
Height-adjustable seat belts(standard): Allows occupants to raise and lower the shoulder belt, which encourages seat-belt usage by offering a more comfortable fit
Remote illuminated keyless entry(standard): Locks and unlocks doors, and turns on interior lamps. The remote also arms and disarms the security alarm system
Removable/rechargeable LED flashlight(standard): Mounted in the headliner above the cargo area, snaps out of the bezel to serve as a flashlight
Structural safety cage(standard): Protects occupants by managing and controlling energy in the event of an impact
Seat-belt pretensioners(standard): During a collision, immediately remove slack from the seat belts, thereby reducing the forward movement of the occupant's head and torso
Sentry Key engine immobiliser(standard): Utilises an engine key that has an embedded transponder with a pre-programmed security key code to shut the engine off after a few seconds if the correct key is not inserted
Side guard door beams(standard): Provide front and rear occupant protection during a side impact
Side Occupant Protection System(standard): Includes side-curtain air bags with roll detection system that deploy in certain rollover situations and side-impact events. Utilises information from multiple sensors to determine the severity of the impact
Supplemental side-curtain air bags (standard): Extend protection to all outboard front- and rear-seat passengers. Each side air bag has its own impact sensor that autonomously triggers the air bag where the side impact occurs
Base Vehicle Price (BVP)
Excludes Government charges and Dealer Delivery
Patriot Sport
$29,990 2.4L 5-speed manual
$32,990 2.4L CVT automatic with AutoStick 6-speed manual shift mode
Premium Paint – $450
Front Seat Side Airbags – $600
Comfort and Convenience Group – $1,500 Deep tint sunscreen glass, cruise control and leather-wrapped steering wheel with audio controls
Standard when automatic transmission ordered
Patriot Limited
$35,990 2.4L CVT 6-speed automatic
Premium Paint – $450
Front Seat Side Airbags – $600
Power Sunroof – $2,000
Technology Group – $3,500 Uconnect Navigation
Nine speaker Boston Acoustics MusicGate sound system