Bessie Bardot and partner Geoff Barker are giving up their colourful Sydney inner-city celebrity lifestyle for something more inspired. The couple have given away all their possessions to needy strangers, to travel around Australia helping worthy causes and looking for new opportunities with baby daughter BlueBelle. Winnebago is partnering with Bessie and Geoff by providing a Longreach C3136SL Motorhome to assist them in spreading the message of life change and more inspired living.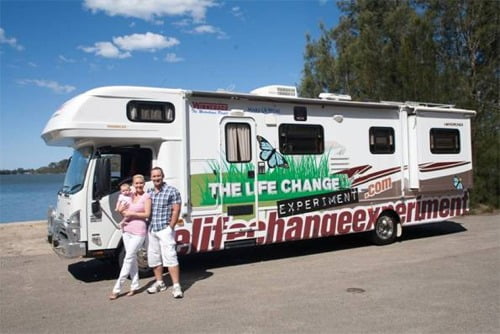 "The concept of the Life Change Experiment all started a few months ago from a deep and persistent desire we both shared to grow and experience more from our lives" Bessie said.
"As much as we appreciated the successes we have had, we both shared a gnawing feeling that life was passing us by. We had more to offer and more to learn and sitting at home, fearful of change, as we had been for so many years, was not going to help us discover what that was"
"The old saying 'keep doing what you've been doing and you will keep getting what you've got' rang clear one day when I recalled a story of ancient invading armies who burnt their ships to keep the troops focused with no thoughts of retreat". Said Geoff.
"So in the same spirit we decided to leave no room for retreat. Give away our Mercedes, the entire content of our house, scooters, computers, cameras, designer clothing our successful businesses and social set lifestyle (approx $400000 in value) and step forward, unfettered into the unknown"
On the way Bessie and Geoff will be conducting seminars encouraging others to live life to the full as well as speaking to various well-known personalities who have an inspirational story to tell. Already Bessie has interviewed Benny Elias, Susie Moroney, Jeff Fenech, Angry Anderson, Annalise Braackensiek, Deni Hines, Koby Abberton and Tania Zaetta and will put together a 'share the wisdom' section on the website.
"These are not your usual interviews, but a look under the bonnet at normal people who have done extraordinary things with their lives" says Bessie. "To be honest their answers really gave me a new perspective. I'll be posting their stories on life, change, overcoming fears, success, spirituality and inspiration soon on our upcoming video blog"
With over 10 million hits on their website and 40,000 requests from needy Australians they have also decided to devote their travels to drawing attention and helping out with some of Australia's most worthy unsung causes. Rallying the help of individuals and sponsors to provide much needed items and services they hope to encourage others to step out of the box, help others and live life to the full.
Bessie Bardot is a businesswoman, author, television host and socialite. She married Geoff Barker, formerly "Commando" from the Australian version Gladiators, now a best selling author of 7 books and international speaker.
Bessie is an Australia Day ambassador and has completed three tours to the Middle East to entertain Australian, UK & US troops. She hosted her own national radio show on the Austereo network, and is a professional public speaker; CEO of Movers Shakers celebrity contact brokers and pr & media firm bubblemedia.
She regularly appears as a celebrity social commentator on various national TV and radio shows, speaking on topics such as women's issues, relationships and lecturing on personal branding, women in business, health, well-being, drive, organization, motivation and relationships. Bessie is also an award-winning, best-selling author of three books.
The Life Change Experiment is expected to run for around six months. Follow Bessie, Geoff and BlueBelle on their journey by logging into the Life Change Experiment website http://www.thelifechangeexperiment.com.
About the Motorhome
The Winnebago Longreach is a state of the art 9.5metre (31') motorhome fully equipped with everything needed to enjoy life in the unknown such as a separate slide out bedroom with queen size island bed, a bathroom with a hot and cold shower and flushing toilet, a gourmet kitchen with the latest appliances and a huge living area amplified by the electric slide out wall, vastly increasing the living space.
The Longreach carries its own fresh water, generates its own power through twin solar panels, a large generator and a massive bank of batteries connect to a battery charger. The list of standard inclusions goes on and on: – ducted air conditioning and heating system, LCD TV with DVD player, too much more to mention, all built on the powerful Isuzu NQR450 chassis offering a 5.2 litre turbo diesel engine with automated manual transmission, cruise control, satellite navigation, ABS and exhaust brakes and airbag assisted suspension.