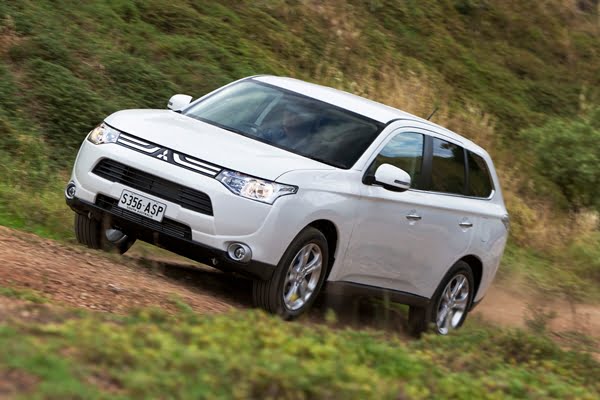 Mitsubishi has launched the all new Outlander in Australia. The Mitsubishi Outlander is an important vehicle for Mitsubishi Australia as it competes in the congested small medium AWD SUV segment, which is the fastest growing segment in the market.
The new Outlander comes with some important new features, not the least of which if a smooth diesel engine. The story of the new Outlander is mostly good news with dramatic improvements in safety, interior fit out, performance, fuel economy and CO2 reductions.
Future news is also good with the introduction in the not too distant future of the PIEV version which gives even more enviro credentials.
The full range includes a choice of four model variants, ES, LS, Aspire and Aspire Premium, two drivelines, three transmissions and three engines. The pick of which is definitely the AWD 2.2L diesel mated to the 6 speed automatic transmission.
Pricing ranges from $28,990 MLP for the 2wd 2.0L petrol 6 speed manual version through to a surprisingly low $51,000 MLP for the feature packed Aspire Premium 2.2L diesel 6sp automatic. The big selling variants are likely to be the LS 2.4L CVT and the 2.2 L DID.
Externally the new Outlander moves to a smoother style that while pleasant is subjectively a little subdued and seems to move away from the family DNA. Colour choice is also very conservative, in line I guess with the projected buyers.
Step inside the new Outlander and the rejuvenation continues. The driver's seat is firm but comfortable and electronically adjustable in the higher spec variants. The steering wheel is height and reach adjustable, thick rimmed, small and responsive and houses all the normal controls.
The dash is soft touch and has either aluminium or wood look alike inserts. Taste is subjective as to whether you will like them or not.
The instrument binnacle features two large round dials with a multi function display in the middle. Overall layout of stalks and buttons works well. The centre console houses a couple of cup holders, storage areas and usb inputs etc.
The Centre stack houses the radio and sat nav in the higher variants. Along with door pockets for small bottles, glove box and small lift up centre arm rest there is ample storage.
Step into the middle row of seats and you will find a fairly flat squab section. These seats are hard and lack some support. Knee room is adequate for all but tall passengers. Head and shoulder room is good as is visibility.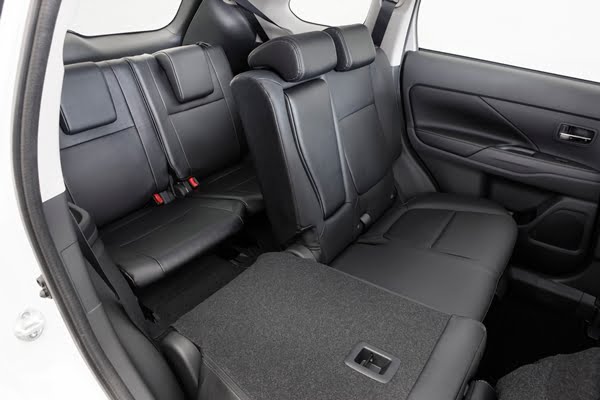 The rear seats are where a noticeable change has occurred from the previous model. They are now very easy to operate, comfortable for up to mid teenagers and fold flat along with the middle row to provide a long and large load area. Normal carrying space is a little smaller with the middle seats upright though.
Gone is the split tailgate that was both good and annoying. However on a school run it was excellent for putting the bags in the rear and provided a low load point and table of sorts. You did have to lean over it though.
Features of the different variants include:
Outlander ES 2WD with 2.0L Smart MIVEC petrol engine 4WD with 2.4L Smart MIVEC petrol engine
The entry-level Outlander ES comes with a long list of standard features
• 16-inch steel wheels (with full wheel cover),
• folding door mirrors and
• single-piece rear tailgate
• soft-touch instrumentation panel,
• leather steering wheel and leather gear-shift knob
• steering wheel controls for audio and Bluetooth,
• Reverse sensors
• immobiliser and alarm give
• single CD audio system comes with six speakers
• climate control air-conditioning.
Outlander LS 2WD with 2.0L Smart MIVEC petrol engine 4WD with 2.4L Smart MIVEC petrol engine 4WD with 2.2L DiD diesel engine
Encompassing all of the features found in the Outlander ES, plus
• Choice of five and seven seating capacity variants.
• 16-inch alloys,
• front fog lamps and privacy glass
• cabin with silver accents on the centre instrument panel and high contrast meter with colour LCD display.
• Dual-zone air-conditioning
• a 6.1-inch full colour display audio system with touch panel
• a rear-view camera which appears on the audio display screen automatically when reverse gear is engaged with parking reference lines shown to assist the driver in executing the perfect park.
Outlander Aspire 4WD with 2.4L Smart MIVEC petrol engine 4WD with 2.2L DiD diesel engine
The top of the range Outlander Aspire builds on the specifications of Outlander LS to offer a vehicle that is versatile and comfortable with touches of luxury. Available with
• seven seater capacity,
• 18-inch alloy wheels,
• outer scuff plates and chrome accents on the belt-line moulding, inner and outer door handles.
• Rain-sensing wipers, dusk-sensing headlamps
• Smart Key with One-Touch Start
• leather seats with driver and front passenger also enjoying the option to use the seat heater function.
• The driver seat is powered to ensure easy slide, recline and height adjustments.
• wood print accents on the front door trims and instrument panel and leather-look door trims.
Outlander Aspire Premium Option Pack, RRP $5,500.
Offered on the Outlander Aspire boosts safety, comfort and convenience. The pack includes
• Advanced Driver Assistance Systems of Adaptive Cruise Control (ACC) and Forward Collision Mitigation (FCM).
• ACC maintains a safe distance between the car in front even at very low speeds as experienced in heavy traffic congestion to assist in the reduction of possible collisions.
• FCM detects obstacles on the road ahead of the Outlander and automatically applies the brakes to help in preventing a collision.
• The Aspire Premium also adds a power tailgate for hands-free operation and new-generation MMCS with 7-inch full colour display and touch panel. Audio is upgraded to the Rockford Fosgate Premium system with nine speakers including four tweeters and a 10-inch sub, for optimum sound quality.
Safety is a feature across the range with all variants having the 5 star ANCAP rating. Standard across the range is seven SRS airbags (drive and passenger, side and curtain, knee), Active Stability Control , Hill-Start Assist , Anti-lock Brakes with Electronic Brakeforce Distribution . On the LS and Aspire is a reversing camera and the Premium pack includes Forward Collision Mitigation System and selective Adaptive Cruise Control System.
The engine choices comprise a 2.0L 4 cyl petrol engine mated to either a 6 speed manual or CVT. This engine is no powerhouse producing only 110Kw @ 6,000rpm and 190Nm @ 4,200 rpm. It is economical though sipping fuel at an ADR rate of 7.0l/100kM for the manual version. If you choose the 2.0L engine then do yourself a favour and choose the manual to try to extract as much as you can from the frugal specifications.
Next choice is the 2.4L 4 cyl petrol engine that is mated to the CVT. Output figures are more respectable at 124Kw @ 6,000rpm and 220m @ 4,200rpm. Fuel usage is 7.5L/100Km and the combination of CVT and bigger engine is streets ahead.
The pick of the choices undoubtedly is the 2.2L DID mated to the 6 speed automatic and produces 110Kw @ 3,500 and 360Nm @ 1,500rpm. Fuel is a measly 5.8L/100Km. While these figures are a little on the light side compared to some of its competitors like the Mazda CX5, the combination and torque characteristics of the diesel engine provide a smooth and tractable driving experience. Way more pleasurable than the petrol engines.
For those who like to tow the weights are 1600kg for the petrol engines and 2,000kg for the diesel engine with tow ball ratings of 10% applicable.
So here we have the all new Mitsubishi Outlander. The old model while dated and slipping in sales volumes still managed to hold its own against the opposition. The new Outlander overall is a significant improvement over the model it replaces , being more fuel efficient, better CO2 figures, more safety features, better 3rd row seats and a subdued style that should appeal to its target market.
In a market segment that is becoming more competitive every day any model has its hands full. The new Outlander should absolutely be on your shopping list if you're looking for a small to medium 7 seat AWD SUV, such as the Holden Captiva and Nissan Dualis +2 or a Subaru Liberty Exiga.
Pricing
• Outlander ES 2.0 litre petrol manual 2WD – $28,990 RRP
• Outlander ES 2.0 litre petrol CVT 2WD – $31,240 RRP
• Outlander ES 2.4 litre petrol CVT 4WD RRP
• Outlander LS 2.0 litre petrol CVT 2WD – $34,990 RRP
• Outlander LS 2.4 litre petrol CVT 4WD – $38,990 RRP
• Outlander LS 2.2 litre diesel automatic 4WD – $40,990 RRP
• Outlander Aspire 2.4 litre petrol CVT 4WD – $43,490 RRP
• Outlander Aspire 2.2 litre diesel automatic 4WD – $45,490 RRP
• Outlander Aspire Premium Pack $5,500 RRP
*RRP excludes onroad, dealer and delivery costs