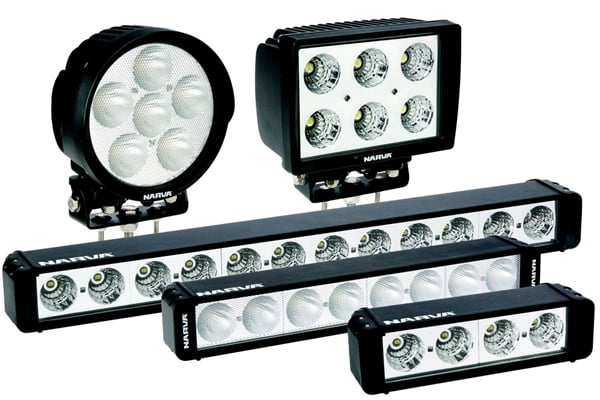 Narva has been at the forefront of automotive, transport, mining, contracting and agricultural lighting technology for more than twenty years and these latest developments in Work Lamps open up a whole new era.
New developments in high intensity light emitting diodes (L.E.D's) have seen the rapid advancement of L.E.D lighting applications in work lamps, virtually superseding Halogen and High Intensity Discharge (H.I.D) lighting in some applications as a result.
Heavy duty high powered L.E.D lighting offers a number of advantages such as unrivalled white light output and performance; reliability; maintenance free operational life of more than 50,000 hours plus a greater ability to withstand shock and vibration. L.E.D technology also offers instantaneous full strength illumination, reverse polarity protection and low current draw, all of which are key safety factors.
Within Narva's extensive range are L.E.D lamps with flood beams offering 4,500 lumen to an amazing 15,000 Lumens output. There are light beam patterns to suit the widest of conditions and applications, each producing a natural white light that is closer to daylight. A typical H.I.D work lamp produces approximately 4,000 lumen.
Narva's new line up of high powered L.E.D work lamps have been tested in the harshest of work conditions to ensure they withstand the rigours of mining, contracting, farming and other demanding applications. They are constructed with die-cast powder coated aluminium housings, virtually unbreakable polycarbonate lenses and are fully sealed to IP68 standard. Three bolt mounting provides superior strength and stability on the round and rectangular lamps and all hardware and brackets are stainless steel. The L.E.D Bar style work lamps utilise a robust cross slider multi-angle mounting system with stainless steel hardware to provide the ultimate in strength and stability.
Due to the low current draw associated with L.E.D's, wiring up these lamps is simple allowing on-site staff to effectively do the job without specialised training. This factor, when coupled with trouble free operational use, results in expensive machinery downtime being dramatically reduced, saving costs and increasing safety. Each lamp is hard wired and fitted with Deutsch connectors and a matching connector is supplied with each lamp.
With the release of the new extensive range of L.E.D lighting, Narva is a leading guaranteed quality supplier to industry with Australia's most comprehensive range.
For further information on Narva's extensive range, copies of Narva's 'New Products' Catalogue 2010, the 2008-2010 Catalogue 'Safety through Technology', the nearest Narva distributor or the Narva State Office; Phone 1800 113 443 or email sales@narva.com.au