Engineered for Australia's toughest off-road conditions, Narva's range of L.E.D driving bars offer exceptional performance, reliability and strength, providing a brilliant white light from high powered, highly efficient 5W 'Cree' XPG L.E.Ds.
The brilliant white light offered by the L.E.D driving light bars boasts a colour temperature of 5000°K, much closer to that of natural daylight. This more natural light output dramatically reduces driver eye fatigue, increasing safety and comfort when driving at night.
As Narva only fits genuine high quality 'Cree' XPG L.E.Ds in its products, the L.E.D driving light bars will continue to work seamlessly, even in the toughest conditions.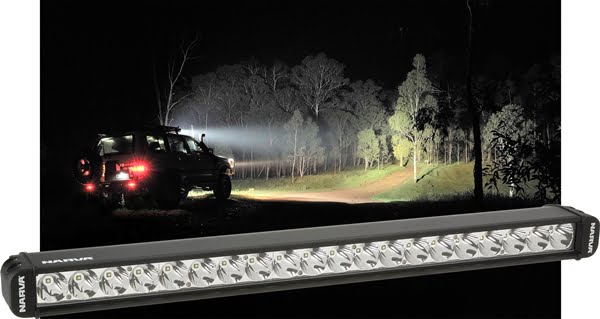 Combined with a precision reflector, the L.E.Ds provide an exceptionally wide spread of light. This results in excellent illumination both straight ahead and to the sides of the road, to help better identify road and wildlife hazards.
Also aiding safety is the L.E.D light bars' instantaneous full strength illumination – they don't require any time to warm up.
In addition, L.E.D boasts low current draw which is essential for vehicles such as four wheel drives which often require precious battery power for other important electric accessories such as winches, fridge and communication devices.
A reliable and virtually maintenance-free range, the L.E.D driving light bars offer 50,000 hours of life meaning you will never need to replace a globe again. Furthermore, L.E.Ds are resistant to vibration and impact, preventing damage even during extreme driving conditions. For additional peace of mind, Narva offers a five year L.E.D warranty.
In keeping with Narva's reputation for high quality products, the bars feature tough extruded aluminium housing, virtually unbreakable polycarbonate lenses and a robust mounting system, allowing them to meet the rigours of high demand applications.
With their compact, slimline dimensions, the L.E.D driving light bars are ideal for installing to bull bars, nudge bars as well as above or below roof racks. For added versatility, the fully adjustable cross slider multi-angle mounting system suits pre-existing mounting holes and allows the bar to be fitted upright, vertical or pendant with ease, while the stainless steel fittings prevent rusting.
Tested in Narva's sophisticated environmental laboratory, the L.E.D driving light bars feature sealing systems proven to protect against water ingress. Fully submersible in water, the bars are IP68 rated.
For greater convenience and reliability, the bars feature a hard wired cable with Deutsch connector, and a matching connector is also supplied.
Narva's L.E.D driving light bars are available in a range of sizes and outputs, ranging from 256mm (3900 lumen) to 967mm (17,600 lumen). Prices start from approximately $359 up to $1220 and are available from leading automotive, four wheel drive and transport outlets throughout Australia.