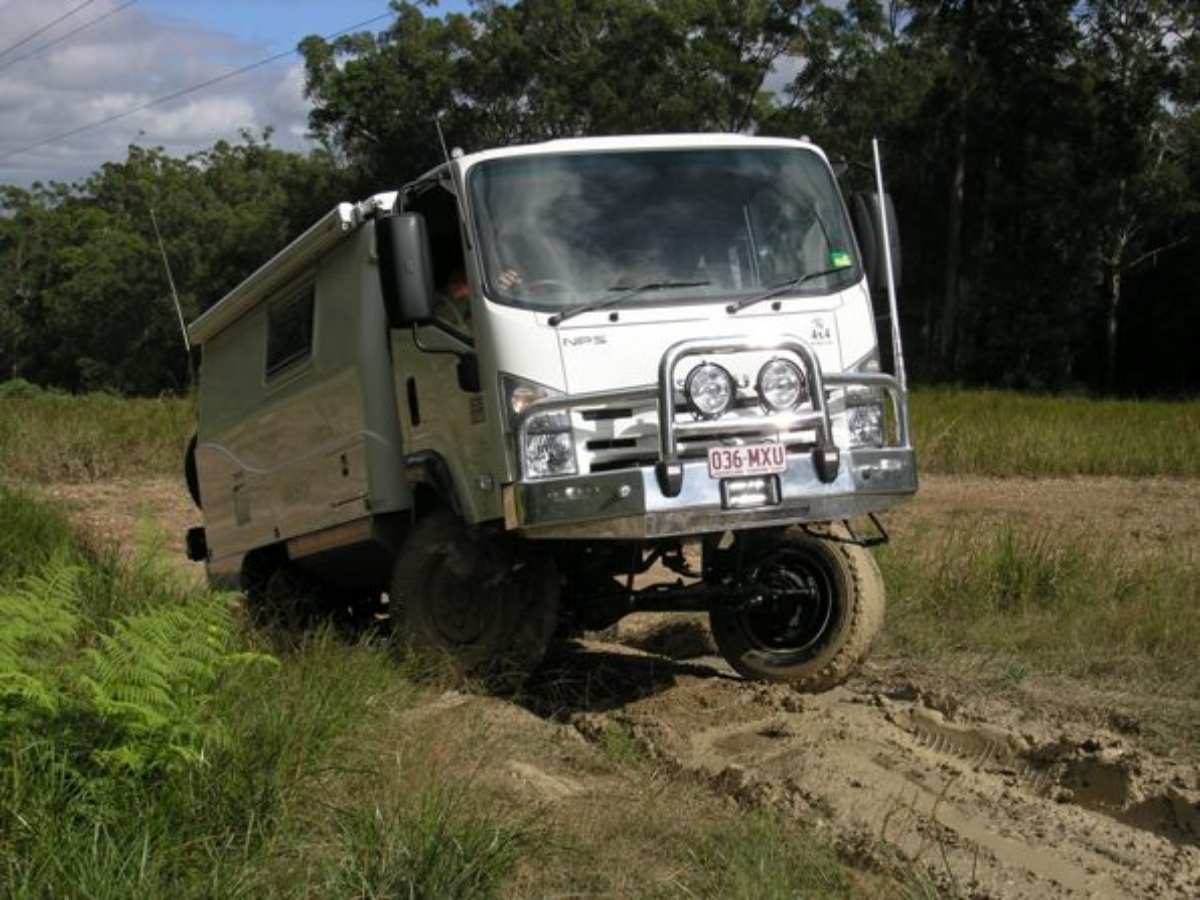 It's takes a very special vehicle to comfortably transport a family of eight to the most remote destinations in Australia, but fortunately if you do have the means, Queensland company, SLRV Expedition Vehicles has the machine for the task, the new 'Commander 8×8'.
Based on the MAN TGS 8×8 platform, the Commander 8×8 is almost unstoppable off road, but still provides luxurious, self-sufficient living for extended time away from civilisation.  The sensational body that the SLRV team has developed includes sleeping for ten and also features an ample living area.
To better make use of space, the vehicle features a second storey design. At the touch of a button, the upper storey lifts to provide six beds for the children as well as under mattress storage areas. On the bottom level, the parents are treated to a separate master suite and there's even an additional electric lift-up bed for two guests if required.
Also on the ground floor is a fully appointed kitchen and dining area with seating for up to 10 and a separate toilet and bathroom.
To keep the family on the road for longer, the Commander 8×8 is equipped with a Lithium battery system, solar panels, a generator and power can also be drawn from the truck's special 9.5kVA alternator for immediate consumption or to charge battery packs.
Of course, when travelling remotely, water is another prime consideration and Commander 8×8 is also extremely well equipped with a multiple cell tank set-up that can hold up to 1000 litres.
SLRV Expedition Vehicles have been using Narva equipment for over 10 years across all its expedition motorhome builds and the company's latest creation is no exception. In some cases Narva equipment has even replaced OEM lighting such as headlights.
"SLRV has had an excellent relationship with Narva over many years as not only are the products fantastic, but we also enjoy an excellent working relationship with the company," said SLRV Expedition Vehicles Director, Warwick Boswerger.
"For the Commander range, we manufacture our own bull bars in-house and into these we integrate Narva L.E.D headlamps and fog lamps. We also fit a Narva dual row L.E.D light bar onto the bull bar. On these trucks we also fit four Ultima 215 L.E.D driving lights to roof racks on the top of the cabin. The feedback we get from customers about the performance of the lights is extremely positive as they talk turning night into day," he said.
As well as forward-facing lighting, with a vehicle the size of the Commander 8×8, periphery lighting is also important according to Warwick.
"Around the vehicle we've positioned a number of Narva work lamps and these are all operated via remote control. They provide additional security but are also very useful when manoeuvring and parking up at night in remote areas," said Warwick.
Warwick also commented that Narva has been extremely receptive to feedback from SLRV on its product range and also understanding the needs of his company.
"We've been involved in new product testing with Narva and they really value our opinion and take feedback on-board. I think that's an important measure of a proactive company that wants to keep progressing and improving its range or products. SLRV is a proud Australian company, and we like the fact that we are supporting another local operation such as Narva," he said.
For full details of SLRV Expedition Vehicles' new Commander 8×8 range visit: www.slrvexpedition.com.au