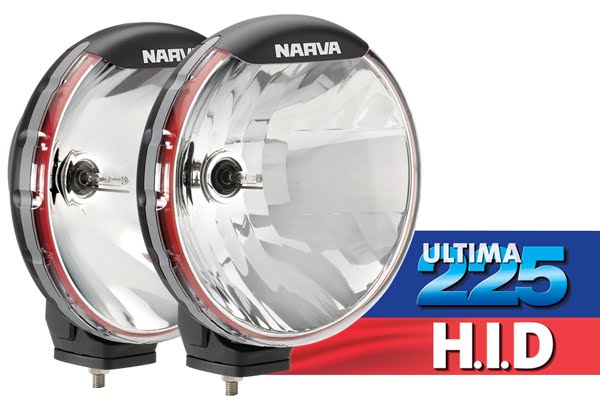 Narva has made high performance lighting more affordable than ever with the release of its new 35W Ultima 225 High Intensity Discharge (H.I.D) driving lamp kit.
The new 35W H.I.D Narva offering bridges the gap between halogen and the latest 50W H.I.D and L.E.D lights, so upgrading from halogen to H.I.D lighting is now much more affordable.
Incorporating the same design as the Ultima 225 lamp coupled with a 35W ballast and D1S globe, these lights deliver exceptional output and a noticeably brighter and whiter light of 4150OK, much closer to natural daylight than halogen counterparts.
By closely resembling daylight, the 35W Ultima 225 H.I.D driving lamps reduce eyesight fatigue, making night driving much more comfortable and increasing safety on long journeys.
The 35W ballast and D1S globe boast a low current draw, are impervious to vibration and produce three times the light and five times the life – or 3,000 hours – compared to standard halogen globes.
The 35W driving lamp kit is available in a combination beam – the best all-purpose beam configuration for both distance and breadth of light. The lamp also features 12/24V dual voltage circuitry, making it suitable for four wheel drives and trucks.
Ultima 225's tough and durable design features an impact resistant housing and a virtually unbreakable polycarbonate lens. In addition, a robust mounting system delivers maximum stability and impact resistance and is reinforced by an aluminium crush tube for even greater strength and durability. Designed with four mounting positions for simple and versatile installation, the reversible bracket has two bolt holes allowing forward or backward mounting to best suit the application.
The 35W Ultima 225 driving lamp kit (Part No. 71702HID) includes two lamps, fitted internal ballasts and D1S globes, and two see-through polycarbonate lens protectors. This exciting new kit is available from leading automotive, transport and 4WD outlets at a recommended retail price of approximately $699.00.
A 'plug and play' wiring harness is also available as an optional extra for a neat and professional finish.