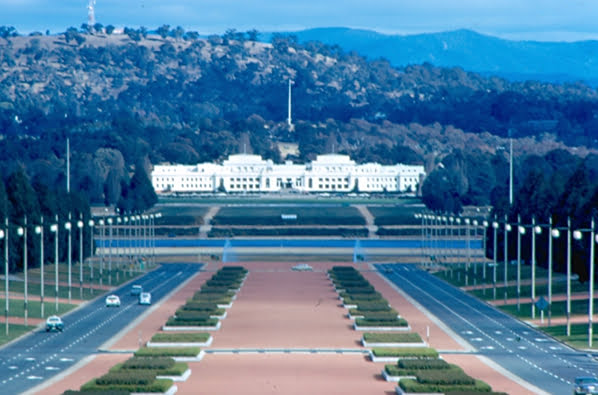 Canberra, Australia Capital Territory. Either you're here drawn by the seat of government and think there must be more. Or, you have inside knowledge and it's the holiday destination of choice. Either way – there are some great things to see and do. Perhaps you want to explore one of the national parks that lie in easy reach of the capital. Or maybe you're interested in discovering a few often overlooked gems that lie in or on the doorstep of the city itself.
Whatever your inclination, Canberra and the surrounding areas have something for you. Whether you are a dyed-in-the-wool camper, an off-roader or looking for the next leg of your great RV tour of Australia, here are some insider tips.
National parks – a stone's throw from the capital.
If you have limited time, you want to get away, but just not too far away. Then – as they say – "Go West", where you'll find several nationals parks. Let's take a look at two favourites: Brindabella and Tidbinbilla.
Brindabella National Park
Heading North West from Canberra, about an hours' drive, takes you across the border into NSW to Brindabella National Park. This is a remote alpine bush experience – great for the whole family, whether you are stopping for the day, or have decided to camp out for a few days. Much of the park lies on ancient volcanic rocks.
Wildlife is a great feature of Brindabella. Both large mammals – including red-necked wallabies, wombats, eastern grey kangaroos and wallaroos – as well as smaller possums, squirrel gliders, bush rats and water rats. There are also many birdlife including the endangered owl and pink robin to name but two.
With trails for registered 4WD touring, trail bike rides and even some mountain bike trails, your fun is only limited by what you've hooked up to your camper or RV. Make sure you plan your activities and stick to the use designated for each track, being sure to follow park rules.
Views from the trails are spectacular in places – extending to Canberra in the East and across the Australian Alps to the south.
For anglers, there are some great fishing spots. Just make sure that you got your licence from NSW fisheries.
For campers, there are several campgrounds and while each is a short walk from the car park, all are only accessible via 4WD in dry weather. So bear this in mind before setting out. Also, it's a good idea to check the national parks website to see what facilities each has. Most importantly, there is no caravan or RV camping in the park. So make sure you've packed your tent!
Tidbinbilla Nature Reserve
Drive about 70 km South West from Canberra, and you're headed for Tidbinbilla Nature Reserve. This is an outstanding area for wetlands and wildlife, just an hour form the national capital. Of course, this proximity means you might not be alone!
Arrive in the morning or stay until evening, and you're very likely to see any or all of kangaroos, emus, koalas in the trees and platypuses nearby one of the many wetland areas. Arrive late morning or early afternoon and you might not be so lucky – but uncertainty is part of the adventure after all.
Bird-watchers in the family might be especially pleased with the amazing variety, which changes by season. Black swans, Maned ducks, and Musk duck. Cormorants, grebes, shags and pelicans. And soaring overhead, you'll likely spy kites, eagles, harriers, sparrowhawks, goshawks and falcons. The variety of what you'll see is huge, with over 160 species.
Devastated by fires in 2003, the Tidbinbilla vegetation's recovery has been remarkable and is a testament to the resilience of our land. And new facilities have made this a centre for both outdoor recreation and education activities.
But while the scenic wetlands, striking mountain ranges, animal life and birds, and flora may attract – remember, this is a very special place to the Aboriginal people that have lived here for over 20,000 years. And along the walk ways and trails there are ample signs of rock shelters and scattered artefacts throughout the valley.
The best way to enjoy Tidbinbilla, is to park your vehicle in one of the available cark parks, and stretch your legs on one of the wide variety of walks. There's a really helpful map at www.tidbinbilla.com.au, listing graded walks from 15 minutes "easy" through to 8 hours "hard". And if not everyone in your party is game for a walk, why not drop off the intrepid group at one location and pick them up at another. Take time to plan your walk – some of the options have look out with beautiful vistas across the area.
While there is no camping in the reserve, if you head down the Corin Damn, you'll find the Wood Reserve, which has a camping ground with picnic tables, shelter and gas barbecues. Bring your own drinking water and firewood. Bookings are essential, and the great news is that the reserve accommodates camper trailers and vehicle-based camping. This is a great place to be based to explore and enjoy Tidbinbilla.
Drive Cotter Loop
If you are starting in Canberra itself, one of the best short trips into the hinterland is The Cotter Loop.
Not a well-publicized tourist attraction, the Loop is a route used by vehicle enthusiasts and is an excellent drive. About 60km long, you have the choice to enjoy it just as a drive, or make a day of it stopping off along the way at one or more of Mount Stromo, the Cotter Damn, Canberra Deep Space Centre, or Tidbinbilla Nature Reserve and – on the way back – the old village of Tharwa.
Tharwa is the oldest official settlement in ACT, dating back to 1862 and is a great place to take a break. The general store, which dates from 1922 and is still in operation, the church and cemetery and the local craft centre all give a flavour of the past.
If you are interested in bush walks, a number start nearby Tharwa and the Corin Forest Recreation visitor centre is based here with staff who will happily advise you on activities in the area.
Heritage Sites Close to Canberra
It's easy to think about a visit to Canberra as a place to look in on modern heritage, as the capital of Australia. But the capital also offers some great examples of both ancient Aboriginal and our more recent European heritages. Perhaps base yourself in one of the many Canberra hotels and head out for the day. Perfect for people looking for the luxury and facilities of a deluxe hotel but wanting to get out and about.
Aboriginal Grinders Grooves
Head to the South of Canberra just off Tharwa Drive, and you'll find Canberra Nature Park. Here on the hill are some excellent examples of Aboriginal grinding groves.
Tuggerong lies towards the southern extreme of the country inhabited by the Ngunawal people – a number of different clans. It is understood that they used high places as meeting points, and Tuggerong would have been ideal.
The grinding groves are the result of repeated grinding of stones against the rock to produce tools and weapons. They were also used to make flour by grinding native seeds. The grooved rocks occur in large, flat, sandstone sheets. Grinding over many years has left a large variety of grooves in the surface. After rain, some fill with water to form miniature pools. The rocks are in a localised area on the hill – some fifteen metres by five metres.
Tuggerong is one of several Aboriginal sites in the area – and its top tip both for its proximity to Canberra and the insights the stones give to the relationship of the people to the land.
Duntroon Dairy
From Aboriginal heritage to European, Duntroon Dairy is just east of the centre of Canberra heading out towards the airport, close to the Duntroon Military Academy. Established in 1832, the dairy is one of the oldest buildings in Canberra – which should be unsurprising because dairy farming was the obvious choice for the early settlers.
It is a remarkable building – a triumph of form and function. The thick stone walls made from the stone excavated for the foundations provide the coolness needed in a dairy. The builders channelled a natural spring to flow through the building, and constructed a deep well inside the dairy. Both spring, well and walls helped keep the dairy cool and humid in the all conditions.
In an age where we are increasingly interested in buildings that integrate sympathetically with the environment, Duntroon Dairy provides a stunning example of the work of architects nearly 200 years ago.
Not forgetting good food and wine
So far, we've focused on nature and heritage. But before signing off, Canberra is building a wonderful culinary heritage, too. And one of the places well worth a visit is Poachers Pantry, a half hour drive north of the city.
This is a small family run business that has been operating for over 20 years. It started as a producer of gourmet meats, and now the location incorporates a Smokehouse Café, the Wily Trout Wine range, farm shop, cellar door and wedding location. The wines, made from the vines growing in the surrounding hills, are a wonderful complement to the smoked meats produced on-site.
Final Tips
There's a lot to see and do and you take in a lot in a long weekend or linger for a week or more, enjoying the splendour of the national parks. Whatever your plan, here are a few final tips:
• Think about the time of year. If you want to enjoy the outdoors, October through April offer the nicest temperatures, but be prepared for rain, as there are typically between 5 and 8 days a month with some rain throughout the year.
• If you are going camping, do some research online as to the facilities on offer, whether vehicle camping is allowed and whether or not bookings are required. This is critical around the school holiday times.
• Carefully research the access and conditions of roads. Parts of the national parks require 4WD access.
• Have a plan B. Sometimes, roads and sites in the parks can be inaccessible. Or if you'd planned on fair weather, think about whether your holiday plans would be affected by heavy rain.
• Observe the rules on use of tracks, camps, open fires and fishing, either by following the signs on display, those available on official websites or information centres.
• If you are interested in spotting wildlife, definitely pack your binoculars. Or you may mad wondering what you've spotted!
• Unsurprisingly, these areas are popular and being close to the capital, you likely won't be the only one enjoying them. If you have flexibility in your schedule – steering clear of school holidays is a good idea.
Finally, enjoy. There is so much on offer here for everyone.
Writer bio: Chris Thompson is an experienced hotel manager having worked around the world in many hotels. Chris is a keen outdoorsman, and these days also enjoys writing about his travels and tribulations.