Subaru's first diesel-powered vehicle is on sale today with the arrival of the turbocharged Outback 2.0D on the new generation platform that has already won accolades for the recently launched petrol versions.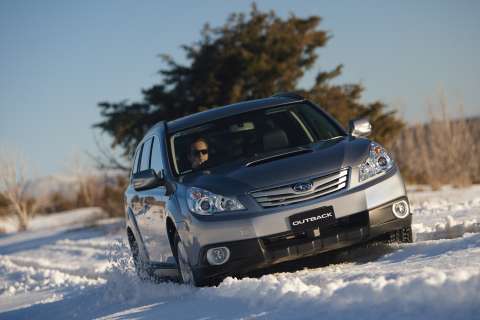 The super-efficient Symmetrical All-Wheel Drive Outback 2.0D offers outstanding economy and low emissions, meeting strict EURO 5 standards.
It is believed to be the world's first flat boxer diesel engine for a passenger car and consumes just 6.4 litres of fuel per 100 kilometres in the combined cycle, while producing just 160 grams/kilometre of carbon dioxide.
Local testing indicates a range in excess of 1100 kilometres is achievable with steady freeway driving.
The Outback 2.0D models offer the same outstanding five-star safety as every Subaru.
Three models are available: the Outback 2.0D, the 2.0D Premium and 2.0D Premium with satellite navigation (SatNav).
The new 2.0D engine produces 110 Kilowatts of power at 3600 rpm and 350 Newton metres of torque between 1800-2400 rpm.
Even at just 1600 rpm, the engine delivers 300 Nm of torque for incredible low-down pulling power.
As with all four-cylinder Outback models, the first service is now at 12,500 kilometres/six months.
Outback 2.0D shares the same spacious new cabin, refined ride and multiple engineering changes as petrol versions.
Outback 2.0D is priced from $40,490 Manufacturer's List Price (MLP)*. The diesel range topping Outback Premium with SatNav is $46,490.
Nick Senior, Managing Director, Subaru Australia, said: "These are the most fuel efficient new generation Subarus on the Australian market.
"We've already had huge interest from people seeking a luxurious drive with the outstanding economic benefits of this diesel engine.
"Outback 2.0D reinforces our environmental and fuel economy credentials, which have already been highlighted by significant efficiency gains across the entire new generation Liberty and Outback ranges.
"Depending upon the level of customer interest in the coming months, we will be carefully considering extending the engine's availability to some other models in the Subaru range."
He added: "We estimate that driving 25,000 kilometres a year at $90 per tank of diesel would save approximately $2500 over 20 months on an equivalent petrol car.
"It's a significant saving and one of the many positive facts that will bring new buyers to the Subaru brand."
Widely respected for its Symmetrical All-Wheel Drive ability, Outback now has the extra ingredient of a turbocharged diesel engine plus more leg and shoulder room, while adding even more comfort and features to its formidable reputation.
Australia's original crossover wagon maintains its super-safe status with new features including a driver's knee SRS airbag and a cradle that helps cocoon the engine from the reinforced passenger cabin in heavy frontal crashes.
Subaru's safety commitment is underlined by Outback's achievement of the highest five-star occupant safety rating in independent crashworthiness testing conducted by the Australasian New Car Assessment Program (ANCAP). It also gets a three-star pedestrian rating.
Among the Outback 2.0D highlights:
•Incredible fuel economy and range
•Six-speed manual
•New platform produces significant space and safety benefits
•Wider, longer cabin for greater leg and shoulder room – three adults easily fit the rear seat
•ECO gauge encourages economical driving
•Highest five-star ANCAP safety rating across the range – addition of driver's knee SRS airbag; cabin strengthened in strategic areas
•Greater cargo carrying capacity
•Reversing camera for Outback 2.0D Premium when fitted with factory satellite navigation (SatNav)
•Sash windows for greater noise suppression and security
•New single-cradle engine bay design – reduces noise, enhances safety and refines ride and stability
•Wider opening doors for easier access
•Sophisticated Symmetrical All-Wheel Drive for added driving pleasure and safety
•Voice activation system on factory-fitted SatNav for easy function selection
•Standard dual zone air conditioning
•Electric park brake
•DataDot security – in line with the entire Subaru range
•First service at 12,500 kilometres/six months
•Self-levelling rear suspension
The new generation Outback 2.0D line-up comprises:
•Outback 2.0D – with six-speed manual transmission
•Outback 2.0D Premium – includes leather trim, electric sunroof and rear air vents
•Outback 2.0D Premium with SatNav –includes DVD, reversing camera and Bluetooth compatibility
MY10 Outback 2.0D pricing
*Prices are Subaru (Aust) Pty Limited's Manufacturer's List Prices only and include GST on the list price but exclude dealer delivery charges and all other government and statutory charges. For the drive away price of Subaru vehicles consumers should be advised to contact their local authorised Subaru dealer.
Outback 2.0D manual – $40,490
Outback 2.0D Premium manual – $43,990
Outback 2.0D Premium with SatNav manual – $46,490