Along with the surge in SUV popularity over the last 10 years or so, has come the inevitable replacement of prestige saloons with prestige SUVs.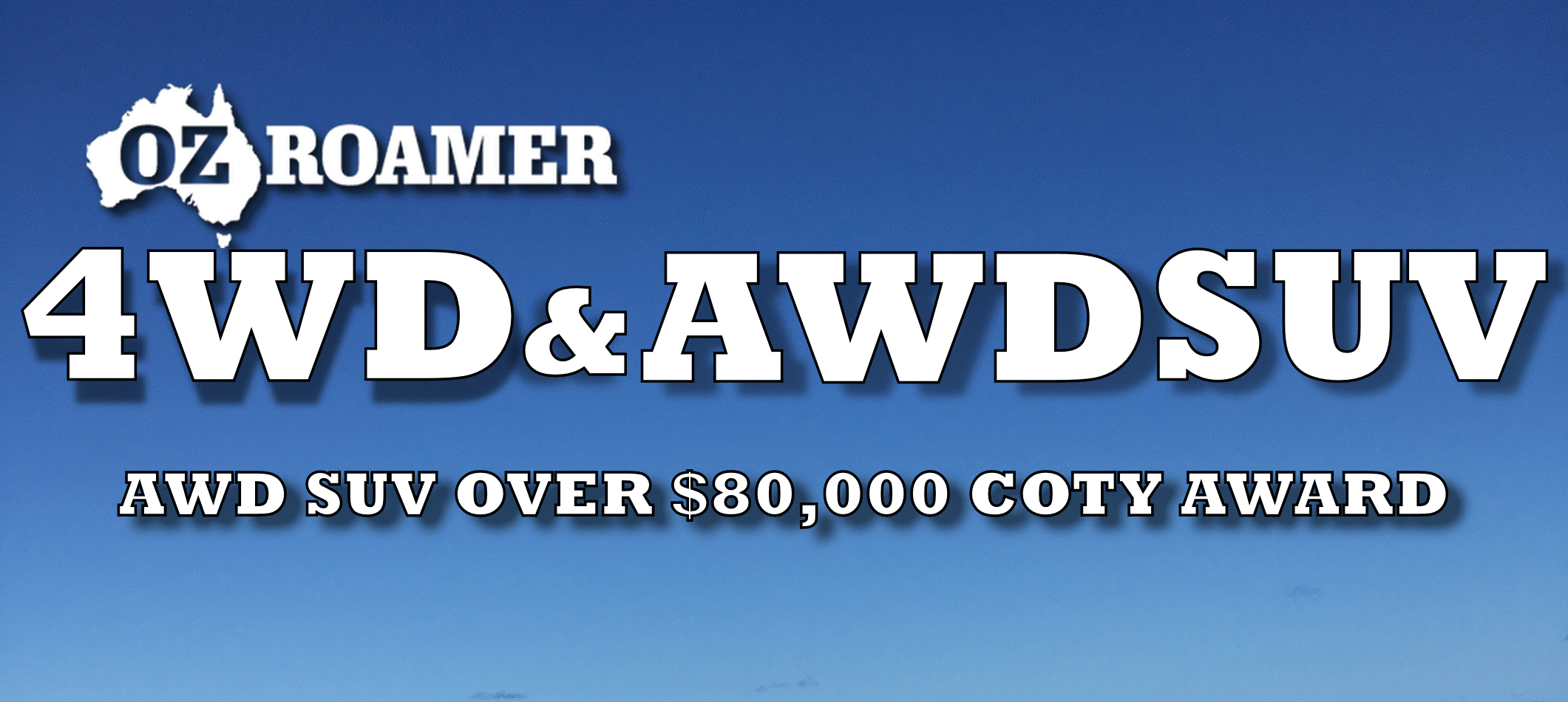 The reason we changed this category from the last award issue is that this is the entry price for many large AWD SUVs go from here to the early to mid $100k pricing. It's the domain of premium brand European models and newer Japanese brands.
Realistically at this price point brand loyalty plays an important part as does market perception. However neither of those play a part in our decision making.
The list of possible nominees is long. Including: Audi Q5 and Q7/Q8, Range Rover Velar, Porsche Macan, Genesis GV80 and Lexus RX.
Our final three nominees are:
Audi Q8
Jaguar F-PACE
VW Touareg
Volkswagen Touareg – Winner
Volkswagen has had the Touareg for a number of years but the all new version launched in mid-2019 completely changed the perspective of the vehicle. With updates along the way, price increases and changes to engine options, the Touareg still punches above its price weight to take out this award.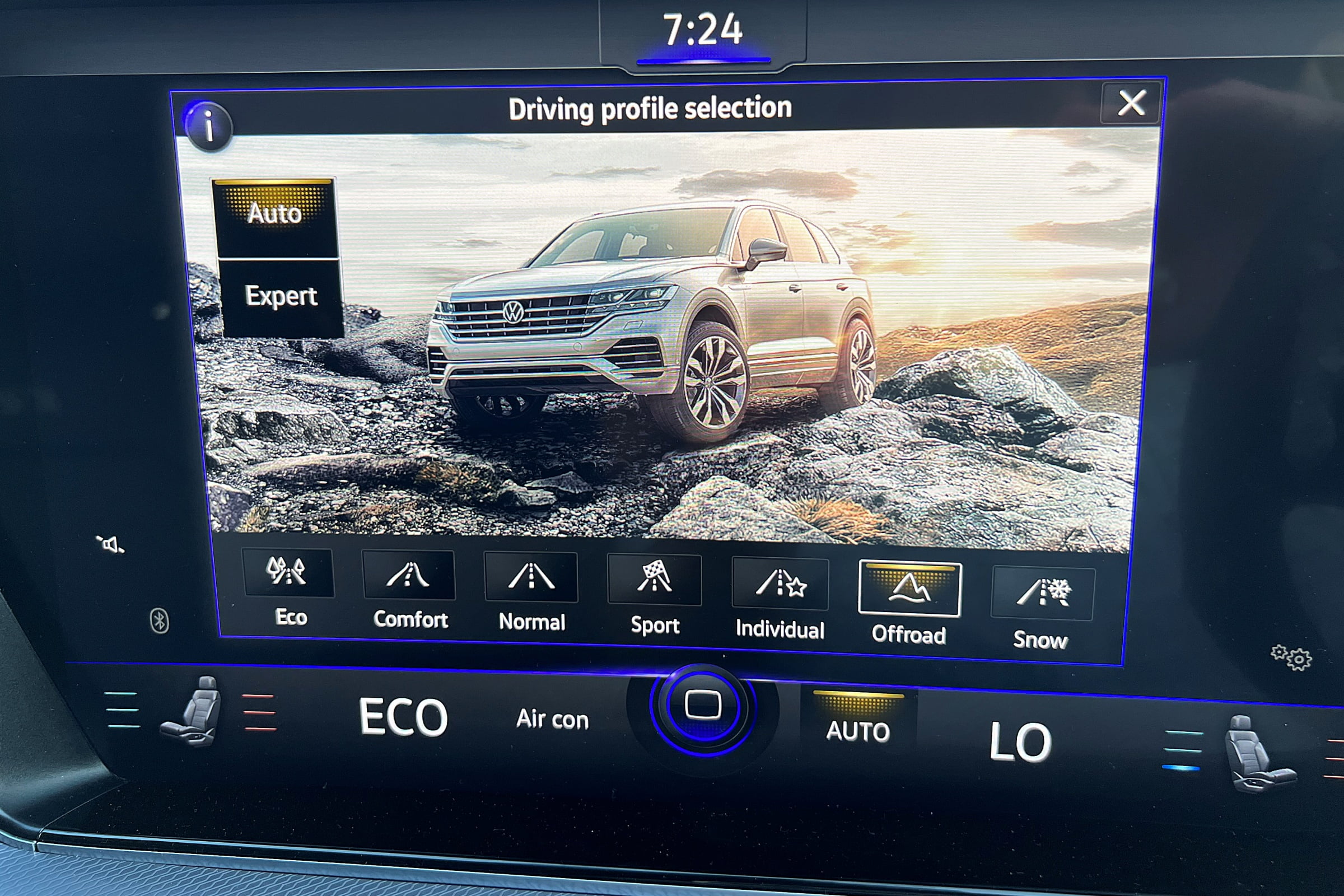 Volkswagen Touareg Model Range
Touareg has a simplified model range. Essentially there are two engine options and three specification levels. One transmission across the range and all come with VW 4Motion AWD system.
The pleasing thing from a consumers view is that the entry level model is so well equipped with most features that buyers want, especially safety.
There was a V8 R Line model last year but they seem to have dropped that which is a pity.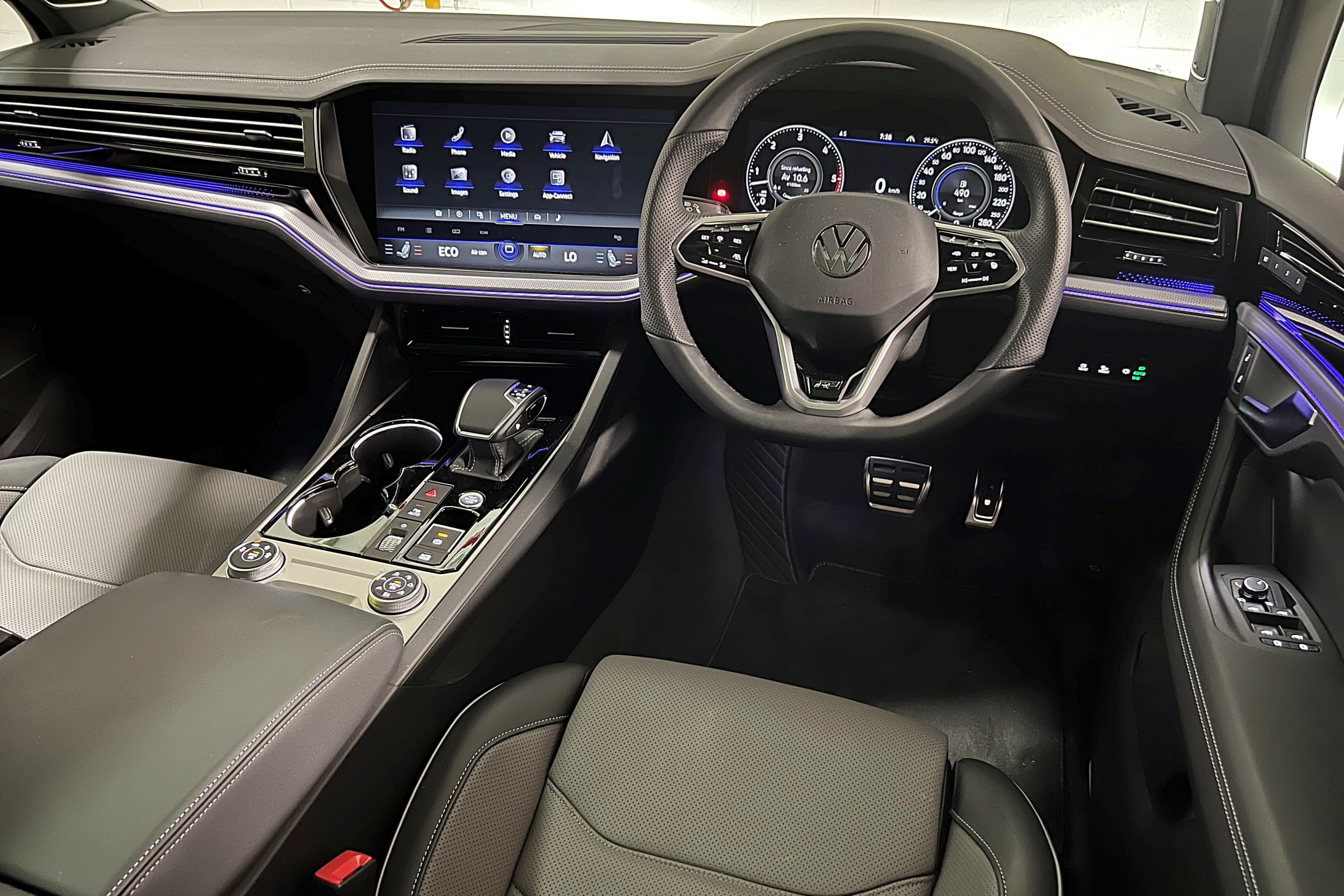 Volkswagen Touareg General Thoughts
The Touareg is very good, it's that simple. Considering it sits on the same 'platform' as the Bentley Bentayga, Porsche Cayenne, Lamborghini Urus and Audi Q8, that's no surprise.
From the outside it maintains VW slightly conservative 'squarish' design language but is sleek at the same time.
However inside it's all up market. Especially in the 'R' Line version.
Overall impression is of space, comfort and luxury. Driver ergonomics are excellent.
The driver's seat is so comfortable with everything close at hand. I particularly like the standard ventilated and massage function for the front seats as well as the interior ambient lighting.
The digital driver instruments as well as the huge optional 15 inch central screen mean that there is almost an overload of information for the driver.
As it's a fairly large SUV there is plenty of room for rear passengers and the boot space is cavernous.
The Touareg if full of features such air suspension with electronic damping control and four wheel steering, multi mode drive select, electromechanical Active Roll Stabilisation and more.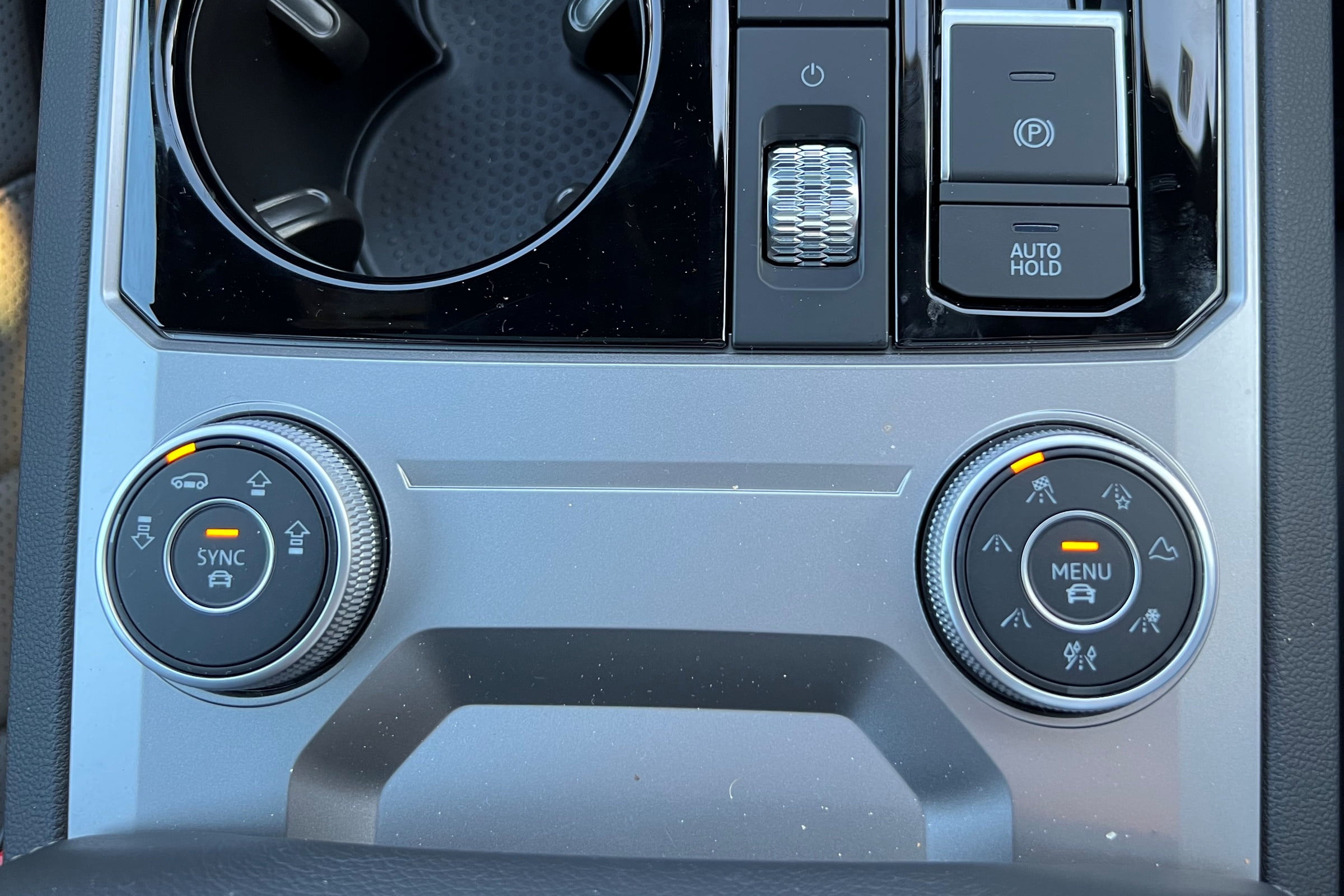 Volkswagen Touareg Engine and drivetrain choices
The 3.0L V6 Turbo diesel pumps out a respectable 210 kW and a healthy 600 Nm at just 1750rpm. Driving all four wheels through the 4motion system and a ZF 8 Speed auto transmission. Its reasonably economical using around 8.8l/100k during our test.
Volkswagen Touareg Pricing
170TDI CR Auto 4MOTION $84,990 MLP*
210TDI Elegance CR Auto 4MOTION $103,690 MLP*
210TDI R-Line CR Auto 4MOTION $112,690 MLP*

Volkswagen Touareg Final Thoughts
Touareg is one of those cars that invites you in and you immediately feel comfortable. You feel part of the car and its personality.
The level of composure is equal to SUVs costing many tens of thousands of dollars more.
More than enough performance and dynamics to keep most drivers happy along with the luxury and comfort features of the R Line to allow occupants to relax in style.
You have to actually drive the Touareg to appreciate just how good it is.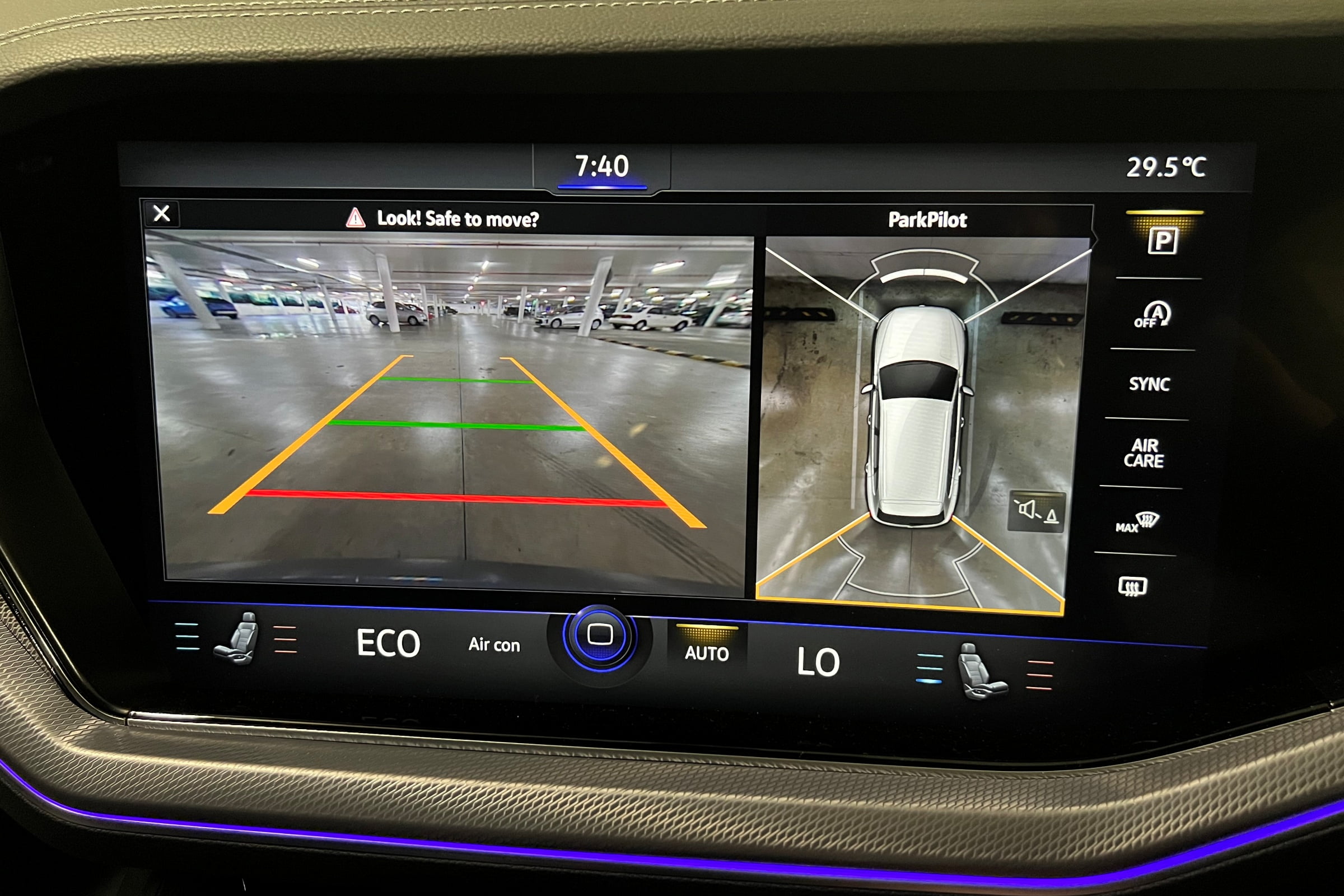 What is good?

What is not so good?

Performance, ride, handling
Exceptional comfort
Standard features

Have to go into screen for A/C controls
ACC not selectable
Volkswagen Touareg Model Pick
Absolutely the V6 210 TDi R-Line as it comes amazingly well equipped for the price and is thousands below anything else equivalent in the class.
| | |
| --- | --- |
| Model    | 2022 VW Touareg V6 210 TDI R-Line AWD |
| Model Price | $112,690 MLP* |
| Engine | 3.0L V6 TDI Twin Turbo |
| Drivetrain | 8 Speed AT 4 Motion AWD |
| Power | 210kW at 4,000rpm |
| Torque | 600 Nm @ 1,750-3,000rpm |
| Safety | Five Star ANCAP |
| CO2 Emissions | 180 g/km |
| Economy ADR | 6.8 L/100km / 90L tank / 8.8L/100k on our test |
| Towing Ability/Ball | 3500kg / 260 kg |
| Servicing | 12mths/ 15000km 3 or 5 Yr. fixed  Price |
| Warranty | 5yr/ Unlimited km with 1 Yr. conditional roadside assist |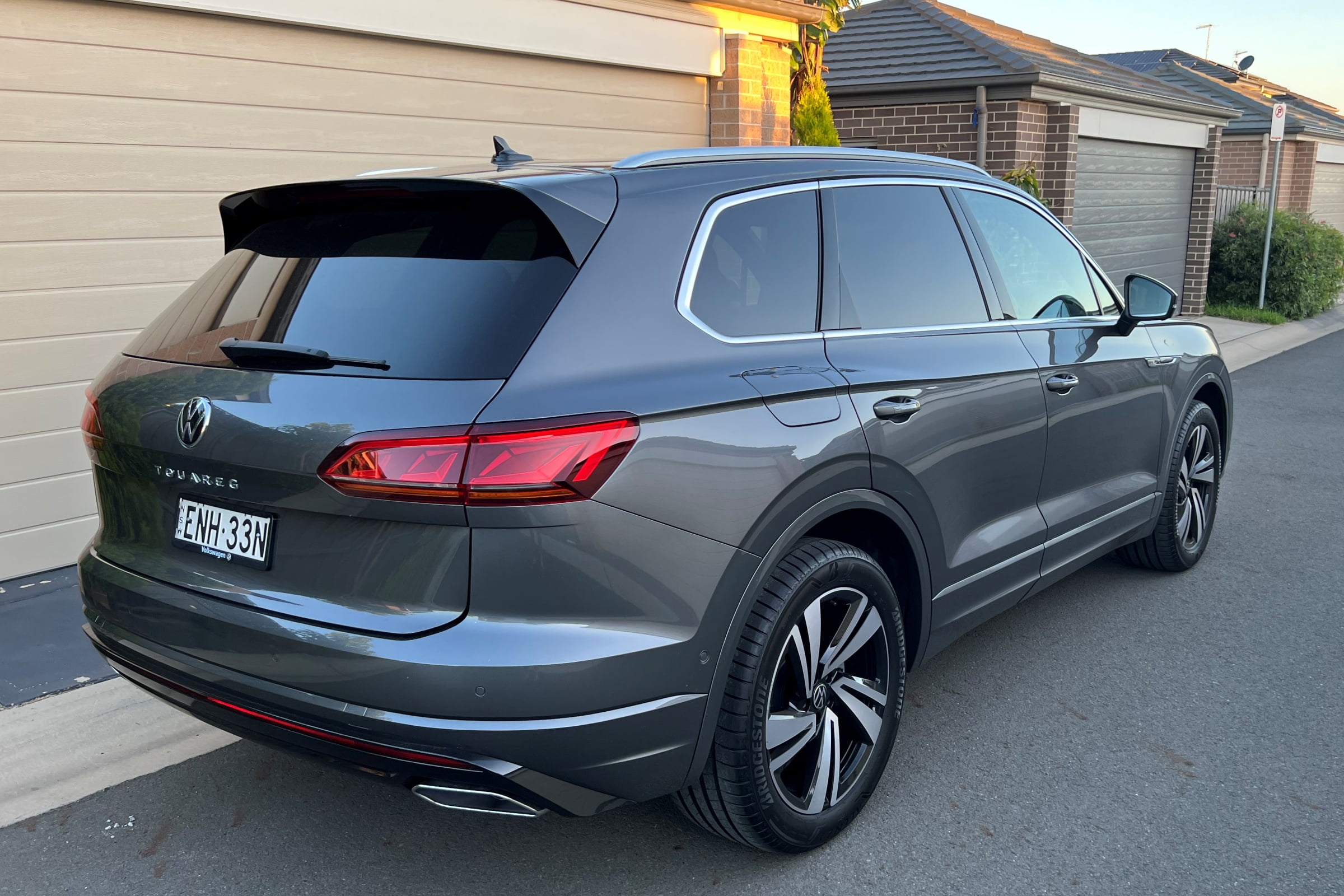 | | |
| --- | --- |
| Overall Rating     | 92/100 |
| Behind the Wheel | 10 |
| Comfort | 10 |
| Equipment | 9 |
| Performance | 9 |
| Ride and Handling | 9 |
| Practicality | 9 |
| Fit for Purpose | 9 |
| Towing / AWD Ability | 8 – Towing 4/5 – AWD 4/5 |
| Technology / Connectivity | 9 |
| Value for Money | 10 |
*Towing and AWD Capability is compared to other similar vehicles in the same class.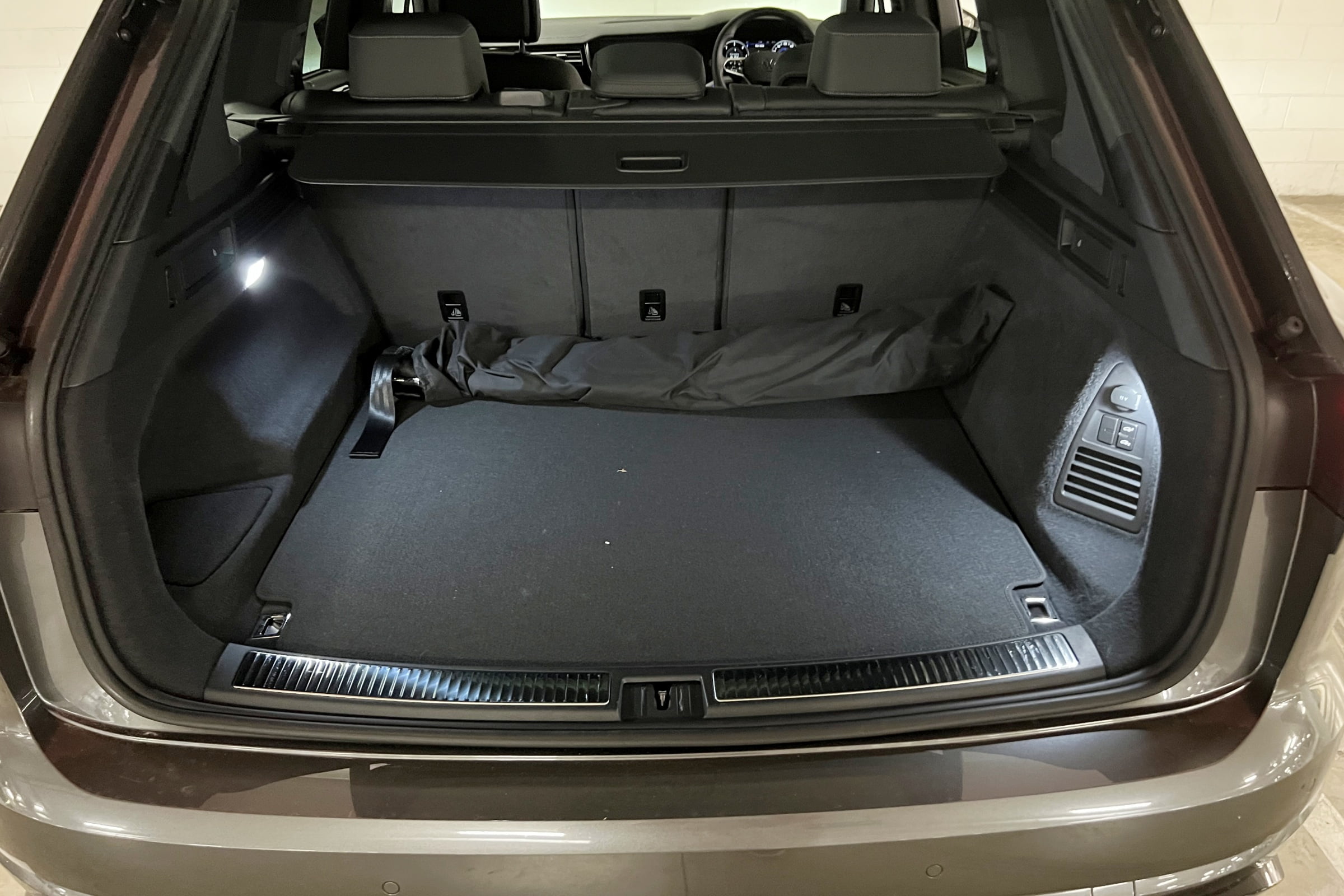 | | |
| --- | --- |
| Touareg Dimensions |   |
| Overall Length | 4878mm |
| Wheelbase | 2899mm |
| Width / Height | 1984mm / 1686mm |
| Unladen ground clearance / wading depth | Up to 213mm / TBA mm |
| Approach / Rampover / Departure angles | TBA |
| Fuel Tank  / Turning Circle | 90 Litres / 11.2mts KTK |
| Kerb Weight / Payload / GVM / GCM | 2129kg / 631kg / 2850kg / 6350KG |
| Towing Capacity / Tow Ball rating | 3500kg / 260kg |

Audi Q8 – Finalist
Audi Q8 is a distant cousin to the VW Touareg in that it shares the same 'platform' and diesel engine.
It is however a pure Audi in design and functionality.
First impressions are that is low, sleek, squat and looks bloody good, better in the flesh than in photos. It looks and feels much smaller than it actually is. The S-Line exterior package is striking.
Audi seems to have the balance pretty right for the interior between form and function.
Inside, there is a minimalist black-panel look that sweeps across the dash. When illuminated, all the displays, elements and controls integrate seamlessly with each other. There is an absence of dials as most controls are operated by the dual screens. This can be both good and bad.
Rear seats are great for two people, with enough room for my large bear frame to fit in comfort. Boot space is ample for a family of four as we found out on a trip to the snow a while ago.
Audi Q8 comes in two versions the 50 TDI S line priced at $135,300 MLP* and the 55 TFSI S line priced at $135,900 MLP*. Both come equipped with the famous Audi Quattro AWD system and eight speed sports automatic transmission. Either engine choice will suffice thank you.
This is of course ignoring the SQ8 and the blistering fast RSQ8.
Driving the Q8 is both a stimulating and comfortable experience. The balance that is achieved between direct responses to driver inputs in steering and throttle allows a level of driver engagement that will satisfy most
The Audi Q8 looks good, comes packed with Audi features and feels just right when you're driving it. It complements the driver.
It provides executive transport for a family of four in comfort and meets the test of driving 1000km in a day and arrive feeling relaxed.
I would have one parked in the driveway every day it's that good.

What is good?

What is not so good?

Overall ambience/ Stylish looks
Engine performance and economy
Balanced ride/handling

Can get pricey with options packs
Not a lot of small storage room for phone etc.
Not fussed on the transmission lever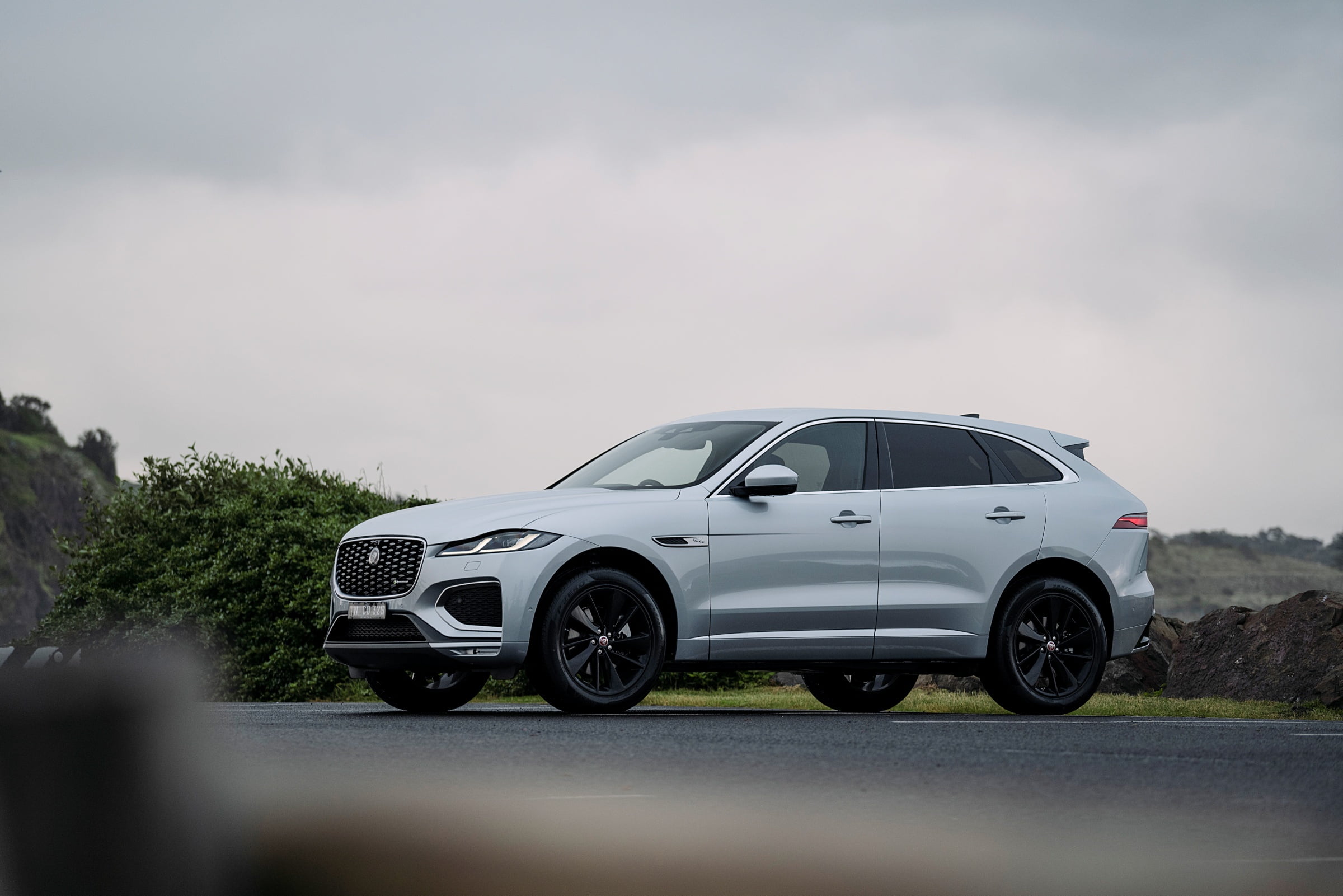 Jaguar F-Pace – Finalist
In a word, beautiful. F-PACE has got the lines and proportions spot on.
The F-PACE continues the design flair of the F Type sports car. It has typical flowing lines of a Jaguar. The DNA is obvious as is the purity of the design with F-TYPE-inspired features such as the powerful rear haunches, fender vents and distinctive tail light graphics.

F-PACE combines the benefits of Jaguars history of saloon ride, handling and comfort along with the practicality of the SUV body shape. Ideal for a family trip or weekends at the snow.
My first impression sitting inside is that the driver has absolute focus from the vehicle. That doesn't mean the other occupants are left behind, but you immediately feel part of the vehicle as the driver. There's plenty of standard features that enhance the comfort and safety of occupants and the interior ambience is all luxury.
Rear seats are a little tight for taller passengers. The boot area has tie down points, retractable hooks and a low load height and excellent shape at a little over 1.2m wide, as well as the automatic boot lid opening high enough for my 190cm frame to stand under comfortably. The floor itself is reversible: one side is carpeted, the other rubberised – making it ideal for sports equipment or pets.
F-PACE comes with a choice of four engines, a one D300 diesel, one P250 petrol and one P400 TeC petrol as well as the sublime 5.0L V8 SVR. All come with the same 8 speed sports automatic transmission as well as AWD. There are four models in the range; R-Dynamic S, SE HSE and SVR.
Pricing starts from $79,461 MLP* through to $145,146 MLP* for the SVR.
Like all Jaguars, the driver engagement is important and the F-PACE provides a smooth, comfortable yet sporty drive experience. The selectable driver dynamics adds to the fun.
The word 'Jaguaresque" or comes to mind. I know it's not a real word, but it should be.
F-PACE brings a level of elegance to the prestige SUV segment that is welcomed and is a delight to drive.
What is good?

What is not so good?

Beautiful design
On Road ride and responsiveness
Interior ambience

Not a fan of the transmission lever
Long and expensive options list
Steering wheel controls slow response
*MLP Includes GST and LCT but excluding statutory charges, dealer costs and dealer delivery. See your dealer for RDAP. Does not include price of options. Some features mentioned in the article are options. RDAP means Recommended Drive Away Price (without options but including all other charges)