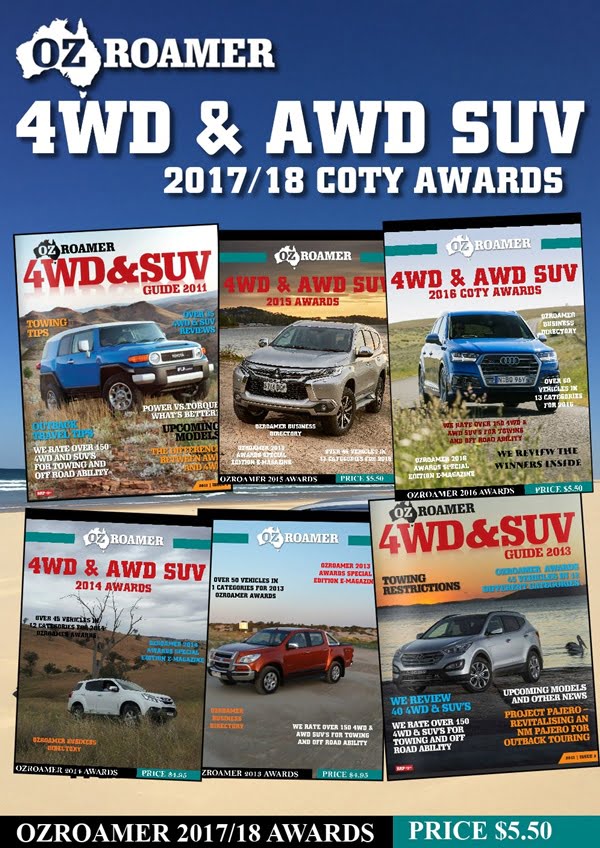 OzRoamer COTY Awards are now in their seventh year and have proved to be an outstanding success with buyers in helping them make educated buying decisions.
In light of that, in 2017 we have multiple categories for various vehicles. This is line with our philosophy of comparing vehicles that are likely to be compared by buyers. How can a buyer use the awards if they compare a sub $45,000 SUV to an $80,000 4WD or Prestige Sport SUV that costs upwards of $150,000? Buyers want a 5 seat vehicle or a 7 seat vehicle, AWD or 4WD. We want to keep it relevant!
The OzRoamer COTY Awards are without doubt the most independent and comprehensive 4WD & AWD SUV COTY Awards in Australia.
Since starting in 2011 we have grown the yearly magazine and this year, the magazine will be bigger and even more informative than before!
Included in the magazine will be articles on:
● Discussion on the category a vehicle is nominated for
● Reviews on each vehicle nominated within a category
● Winner of each category
● Further articles on:
● Prestige SUV's prevalence in the market
● 4WD vs AWD – in the awards we clearly differentiate between AWD and dual range 4WD vehicles.
● What vehicle suits you best, do I need an urban SUV, a seven seat AWD, or a true dual range 4WD etc.
● Lifestyle aspects of different types of vehicles.
● Petrol vs Diesel.
● And more!
● The magazine is scheduled to be released January 8, 2018.