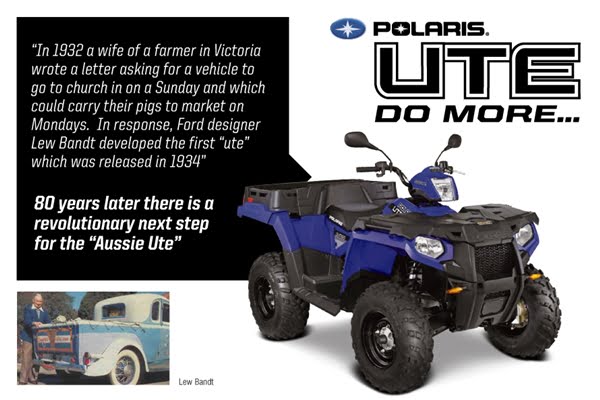 Leading off-road vehicle manufacturer, Polaris Industries Inc (NYSE: PII), made history in Australia by releasing the first-ever All-Terrain Vehicle (ATV) designed from the ground up specifically for the Australian and New Zealand markets, the Polaris UTE 570.
The Polaris UTE 570 offers the utility and capabilities of the traditional farm ute combined with the nimbleness and agility of an ATV. The revolutionary new design starts with the legendary attributes of a Sportsman ATV, such as Independent Rear Suspension (IRS) with 24.1 cm of rear travel and On-Demand True All-Wheel Drive (AWD), adds a utility-styled tipping rear dump box, characteristic of the hard working farm ute, and offers the package at an attractive $9995 price point.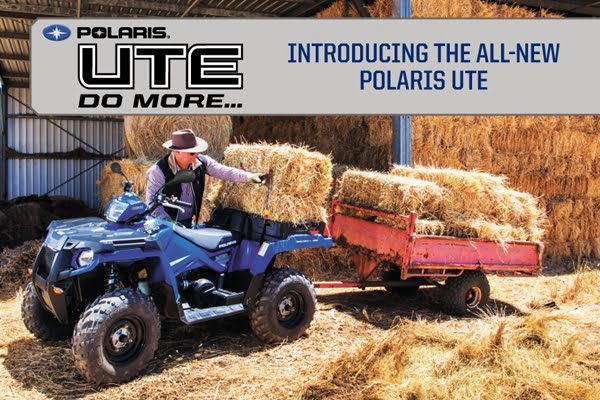 "This is an enormous leap forward for ATV development," said Polaris Australia and New Zealand Managing Director, Peter Alexander. "This is a vehicle that not only offers the ultimate utility and versatility, but also heavy duty features designed specifically to withstand the rigors of our market."
To develop the Polaris UTE 570, Polaris management and engineers visited Australia and New Zealand to solicit input from dealers and end users about the usage of ATVs in the countries' unique conditions. The Polaris UTE 570 was the result of the endeavor and was developed specifically to withstand the challenging conditions in Australia and New Zealand by offering greater utility and work capacity in a market so agriculturally dominated.
Powered by the same 567cc, fuel injected engine as the recently-released Sportsman 570 EFI, the Polaris UTE 570 has plenty of power to handle even the toughest of tasks and is packed full of features that not only make it a highly-capable work partner but deliver a customer-centric riding experience.
Farmers will appreciate hard-working features such as a whopping 556kg towing capacity, durable 4-ply tires and a 180kg tipping dump box that includes tilt-tray functionality for ultimate convenience when dumping heavy loads.
To ensure the vehicle can be used on a farmer's entire property with limited or primary producer registration, Polaris also has fitted the vehicle with indicators, mirrors and a horn as standard features to save customers the expense of retrofitting these items when required.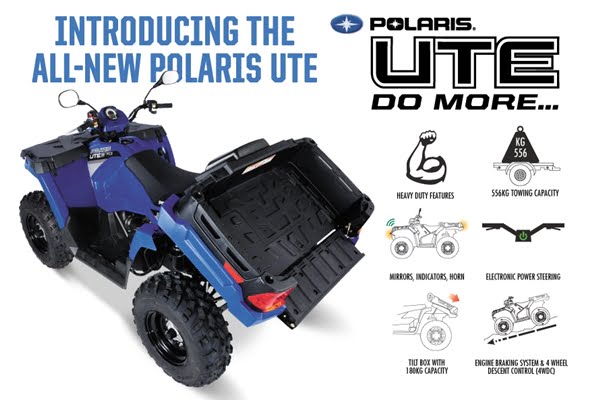 For steering ease and control under all conditions, the Polaris UTE 570 offers EPS as a standard feature and Polaris' legendary On-Demand True All-Wheel Drive (AWD) system which automatically engages when the rider needs more forward traction and reverts back to two-wheel drive automatically when the AWD is no longer needed.
For optimal control on descents, the vehicle also features a new Polaris 4 Wheel Descent Control (4WDC), which was designed specifically for the hills and duty cycles of Australia and New Zealand. The system automatically engages all four wheels when travelling down slopes for optimal traction and control in all conditions.
A work partner is only as good as his reliability and the Polaris UTE 570 is equipped with grease-able/sealed ball joints, sealed driveshaft splines and sealed suspension bushings to not only provide increased durability in the harsh Australian conditions, but also provide easier ongoing maintenance making the unit the ultimate work vehicle.
The Polaris UTE 570 is being offered in Blue Fire and will be available in March, 2014.