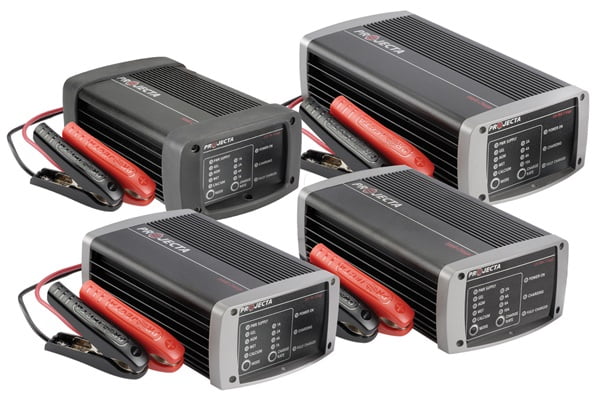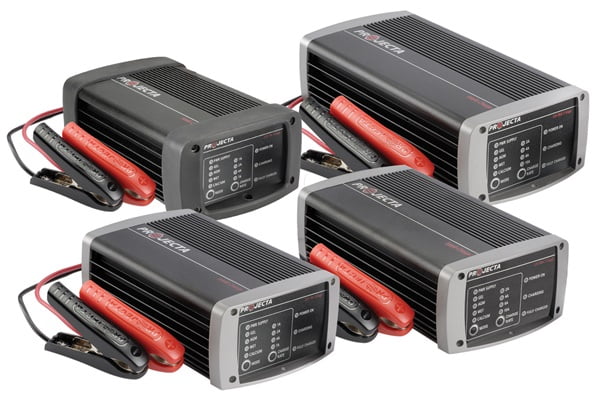 Projecta has enhanced its popular 'Intelli-Charge'  battery charger range to now offer an adjustable charge rate across its smaller  7A, 10A and 15A models, increasing the range's suitability for a wide array of  applications both in the home or workshop.
Until  now, a variable charge rate was only available in the larger 25A, 35A & 50A  models, however Projecta engineers have successfully introduced the innovation  to the more compact Intelli-Charge variants.
The  enhancement allows the models to produce a charge rate from as low as 1A, delivering  optimum and safe charging for all lead acid batteries, while continuing to  offer world-class, 7-stage technology and multi-chemistry charging.
This  technology maximises battery performance and longevity.  Intelligent electronics monitoring coupled  with a chemistry-specific charge process, delivers a specific charge that is  precisely matched to the battery type, guaranteeing no greater charge than is  required.
The  Intelli-Charge range begins with the IC700 (12V 7A) model featuring adjustable  charge rates of 1A, 2A, 4A, and 7A.  The  IC700W workshop model enjoys all the features and benefits of the IC700 but  includes projective hard rubber unit end caps to live up to the rigours of  workshop life.
Users  requiring a faster charge rate can opt for the IC1000 (12V 10A) which provides  adjustable charge rates of 2A, 4A, 6A and 10A.
Further  up the-range is the IC1500 (12V 15A).  As  well as offering higher adjustable charge rates of 2A, 4A, 8A and 15A, this  model also includes a remote control socket, allowing the operator to position  the charger out of sight, yet retain total control of the unit.
The  Intelli-Charge remote control unit (P/No. ICREMOTE) is available separately at  additional cost.
All of  the model variants feature the 7-stage charging process and are well suited to  charging batteries for vehicles and equipment such as cars, motorbikes, trucks,  ride-on mowers, jet skis, boats and many others.
The  range comes with the peace of mind of a 2-year warranty and can be purchased at  leading automotive and transport outlets and battery specialists throughout  Australia.