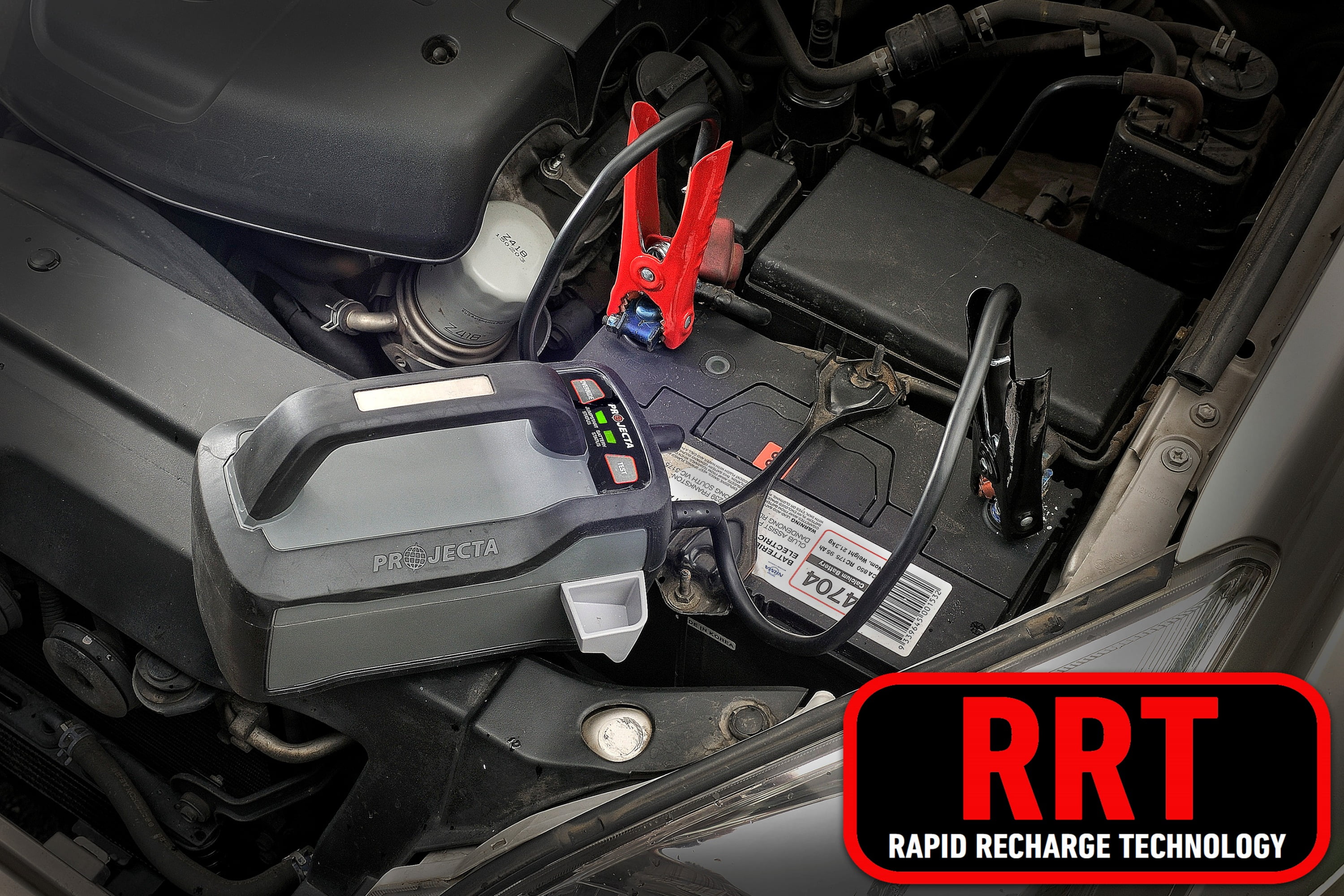 For roadside recovery service providers, automotive auction houses and even car manufacturers with large vehicle holding facilities, a jumpstarter is a valuable tool that is used extensively throughout the course of a day's work.
An easy and convenient means of jump starting vehicles without having to result to taking a 'jump' from another car or carrying around a spare battery on a trolley, jumpstarters are fast to connect and compact, meaning they're extremely portable.
Where traditional jumpstarters can let users down is that they require regular recharging particularly if used frequently and if this maintenance is neglected, the device will simply run out or charge in the same way that a battery does.
The revolutionary 'Intelli-Start' 1500A 12V Professional Lithium Jumpstarter from Projecta, does away with the need for traditional recharging. Instead, once the vehicle is started with the Jumpstarter, all that's required is for the device to remain connected to the running vehicle for 40 seconds to achieve a full recharge of the unit.
Projecta's IS1500A Rapid Recharge Technology (RRT), makes it ideal for a wide range of demanding applications being suitable for motorcycle, passenger car, four wheel drive and light truck markets. Providing 1500A peak amps and 550A clamp power, the unit is capable of starting diesel engines with up to a 6.0l capacity and petrol engines up to 8.0l in size.
As an example, in a vehicle with an alternator current of 40 Amps, 20 seconds of rapid recharge will recover 80 per cent of the energy lost during a 200 Amp, five second jumpstart. Forty seconds of Rapid Recharge would recover 100 per cent charge.
The IS1500A's Lithium Iron Phosphate (LiFePO₄) battery allows the unit to accept charge from the vehicle alternator, allowing it (provided the alternator is fully functioning) to receive a much higher current charge compared with other Lithium batteries and conventional lead acid batteries. As a safeguard, the Projecta IS1500A Jumpstarter will automatically stop recharging once its Lithium Iron Phosphate battery is full, removing the risk of overcharging.
Other benefits of the Lithium Iron Phosphate battery technology is that it provides a much longer storage life without requiring recharging, a longer product life (up to eight times higher than an equivalent lead acid jump starter) and is more compact and up to 75 per cent lighter than lead acid equivalents.
With its in-built, ergonomic handle, the IS1500A is easy to manoeuvre, it also features a durable rubber over moulded body design, reinforced cable connections and premium spark-free clamps to ensure it provides many years of service in the field.
Operating the IS1500A Jumpstarter is also easy, simply connect the clamps to the vehicle's battery and start it. To monitor the unit's performance, it features L.E.D jumpstarter battery status indicator, jumpstarter status indicator, jumpstarter status test button and override button.
The IS1500A also comes with a docking station and AC charger that allows the unit to be recharged from mains power, making it ideal for workshop environments where the unit is on hand and ready for use as required.
Developed in collaboration with industry experts
In developing the IS1500A, Projecta's engineering and design department collaborated with the technical team from Club Assist, who provide specialist battery technology and services to Australian motoring clubs.
Projecta worked closely with Club Assist during the development stages, to identify the main features of the IS1500A that would make it ideal for use in roadside assistance and recovery applications.
"For us, the ability to charge promptly off the clamps was a number one priority of the product," Club Assist Product Engineering Manager, Tim Lennon said.
"There have been occasions where I've ridden along with service vans where the technician may have forgotten to recharge their jumpstarters the night before and they've struggled for the whole day to recharge the unit between recoveries and keep it properly operational. Having the ability to fully recharge after each jump by simply leaving the unit connected for 30 to 40 seconds is fantastic. At only 3.5kg, the IS1500A also provides a significant weight saving over traditional jumpstarters, making them easier and more convenient to use," said Tim.
Projecta's Intelli-start 1500A Jumpstarters are available from all leading automotive, transport, and four wheel drive outlets throughout Australia.