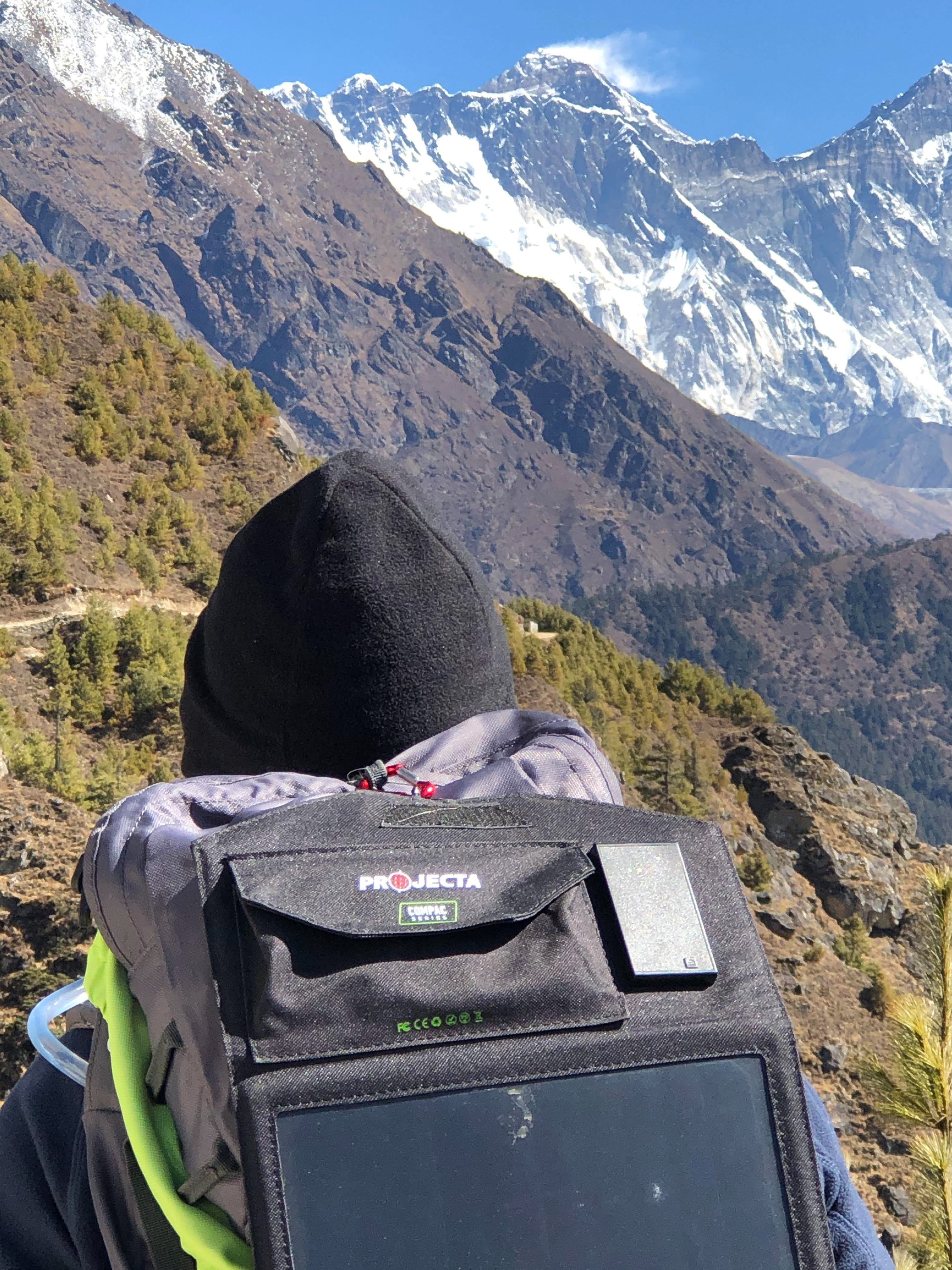 What's the point of visiting Mount Everest if you can't take a selfie to post on Instagram later?
Given the shortage of power outlets in the great outdoors of the Himalayas, plus a grueling seven or eight day trek to Everest Base Camp, you would be forgiven for carrying around a mobile device with a very flat battery. That is unless of course you came equipped with one of Projecta's new personal solar chargers, piggybacking neatly across your rucksack, as some happy climbers recently discovered.
Allowing them to keep in contact with each other in case of emergency and snap some photos of their once-in-a-lifetime experience, a family of climbers depended on their Projecta PP15 solar charger to keep all their mobile phones up and running, reportedly "nailing" the task.
Drawing power from its folding monocrystalline solar cells, the 15W charger features a built in power bank which can store power in the sunlight and continue charging devices later on when the sun goes down. Any USB-powered devices such as mobile phones, tablets, cameras, Bluetooth speakers and even drones can be charged directly and simultaneously from the 3 available USB ports, with a total combined output of up to 3A (5V).
The solar charger kit comes with corded loops and carabiners for versatile mounting to tents and backpacks for ideal sun exposure, folding up neatly into an ultra-portable carry case when not in use. Projecta figures that if its portable solar charger kits are at home in the icy, high altitudes of Everest Base Camp, there is little elsewhere in the great outdoors where they wouldn't be able to keep your devices charged.
Projecta's PP15 plays big brother to the PP10, a 10W model that directly charges portable devices without a power bank. The two solar chargers are a part of Projecta's recently released "COMPAC" range of personal power devices, aimed at adventurers and those wanting truly off-the-grid power for their portable devices, or simply a peace of mind power solution for emergencies.
Also found in Projecta's COMPAC range are a pair of power banks, PB5 and PB10, which offer USB-C fast charging and one of the smallest footprints for their large capacity (5,000mAh and 10,000mAh respectively). The lightweight and compact power banks are capable of charging 18W laptops such as the MacBook Pro, plus a wide range of USB-powered devices, and can even be charged using one of Projecta's PP10 or PP15 solar chargers.