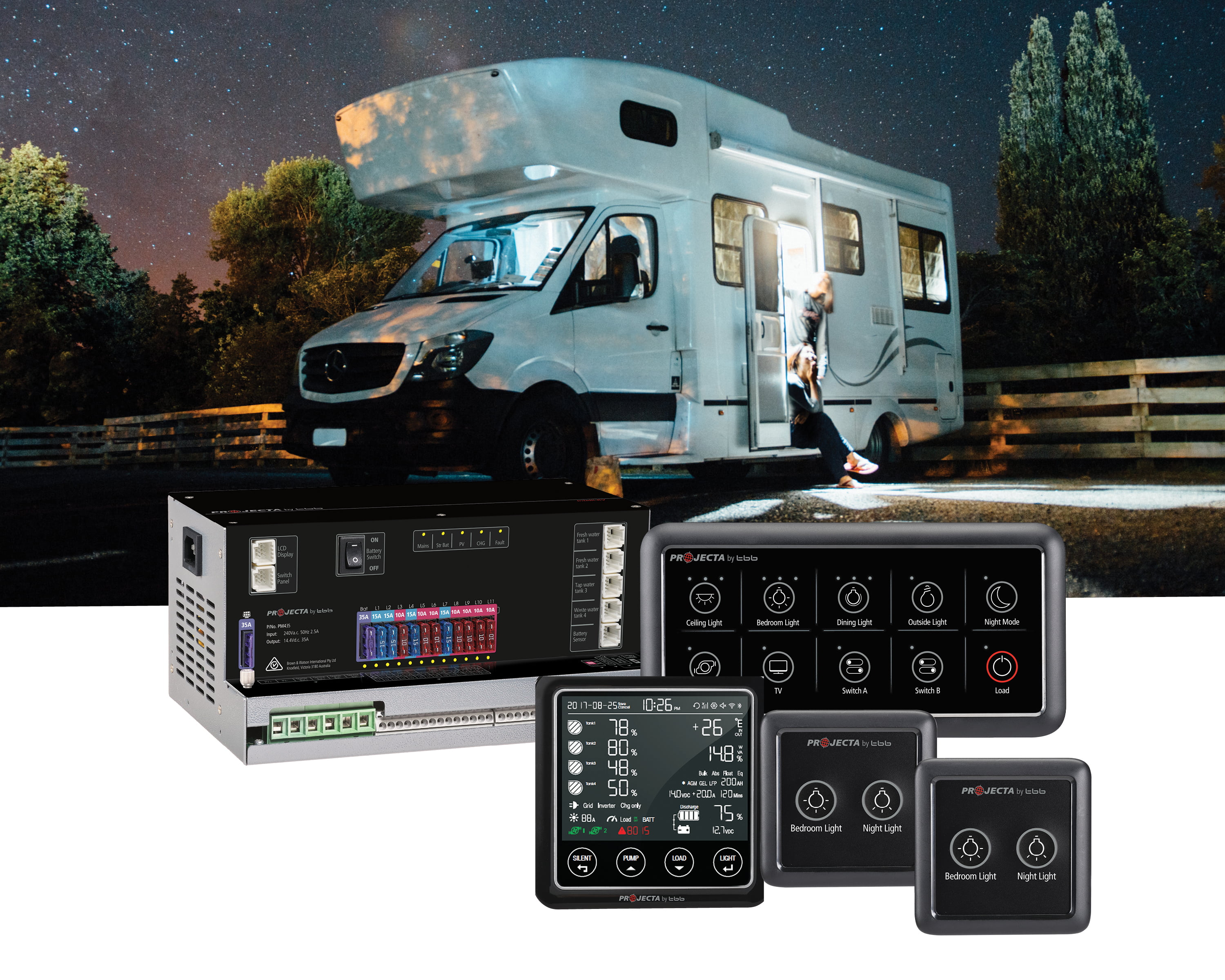 Projecta's Intelli-RV range of complete power management systems for caravans and recreational vehicles has received some significant changes, ensuring the all-in-one units continue to offer the best performing solution in the marketplace.
After finding wide interest and success with caravan builders when initially launched, ongoing customer feedback and response to competitor offerings has resulted in a number of upgrades being implemented across the Intelli-RV range. Maximum charging current has been increased from 20A to 30A for PM200, PM300 and PM400 units. This means that even the entry level PM200 will now charge a 300Ah lead acid or lithium battery in around 10 hours.
The 100A VSR has also been updated to ensure compatibility with lithium batteries and DC to DC charging systems, allowing a wider range of application across different vehicle setups. Models that utilise an LCD screen (PM300 & PM400) now benefit from optional password protection, whilst error codes have been optimised for ease of use and installation.
"The Projecta Intelli-RV product is designed to be a complete vehicle power management solution, offering installers significantly reduced electrical footprint and installation time with neater, direct wiring to a single location," said Projecta RV Category Manager, Sheridan Lee.  "The all-in-one units encompass multiple charging functions, including 30A mains charging with 35A power supply, 100A VSR, 30A solar charging (excluding PM100), plus advanced battery protection, saving the need to purchase and install separate devices and with the availability of 10-14 fused outputs across the range, installers are well-covered for wiring up multiple 12V appliances," he said.
A major benefit for the end user is the remote monitoring of key information, such as water tank levels, battery capacity/load/charging and solar from the L.E.D (PM200) and LCD (PM300 and PM400) screens, which also allow remote switching of water pump and load. Those in need of even more control will benefit from the PM400's additional programmable switch panel and twin bedroom light switches, plus Bluetooth access via smartphone/tablet app for truly remote control of lighting and power, inside or outside the vehicle.
Projecta's Intelli-RV range is available for purchase from leading caravan, battery and DC power specialists.