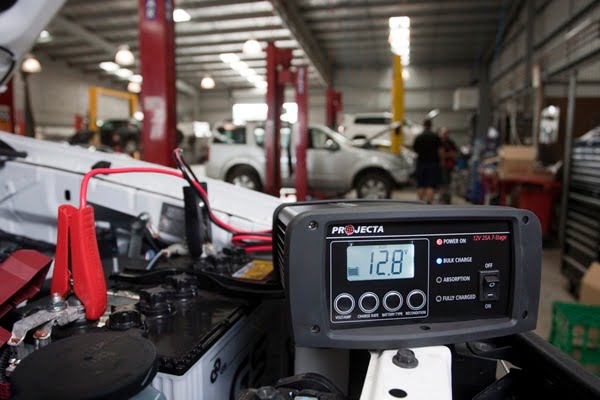 Two 7 stage 12V automatic Intelli-Charge Battery Chargers have been introduced by Projecta, complementing the existing range but with additional features ideal for small and large workshops.
The new 12V 7A – 7 stage Battery Charger is a sophisticated and compact charger fitted with protective rubber moulded end caps for enhanced durability and protection, ideal for the rigours of workshop environments.
With multi-chemistry settings for charging Wet, Calcium, AGM or Gel batteries, it is ideally suited for starting, marine and deep cycle batteries. The power supply mode retains vehicle computer settings when changing a battery or it can run 12v appliances.
It is shock and dust proof for the toughest of conditions and is ideal for applications such as small passenger vehicles through to 4WD's.
The second charger is the powerful 12V 25A – 7 stage charger which is also fitted with protective rubber moulded end caps for superior durability and to prevent the charger from slipping off or damaging the vehicle's duco. With multi-chemistry mode capabilities for charging Wet, Calcium, AGM or Gel batteries this charger is ideally suited to a range of workshop applications from motorcycles, jet skis, passenger cars, caravans boats to tractors. It provides world class 7 stage quality charging to maximise a battery's performance and life.
The Projecta Intelli-Charge 25A charger maintains a constant voltage on a battery making it ideal while carrying out diagnostic work. Its output can be easily adjusted making it suitable for charging motorcycle batteries right up to and including truck batteries. Both battery chargers are competitively priced and come with a two year warranty.
The new advanced Projecta Intelli-Charge Battery Chargers are available under Part No. IC700W (7A) and Part No. IC2500W (25A), from leading automotive and transport outlets.