Looking to service motor trade, transport and 4WD workshops and users, Projecta has announced its most powerful jumpstarter yet. The new model HP2000 features intelligent 12/24 Volt operation that connects two high performance batteries in parallel or in series to give maximum 12 or 24Volt jump starting power.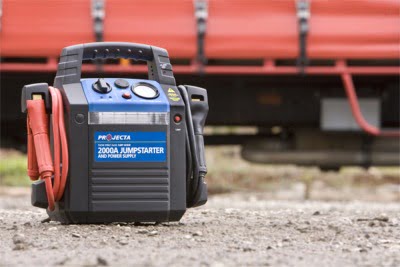 Using 2 x 22Ah AGM high quality batteries, the Projecta Jumpstarter offers higher performance in not only starting 12Volt vehicles but also diesel 4WD's up to 4.5 litres and all petrol vehicles. In 24 Volt mode the new unit is capable of starting trucks up to 7 litres or 10 tonne.
The new release features extra long 1.6 metre flexible leads with increased copper to 32mm2; automatic 240Volt and 12Volt recharging. Safety features have been carefully thought through with surge protection, reverse polarity warning and a master on/off switch that controls the jumpstarting leads.
Of importance to owners of motor homes, camper vans and 4WD off-roader's, this new high performance Projecta Jumpstarter also features a 12Volt cigarette lighter socket that uses both batteries to give a total of 44Ah to power appliances such as compressor fridges for a day and a half before requiring recharging.
Maintaining the two batteries in peak condition is a 4AMP Switch-mode charger with built-in charging control that allows the batteries to be fully charged before going into maintenance mode. This also allows the jumpstarter to be recharged indefinitely without damaging the batteries in any way, ensuring it is fully charged and ready for action at any time. Full battery recharging can be completed within 12 hours.
The new high performance HP2000 12/24V Jump Starter is available from leading automotive and 4WD outlets at approximately $499.00 retail.