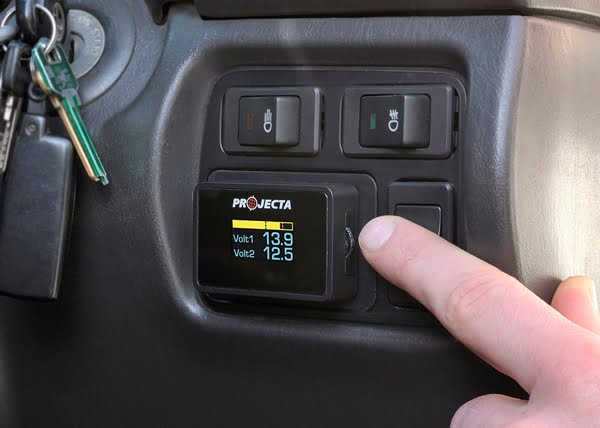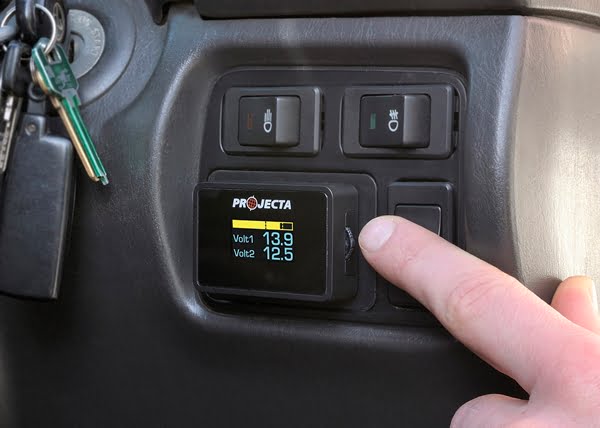 Projecta has upgraded  its Dual Battery Volt Meter (P/No. DBM100) with an enhanced second generation  model offering significantly reduced power consumption, an audible warning  alarm, 'ignition off' operation and it is now compatible with 12 and 24 volt systems  making it ideal for use in motor home and bus applications.
The Projecta  dual battery volt meter provides information about the amount of charge left in  main and auxiliary batteries, with the upgraded model now supporting both 12  and 24 volt systems with a wide 0-36 volt meter range.
Saving  valuable power for other important electronic devices fitted to the vehicle,  such as fridges or communication devices, the new efficient second generation  volt meter draws less than half the power of the first generation model – just  16mA when the ignition is on and a mere 6mA when the ignition is off.
The unit boasts  a compact and unobtrusive design and has improved functionality including an adjustable  warning alarm which sounds even when the vehicles ignition is off, alerting the  user of low or high voltage levels. A handy snooze function has also been  incorporated into the unit.
The unit's  display can also be operated to check voltage readings while the vehicle's  ignition is off, allowing the user to monitor power systems quickly and  conveniently at any time without draining the vehicle's battery.
As per the  previous model, the brightness of the unit's LCD display is adjustable and  automatically dims when the vehicle's headlights are in use, allowing the unit  to be an 'at glance' tool rather than a distraction when fitted to the  vehicle's dashboard.
The display  features large clear blue digits, which are easy on the eyes at night and can  be easily seen from any angle during the day.
In addition,  the unit's simple and intuitive one-handed operation scroll switch promotes  ease of use, similar to its predecessor.
The dual  battery volt meter is supplied with durable double sided tape, so it is easily  and securely affixed to a vehicle's dashboard without the need to drill holes.  A 1.5 metre pre-wired harness is also supplied with the unit.
Projecta's  DBM100 12/24 dual battery volt meters are available in blister packs from  leading automotive, transport and four wheel drive outlets throughout Australia  for a RRP of $99.