We recently had a SOG Fast Hawk Tactical Tomahawk to review on a camping trip. The SOG Specialty Knives & Tools F06P-N FastHawk Tactical Tomahawk is an all-purpose tool which is very attractive, light and virtually indestructible. We used the SOG Fast Hawk Tactical Tomahawk for a number of tasks which we chat about later.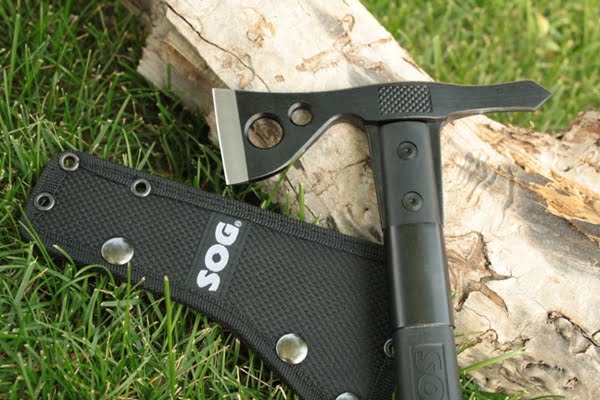 Part of a range of Tactical Tomahawks from the reputable SOG knife maker the Fast Hawk is designed with military precision and made of 420 stainless steel. This gives it a pristine appearance especially as the head and 2-Inch edge has a polished finish, which fortifies against corrosion and impact damage. We also tested he matt black version.
One feature I particularly liked was the grip that felt great in your hand. It is slip free and made of ballistic polymer. This is attached to the head with heavy-duty bolts and a steel ferrule which adds to the overall quality feel. There is a lanyard hole at the base of the handle.The head has a soft nylon sheath that clips securely and can easily be mounted to your backpack, belt or gear.
There is a balance between power and portability that is weighed toward portable in mobile operations. At about 30cm long and weighing only half a kilogram the SOG FastHawk is almost a perfect compromise between size and functionality.
On the camping trip we used the Fast Hawk to cut firewood, shave wood, splinter kindling, dig a fire pit in hard ground by loosening the dirt, as a pry bar and lastly as a hammer.
It performed all these tasks with ease and as expected for a tomahawk of this size. It is a compromise after all and while it was more than adequate it wasn't as good as individual tools. But then you would be carrying heaps of heavy gear. The blade keeps it edge despite heavy use.
The hammer bit, while useful in a pinch, is not something I would recommend as there is a very sharp blade swinging near your fingers. Not my idea of a smart thing to do.
On the trip, boys being boys we also used the FastHawk as a throwing axe. To be blunt it was brilliant. THE edges stick beautifully, the spike stuck every time and it was light and agile. Personally I prefer a longer handle for throwing though.
SOG products have been around since 1986 with Spencer Frazer's interpretation of the legendary Studies and Observation Group (SOG) military knife of the Vietnam era. That conflict also gave birth to Peter LaGana's 1966 interpretation of the fighting 'hawk, known simply as the Vietnam Tomahawk, to which the FastHawk and Tactical Tomahawk owe their heritage.
On another note the lightweight and shorter handle are ideal s a self defence weapon in close quarters. It is agile and easy to manipulate. While it doesn't have the trench hawks hook blade it is still a handy piece of equipment to have.
At a price between $45-$60 depending on where you buy it, the SOG F06P-N FastHawk Tactical Tomahawk is definitely worth looking at for a quality, practical lightweight camping axe .
Specifications
• Blade Length: 2″ x .26″
• Overall Length: 31cm
• Weight: 0.5Kg
• Edge: Straight
• Steel: 420
• HRC: 51-53
• Handle: Fiberglass/Nylon
• Finish: Hard cased Black
• Sheath: Nylon
• Country of Origin: China