Tank 300 4WD – Occasionally a vehicle comes along that just has something about it that crosses appeal boundaries. The GWM Tank 300 4WD is such a car.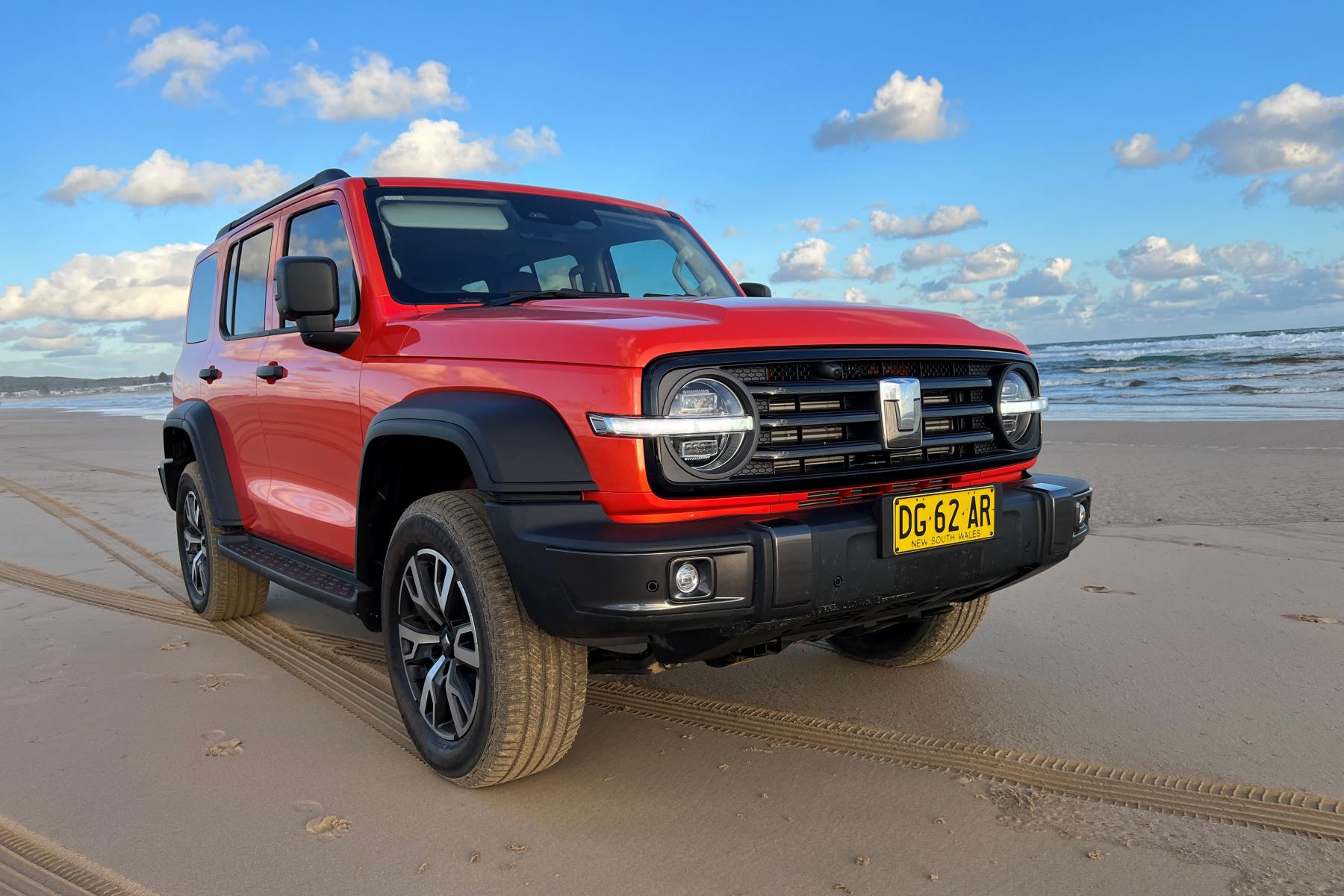 I drove one a few weeks ago and both loved it and was frustrated by it at the same time.
First up it looks cool. It's a chunky style and in the bright orange colour it certainly stood out.
Inside its comfortable, relatively spacious, and well laid out. The heated and ventilated front seats are supportive and allow enough room for my tall frame.
Where the frustration comes in is the clunky user interface and simply bad voice recognition. Little things like turning off the lane keep assist which I do every time is four layers in the central screen menu and sometimes the touch sensitivity isn't the best.
Where I loved it is driving. Its not bad on road, with enough performance to keep you happy. However off road it excels. Front and rear diff locks, Multi 4WD choices and responsive feel in both steering and accelerator, places it right up there with the best 4WD's around.
And the best part is that it is priced from a stunning $46,990 driveaway for the entry model. That's value.
This is a Motoring Minute
I'm Rob Fraser
TO LISTEN TO THE TANK 300 RADIO REVIEW CLICK BELOW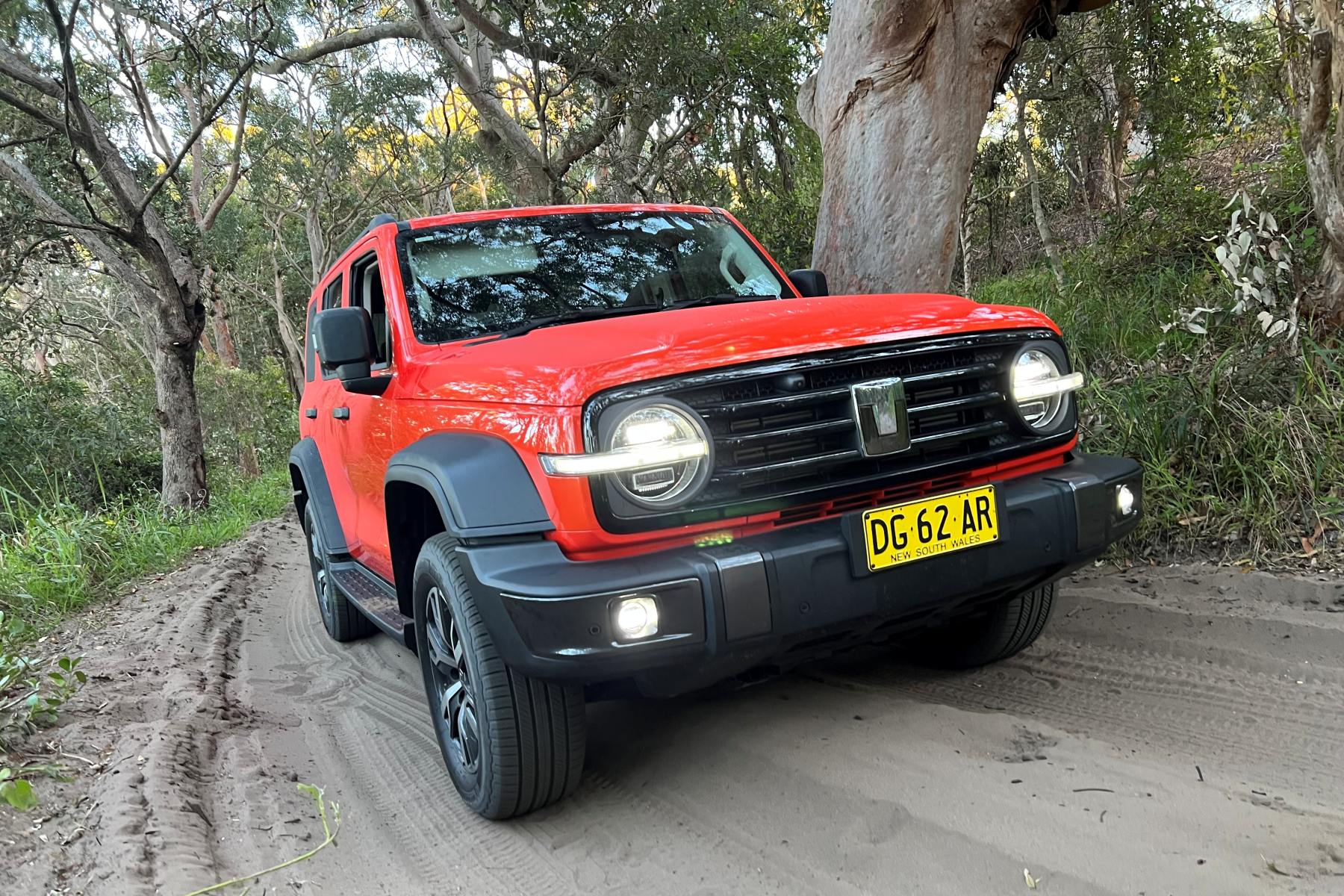 More GWM Tank 300 Ultra 4WD details
GWM Tank 300 sits in a competitive and crowded segment. It competes against mainly seven seat 4WDs as a five seat version only. It has a few features that the others don't and with the Hybrid version can compete against the diesels.
However its stunning value proposition warrants a close look at the 'Tank"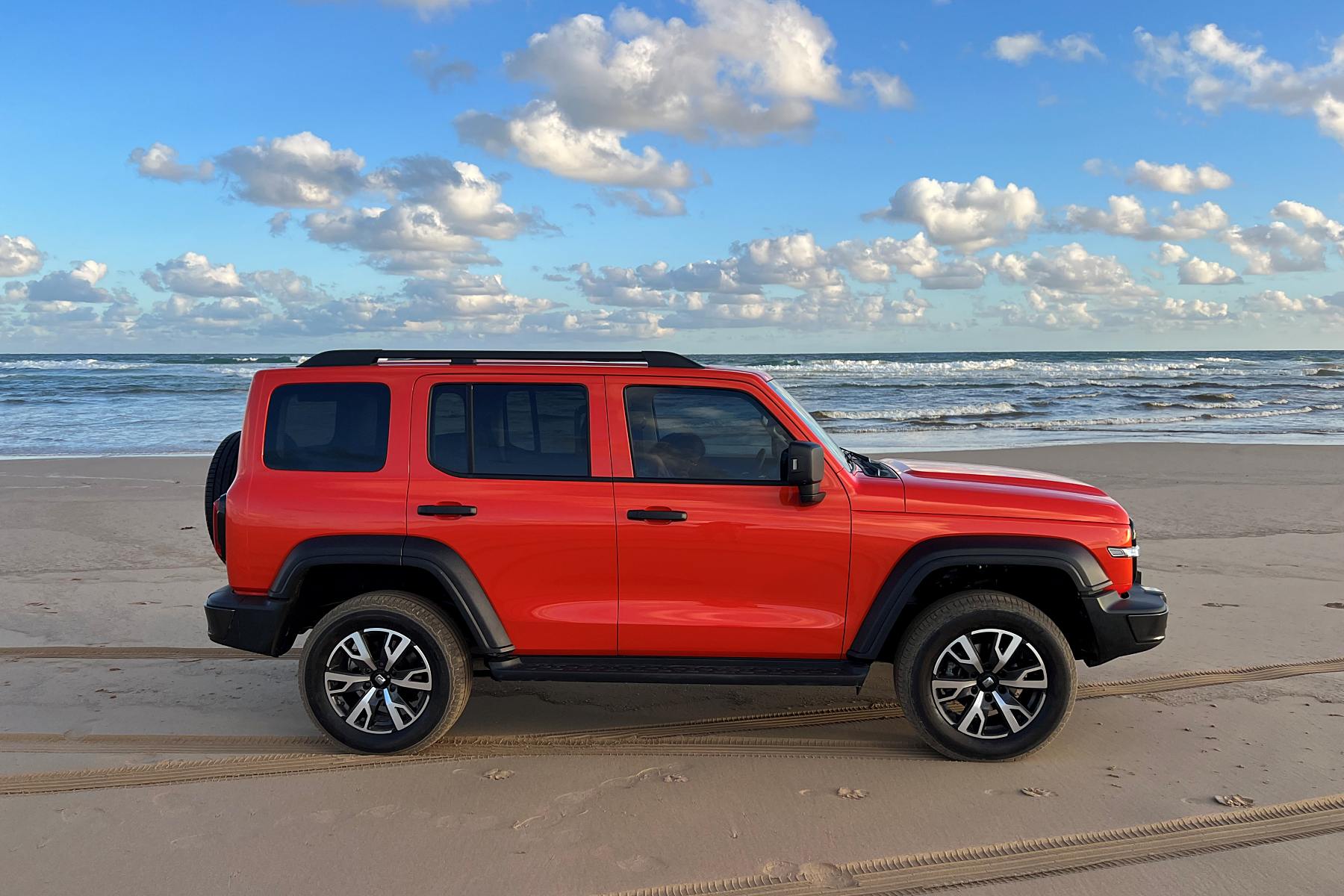 What is the exterior like of the Tank 300?
With a retro look the Tank 300 certainly attracted plenty of attention.
I have to say it looks cool!
Other words onlookers used to describe it were, boxy, chunky, a mix of lots of cars.
It looks purpose built, which it is.
Front LED headlights and taillights tend to stand out. The dusk orange colour (love the marketing boffins) with contrast black highlights around the lower grill, roof rails, wheel arches, door sills, running boards and rear are appealing.
On the Ultra model there are 18 inch alloys with road biased tyres show its intent. I would replace them with a decent set of all terrains like the Bridgestone Duelers for better off road traction. The Duelers also have smooth and quiet on road ride as well.
Short overhangs front and back help with approach and departure angles and just keeping bits out of the way off road.
If you want a colour other than the cool Dusk Orange then choices are 'Fossil Grey' which is no-extra-cost standard, but 'Lunar Red', 'Pearl White', 'Crystal Black' or 'Dusk Orange' each cost $595.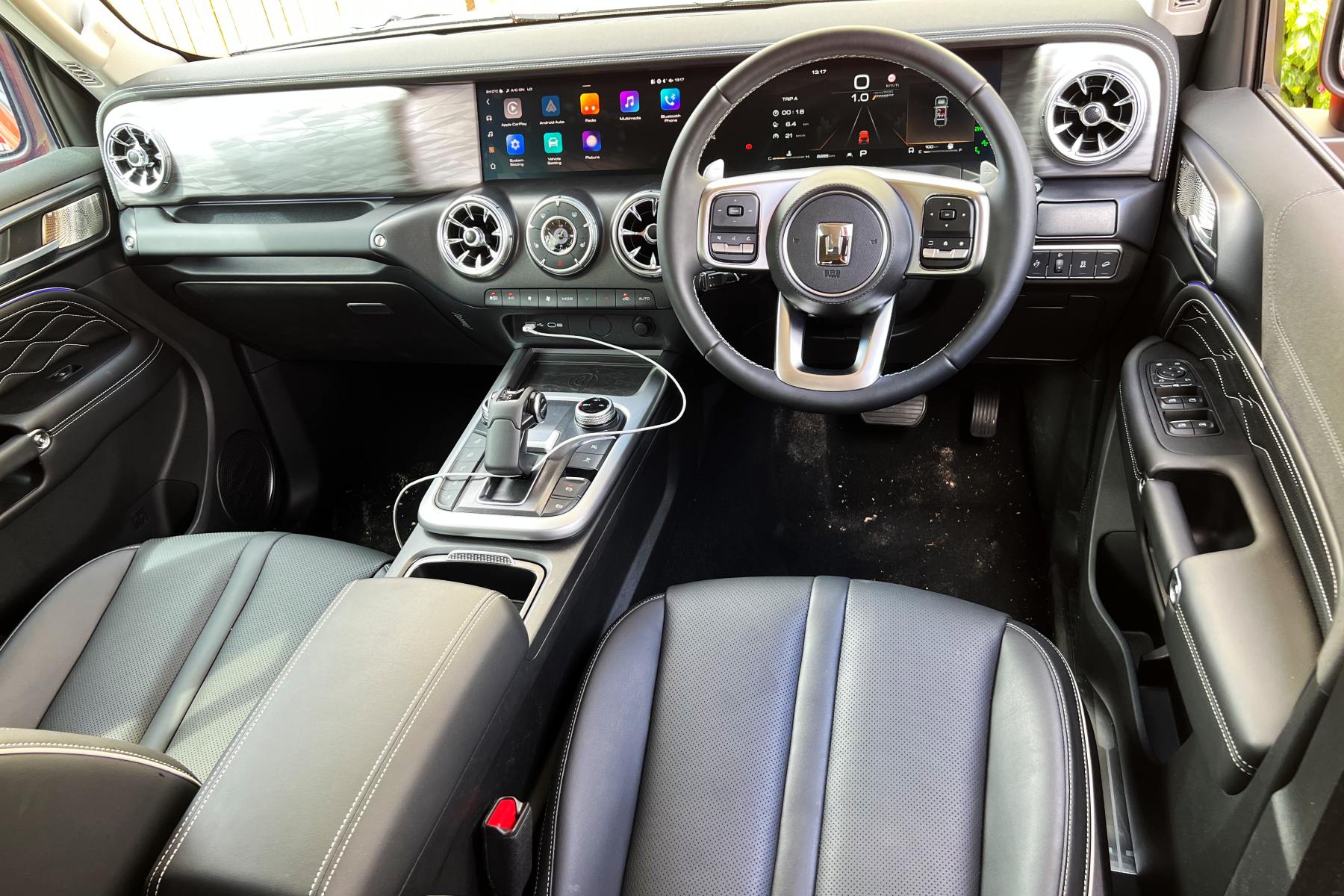 Is the Tank 300 comfortable inside?
Being the Ultra model, it has a few extra luxury and comfort features.
First up the leather seats have multiple electronic adjustments. They are heated and ventilated. Additional electronic lumbar adjustment is appreciated. Even for my taller frame there was plenty of room, especially head room.
In front of the driver sits a thick, heated leather steering wheel that frames the digital drivers instruments nicely.
There is a multitude of digital versions of the layout available. One little frustrating feature is that when you first start up, the safety default is with lane keep assist switched on. If that is the case the central section of the digital dash wont show anything else.
So, every time I start up, I go through 4 selections on the central screen menu to turn it off. Frustrating!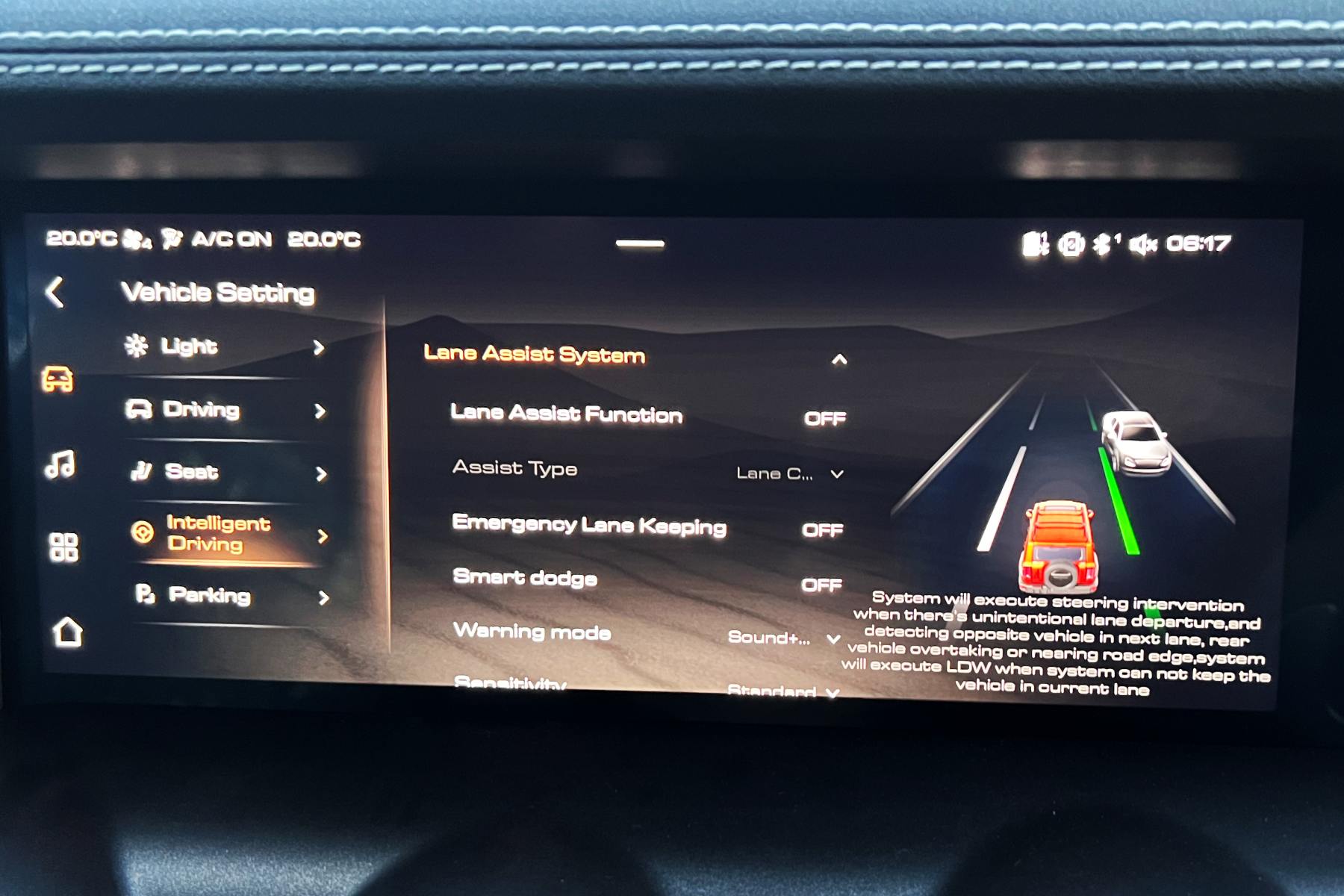 Speaking of the central screen, its huge at 12.3 inches with excellent clarity and resolution, possibly best in class. The visibility provided with the reverse camera is outstanding.
However, the touch sensitivity sometimes is a little off. You find yourself pushing two or three times for it to work.
Another quirk is that the voice recognition for voice to text is simply poor. It refuses to recognise some words and no matter how many times and how slow you speak it will sometimes just get it wrong.
The air vents are an unusual design.
There is a wireless charging tray but wired smart phone mirroring. For connectivity there are front and rear USB ports, and 12/220v outlets.
For the audiophiles the 9-speaker sound system is good.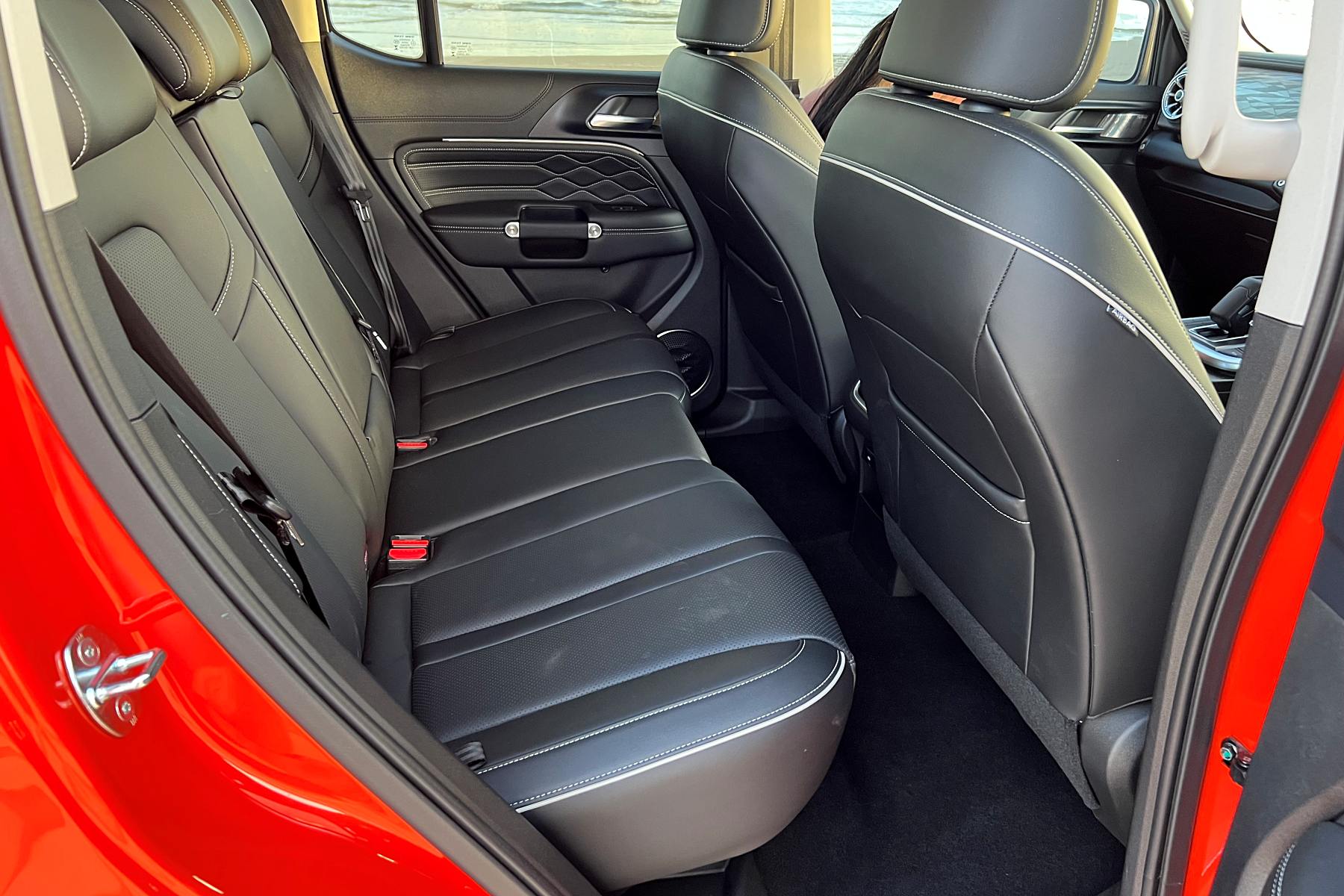 Rear seats and boot
Like many vehicles the rear seats are fairly flat and uninviting but reasonably comfortable, good head room, but limited knee room.
ISOFIX Child Restraint Anchorage Points are available on the outer rear seats.
Boot space is small but practical with the boxy rear style.
Rear seats will fold flat for a larger practical area.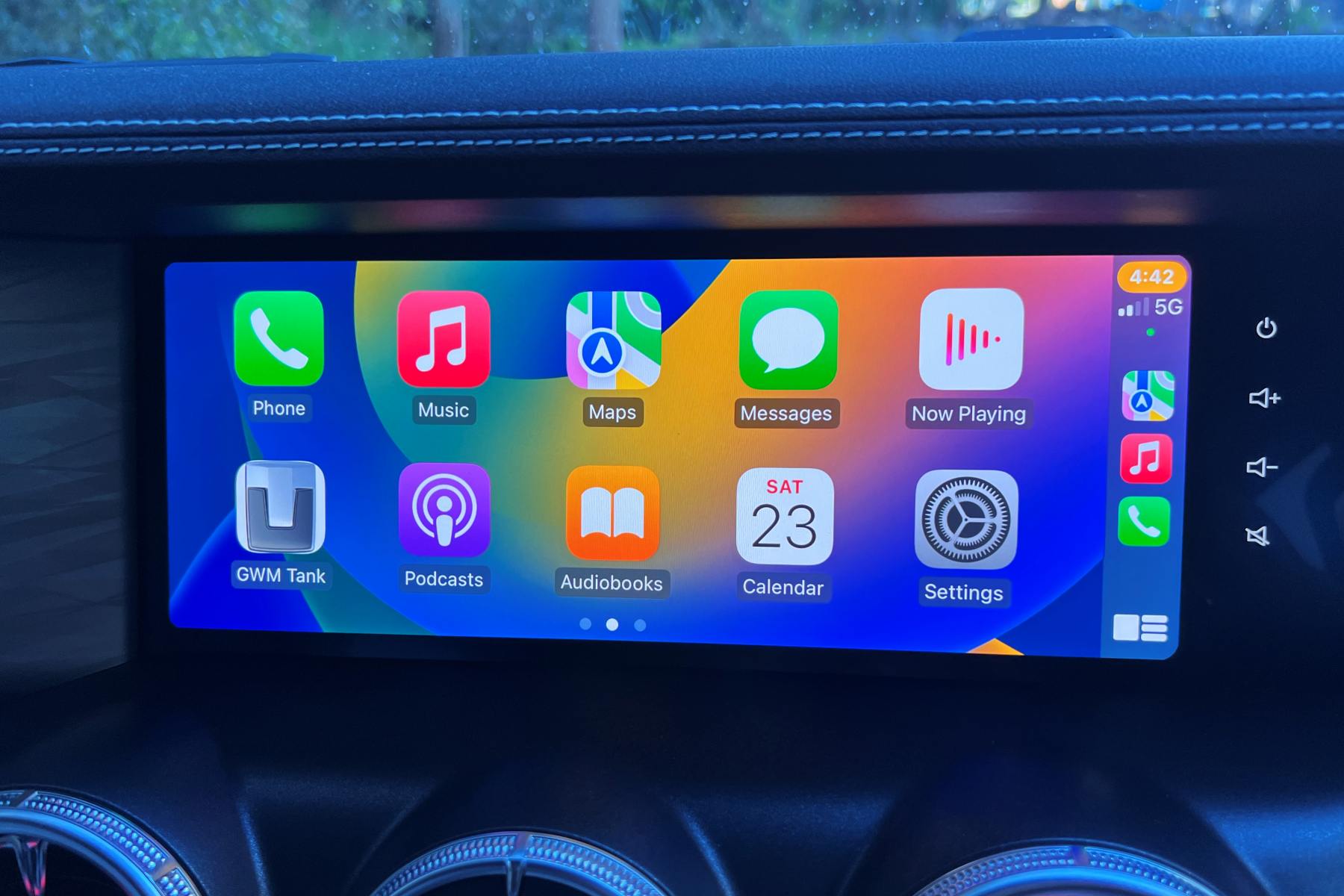 GWM Tank 300 Model walk Features
Full feature list, Tank 300 Lux petrol
17-inch alloy wheels
LED headlights and taillights
Comfort-Tek leather seating
Power adjustable drivers (6-way) and front passenger (4-way) seats
12.3-inch colour instrument cluster
12.3-inch LCD infotainment touchscreen
Apple CarPlay & Android Auto
9-speaker sound system
12v power outlet
Front and rear USB ports
Sunroof
Side steps
Roof rails
7 SRS airbags (including centre)
Autonomous Emergency Braking (AEB) & Forward Collision Warning (FCW)
Lane Departure Warning (LDW)
Lane Keep Assist (LKA)
Lane Centre Keep (LCK)
Emergency Lane Keep (ELK)
Adaptive Cruise Control (ACC)
Traffic Sign Recognition (TSR)
Rear Cross Traffic Alert (RCTA) with brake
Tyre Pressure Monitoring (TPMS)
Front parking sensors (4) & Rear parking sensors (4)
360 degree around view camera
Rear differential lock
All-Terrain mode selection
Turning Assist
Transparent chassis function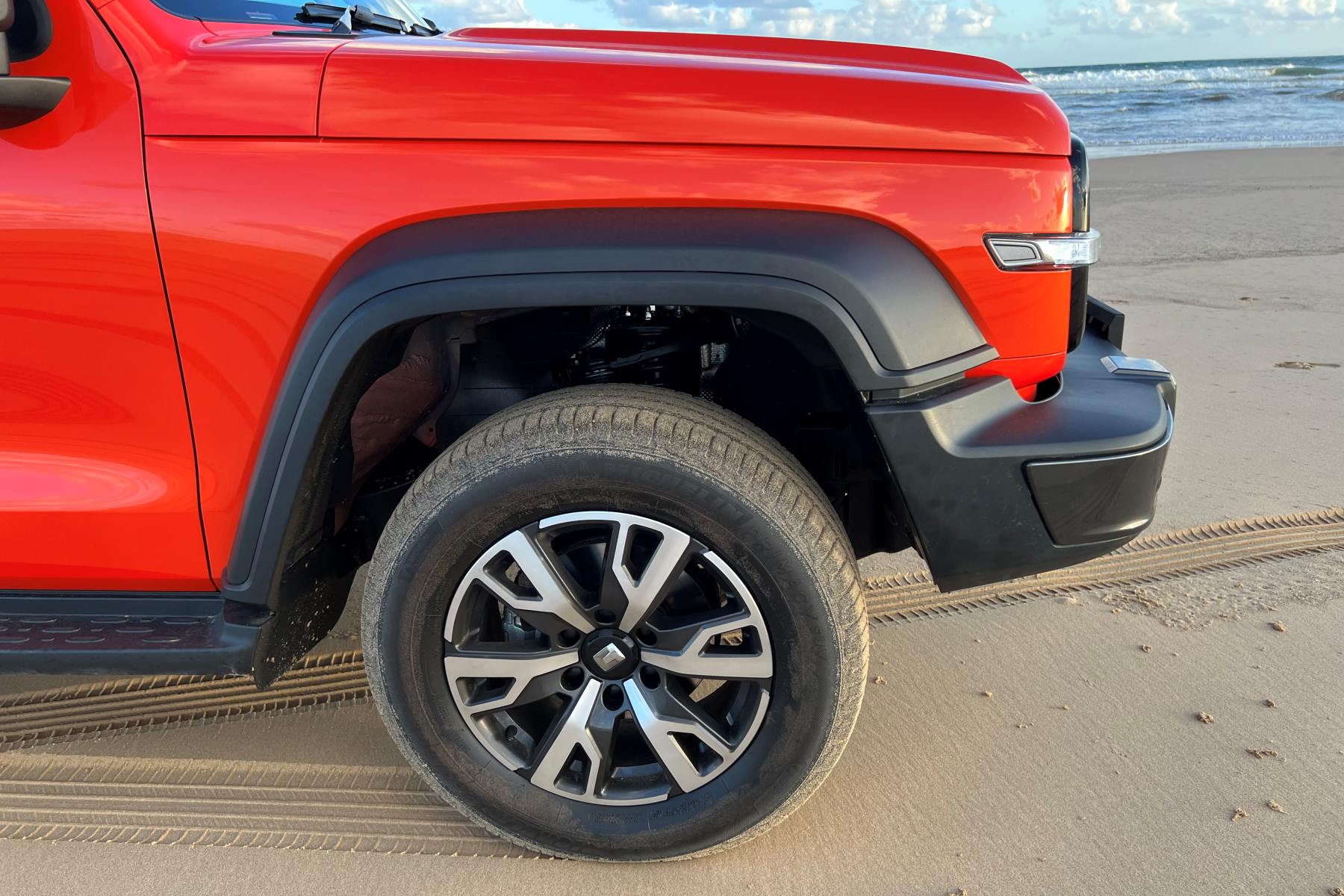 Tank 300 Ultra petrol adds:
18-inch alloy wheels
Nappa leather accented seats
Heated and cooled (front) seats
Power adjustable driver's seat (8-way) with lumbar adjustment and massage
9-speaker premium audio
64-colour ambient lighting
Auto-dimming rear-view mirror
Wireless charging
220V power outlet
Front differential lock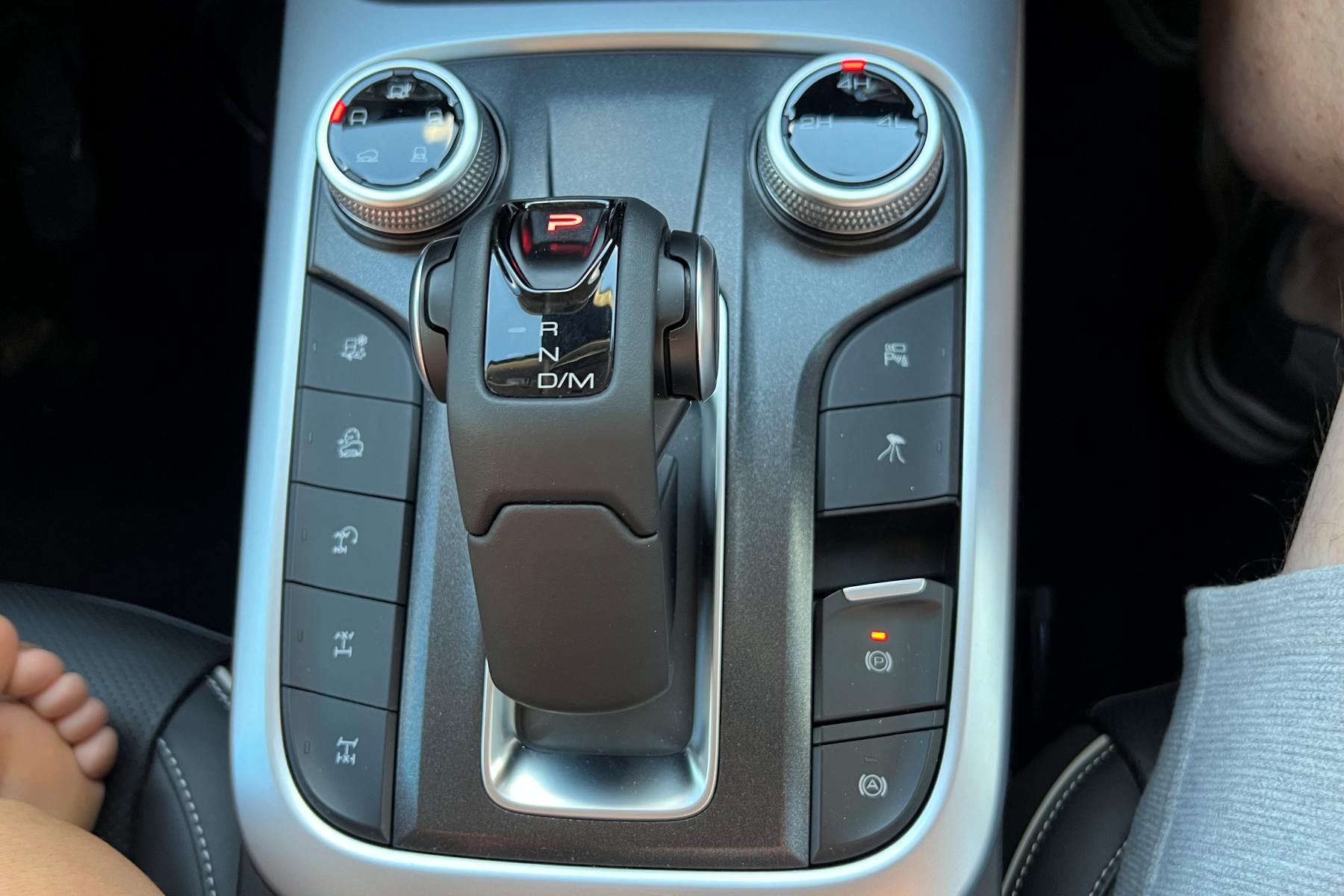 Tank 300 engine and drivetrain
It is powered by a 2.0 litre turbocharged petrol engine with power of 162kW @ 5,500rpm and torque of 380Nm between 1,800 – 3,600 rpm.
This is matched to a smooth 8 speed torque converter automatic transmission and fed through a part-time dual range 4WD system.
The all-terrain control system has multiple driving modes. One practical feature is that the Ultra model has front and rear diff locks, along with turn assist and crawl control.
The Tank 300 has almost as much 4WD functionality as a LandCruiser 300 series.
That takes a little while to settle in.
Fuel economy is 9.5 litres per 100 km running on regular unleaded fuel. Braked towing capacity is 2500kg. Tow ball rating isn't specified.
Suspension is – Front: Double Wishbone / Rear: Multi link non-independent.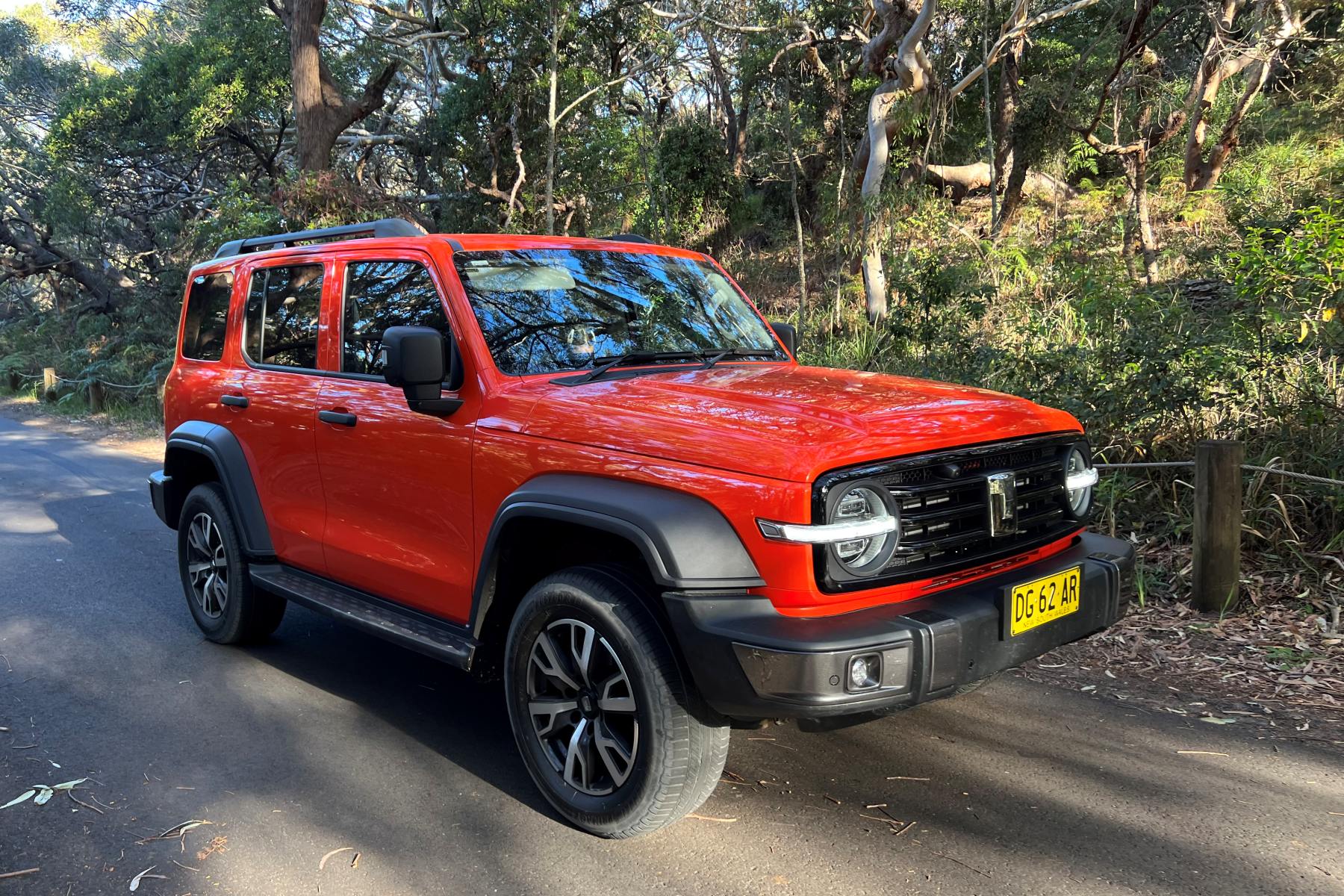 What is the Tank 300 like to drive.
On Road
Pretty dam good actually.  On the motorway is cruises along with ease. There is enough get up and go for all situations.
It's responsive, with well weighted steering feel. Apart from a little wind noise around the external mirrors, its quite and smooth. It does feel like it floats a bit, but that also adds to the comfort.
Around town the size makes it easy. It is by no means a sport SUV and can wallow if pushed hard around corners. It can feel a bit harsh over some of what we call urban roads, that are often bits of tar between potholes.
Part of that was the fact that someone had pumped the tyres up to 42 psi. Once I let them down to a reasonable level the ride softened u obviously. However, the rebound/ dampening can still be a little harsh.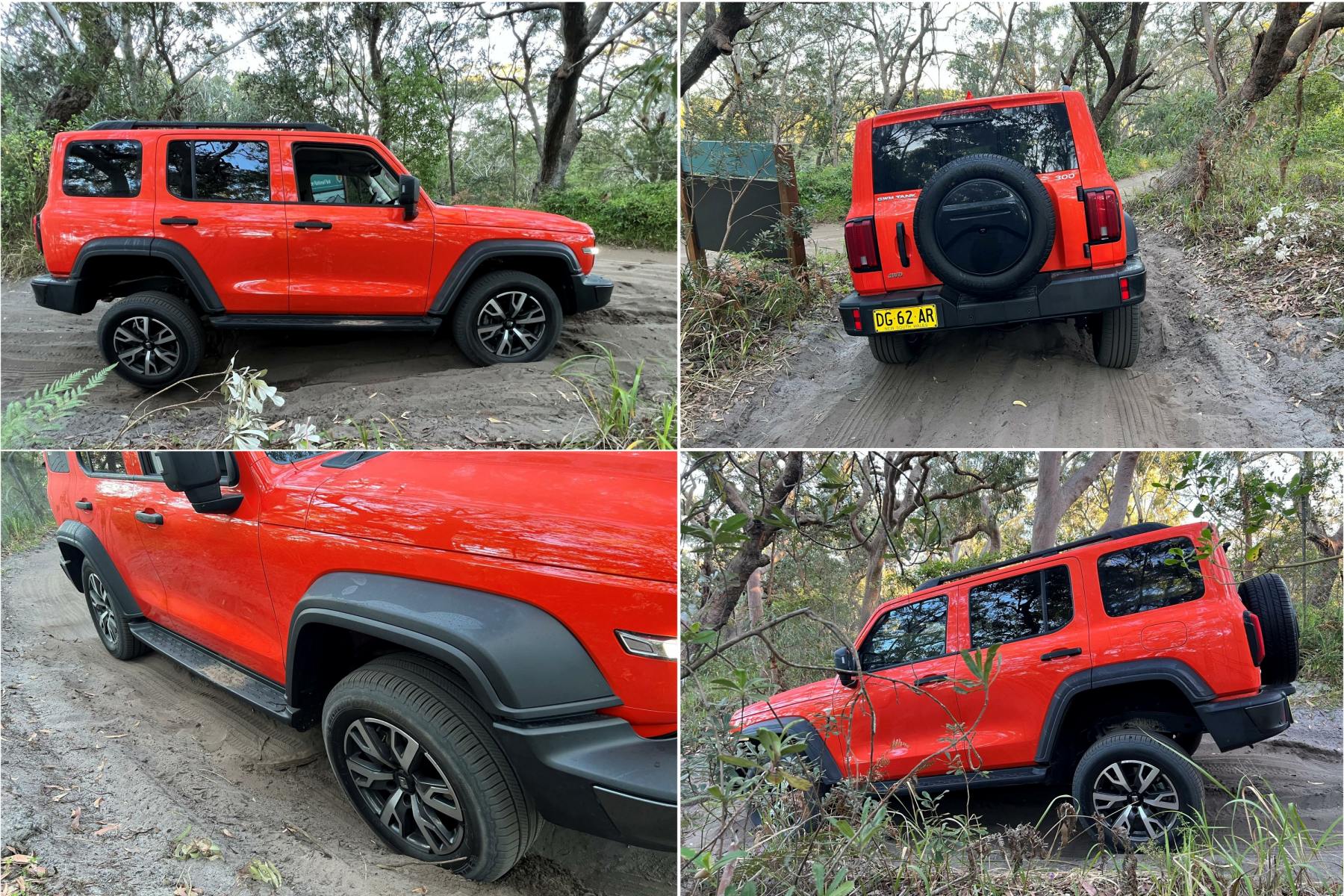 Off Road.
On sand its excellent, gliding along without fuss. On dirt, corrugated roads and forest trails it simply swallowed what was thrown at it and asked for more.
Where the suspension dampening could feel a little harsh on road bumps, here it soaked them up.
It felt stable and planted on dirt roads.
For assistance there are grab handles everywhere.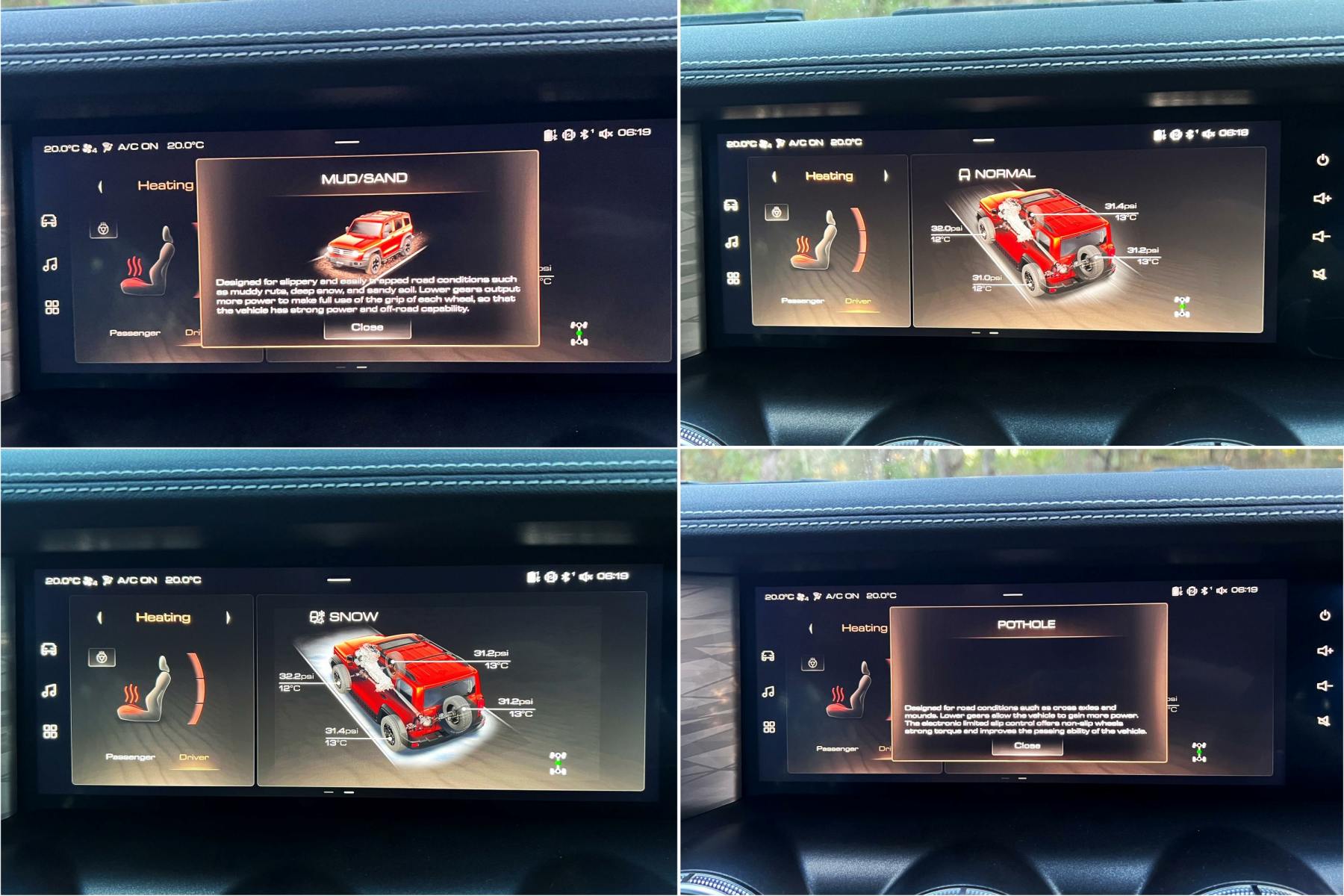 There is reasonable wheel articulation, good approach, and departure angles to keep tyres connected to the track.
Visibility can be slightly obstructed over bonnet, but the 360-degree cameras with what they call 'transparent chassis function' come to the rescue.
This basically shows where the vehicle is placed on the track on the central screen. Clever, functional, and usually found on expensive 4WDs like the Land Rover Defender.
It comes with a three-piece front bash plate. Approach and departure angles are reasonable. Confusingly there is no rampover angle quoted. Ground clearance is 224mm which is adequate.
The side steps, I feel may come in for some heavy work and possible damage.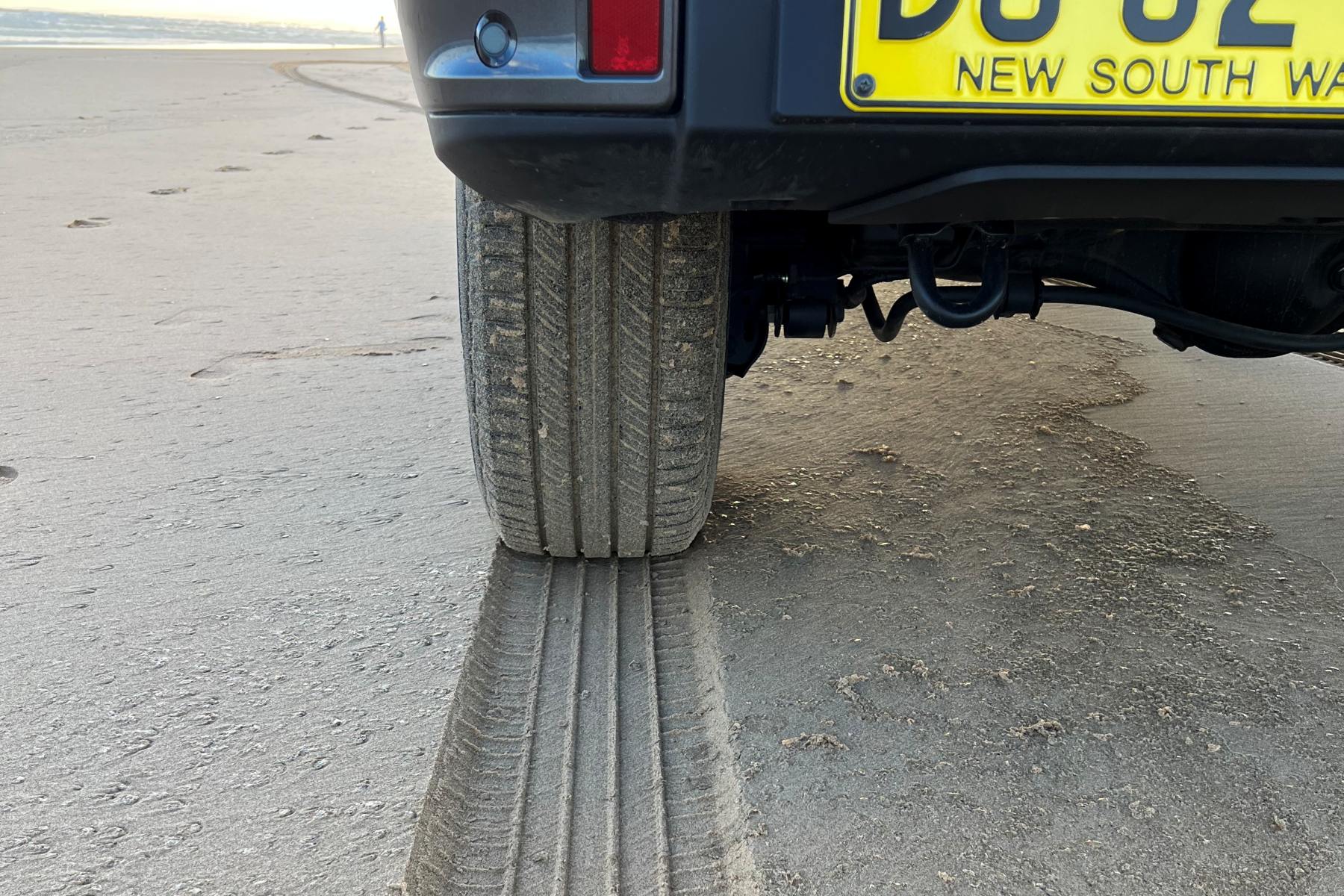 As mentioned I would also add better All terrain tyres for better capability.
Overseas there is any number of off road accessories and modification that are available, and will be here soon I'm guessing. These can convert the Tank 300 into an off-road weapon. Just keep an eye on the payload which isn't great.
Another surprising feature, given the price, is that the Tank has both front and rear electronic diff locks.
Depending on what drive mode is selected, the Tank may automatically engage both diff locks.
The closest 4WD I can see to the Tank 300 is the Jeep Wrangler Rubicon. That has more functionality with disconnectable rear sway bars etc, but its also close to $30,000 more expensive.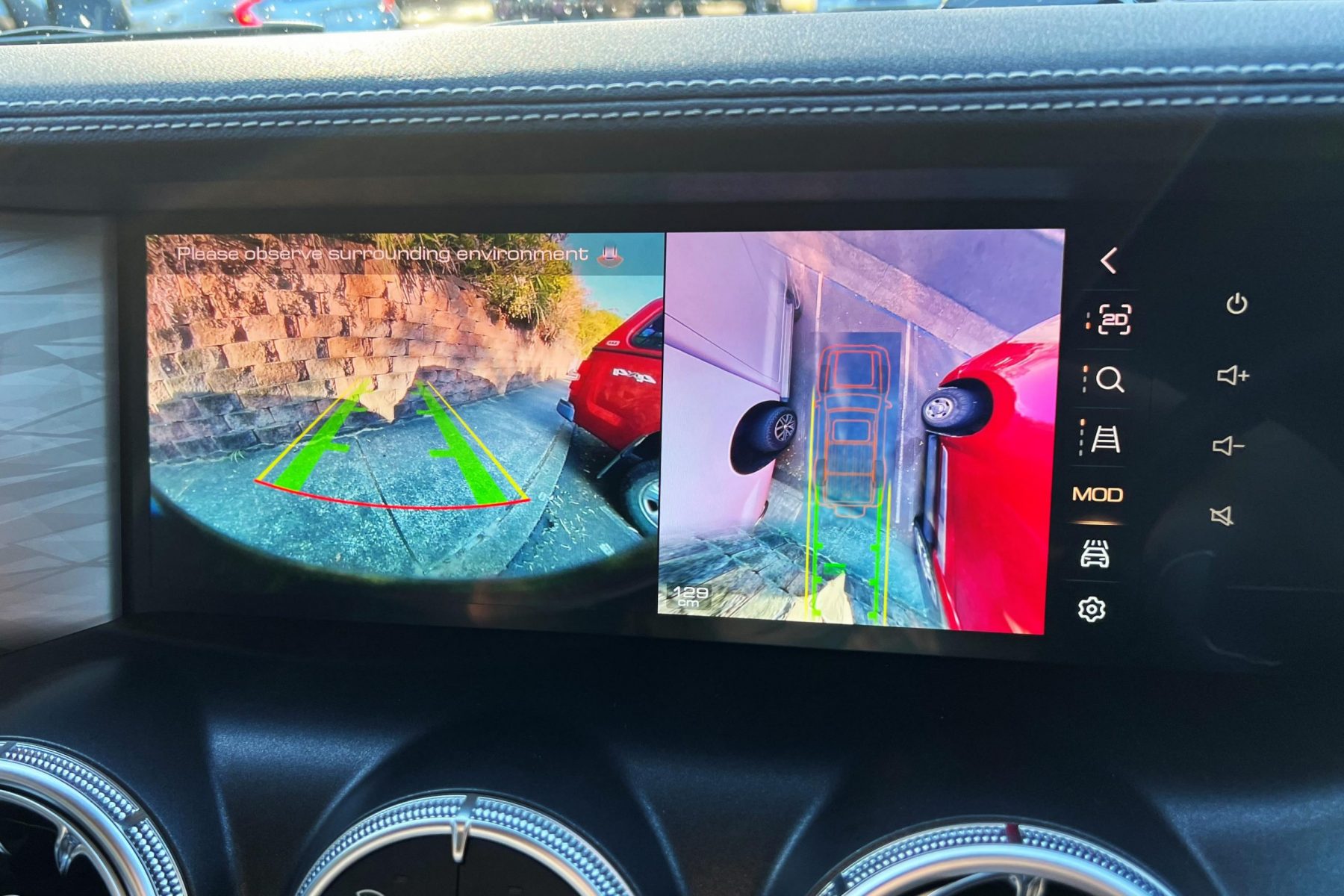 Tank 300 Safety
With a five star ANCAP safety rating, the Tank 300 has all the features you would expect.
Highlights include:
Autonomous Emergency Braking (AEB) & Forward Collision Warning (FCW)
Lane Departure Warning (LDW)
Lane Keep Assist (LKA)
Lane Centre Keep (LCK)
Emergency Lane Keep (ELK)
Adaptive Cruise Control (ACC)
Traffic Sign Recognition (TSR)
Rear Cross Traffic Alert (RCTA) with brake
Tyre Pressure Monitoring (TPMS)
Front parking sensors (4) & Rear parking sensors (4)
360 degree around view camera
But, like the touchscreen sensitivity, there are a few issues.
Firstly, the lane keep assist/ lane centre keep is overly intrusive. Unless you turn it off every time, which is a pain in the butt, then you feel like you are playing ping pong between the lines and constantly correcting the steering.
Secondly the cruise control will suddenly brake on the motorway when it detects a car in the breakdown lane, or when I pulled out to overtake a truck.
Also, it will brake on bends if it thinks you are going t0o fast, even if you are going the recommended speed.
On top of that I couldn't turn off the radar/adaptive function. This isn't isolated to Tank 300, many cars have this frustrating feature.
As a person that drives on cruise control as much as possible, I found the system in the Tank 300 so frustrating, I stopped using it.
I know these will improve with time, but right now they are an issue.
Other features like rear cross traffic braking work well and saved me from an accident on one occasion.
So it's a bit of a mixed bag.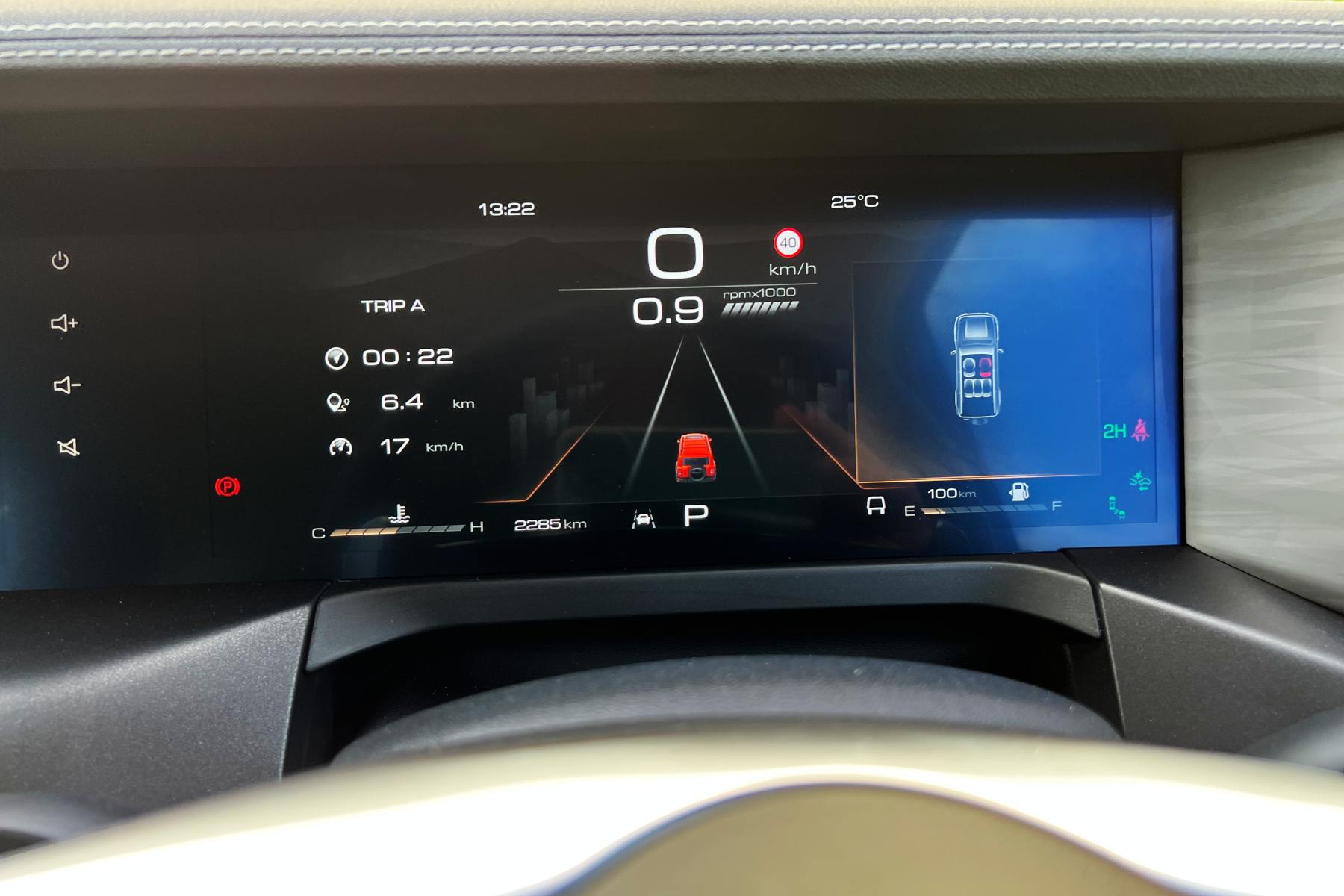 Tank 300 little Daily things that frustrate.
The Tank can be frustrating as mentioned. Little things like
Overly intrusive safety features,
Menu driven controls that require up to 4 pushes of the screen to simply turn off the lane keep assist,
touch sensitivity on the central screen that is haphazard.
Digital drivers dash central MFD that won't show anything else except the lane keep unless you turn it off.
Cruise control that thinks for itself when it shouldn't
Stop start calibration seems just a bit off.
One touch indicator for lane swapping is finicky, often switching on and not turning off, and when you go to turn it off you end up indicating the other way.
On a couple of occasions, the push door opening refused to work, and I had to use the fob.
These are all little things that I'm sure GWM will work out and recalibrate where necessary. But they exist now.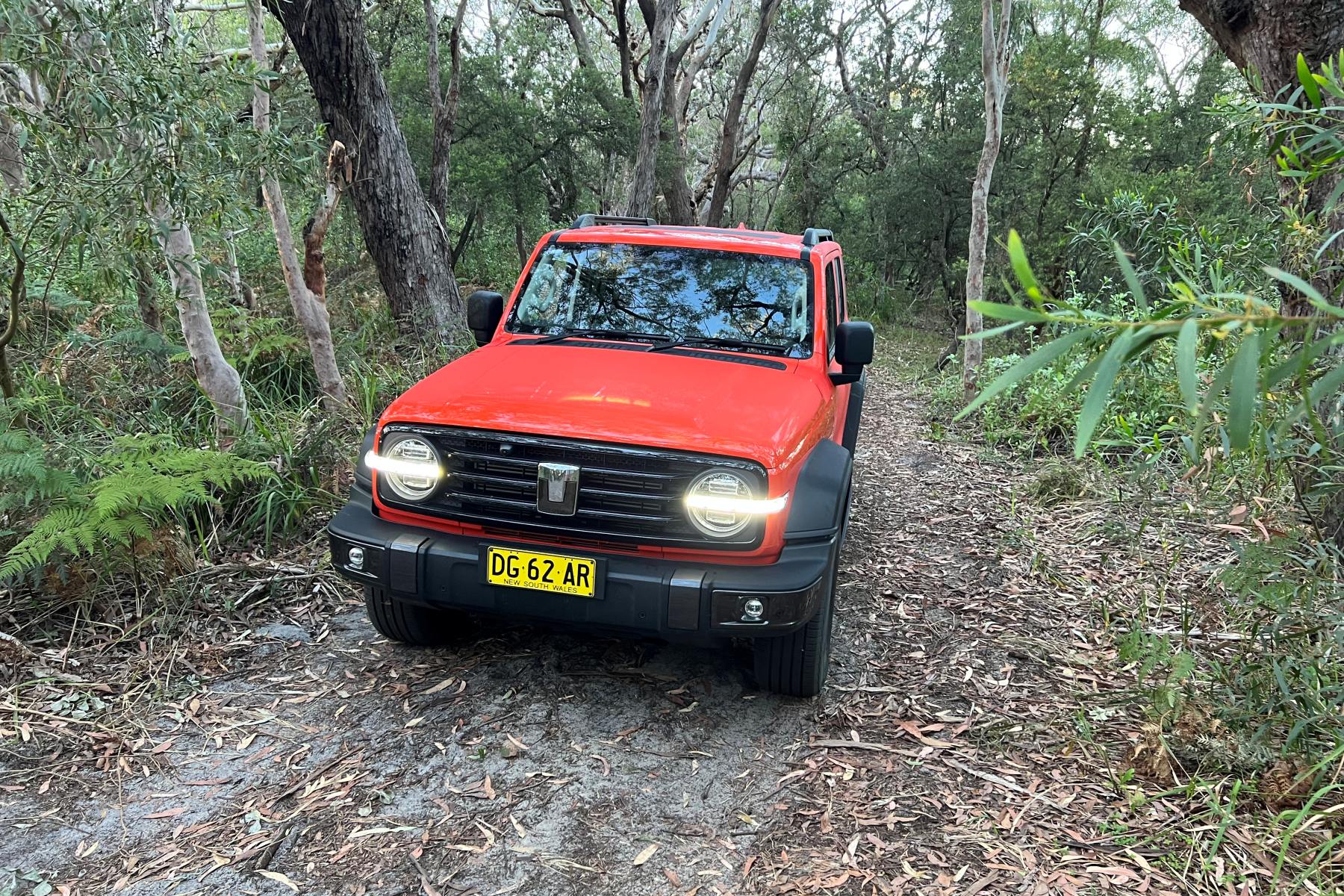 Pricing:
The Tank 300 petrol is offered in two trim levels, Lux and Ultra, and is available from:
Tank 300 Lux petrol: $46,990 Driveaway
Tank 300 Ultra petrol: $50,990 Driveaway
ABN pricing is also available. Metallic paint is an additional $595.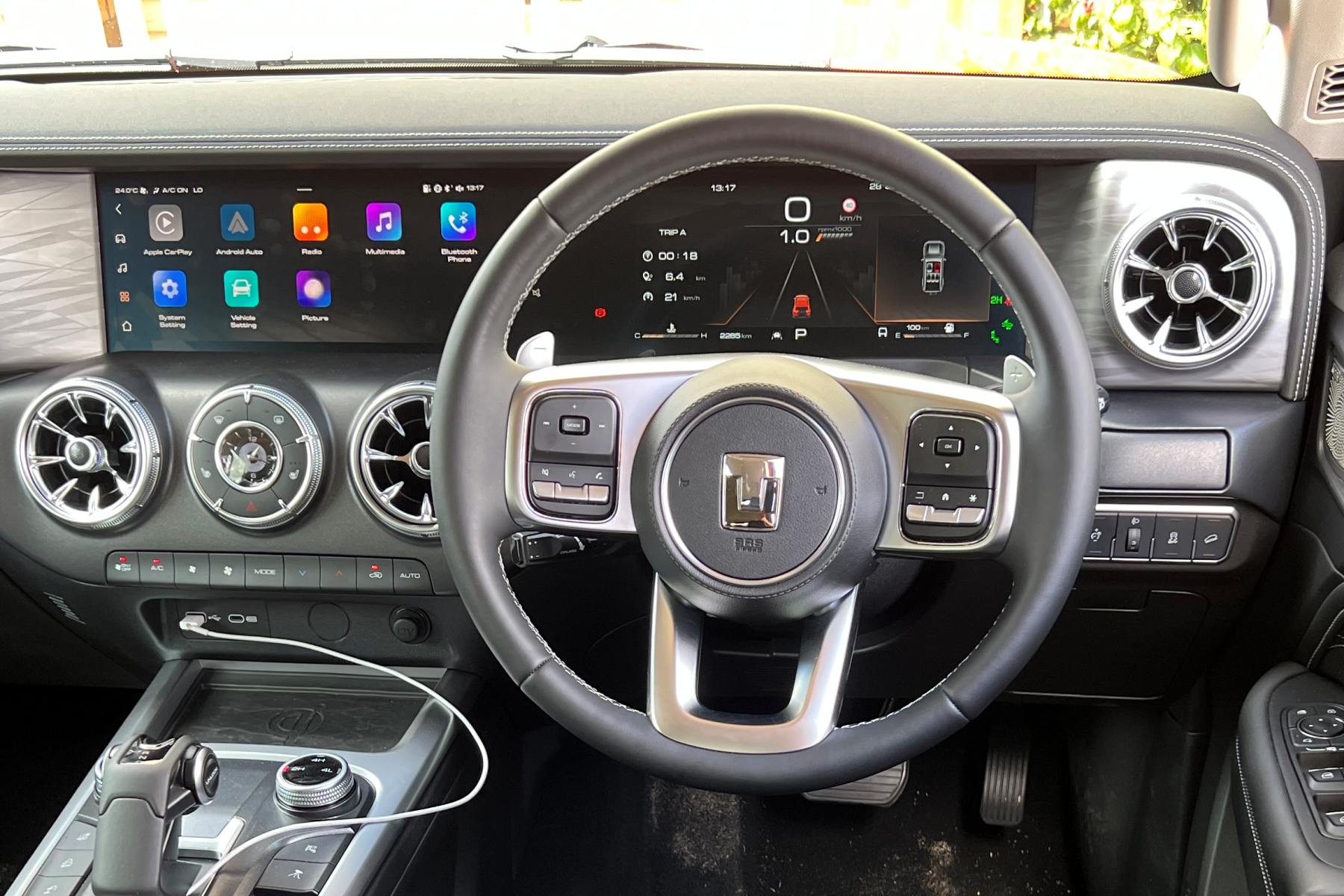 What is good?
Looks cool.
4WD Capability.
Comfortable to sit in and drive
What is not so good?
Frustrating intrusive safety technology.
Central screen touch sensitivity poor at times.
Some functions buried in screen menu but should be button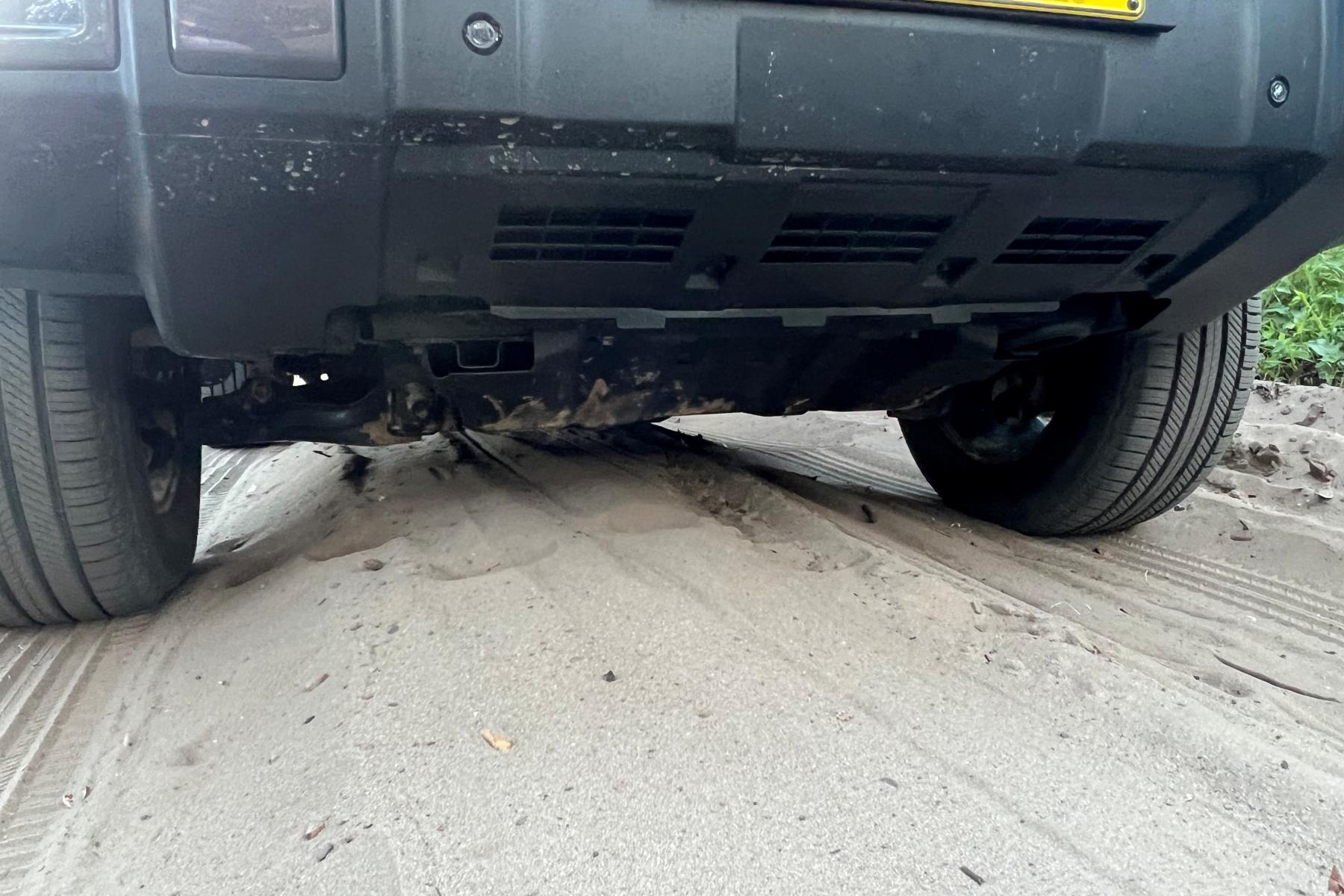 Also look at.
Smaller 4WDs are a bit of a sparse offering. However, the Tank 300 will cross boundaries.
Buyers could look at Jeep Wrangler, which is a lot more expensive or the Jeep Compass Trailhawk.
Larger 4WDs include Isuzu MU-X, Mitsubishi Pajero Sport, SsangYong Rexton, Toyota Fortuner.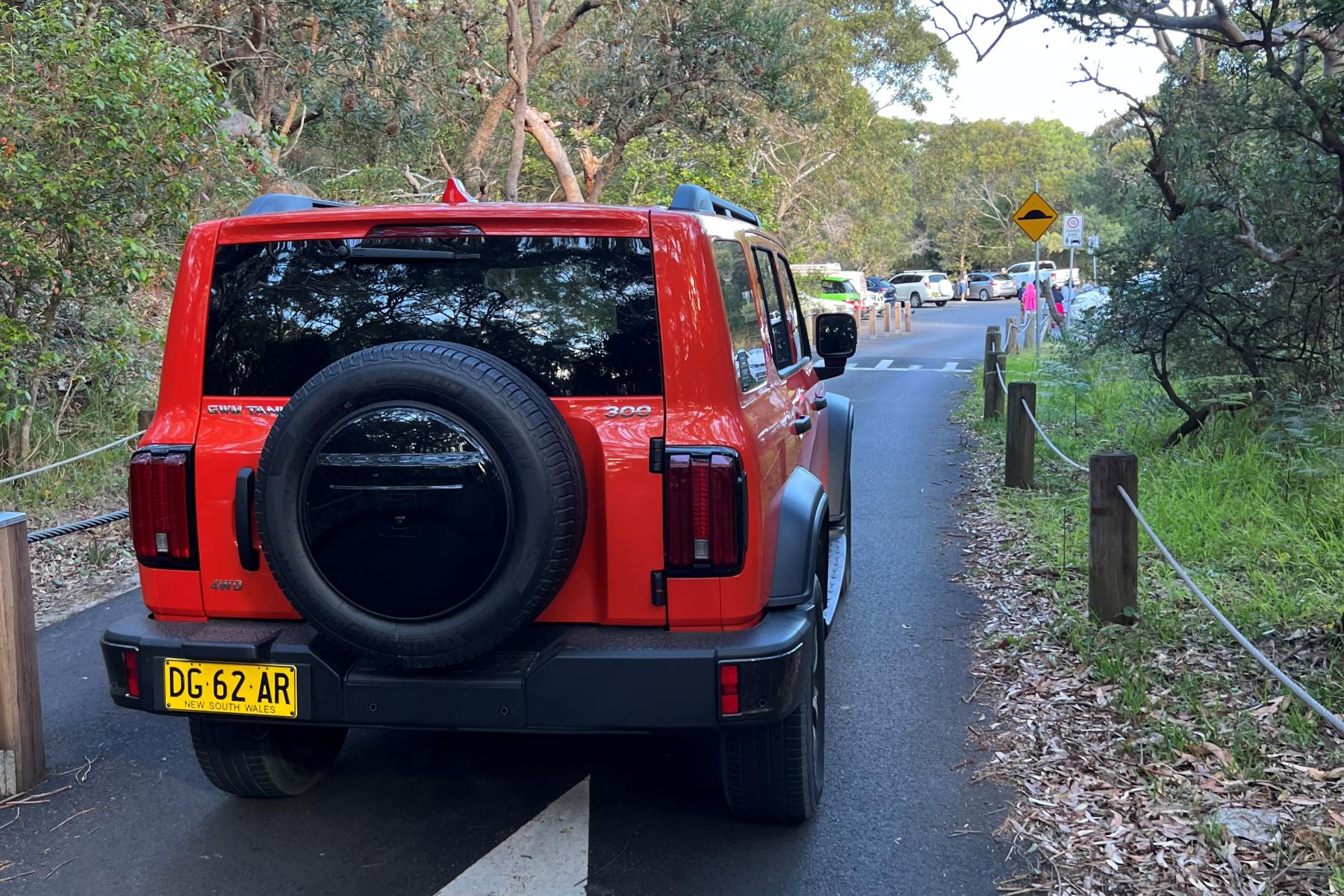 GWM Tank 300 Ultra 4WD final thoughts
This is a 4WD that leaves you with mixed feelings.
It seems well built, is comfortable inside. There is a large, clear central screen. However, user interface is frustrating. As is the intrusive safety features, especially the cruise control.
Off road it fights in a weight class well above its price range.
On sand it's excellent, on dirt roads its smooth and compliant. The rough stuff it handles with ease. This is one a few vehicles that has front and rear diff locks and the least expensive by far.
I would be interested to drive the hybrid version, which would improve one issue of being thirsty along with extra power and torque.
The overall feel is practical, functional, spacious but has some issues that will be developed out as time passes.
There is nothing that even comes close to the capability, comfort and size for the price and that is a winning formula.
It should be on your list for a test drive.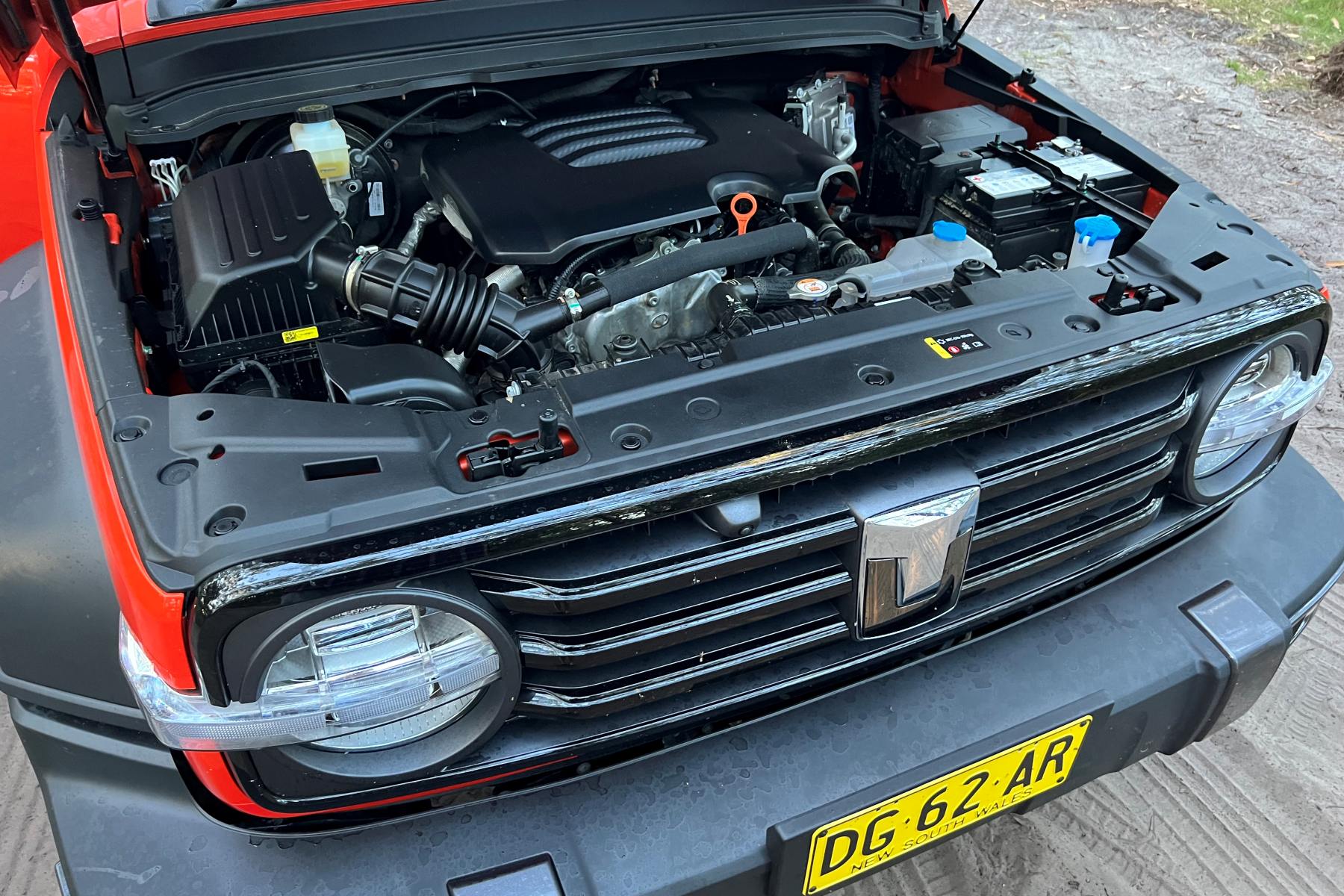 GWM Tank 300

Model

Tank 300 Ultra

Model Price
$50,990 RDAP*
Engine
2.0L 4 Cyl Turbo petrol Euro 5
Drivetrain
8 Sp AT 4WD dual range
Battery Capacity / type
N/A
Power
162kW @ 5,500rpm
Torque
380Nm @ 1,800 – 3,600 rpm
Fuel ADR
9.5L/100km
Fuel on Test
TBA L/100km
Fuel capacity
75L
Range (WLTP) / efficiency
926 km Max
Fast Charge / Home (240V)
N/A
Safety
Five-star ANCAP (Dec 2022)
CO2 Emissions
218g/km
0-100kmh/Top Speed
TBA
Servicing
12 MTh / 15,000km – 5 yrs. Capped Price
Warranty
7yr/ Unlimited km with
Roadside Assist
7Yr. conditional roadside assist
*MLP Includes GST and LCT but excluding statutory charges, dealer costs and dealer delivery. See your dealer for RDAP. Does not include price of options. Some features mentioned in the article are options. RDAP means Recommended Drive Away Price (without options but including all other charges)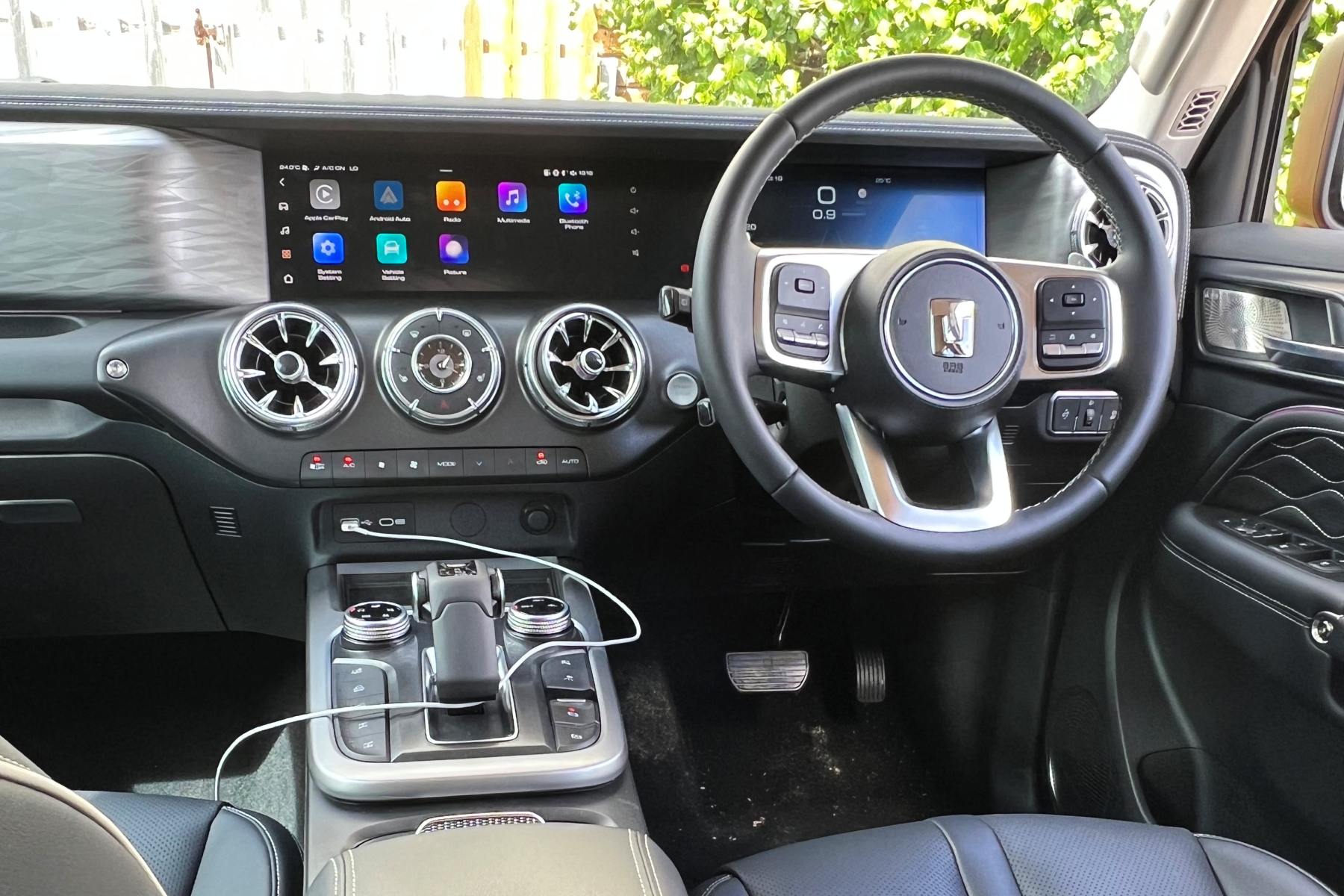 | | |
| --- | --- |
| Overall Rating     | 80/100 |
| Behind the Wheel | 8 |
| Comfort | 8 |
| Equipment | 7 |
| Performance | 7 |
| Ride and Handling | 8 |
| Practicality | 8 |
| Fit for Purpose | 9 |
| 4WD / Towing | 9 (4WD 5 / Towing 4) |
| Technology/connectivity | 7 |
| Value for Money | 9 |
*Towing and AWD capability is measured against similar vehicles in the same class.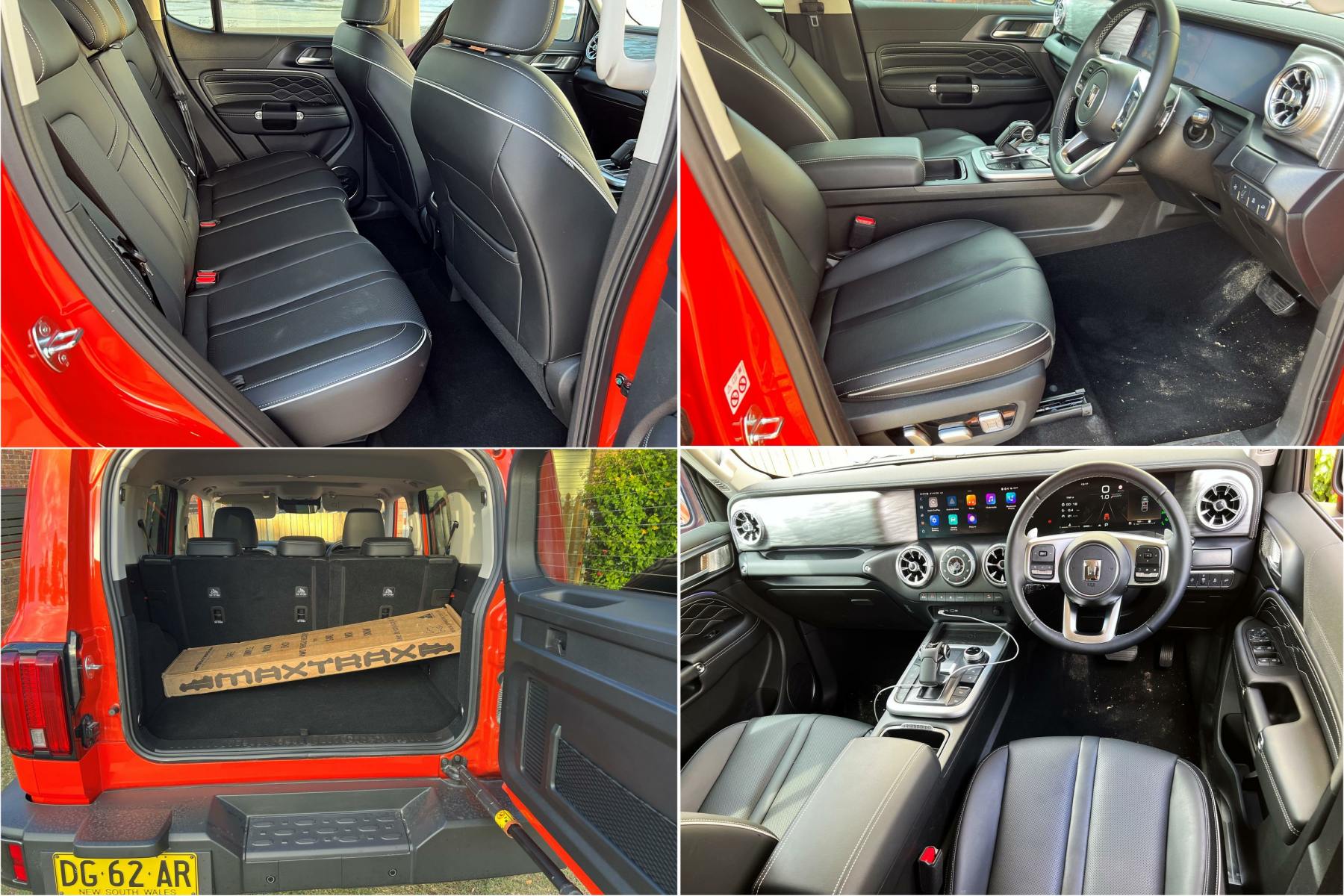 | | |
| --- | --- |
| Dimensions |   |
| Overall Length | 4760mm |
| Wheelbase | 2750mm |
| Width | 1930mm |
| Height | 1903mm |
| Wheels | 18×8.0 Alloy |
| Tyres | 265/60 R18 |
| Max ground clearance | 224mm |
| Wading Depth | TBC |
| Approach | 33 degrees |
| Rampover | TBC |
| Departure angle | 34 degrees |
| Turning Circle KTK | 12.06m |
| Boot Capacity Min | TBC |
| Boot capacity Max | TBC |
| Battery Weight | N/A |
| Kerb Weight | 2155kg |
| Payload (kg) | 397kg |
| GVM (kg) | 2552kg |
| GCM | 5052kg |
| Towing Capacity | 2500kg |
| Tow Ball rating | TBC |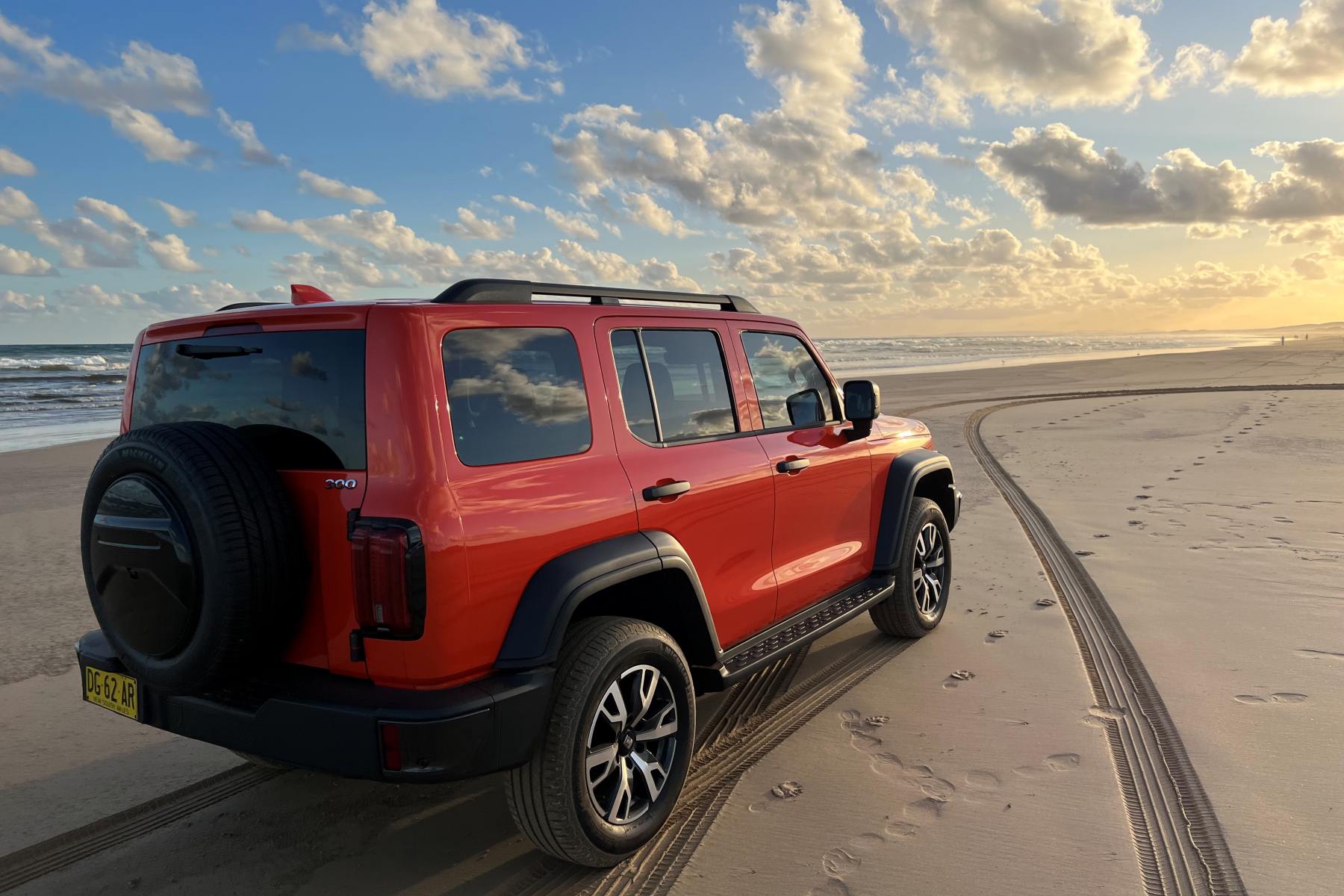 Radio Segments Motoring Minute
Motoring Minute is heard around Australia every day on over 50 radio channels through the Torque Radio network.
Motoring Minute has an average daily audience of over 550,000 listeners. They are also syndicated through various news sites around Australia.
Motoring Minute is also part of the Overdrive Radio Program. This can be found weekly on the Community Radio Network across Australia.