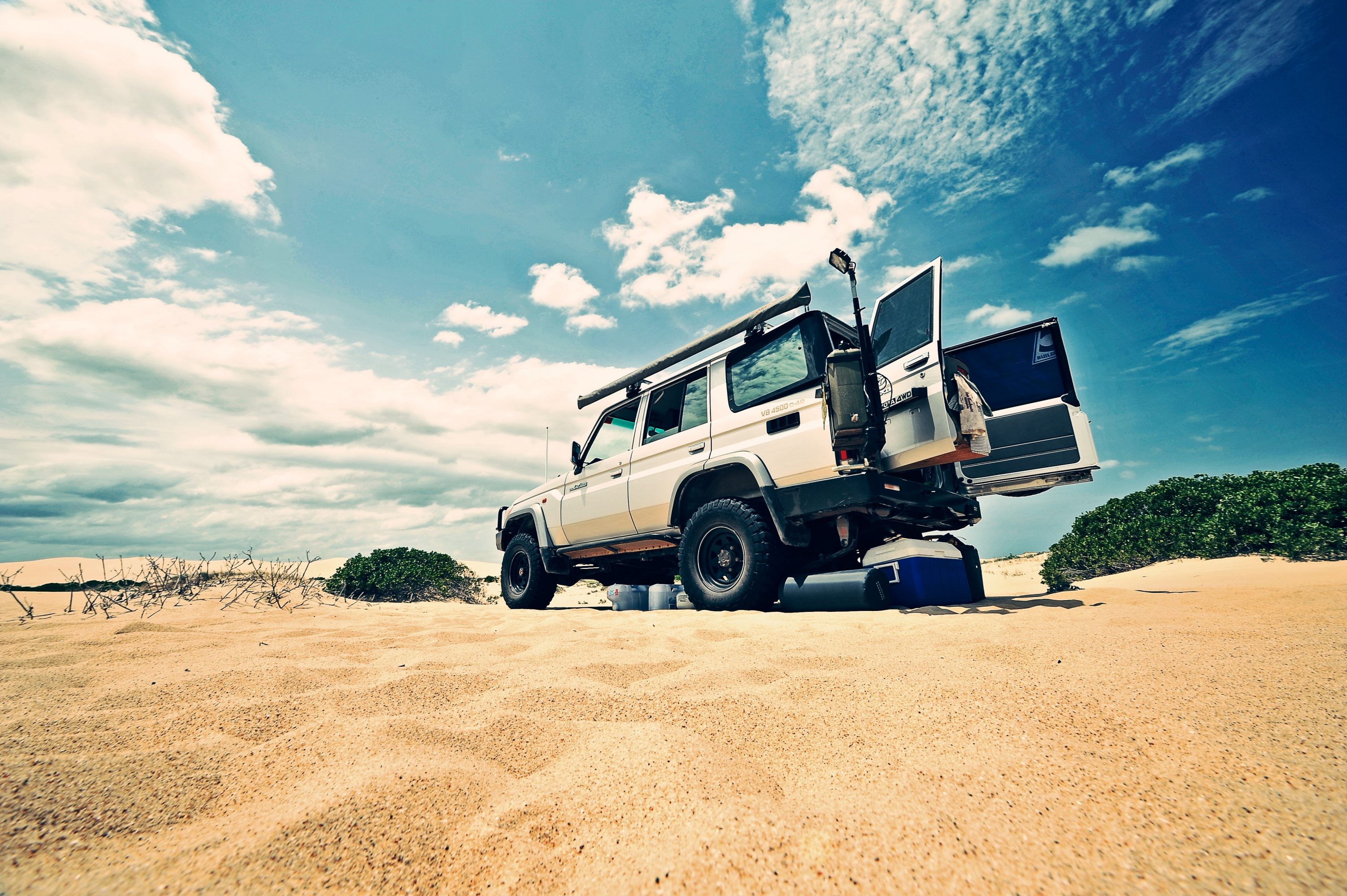 Australia has recorded its largest ever decrease in overseas travel with the number of Australians returning from a short-trip down 98.1 per cent on the same time last year*.
Hardly surprising considering the current border closures caused by COVID-19 but a staggering figure when you consider that in April 2019 916,400 holidaymakers were disembarking from an overseas holiday, compared to just 17,000 Australians in the same month this year**.
One positive impact of restricted overseas travel is that many Australians are looking at holiday adventures closer to home. The Caravan Industry Association of Australia reported that 72 per cent of cabins and 64 per cent of powered sites were booked around Australia for the school holiday week commencing 28 September 2020, showing some relief for regional businesses***. For many, arrival at these sites will mean utilising either a 4×4 or SUV vehicle to reach these destinations. Or for those wishing to avoid busy campsites and holiday parks, a van conversion may be on the agenda.
Jared Melrose Campbell, Co-Founder of Vanlife Diaries & Vanlife Conversions in Torquay, Victoria, said: "Compared to last year we've seen a big increase in orders for van conversions. Typically, we have one intensive van build a month, now this has increased by around 25 per cent and we take bookings months ahead. This is because people can't fly overseas at the moment but still want adventure so many are looking to explore our home land, Australia.
"As a business, we custom convert vans into creative and innovative campers that make the road feel a bit more like home for individuals who want something unique. While this is a trend at the moment, it's actually been growing for a number of years, as people are seizing the opportunity to down size, reestablish their dreams and explore our vast continent. What's really wonderful is the van life community. Once you are out on the road, you can find a huge network of people from all walks of life, connecting and making friends and memories that will last a lifetime. We see an incredible amount of uplifting stories through our Instagram following."
Whether you're in a van, 4×4 or SUV one of the things to consider to ensure you make the most of your adventure is the health of your car battery. This will be particularly important right now as many of us have been doing only shorter trips through urban areas, increasing the chance of a flat battery. This is because these trips can often involve frequent stopping and starting your engine, putting immense pressure on the vehicle battery and requiring it to work harder.
According to latest advice from CTEK, the leading global brand in the care and maintenance of vehicle batteries, Aussie holiday makers should be performing some very simple but vital checks on their vehicles to make sure they don't get caught out during their road trips this summer.
"If your dream is to pack up the 4×4 and head off to travel to remote destinations, now is the perfect time to travel the country," said Robert Briggs, CTEK's Asia Pacific Director of Sales and Marketing. "The traditional outdoor adventure has evolved. We no longer need to go without creature comforts when out on road trips and family camping adventures; technology allows us to keep both vehicle and electricals charged, for the most advanced, versatile, and comfortable set up. Australia is the perfect place for outdoor adventures, and with the right tips and tools, Aussies can be road trip ready to explore," added Briggs.
Checks recommended by CTEK, that ensure your battery is in good condition before you go and maintained throughout your adventure, include:
Check your car battery charge level: This is a simple thing that many of us forget before we head out on the road. A quick at home test will tell you the health of your battery meaning you won't get stuck with no phone reception on the side of the road. Although a new battery isn't hideously expensive, the cost of lost holiday time and possible towing is, so it's always a worthwhile check especially if this is your first proper trip of the year. A few products are available on the market including the CTEK 12V battery analyser. It will test your battery in seconds and tell you whether the battery is in good condition, needs charging, confirm if it can hold a charge or if it should be replaced. A very handy gadget that could save you a lot of time when you're out on the road. 
Regular driving each week or use a battery charger: People often assume that battery chargers are for sports cars but in fact every car that is used infrequently for short distances would benefit from using a battery charger. By making sure your battery is fully charged ahead of every road trip, you improve the life of your battery and significantly reduce the risk of a flat battery when you're out on the road. The sort of vehicle you have actually determines which battery charger you need to buy so we recommend that you speak to a specialist about your particular requirements. However, there are some great products on the market including the MXS5.0 that will be perfect for charging smaller vehicles. However, for SUVs and 4x4s the more powerful MXS7.0 is the product CTEK would recommend.
Invest in additional battery technology: Caravan parks typically have electrical power for you to access for your set up. However, if you don't plan on always spending the cash on caravan parks, or plan on heading to remote areas where these aren't an option, it's best to have a dual battery system set up. This utilises your leisure battery, meaning when you've stopped for the night to camp you've still got enough charge to power all of your necessary electricals without the need to access external power. Systems like CTEK's D250SE charger is perfect for 4×4 adventures, and also has a solar power input option meaning you can harness the sun's rays to extend the usage of your campsite technology. Further tools for the journey include the CTEK Smartpass 120S, an automatic power management system that distributes power between the starter battery, the service battery and on-board equipment, separating critical equipment from non-critical equipment to ensure the radio, emergency lights and navigation systems always have power.
Get your car serviced: When you are getting your car serviced, we recommend that you ask the workshop to check the charge rate of your alternator to spot any problems well before they occur. You can also request that they clean the battery terminals and posts to ensure a good connection. It is also vital that your engine and all electrical components are running properly as poor engine or battery condition can overload the battery leading to an unexpected flat battery.
*https://www.abs.gov.au/articles/record-fall-overseas-trips-australian-travellers
**https://www.abs.gov.au/articles/record-fall-overseas-trips-australian-travellers
***https://www.caravanindustry.com.au/camping-trips-prove-popular-for-families-over-school-holidays-with-72-cabin-occupancy-an-increase-on-2019-figures