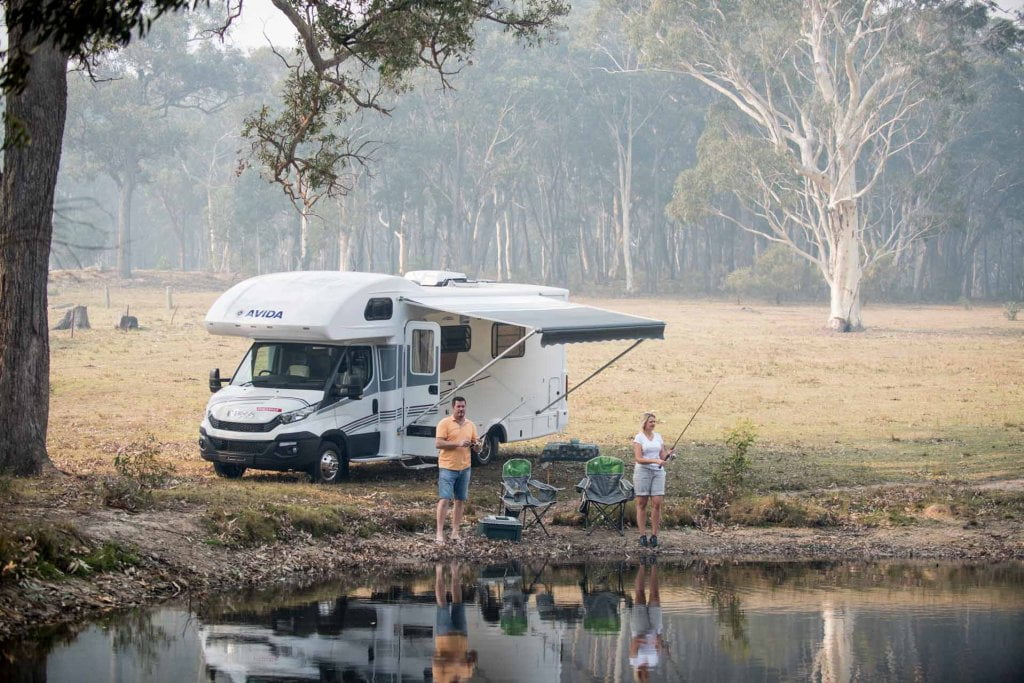 These days, the ways, and options of traveling are endless. We can choose the type of transport and various kinds of accommodation.
However, some people can't afford to stay in luxurious hotels and at the same time they don't fancy campsites, as they are not convenient enough for some.
Of course, with the continuing COVID crisis affecting hotels and resorts – a motorhome is your best bet for avoiding public places when traveling – you simply bring your bathroom, bed, and kitchen with you for the ride.
A motorhome is a vehicle that consists of a driving cab and living space – just as in a normal summerhouse.  This way, it's possible to travel with home-like comfort and private space without the effort of packing, setting up a camping kitchen, a tent – all of those time-consuming things you shouldn't have to worry about on a holiday.
You can also save a lot of money for other travel attractions, as motorhomes are equipped with a small kitchen that's perfect for cooking. Provided that you organize the space inside well, your travel will be convenient and enjoyable. Below we present some things to keep in mind before starting a motorhome journey.
Think about your needs
Before starting to organize the motorhome interior, you need to think about the basics. The space setting should depend on the number of people traveling. If you're planning to travel as a couple, there's no huge problem, because motorhomes are usually designed in a way that will be convenient for two.
However, if you wish to take some more people, you have to consider the number of beds and chairs carefully. Everyone needs to have some personal space, especially if you're going to stay inside for long – when the journey takes a lot of time.
Also, check the kitchen equipment – there should be enough plates, cups, and cutlery for everyone. Not to mention pots and pans, bowls, and serving utensils. Also, when you're traveling with children, they should have some space to play. As we all know, kids cannot stay in one place for long, so it's essential to arrange some room to move around. Summing up, while looking for a motorhome for sale or for rent, check if the space will work for you.

Plan the amount of luggage
When you stay at a hotel, everything is available there – in case you forget your towel or other personal items, they are typically provided on the spot or you can simply buy them.
However, when traveling in a motorhome, you have to provide for yourself, unless you want to make frequent shopping stops. That's why it's necessary to think in advance and plan the packing list carefully.
Some people think that a motorhome provides endless space for their stuff – it may be risky because the vehicle cannot be overloaded if you want to drive safely. It's best to gather all the passengers in your motorhome beforehand so that they know how much space they have. You can also have a look at some packing tips, which are available for example in this article.
Arrange the bathroom
Bathrooms in motorhomes can be really small and no fully equipped, so it's essential to arrange it in a relatively comfortable way. Even if there is no washbasin, you can use the shower to wash your hands or the sink in the kitchenette area.
Also, in order to save some room in the bathroom, think of buying a space organizer – for example the one designed to hang in a wardrobe – and hang it in the bathroom. To find some cheap but lovely bathroom organizers, have a look here.
Everyone will have someplace to put their cosmetics and other toiletries, and you will be sure that everything is available – there are not many cabinets or shelves in mobile bathrooms. You can dry the towels or laundry outside – on a campsite or another place where you'll stay.
Reduce the number of extra items
In a traditional house, many of us have different pieces of furniture which may be only there for decoration – fancy mirrors, cushions, armchairs, coffee tables and others. Nevertheless, in a motorhome, it's totally impractical to have these things inside.
Make sure to get rid of all the extra items before you start your holiday. In order to do this, you can divide all the things you want to put in a motorhome into three categories:
Necessary
Nice to have
Additional
The "necessary" things are essentials, like toothpaste, dishes, dishwashing liquid, toilet paper, clothes, etc. "Nice to have" category might be filled with things like heavy extras like bikes or your stand-up paddleboard that you never used but really want to. Unnecessary additional items might include heavy specialized kitchen equipment like that burdensome ice cream maker or waffle maker.
Conclusion
As you can see, planning a motorhome trip can be easier planned than done – arranging the space inside may be challenging, especially if you travel with a few friends or there will be children there. However, with a little effort and though it's possible to prepare your motorhome in such a way that you will all enjoy the time spent together on the road!