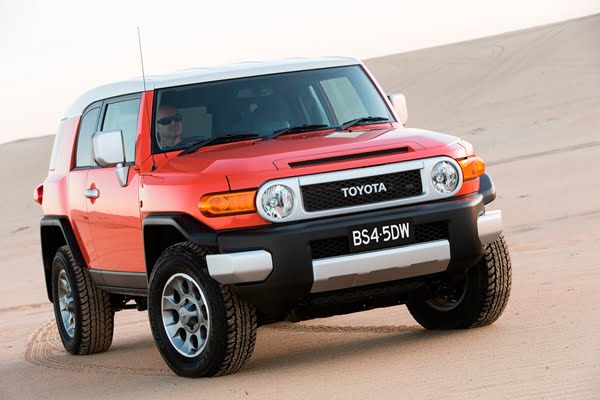 Toyota has boosted the appeal of its "go anywhere, do anything" FJ Cruiser 4×4 by more than doubling its fuel range and adding an off-road cruise control system known as CRAWL.
The classic FJ Cruiser's fuel-tank capacity has been expanded to 159 litres with the 72-litre main tank now supplemented by an 87-litre sub-tank.
As a result, the theoretical driving range increases to 1,060km in the city and more than 1,700km on the highway. The combined-cycle fuel economy of 11.4 litres/100km1 delivers a notional range of almost 1,400km.
Off-road driving competence is enhanced with CRAWL – a "feet-off" control system that helps take the vehicle over severe or slippery terrain.
It can assist in climbing or descending steep hills, freeing the vehicle if it is stuck, and is also helpful in mud, sand and gravel, and when fording water.
CRAWL control engages in L4 (low-range) and temporarily disengages at speeds above 25km/h, or above 10km/h when the rear differential is locked.
A speed-selector dial on the overhead console provides the choice of five speeds.
The system automatically maintains a low uniform vehicle speed uphill and downhill by controlling both engine output and brake hydraulic pressure, allowing the driver to concentrate fully on steering the vehicle.
It increases vehicle stability in extreme four-wheel driving conditions, by minimising wheel spin and tyre lock-up.
The system has the added benefit of reducing potential damage to the vehicle, by smoothly controlling vehicle speed over rugged terrain.
It reduces load on the drivetrain by smoothly controlling engine output and brake application.
CRAWL can be engaged under these conditions: transfer gear position in L4, shift lever in any position except P or N, vehicle stopped, foot brake on, parking brake off, doors closed, second-gear start system switched off, CRAWL Control switch on and the VSC system in Normal mode.
FJ Cruiser is Toyota's fifth SUV and most recent addition to the LandCruiser family.
It is powered by a 200kW, 380Nm 4.0-litre V6 petrol engine with five-speed automatic transmission, part-time 4×4, an electrically activated rear differential lock and switchable Active Traction Control technology to maximise off-road climbing ability.
It features impressive road clearance – a 36-degree approach angle, 31-degree departure angle and 29-degree break-over angle. The latter two dimensions are the best for any vehicle in Toyota's local 4WD range.
FJ Cruiser is a modern interpretation of a Toyota classic, paying homage to several of the most compelling stylistic themes of the LandCruiser FJ40 of which more than 1.1 million were produced between 1960 and 1984.
The modern FJ inherits the DNA of the original, which was renowned as a rugged, dependable vehicle that could travel to, and return from, any extreme environment.
Its FJ-inspired features include angular lines, round headlights set either side of a wide, mesh grille, an upright windscreen with three wiper blades, a white roof and wrap-around rear corner windows.
Offered in a single grade with a high level of specification, the upgraded FJ Cruiser is priced from $47,9902. Metallic paint is $475 extra.
FJ Cruiser is covered by Toyota Service Advantage capped-price servicing at a maximum of $210 per service3.