The disabled suffer more than most yet their spirit and sense of well being can be uplifting for others. Able-bodied people often wonder how they would react in that position, the disabled just get on with life.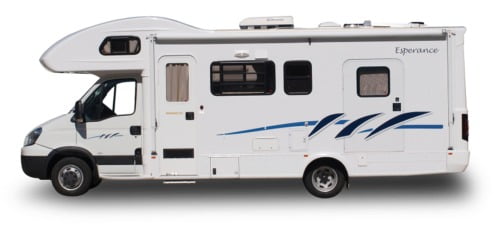 The dream of many is to travel Australia, enjoying the freedom and the ability to discover everything that Australia has to offer, from the comfort of their own full equipped, fully self-contained motorhome.
Disabled people have the same dreams and desires yet at times, the difficulties they confront by simply leaving their own environment, which often has been modified to suit their circumstances, are very daunting and often seemingly insurmountable.
Winnebago has recognised the need to provide a motorhome modified to suit their lifestyle and the new Esperance B2694D SL and C2694D SL has been designed to cater for the majority of disabled people.
Based on the popular 2694SL models, the Esperance for the disabled offers an additional entrance door – a wider door allowing for wheelchair access utilising a standard fit electric wheelchair lift from the ground, rolling in to the bedroom.
Standard Features· Extra wide rear wheelchair access door
· Electric wheelchair lift
· Roll in shower and toilet
· Swivel front seats
· Accessible low island bed
· Wheel around area in living room
· AMT or manual transmission
The large island bed lifts up to allow roll through access past the mid placed bathroom to the living area, offering extended space by electrically sliding out the side wall. There is a model with an additional bed located over the cabin or without if that is preferred.
The bathroom is large and private, offering a roll in facility for easy wheelchair showering in hot or cold water and access to the flushing porcelain bowl toilet.
The front driver and passenger seats both swivel to face the living area and they can be accessed from a wheel chair and then swivel to a forward facing seat belted position.
The Esperance Disabled motorhome is fitted out with all the standard features you expect from the Esperance range including remote controlled roof and cabin air conditioning, a ducted furnace heater as well, a large LCD television and DVD combination, satellite navigation built in, a colour reversing camera, a large external awning, loads of cupboard and storage space inside and out.
The powerful 3 litre turbo diesel Iveco Daily rear wheel drive chassis with a massive 5200 GVM boasts a large carrying capacity as well as modern safety and creature comforts you would expect from a luxury motorhome such as electric windows, cruise control, ABS braking, a twin airbag system, central locking, a AM FM radio/CD and much more to enhance your motorhoming enjoyment.
We recognise that there are various forms of disablement. Winnebago is providing a motorhome that will cater for the needs of many but should further solutions be required, talk to the local Winnebago Dealership as to what can be done.
For additional peace of mind, our motorhomes are covered by a two-year factory warranty and are supported by a national service network. Our two-year emergency roadside assistance program – Winnebago RV Help, covers every motorhome.