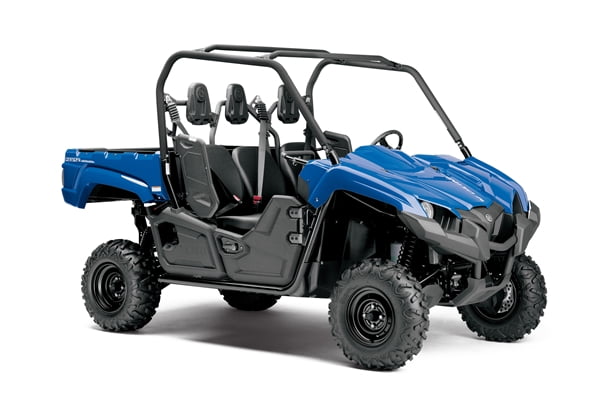 YMA has released the all-new Viking, The company's first ever multi-purpose three-seater Recreational Off-Highway Vehicle (ROHV).
This genuine off roader is built tough for Aussie conditions, comes with a three year factory backed warranty and, for a limited time, 3% farmer finance.
Viking focuses on safety and comfort in order to give confidence when manoeuvring this new Yamaha ROHV through any kind of terrain. The new machine is based around a high-torque single-cylinder liquid-cooled engine housed in a rugged chassis, and every aspect of engineering – from power supply through to handling character – is focused on the people in the middle of the machine.
The driver and passengers have a lot of space in the Viking, and there's also plenty of room for the cargo. A pallet size steel cargo bed offers plenty of room for daily work tools and equipment during the week, and on weekend trips there's lots of space for carrying camping and fishing gear.
The end result is a well-balanced ROHV that combines Yamaha's well-known rough terrain ability together with usable and sensible power, as well as functionality and comfort.
The Yamaha Viking will take you everywhere you need to go, whenever you want – and with space for three you can take who you want, as well as the equipment you need.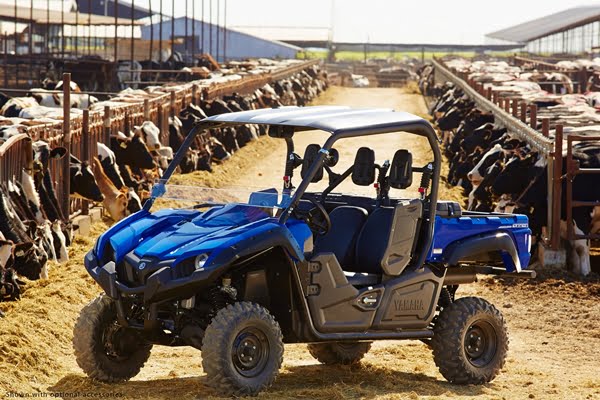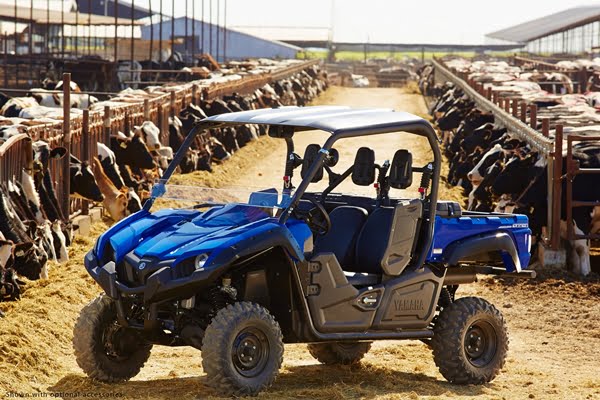 VIKING HIGHLIGHTS OVERVIEW
•Yamaha's first-ever multi-purpose three-seater Recreational Off-Highway Vehicle (ROHV)
•Focus on safety, functionality and comfort
•Spacious seating layout for driver and two passenger
•Useable and controllable power
•High-torque single-cylinder liquid-cooled engine
•Rugged all-terrain chassis
•Pallet size cargo bed
ENGINE FEATURES
Uprated 686cc liquid-cooled engine
The new Viking is powered by a 686cc 4-stroke SOHC single-cylinder 4-valve fuel-injected engine which has been developed from the reliable and proven powerplant used in Yamaha's popular Grizzly ATV.
For increased levels of horsepower and torque throughout the operating range, the Viking's engine features a number of important changes compared to the Grizzly 700, including an increased compression ratio, new cam profile and new single exhaust port design.
Smooth and easy-to-use automatic CVT transmission
For smooth and responsive acceleration from a standstill the Viking is equipped with Yamaha's well-known Ultramatic® transmission. A Centrifugal Clutch with CVT (Constantly Variable Transmission) delivers strong performance and easy operation, and when conditions require more pulling power the Low Gear mode can be manually selected. Other options besides High and Low Gear are Reverse, Neutral and Park.
Stable engine braking across the entire speed range
Engine braking is one of the smoothest and most effective ways to slow down in off road terrain, and the Viking's Ultramatic® transmission has been designed to engage engine braking from maximum speed right down to only 5 km/h. This reduces the need for the frequent use of the disc brakes when slowing down, and allows the driver to control deceleration by primarily using the accelerator pedal without locking up the wheels. This feature gives confidence, particularly in tight turns and on slippery downhill slopes.
Selectable 2WD, 4WD and Diff Lock modes
The Viking features a simple and effective 'On-Command®' front differential gear which enables the driver to select 2WD, 4WD or 4WD & Diff Lock. The rotary switch is located to the left of the steering wheel, and it allows the driver to make adjustments to the drive system to suit the prevailing surface conditions.
Large capacity air intake system
To achieve stronger high rpm performance, the Viking is fitted with a large capacity airbox with a large air cleaner surface area which reduces dust clogging. Fresh air is fed from the Viking's front via large intake ducts, and for increased serviceability the air cleaner box is located under the seating area.
Air Induction System and catalytic converter
For enhanced environmental performance the Viking's fuel-injected engine runs with an Air Induction System which diverts fresh air from the airbox directly into the exhaust port. This re-burns un-combusted hydrocarbons in the exhaust gas for reduced emissions, and also increases the efficiency of the oxidation processes taking place in the catalytic converter.
Readily-accessible engine for easy maintenance
Another of the user-friendly features to be found on the new Viking is its conveniently positioned engine. Situated beneath the cargo bed, the powerful single-cylinder 4-stroke engine can be quickly and easily accessed by tilting the bed using the unlocking lever. This feature makes routine servicing quicker and easier, giving increased efficiency when used in commercial or farming applications. It also makes the new Viking an even more attractive proposition for private users looking for reduced ownership costs. Another advantage of locating the powerplant under the cargo bed is that it virtually eliminates the flow of engine heat into the seating area, giving a more comfortable ride.
ENGINE KEY FEATURES
•Highly reliable fuel injected 686cc single-cylinder 4-stroke liquid-cooled engine
•Powerful performance from low engine speeds through to high rpm
•Smooth-running automatic CVT designed to deliver excellent starting acceleration together with strong mid to high-speed performance
•Reliable and durable centrifugal clutch for smooth starts
•Stable and smooth engine braking across the entire speed range
•Easy-to-maintain large-capacity air intake for strong high rpm power
•Air Induction System ensures high levels of environmental performance
•Catalytic converter
•Easy to operate front differential gear with linear On-Command® mode to suit changing surface conditions
•Easy engine access enhances serviceability
•High-capacity 510W alternator with forced oil cooling
CHASSIS FEATURES
3-seat layout with a flat walk-through floor
One of the most significant and attractive features on the new Viking is its innovative 3-seat layout which features individual contoured seats for each of the occupants. To ensure great levels of comfort – even when traversing rough off-road terrain – the three individual seats are designed to give support to each passenger's lower waist.
For added riding comfort the centre seat is inclined 5 degrees further back than the left and right seats, thereby helping to prevent the centre occupant's shoulders bumping into their fellow passengers. Manufactured using durable yet comfortable urethane cushioning material, the water-resistant wipe-clean seats are designed to give a smooth and relaxing ride.
To accommodate different driving positions, the driver's seat can be moved 45mm forwards or backwards from the standard position by adjusting the mounting bolts – and to prevent the centre seat passenger's legs or feet from accidentally interfering with the driver's foot controls on bumpy terrain, the Viking is equipped with a foot-space partition.
For increased comfort and security on bumpy tracks the Viking is equipped with an easy-to-adjust passenger grab bar on the dash as well as passenger footrests, and all three seats feature 3-point seat belts. There's also a large glove box for storing personal items, and when it's time for refreshment there are four cup holders – two on the left and two on the right.
Another feature which is sure to be appreciated by Viking users is the flat walk-through floor layout. Not only does this design make getting in and out of the Viking so much easier, it also allows the driver and passengers to access the vehicle from either side, which is a particularly useful feature in commercial and farming applications.
Comfort and convenience
Comfort, convenience and ease of use are the key themes running through this new three-seat ROHV. The electric starter switch, the shift lever and the handbrake lever are all located to the right of the 4-spoke steering wheel. Together with its ultra-smooth transmission and centrifugal clutch, these user-friendly features work together to make the Viking remarkably simple and enjoyable to operate.
Independent double wishbone suspension front and rear
In order to ensure responsive handling together with a comfortable and relaxing ride for all 3 people on board, the new Viking is equipped with independent double wishbone suspension at the front and rear.
Using the wealth of experience we have gained in building ground-breaking off road vehicles during the past half century, Yamaha's engineers have created a sturdy and effective long-travel suspension system.
Both the front and rear suspension designs utilise a proven double wishbone system, which together with the heavy-duty shock absorbers gives a smooth and comfortable ride over all sorts of surface conditions, from gravel fire roads through to rocky trails and muddy ruts.
High ground clearance and smooth steel skid plate
The new Viking has been built to handle some of the toughest off road terrain, and features 300mm of ground clearance, enabling this rugged ROHV to negotiate tracks that many conventional 4WD vehicles would struggle to handle. A smooth steel skid plate is fitted to the underside of the tough tubular chassis, allowing the Viking to glide over obstacles.
It's inevitable that even the Viking will one day get stuck on a rock or tree stump, and so to make it easier to free the machine from whatever is holding it back, the steel skid plate's sides are angled upwards by 60mm. This allows the Viking to be rocked, pushed or towed off the obstacle with minimum time lost.
Light and natural handling feel
When designing the new Viking, our engineers set out to create a Recreational Off-Highway Vehicle which would respond instantly and predictably to every rider input, and deliver a light and natural handling feel. This has been achieved by, amongst other things, the use of a specific rack-and-pinion gear ratio which has been precisely matched to complement the suspension's lever ratio.
In addition to these factors, other technical specifications such as tyre sizes, suspension spring rates and damping characteristics have all been selected so that they interact positively in order to enhance the light and natural handling feel. Another advantage of this integrated suspension design is that the Viking's predictable handling characteristics are relatively consistent, whether driving solo or fully laden.
Rugged and resilient body design
The Viking's exterior has been designed around Yamaha's Real Off Roader concept in which the overall look, feel and character of this new ROHV is aimed at underlining its advanced off road capabilities.
The Viking's tough bodywork has been specifically designed not only to prevent and minimise any potential damage caused by rocks and trees – it is also built in such a way that this rugged ROHV will continue to function effectively even when it experiences a degree of accidental damage. Parts such as the front bar covers, side covers, rear fenders, doors and shoulder bolsters can be quickly and easily replaced if damaged beyond repair, which reduces down-time for commercial and leisure users.
For easy boarding and exiting the Viking is fitted with lightweight low-level doors which feature a light one touch operating system which is particularly attractive to commercial users making frequent stops.
Pallet-sized rear cargo bed
To underline its serious commercial, industrial and farming applications, the new Viking is equipped with a full-sized cargo bed which can accommodate a pallet. The tough steel-lined bed measures 1380mm wide x 925mm long x 315mm deep, and has a useful carrying capacity of 272kg – and to secure the load, the cargo bed is equipped with four tie-down hooks.
The wide tailgate allows for easy loading and unloading of pallets or other cargo, and incorporates two heavy-duty latching levers on the left and right sides. The whole cargo bed can be tipped by releasing the unlocking lever, allowing quick and easy unloading – and for smooth operation the tilt bed comes equipped with a pneumatic damper.
The cargo bed is also very handy for sporting and leisure applications. Its industry-leading dimensions enable the Viking to carry everything from camping gear through to fishing equipment, paragliders, kite-surfing kit and more. With its remarkable off road ability, as well as a spacious three-seat layout and outstanding carrying capacity, the Viking opens up new possibilities for adventurers, explorers and outdoor pursuits enthusiasts.
Class 2 trailer hitch bar
In addition to its spacious cargo bed, the Viking also comes fitted with a hitch bar that is designed to be fitted with an optional class 2 trailer hitch. When equipped with the trailer hitch, the Viking is able to tow loads of up to 680kg, depending upon the cargo bed load and number of passengers.
CHASSIS KEY FEATURES
•Ergonomic 3-seat layout for high levels of comfort and versatility
•Walk-through floor makes getting in and out easier than ever
•Independent double wishbone front and rear suspension
•Well-positioned switches and levers for ease of use
•Large-capacity pallet-sized flat rear cargo bed made from steel for added durability
•Cargo bed tilt function with 272kg capacity and one-touch opening function
•Hitch bar with 680kg towing capacity
•New chassis with optimised dimensions gives high levels of stability of rough roads
•Steel skid plate with minimum ground clearance of 300mm
•Light and natural handling responds instantly to rider inputs
•Rugged body design resists accidental damage
•Front and rear disc brakes with mechanical parking disc brake
•Long range 36.7 litre fuel tank
•Plenty of storage space
•Tough and purposeful looks give a Real Off-Roader character with dependable and capable performance