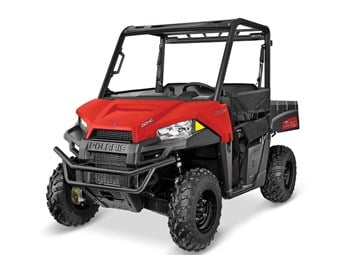 Polaris is upping the ante in the Australian side x side market with the impending release of a model with the features, durability and capabilities that Australian farmers have been screaming out for.
The 2015 Ranger 570 HD has been completely redesigned with Australia in mind and is poised to lift side x side performance to a new level and offer more features for Australian farmers than ever before. The release of this model will continue the momentum of Polaris which has grown its year-to-date sales by a staggering 34 percent over the same period in 2013, including sales growth of 78.5 percent in the side x side segment alone.
To ensure this model provides maximum durability for our harsh working conditions, Polaris has acted on the feedback from Australian farmers to offer the Ranger 570 in a "Heavy Duty" specification with the inclusion of features designed for the Australian market.
Leading the way is the inclusion of an engine braking system with 4-Wheel Descent Control (4WDC) to provide optimum control and traction when descending slopes. The 4WDC system is already tried and true in the Australian market having been included on the Polaris UTE which was released early this year.
The 2015 Ranger 570 HD will also come complete with other heavy duty features such as a HD sway bar, upgraded rear driveshaft and grease fittings as standard to not only provide increased durability in harsh conditions, but also to provide easier ongoing maintenance.
Further upgrades for 2015 over the previous Ranger 570 model include standard Electronic Power Steering (EPS), 10 percent more engine power, enhance styling, increased Lock & Ride accessory compatibility, increased suspension travel and greater cab comfort, including standard tilt steering.
Polaris is also providing further options for the safety conscious in 2015 by offering seat belt interlock and Speed Key compatibility for the Ranger 570 HD. The seat belt interlock operates by limiting the top speed of the vehicle to 24 km/ph when the seatbelt is not engaged, whilst the Speed Key is a separate key to the vehicle (available as an accessory) which limits the top speed to 40 km/ph.
At the heart of the Ranger 570 is a 567cc, fuel-injected ProStar engine pushing out 44 horsepower, with this model also featuring Polaris' legendary On-Demand True All-Wheel Drive including Turf Mode, Macpherson strut front and independent rear suspension with 22.9cm and 25.4cm travel respectively, and a whopping 25.4cm ground clearance.
Living by Polaris' mantra of "Hardest Working, Smoothing Riding", the Ranger 570 boasts class leading capabilities including a 680kg towing capacity, 227kg rear dump box capacity and 34.1L fuel capacity.
The 2015 Ranger 570 HD will be arriving in Australia in early December and will be available in Sunset Red.