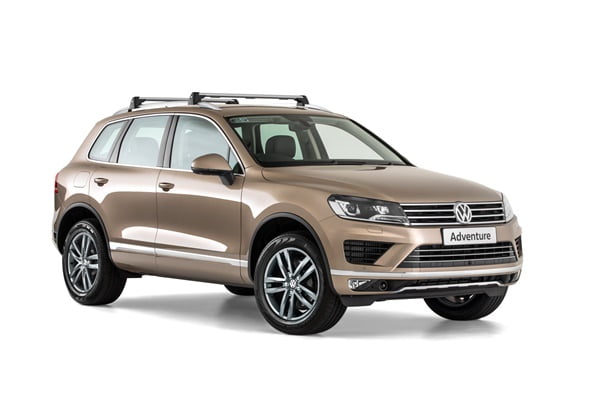 A facelift in 2015 gave the Touareg a much-needed refresh, and from the outside it was a success.
VW's corporate face was surgically implanted on to an ageing car from 2010.
In automotive terms, that is using a walking frame on front steps of an old folk's home.
Touareg Adventure is a special edition which tries to assuage concerns regarding slightly outdated SUV.
The additions add value to a middle of the range model. The release of the next-gen Touareg next year will bring a new raft of stuff. I have no doubt it will bristle with computerised goodies.
Do the additions do what it says on the box?
Yes, visually the Touareg looks the dog's B's. The body still has a sexy brutalist appeal which I loved from day one.
Touareg shares a platform with both the posh Audi Q7, and try-hard Cayenne. No matter how much I squint, the Porker looks wrong.
VW used cues purloined from both Audi and Porsche. The roof, windows and doors all look familiar.
A smart set of head and tail lights LED and Bi-Xenon upgrades. Masculine 19" wheels look great and give the exterior a touch of class.
Unforgivably, there is no CarPlay/Android Auto.
The infotainment system is VW's older generation unit.
There is no DAB digital radio, or Apple CarPlay/Android Auto. The huge virtual buttons have no subtlety, and the system was often slow to react.
There are no built-in USB ports. VW supplied an adaptor cable, but I can't remember the last time I was in a car that didn't have proper USB ports, even if just for charging.
You can use "Hey Siri" which will add at least some modern functionality to the outdated infotainment system.
Satnav is standard and works well.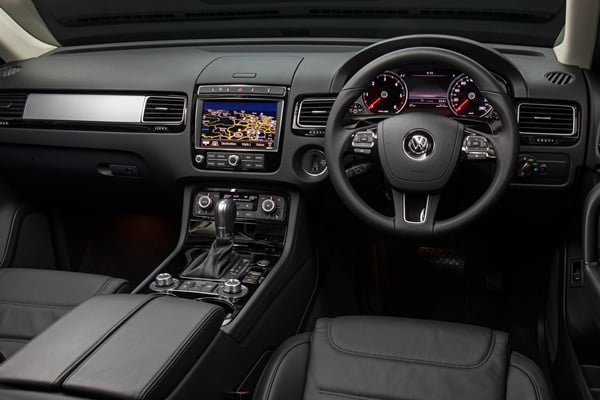 The Adventure has Vienna leather.
I had a chuckle when I read the disclaimer. It says that not all of the leather used is natural, some of it is simulated. If leather does not come from a cow, it is plastic, right?
All the Euro car makers do it. In fact some Mercedes models are all vinyl interiors, but you'd never know it.
The handsome dash has a slightly retro look, in a utilitarian German kind of way. It is neat and tidy, and has great ergonomics.
I like the ease of which controls fall to hand. It is a beautifully designed ergonomic dash that has aged well. In fact, had the audio unit been the latest model, and blind spot and lane watch been included, I'd have been happier.
At least there is adaptive cruise control which is excellent at keeping speed up or downhill. It also has a queue-assist function in heavy traffic.
VW highlights the word "luxury" in the literature and on the website.
The cabin certainly has a premium ambience. It is spacious, with a high seating position. Even a taller driver will have to climb into the driver's seat.
There are 3 memories for the power adjustment.
The 580L rear cargo hold extends to a very flat 1642L in a few easy moves. Much of the space is useable with intrusions into the space by poorly designed body parts kept to a minimum.
On the road, the 3.0L V6 feels a little less gutsy than I remember it.
None the less, the 180kw/550Nm turbo diesel does a 7.6 0-100kph, which is decent considering the VW has a tare weight of 2159kg.
In many ways, the Touareg is a GT. By that I mean it would lazily cross continents quickly and comfortably.
There is a ton of room for you, some mates, and all your gear.
All of those on board would be comfortable. There are plenty of cup and bottle holders, and extra power outlets for charging your stuff. Don't forget your USB adaptor as mentioned above.
Premium it may be, luxurious it is not.
Possibly because of my unrealistically high expectations, I felt a little let down by the Touareg. Although the ride was exceptionally smooth, and the 8speed auto was deliciously silky, it lags behind its competitors.
The braked towing capacity is 3500kg, but it doesn't feel as if the V6 would cope.
It is unfair to say so definitively without testing the theory, but the V8 diesel feels better suited to tough work, and for that you'll need many more shekels.
The top of the range Touareg is just a shade over $116,000. At that price point, there are many more options.
Adjustable air suspension, and a 100L fuel tank, make the Touareg Adventure better value than it otherwise would have been. We managed 9.8L/100k which would be even better at highway speeds.
Unusually, the steering is hydraulic power assisted, instead of the more usual electric. Of course this means no automated parking which would be handy in such a large vehicle.
In a segment that is ever expanding, the SUV market over $70,000 has been contracting.
Sales of Touareg are down a massive 24.4% on this time last year.
SUVs now make up 38.9% of the market, which is up 5% on last year.
SUVs outsell passenger cars with 233,498 sales VS 230,267 sales. LCVs, like Hilux, take the SUV figure even higher.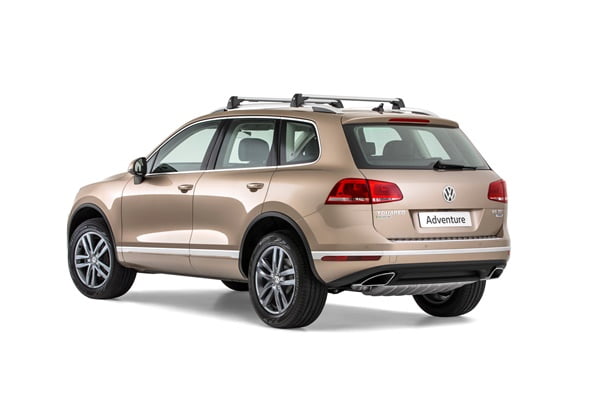 Conclusion:
I'll be interested to see how the VW Touareg sells over the next 6 months.
The Adventure's handsome exterior is let down slightly by cabin tech that feels slightly behind the crowd.
I spent time recently in the Korean offerings.
SantaFe and Sorrento, from Hyundai and Kia, are considerably less expensive, and feel more modern.
Q7, built on the same platform as Touareg, feels properly luxurious, but costs far more.
Although the Adventure sits nicely on the road, looks great, and feels comfortable, I struggle to recommend it over Volvos ultra-sharp XC90 or XC60.
The Volvo costs more, but has a vastly superior cabin with tech that can only be described as extraordinary.
I predict sales of Touareg will continue downward.
It isn't that it is in any way bad, but compared to the opposition, this particular VW is at the back of the pack.
The new model is due next year.
It will bristle with the best German knowhow. If you want a Touareg, the next generation is the go.
Price*: From $67,990 to $116,990 (Adventure $79,990)
*VW is currently running special offers and include driveaway pricing.
Engine:               3.0L, V6, Turbo diesel
0-100:                 7.6 seconds
Economy:           7.4L/100 (claimed)
CO2:                    196g/km
Transmission:   8 speed auto
Weight:              2159kg