SsangYong Rexton Ultimate Overview
SsangYong has a bit if a history with building robust 4WD vehicles. Starting nearly 60 years ago when they built Jeeps for the US Army and carried on through the various models since. This is the third time SsangYong has tried to enter the market in Australia. However this time the outlet is a factory backed distribution and they mean to be the third Korean manufacturer to capture the market here.
Previous SsangYong 4WD wagons have been a mixed bag both visually and technically. However the Rexton Ultimate we are testing here is a totally different vehicle altogether.

SsangYong Rexton Ultimate Exterior
SsangYong has been noted for a few things over the years, one is atrocious styling of some of its vehicles. However the new Rexton isn't too bad. It looks fresh and subtle, not something SsangYong have been noted for before.
With a new family grill and integrated projection headlights there's a cohesive appearance to the front. The projection headlight units also comprise daytime running lights. There are additional LED fog lights with cornering feature, side and indicator lights, while bright body detailing and wheels help convey a more luxurious image.  The rear of the car offers LED rear combination side lights, air spoiler with high-mounted LED stop light and LED number plate lights, while 20 inch alloy wheels add to the overall appearance.

SsangYong Rexton Ultimate Interior
Inside the Rexton is actually really comfortable. The electronically adjustable quilted leather driver's seat was supportive and with lumbar support for my ageing back. Front seats are also air conditioned, an excellent addition at this price point.
The positioning for the driver to the steering wheel is good. The Rexton is in the minority of Ute based wagons in having both reach and height adjustment for the steering wheel and that's a plus. This is because they designed the wagon first then the Ute from that. It frames the twin dial white on black instrument binnacle perfectly.
The steering wheel itself is a styled leather clad thick rimmed design with controls for the audio, cruise control and the many faceted 7 inch instrument cluster between the dials in the instrument panel. It feels like it is from a vehicle that is more expensive.

For the driver, the higher waist line means that the elbow rest for the right elbow is a little high and hard on the point of your elbow. The door arm although is soft touch. In fact almost everywhere you would rest your elbows are soft touch points. The centre console is reasonably comfortable and a good height. I'm not a fan of the twin lid opening though. Headroom will allow a hat to stay on the head.
Driver ergonomics are first class and all round visibility is good, with the usual caveat for a thick 'A' pillar. The whole centre console and stack is well laid out and surprisingly stylish. Korean manufacturers are well noted for their ability to pack features into the centre stack layout, not so much for subtle styling.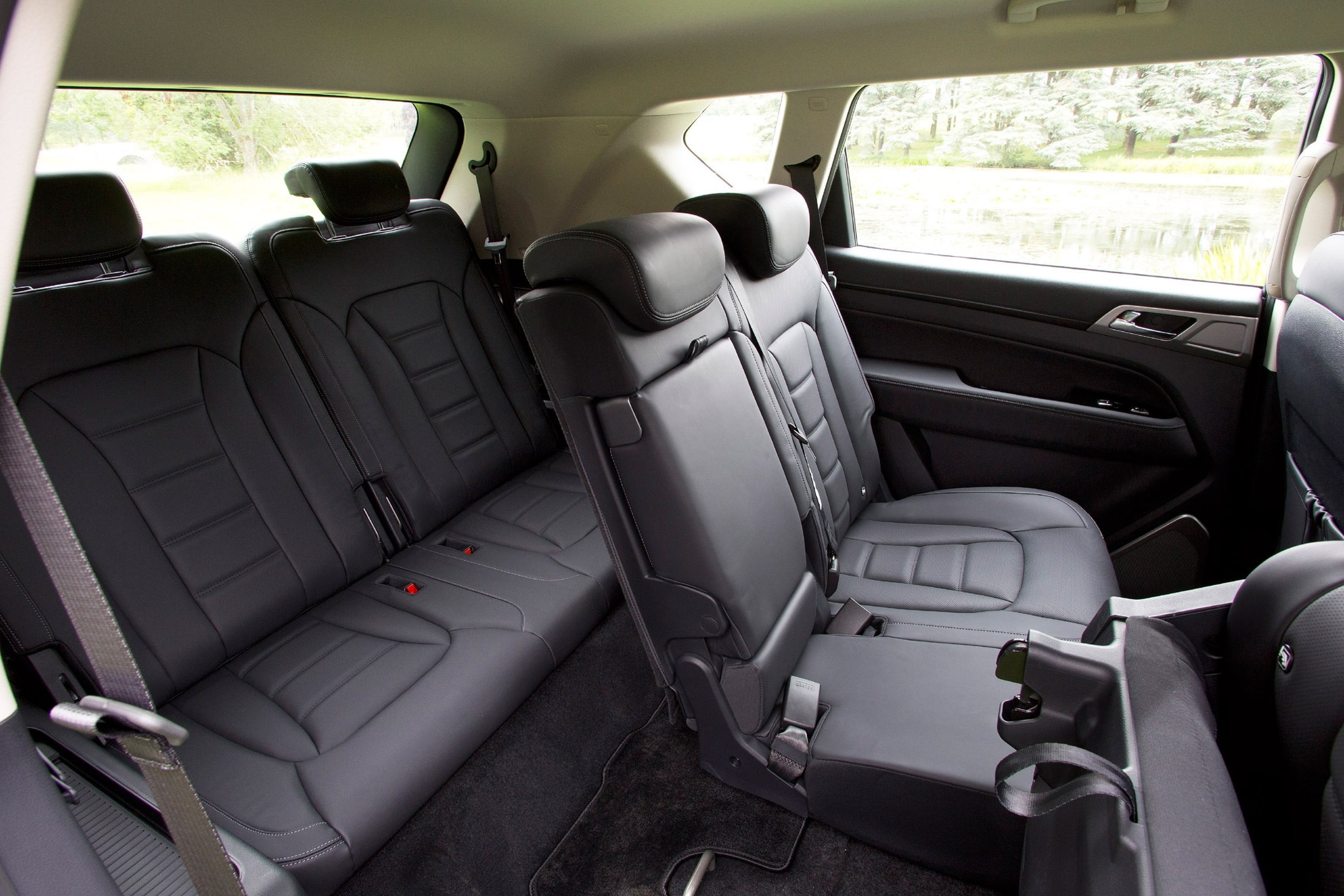 Heated rear seats are comfortable and given the design there is reasonable leg, head and shoulder room. In fact it is better back there in the Rexton than the Pajero Sport. Visibility from the back seats also allows the kids to see what is happening outside rather than have their heads buried in some electronic device.
Overall the interior ambience is of quality, with the quilted Nappa leather seats and interior trim, soft touch points and reasonable space. It's a very comfortable place to sit.
Rexton Ultimate comes standard with seven seats, which is another competitive advantage at this price point. The second row of seats splitting 60:40 with a folding centre armrest, and giving easy access to the third row of seats, which fold 50:50. This seating combination gives greater passenger and load flexibility, equipping the car with one of the largest load spaces in its segment – more than 1800 litres.  Thanks to this flexible interior design it can easily accommodate rear seat passengers and the seemingly magical measurement barometer, four golf bags in the boot.

SsangYong Rexton Ultimate Features
Ultimate features an advanced 8 inch screened infotainment system that includes AM/FM radio with Bluetooth connectivity, Apple CarPlay and Android Auto and a reversing camera.
Other standard features include electric windows, cruise control, central locking, dual zone air-conditioning with fine dust filters and rear vents as well as a 12V/120W power outlet in the cargo deck area, electro chromatic mirror, sunroof and a 'smart' electronic tailgate.
There are a couple of features that are a slight negative, some in the process of being fixed, some a design feature.
The GPS system comes from your phone. Now that is not an issue for city based drivers. However SsangYong have made a point of how good the Rexton is off road and if that is the case and buyers venture far from normal cell phone reception, they will be left with no sat nav availability. A problem shared with Mitsubishi Pajero Sport and quite frankly shows a lack of understanding of the market.
The rear middle seat belt is lap only and needs to be fixed for general market acceptance and to attain the 5 star ANCAP safety rating, so I'm confident that will be rectified soon.
The centre screen is clear and easy to read yet the buttons used the most are on the left side, further to reach for the driver.

SsangYong Rexton Ultimate Engine and Drivetrain 
Musso is powered by the e-XDi220 engine delivering maximum power of 133 kW @ 4,000 rpm and a maximum torque of 420Nm @ 1,400 – 2,800 rpm, matched to Mercedes Benz 7-speed automatic. It's important to note that the Musso engine is Euro 6 compliant.
Trying to use the auto transmission in manual mode means using an extremely poorly designed flick button on the side of the transmission lever knob. Not that good really.
It runs a part time dual range 4WD system with shift on the fly between 2WD and 4WD High. There is an automatic locking centre differential and a limited-slip rear diff, unfortunately there is no rear diff lock as standard or an option. Power is delivered permanently to the rear wheels, with front wheel drive dialled in electronically as required, with high and low ratios available as conditions demand. The system includes hill descent control and hill start assist to provide optimum grip, traction and safety.

SsangYong Rexton Ultimate driving experience
The current Rexton has reasonable performance and very good road manners. The suspension set up certainly helps with a compliant and quiet ride. SsangYong tells me that they are doing some more Australian tuning of the suspension, but to be honest there is nothing wrong with it as it is.
The combination of firm but compliant suspension, responsive engine and steering and good chassis dynamics means that the Rexton rivals the best of the md sized 4WD wagons, in this price bracket and above.
Off road, on a reasonably mild but interesting forest track the Rexton took it all in its stride without fuss. I didn't get to test the wheel articulation, but did test both high and low range. The torque delivery coming in at 1400 rpm certainly helps to keep the control on the right foot. Where is should be. While you may need to be careful on approach as the angle is a little shallow, the rampover angle is not bad as we never scraped our belly, despite some steep drainage mounds.
There is the slightest lag on take-off, but otherwise the delivery is linear and smooth. The MB 7 speed box is tried and tested in other vehicles and works well. The speed sensitive steering is well weighted providing necessary feedback to the driver, meaning that it responds directly to driver input and allows direct control. Other drivers found it too light at speed, but I liked it.
One very positive aspect is that the hill descent control is amongst the best in class and maintains speed without any hint of running away. Excellent feature!
I didn't get to test the towing ability, with the low powered engine and coil suspension. However note that another coil sprung Ute, the Nissan Navara took a few times to get the suspension right for towing. Rexton will have disc rear brakes, which puts it ahead of 90% of the competition.
Also I am keen to have a longer drive with the Rexton and tow, because as I have experienced in the past, having a headline figure of 3500kg towing capacity doesn't always mean that you should actually do that.
The current best balanced 4WD Ute based wagon is the Isuzu MU-X. It has the mix right between smooth on road ride and robust 4WD capability. I am keen to put them back to back, because I feel the Rexton will pip the MU-X for smoothness and quietness on road and be a reasonable competitor off road. Stay tuned.
SsangYong Rexton Ultimate Dimensions
Musso has an overall length of 4850mm, wheelbase of 2865mm, width of 1960mm, height of 18425mm (incl roof rails), unladen ground clearance is 224 mm. Approach angle is 20.5 degrees, rampover is 20 degrees and departure angle is 22 degrees. Towing rating is 3500 kg and tow ball rating is 350 kg.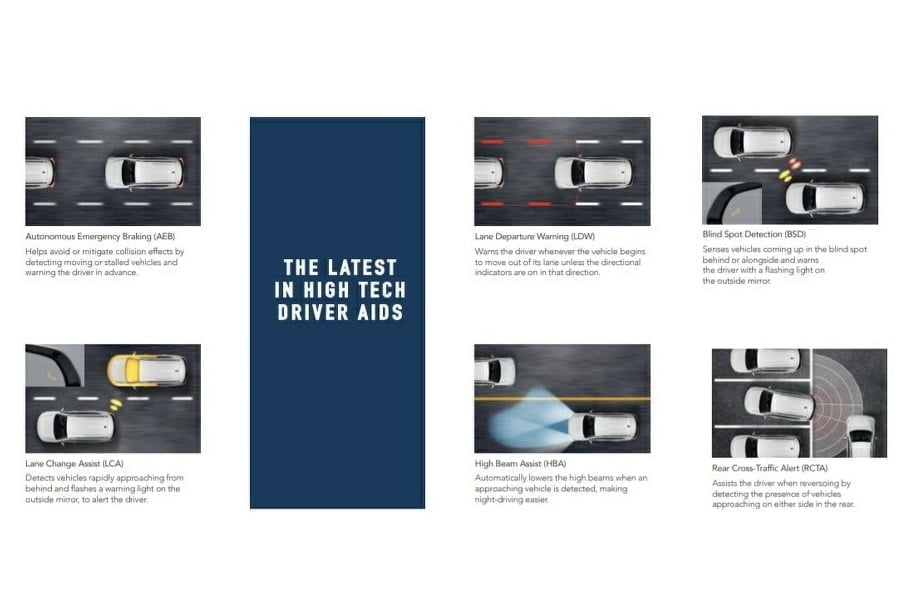 SsangYong Rexton Ultimate Safety
SsangYong range will come standard with autonomous emergency braking (AEB) and forward collision warning (FCW) from December 2018 production so they will land here in the first qtr. in 2019. This is when the vehicle will be tested for ANCAP safety rating. There is no rating at the moment but comes with an impressive array of standard safety features. Starting with the high-strength steel construction featuring 81.7% high strength steel to greatly improve strength while also reducing weight.
Rexton also features (post December 2018 build date) six airbags including full-length side curtain airbags, and come standard with Autonomous Emergency Braking (AEB), Forward Collision Warning (FCW), Lane Departure Warning (LDW) and High Beam Assist (HBA). Ultimate adds two rear side airbags and a driver's knee airbag, Blind Spot Detection (BSD), Rear Cross Traffic Alert (RCTA) and Lane Change Assist (LCA).
Additional features are a 360-degree camera, brake assist, electronic brake force distribution and ABS, traction control, active rollover protection and an emergency stop signal. The other key feature is 4 wheel disc brakes.
The top of the range Rexton also gets 3D around-view monitoring to provide a clear view of the area surrounding the car to increase safety and driver convenience during low-speed driving and parking, as well as rear cross traffic alert.
SsangYong Rexton Fit for Purpose
Even amongst the 4WD wagon brigade, there are different Utes that are better suited to different purposes. The SsangYong Rexton is aimed at the recreational family buyer that heads off road and wants to tow something. It is good off road, but will probably be used more by the part time adventurous brigade, and even the Grey Nomads, who will appreciate the luxury and towing capability. They may use it as a work truck as well.
Given the slightly larger interior space it suits a family more than some other similar wagons. These buyers will also look for value over brand badging.  The SsangYong Rexton fits this criteria well.
SsangYong Rexton Summary
So do I recommend the Rexton or not. It represents outstanding value. It is more luxurious that its competitors, has more internal room, has a higher towing rating with four wheel disc brakes and an astonishing 7 year customer care program. In short, the Rexton will surprise many who try it. It's actually pretty bloody good.

The Good:-
Value proposition
Outstanding owner support 777
Build Quality
The Not so good:-
Thin steering wheel
Would like a little more power and torque
Phone based Sat Nav (poor design on a 4WD vehicle)
Also look at
Model:   SsangYong RextonUltimate 4WD Wagon
Model Price $52,990 RDAP*
Engine 2.2L 4 Cyl Turbo Diesel Euro 6
Drivetrain 6 Sp Aisin AT with Part Time 4WD dual range
Power 133kW @ 4,000rpm
Torque 400Nm @ 1,400 – 2,800rpm
Safety TBA
CO2 TBA g/km
Economy ADR 8.6 L/100 km
Servicing Menu Price 12mths/20,000kmn
Tow Rating 3,500 kg
Tow Ball Rating 300 kg
Warranty 7 Yrs. / Unlimited km with Roadside Assist
*RDAP – Recommended Drive Away Price includes GST and LCT and includes statutory charges, dealer costs and dealer delivery. Does not include price of any options.
 Overall Rating: 84/100
Behind the Wheel 8
Comfort 8
Equipment 8
Performance 7
Ride & Handling 7
Practicality 7
Fit for Purpose 9
Towing Ability 10
Off Road Ability 10
Value for Money 10
SsangYong Rexton Ultimate 4WD Wagon
Summary
SsangYong Rexton is aimed at the recreational family buyer that heads off road and wants to tow something. It is good off road, but will probably be used more by the part time adventurous brigade, and even the Grey Nomads,