DBX Development of Accessories – October 2019
DBX may be a luxury SUV with sports car performance, but today, Aston Martin has announced a range of accessories that will transform DBX into a car that will not only enrich the lives of its owners on the road, but in every other aspect of their everyday lives.
Set to be available at launch, 11 optional accessory packs will help tailor DBX to a broad range of pursuits and hobbies. If skiing is a passion then the Snow Pack provides a ski bag, roof-mounted ski rack and snow chains. This pack goes above and beyond the winter necessaries. Reflecting the indulgence that you would expect from an Aston Martin, the Snow Pack also includes a boot warmer. In the same way that DBX's heated seats – offered as standard – are a cosy delight when climbing into the car on a cold morning, the boot warmer makes the first ski run of the day that little bit more pleasurable.
Available for grand tours or long weekends away, the Touring Pack comprises a four-piece luggage set, cabin saddle bags, lockable stowage under the front passenger seat and an emergency first aid kit. An even more extensive six-piece luggage set is also an option, with two large suitcases, two small suitcases and two holdalls, each one stitched and trimmed in the elegance of Aston Martin.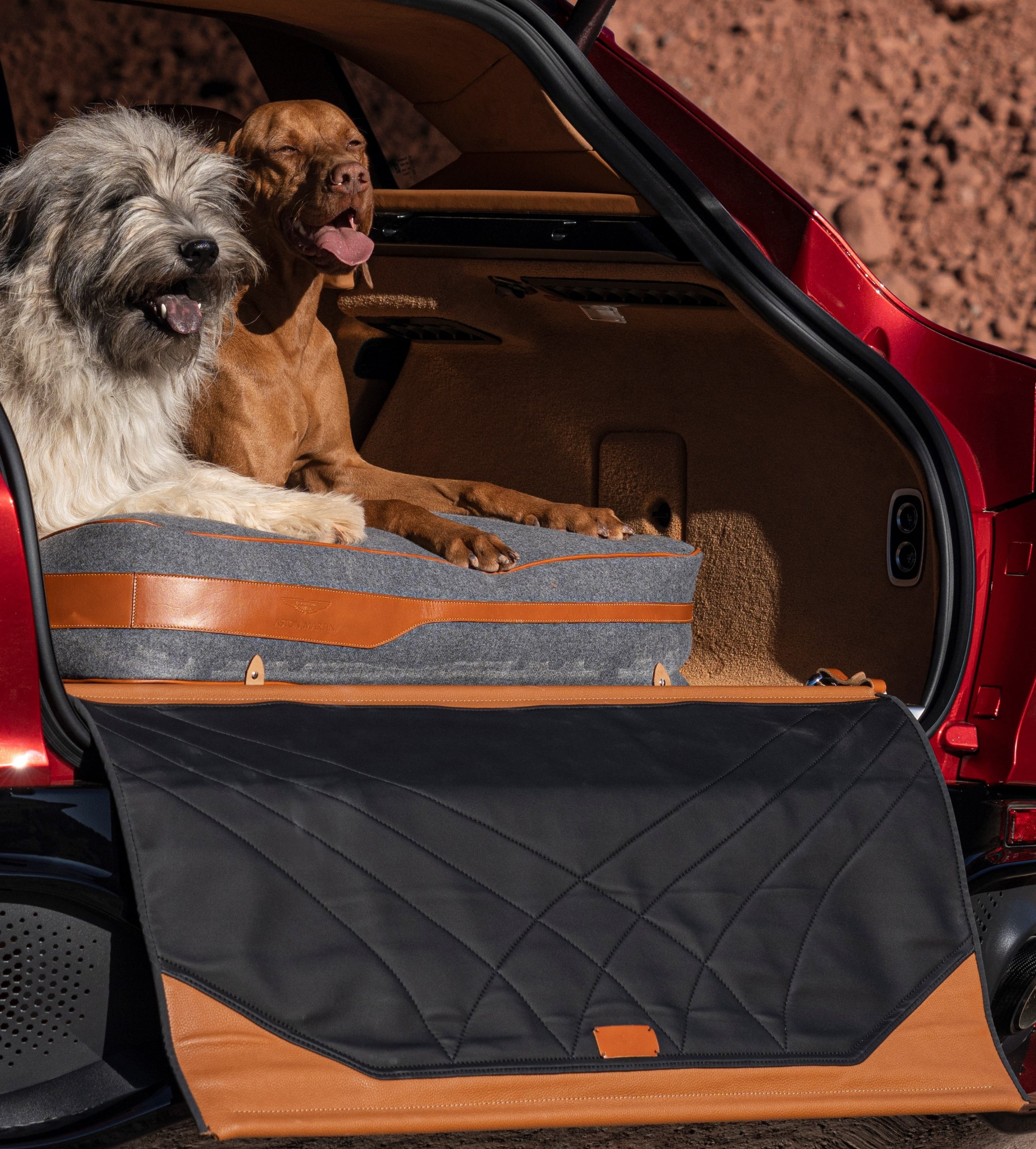 A Pet Pack includes a partition to give animals their own space in the boot of the car, keeping them from roaming inquisitively about the cabin. There is a bumper protector to keep the paintwork pristine when scrabbling paws are clambering in and out of the vehicle and in to the luxurious 632-litre boot space. If muddy puddles have been an integral feature of a day's activities, then the portable washer is an ideal solution for keeping the countryside on the outside of the car.
If you simply wish DBX to provide a little extra cosseting on the school run or on the way to the office, then the Essentials Pack bundles together useful accessories like a centre console organiser, a rear seat entertainment holder and a heated cup. If the school run is likely to be particularly rowdy, then the Essentials Pack could be paired with the Interior Protection Pack, which provides seat covers, a rear bumper protector and all-weather mats throughout the car.
Of course, DBX is set to be equally adept at adapting to more social situations. The Event Pack will provide a modular picnic hamper, picnic blanket and event seating to cater for every occasion from Royal Ascot or Goodwood, to an impromptu al fresco lunch. Aston Martin is a British brand and naturally understands that the weather doesn't always align with the best laid plans. As such, the Event Pack also includes extra umbrella storage.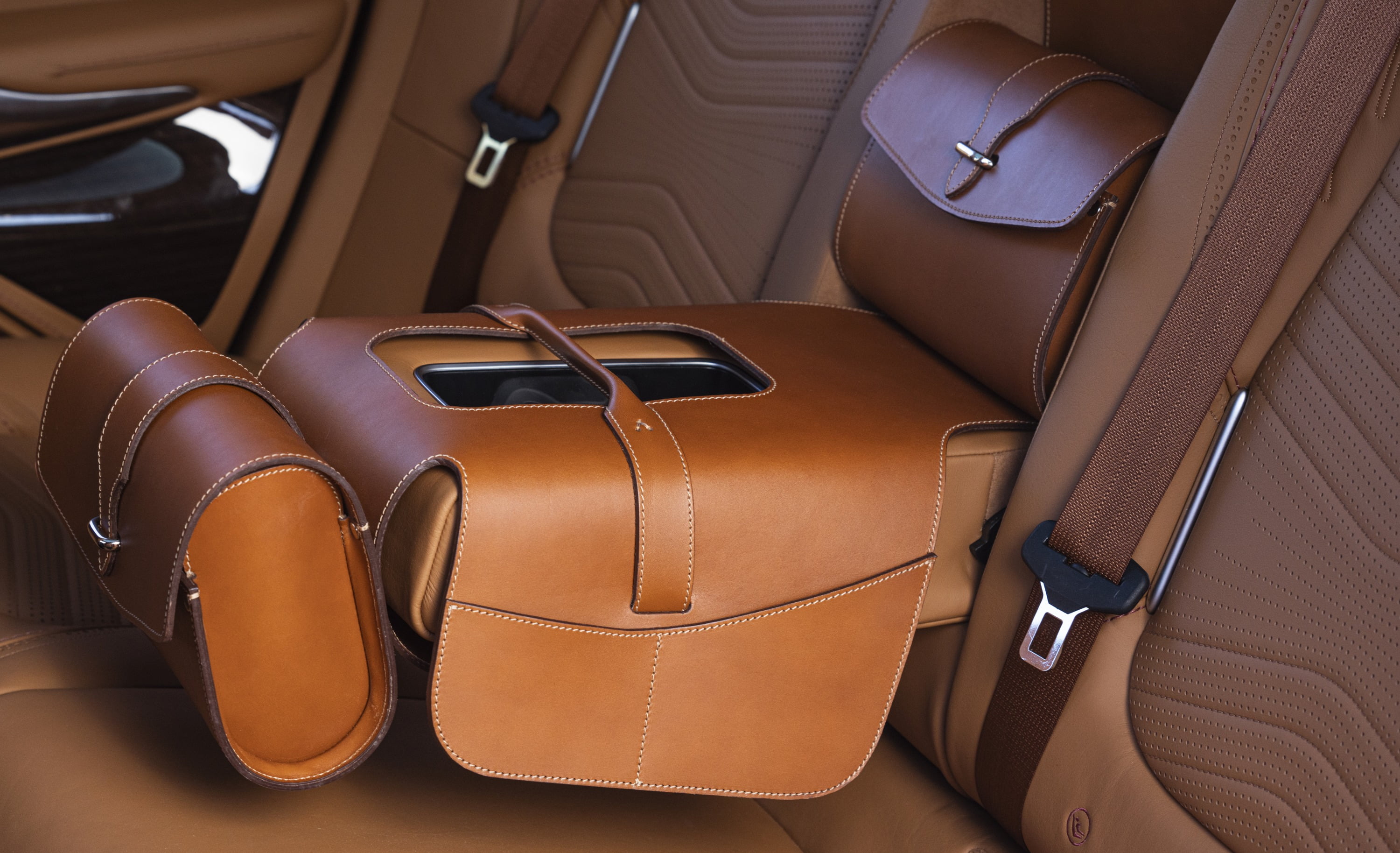 The options available within each of these carefully selected packages, encompass everything from exquisite details such as illuminated tread plates, polished carbon fibre tail pipe finishers and valve caps with Aston Martin wings, to larger options for carrying bicycles or surf boards on the roof. Suffice to say, Aston Martin has worked with its trusted brand partners to ensure that it is offering the best solutions to customers, whatever the usage, journey or destination.
While many options remain bundled together, Aston Martin will offer a variety of individual accessories too, including three special-edition Maxi-Cosi child and baby seats. All are recommended for use with Aston Martin's official 3wayFix ISOFIX base, trimmed in leather and are available for use with babies (45-75cm), toddlers (67-105cm) and children (15-36kg).
Aston Martin Lagonda President and Group CEO Dr. Andy Palmer said 'From the outset it was envisaged that DBX would become an integral part of customers' everyday lives. With the lifestyle packs I think we have been able to ensure that DBX is a vehicle that not only enables but also enhances experiences.'
Pricing for each of these specific optional accessory packs will be made available upon the launch of DBX.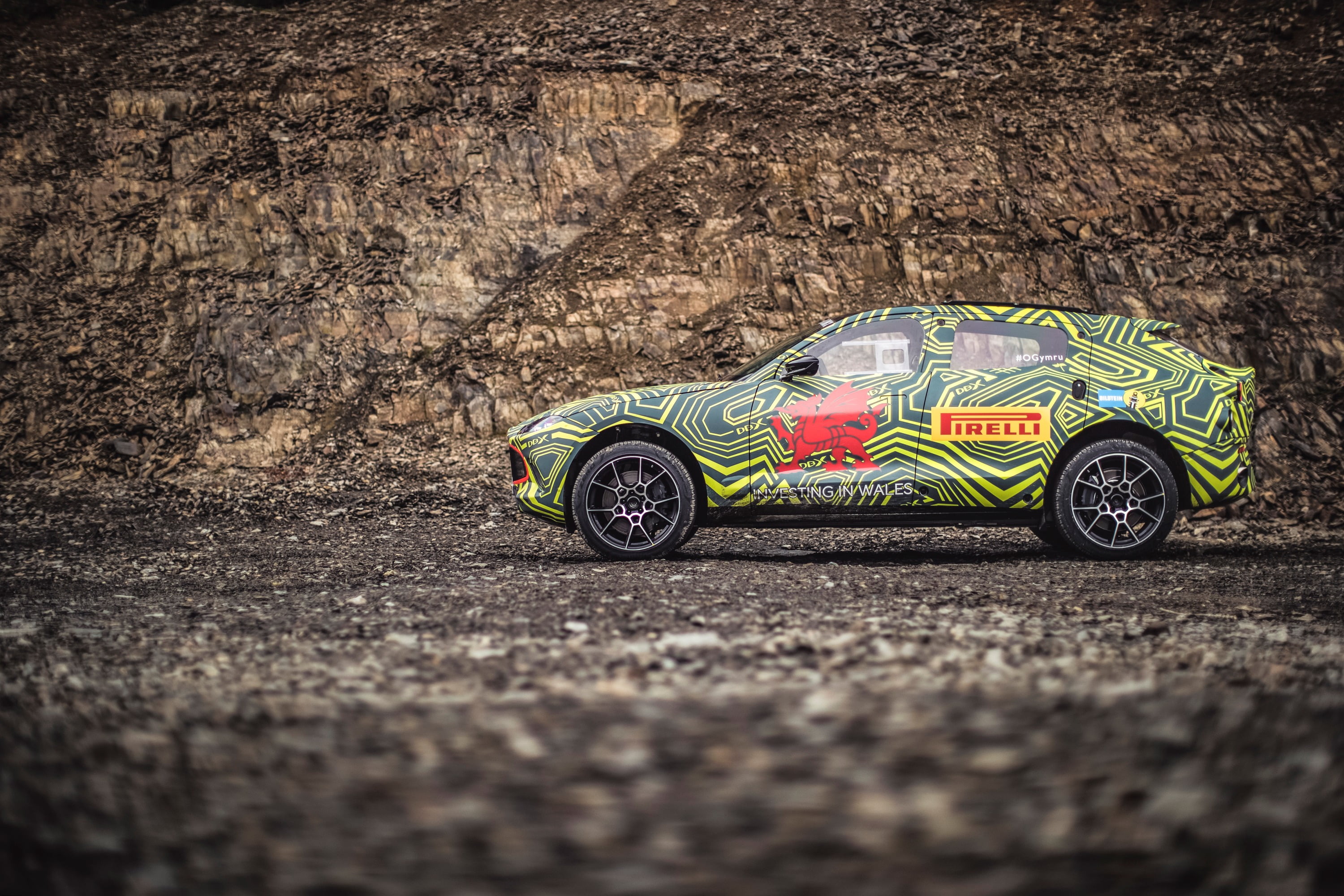 Durability testing at the demanding Nürburgring race circuit – September 2019
With DBX's unveil drawing closer, Aston Martin's first SUV has entered the closing stages of the most comprehensive test regime of any Aston Martin and today, the luxury British marque can confirm the beating heart of the most versatile product in its illustrious history.
With extensive everyday real-world driving and high-performance track evaluation taking place at locations worldwide – including the brand's two key engineering centres at Silverstone, UK and the Nürburgring, Germany – Chief Engineer Matt Becker's team have focussed their development work to ensure the broad dynamic capability required of DBX.
While conducting durability testing at the demanding Nürburgring race circuit, DBX has delivered cornering speeds on par with the brand's most focussed sportscar Vantage, while achieving braking figures greater than the marque's Super GT, DBS Superleggera. This brutal combination of performance for an SUV has already seen Aston Martin's engineering team regularly achieve sub 8-minute Nordschleife lap times during their regular testing regime.
DBX will feature a 4.0-litre twin-turbo V8, tuned to deliver the exhilaration of a modern GT. While recognisable from its application in the brand's existing Vantage and DB11 sportscars, DBX's V8 engine surpasses the performance credentials of these V8-powered models delivering 550PS and 700Nm of torque.
High speed testing has already proven DBX to repeatedly exceed 180mph, with final top speed and acceleration figures being set within the closing stages of the testing process.
As highlighted in today's video release, DBX's vocal chorus has also been honed by the brand's dedicated acoustic team. With a focus on creating a broader, more solid acoustic note, DBX's exhaust system has been tuned to reflect a deep bass with increasing mid-tones, creating true auditory exhilaration, particularly in more sporting drive modes.
DBX's testing programme continues apace, with Matt Becker, Aston Martin's Chief Engineer commenting: "We have concentrated our work to ensure that the calibration and tune of this 4.0-litre twin-turbo V8 delivers both the everyday usability and refinement expected by SUV owners. However, we have also focused heavily on matching that with the engaging driving dynamics that are commanded by our brand and inherent in every Aston Martin and early indications of the car's overall performance have been incredibly promising.
The next few months will be extremely important to us, as we continue to hone the powertrain credentials and a dynamic setup that will help make this the most exciting SUV on the market".
DBX is set to be unveiled this December.
Arctic Circle testing – March 2019
Aston Martin DBX – the British luxury marque's first SUV – has continued its intensive development programme this week at Pirelli's official test facility, close to the Arctic Circle in Sweden.
Pirelli's R&D Sottozero Centre at the Flurheden Proving Ground provides a range of extreme environments, from snowy roads to ice handling courses, allowing Aston Martin's vehicle dynamics specialists – led by Aston Martin Chief Engineer, Matt Becker – to put the DBX prototype to the test.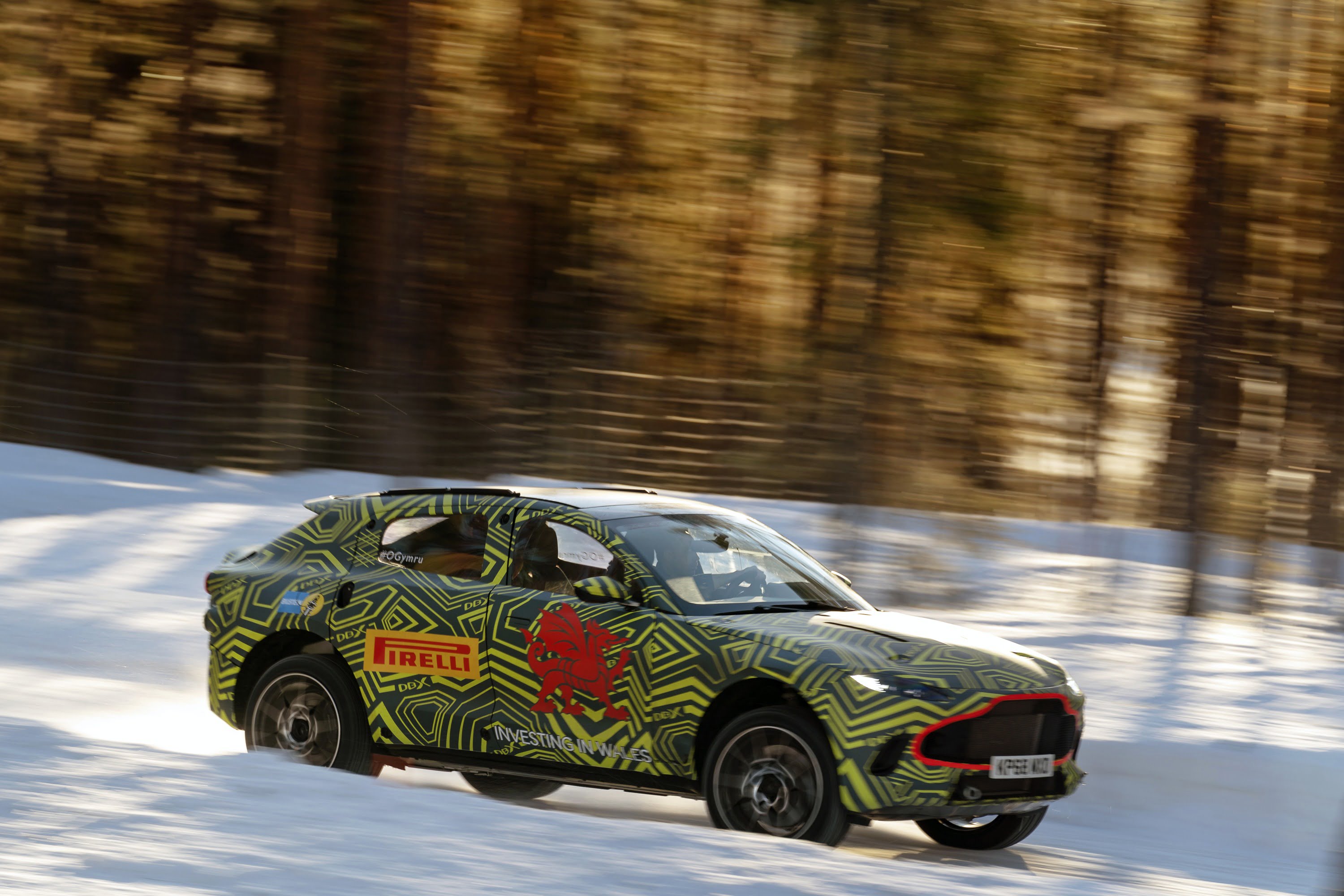 Becker said, "The Aston Martin DBX needs to be ready for a wide range of multi-terrain surfaces, so in addition to testing the car in normal day-to-day situations, we need to test it in extreme conditions such as these. Testing these prototypes in cold climate conditions helps us to assess the car's early dynamics and crucially ensure confidence inspiring sure-footedness on low grip surfaces. This car propels Aston Martin into a new segment and our engineering team are enjoying the challenges of developing a quality luxury SUV experience through this robust testing schedule. Progress is on-track and I am confident that we will deliver over and above what our customers would expect from an Aston Martin SUV."
The Aston Martin DBX will go into prototype build at St Athan, Wales in mid-2019, before full production commences in 2020.
Downing Street – February 2019
The Aston Martin DBX, the British luxury carmaker's first SUV, which will be built in St Athan in Wales, made a surprise visit to No.10 Downing Street to celebrate St David's Day.
Aston Martin Lagonda's investment in a second UK manufacturing facility, which was announced in early 2016, will create over 700 new skilled jobs in the Vale of Glamorgan. Over the past two years the former Ministry of Defence site at St Athan has been transformed into a state-of-the-art car production plant.
While the DBX waited outside No. 10, Aston Martin Lagonda President and Group Chief Executive Officer, Dr Andy Palmer attended a reception hosted by Prime Minister Theresa May, and attended by the Secretary of State for Wales, Alan Cairns.
Palmer said: "Prototype models of the DBX have embarked on an extensive testing programme, which has seen the car being put through its paces in various environments, including a demanding Welsh Rally stage.  I'm delighted that this model was able to take time out of its busy schedule to be involved in the celebration of Wales Week in London."
Prime Minister Theresa May said: "As we celebrate all that is great about Wales, it's fantastic to have the first DBX model, that will be built at Aston Martin's new Welsh base, parked pride of place on Downing Street to mark St David's Day.
"Bringing 700 jobs and investment to the region and providing a new home for Aston Martin's cutting-edge electric technology, the St Athan plant will ensure that the UK remains a world leader in the future of transport."
The Aston Martin DBX will go into full production at St Athan in the Vale of Glamorgan in 2020 after it is unveiled later this year.
Initial testing Welsh Rally Track – November 2018
Aston Martin has made a significant and symbolic stride towards the luxury brand's first SUV – now officially confirmed as being named DBX – with the first development prototype being put through its paces along a demanding Welsh Rally stage in the hands of the company's Chief Engineer, Matt Becker.
This first test for DBX signifies the start of an extensive testing programme. One that has begun in Wales, as a nod to Aston Martins' new St Athan production facility in the Vale of Glamorgan.
Though simulation is an essential part of DBX's early development phase, this first prototype drive in Wales signifies the start of 'real world' testing, in which the SUV will be subjected to a punishing regime that will ultimately see development prototypes of the all-new machine tackle some of the world's harshest environments, from the frozen Arctic and scorching deserts of the Middle East to high Alpine passes and the high-speed demands of the German autobahnen and Nürburgring Nordschleife.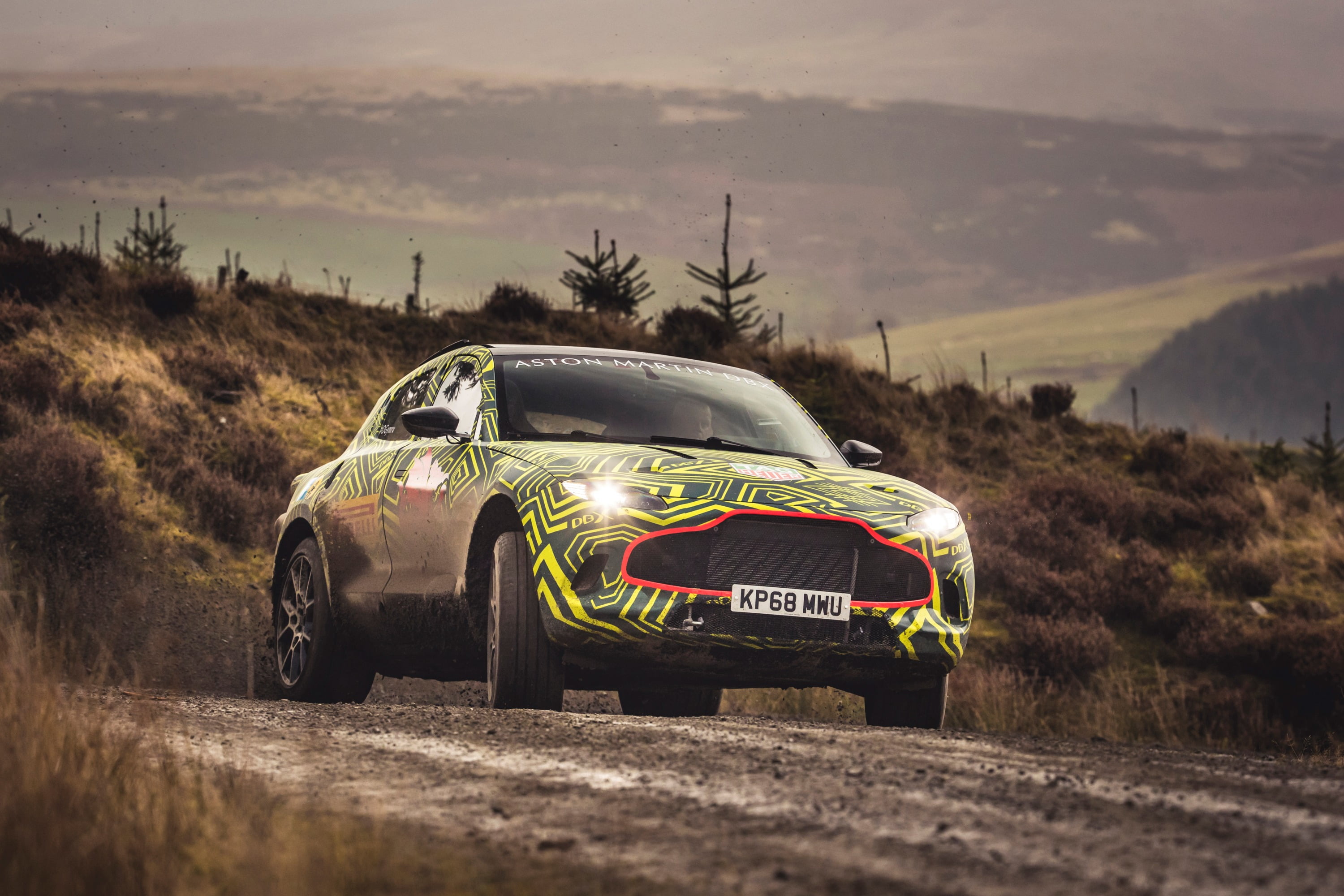 The unique nature of DBX in the Aston Martin range means it requires a dedicated test programme; one that features new processes, procedures and standards that reflect its all-purpose role. So, while it will perform with the verve and poise of a true Aston Martin, its dynamic envelope has to extend into areas previously off-limits to the marque's sporting roots. Naturally this includes impressive multi-terrain and towing capabilities as befits a state-of-the-art SUV.
Speaking of his drive in the DBX development prototype, Aston Martin Chief Engineer, Matt Becker, said: 'We have already developed and tuned DBX in the driving simulator, which has enabled us to make excellent progress in advance of the first physical prototype cars being available. Still, it's always a big day when you get to put the first actual miles on an early prototype and I'm delighted with the near perfect correlation between the simulator and this prototype. As an engineer, it's genuinely exciting to get a feel for the car you're working to create. DBX is a very different kind of Aston Martin, but we will be testing it in all conditions and across all terrains to ensure it delivers a driving experience worthy of the wings badge'
DBX is scheduled to be unveiled in the last quarter of 2019 and will be built at Aston Martin Lagonda's St Athan facility; a state-of-the-art luxury manufacturing plant that will ultimately become the 'Home of Electrification' when the marque's fully-EV models enter production.
Aston Martin Lagonda President and Group Chief Executive Officer, Andy Palmer said: "Seeing a DBX development prototype in action is a momentous chapter in the story of our first SUV, for it is the moment it really comes alive. DBX is so much more than 'just' an SUV; it will be the first model built at our brand-new facility in St Athan. As such, it is very much the start of a bold new era in the company's long history."