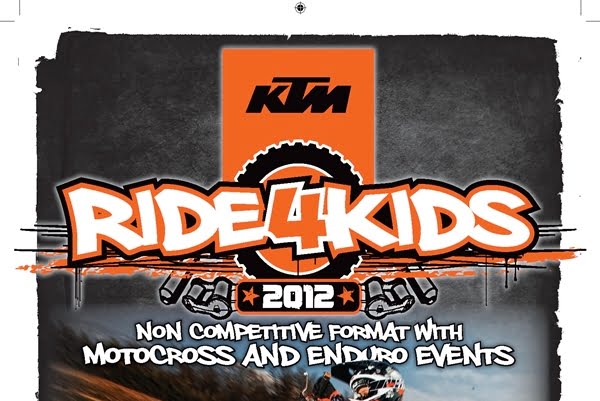 Win one of two 2014 KTM 85 SX bikes valued at $6995!
Challenge is calling on dirt bike riders to register for the 2013 KTM Ride4Kids, the biggest charity motocross event in the country which raises funds for Challenge, an organisation that supports children living with cancer and their families.
Held Sunday 20th October 2013 at the Dandenong Motorcycle Club in Wonthaggi, Ride4Kids is a full day of non-competitive riding where participants can ride in Motocross and Enduro events. All sessions are an open practice format with no actual racing so people of all ages and abilities can get involved. A pee-wee track is also available for first time riders.
Fundraising
In addition to an entry fee to ride, participants are encouraged to raise money for Challenge by asking friends and family to sponsor them or make a donation. Riders can also set up an online fundraising page at http://www.everydayhero.com.au/event/ride4kids2013.
PRIZES
•The first 50 entrants will receive a free Ride4Kids beanie
•The overall highest fundraiser will win a 2014 KTM 85 SX valued at $6995.
•All riders who raise $300 or more will go in the draw to win a second 2014 KTM 85 SX valued at $6995!
•Everyone who raises at least $300 will also WIN a Peter Stevens Motorcycles gift voucher valued at $50 provided by the Vincent Chiodo Charitable Foundation in conjunction with Peter Stevens Motorcycles.
•The top 10 highest fundraisers will also be rewarded with some fantastic race-gear from event supporters Scott, Fox and O'Neal Racing.
Challenge CEO, David Rogers, said the emphasis of Ride4Kids is on having fun.
"The event is a great opportunity for riders to have a great day on a professional track while raising much-needed funds for children living with cancer. Those not riding can also enjoy some great trackside entertainment including a barbecue lunch and the chance to watch all the action of the 2013 Moto GP on the big screen, which is happening on the same day," David said.
Event details
Date: Sunday, 20 October 2013 at 9am–3.30pm (gates open 7.30am).
Venue: Dandenong Motorcycle Club, 220 West Area Road, Wonthaggi.
Cost: Single rider: $80
-2 riders from the same family: $110
-3 riders from the same family: $140
-4 riders from the same family: $160
*Spectators are free-of-charge
*Non-licenced riders need to purchase a non-competitive one-day licence on the day for $25.
What to bring: Participants need their own bike, helmet and riding gear.
How to enter: Enter online at www.challenge.org.au. Once registered, riders will receive a information kit to assist them with their fundraising.
Fundraising: Sponsorship forms and tips on how to raise funds are sent in the information kit. Riders can also set up an Everyday Hero page at http://www.everydayhero.com.au/event/ride4kids2013
Traffic/parking: Parking is available at the venue. As the 2013 Moto GP is being held the same day, participants are advised to get to the track by 8.30am. The event will finish by 3.30pm giving cars plenty of time to beat the traffic.
Camping: Facilities are available for $20 per car, per night
About Challenge
Challenge supports children with cancer and their families by providing a range of practical services such as camps, tickets to concerts and events, holiday accommodation, parent retreats and social activities, home help and scholarship opportunities. Kids undergoing treatment are also supported in hospital through the provision of iPads, DVDs, celebrity visits and daily activities that help make hospital stays more enjoyable.