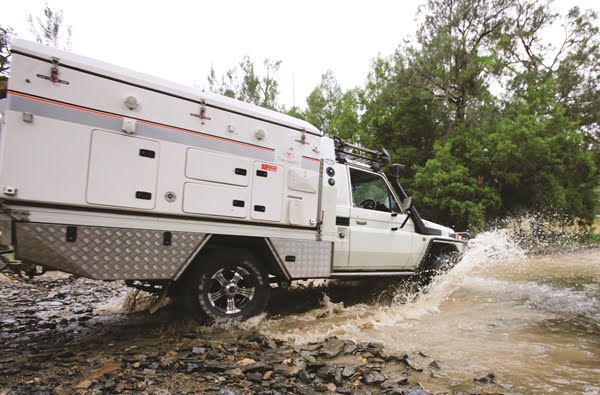 The Travelander Evron SC2 Premium Slide on Camper is designed for a single cab tray back ute. The Travelander Evron SC2 Premium Slide on Camper has been around for a while now and has some unique features.
Based in the Sunshine Coast, Travelander has dealers around Australia and a wide range of products to choose from.
The Travelander Evron SC2 Premium has fibreglass construction for its shell supported by an aluminium base frame and measures 2450mm long, 2000mm wide and has ah Height of 1150mm. In terms of ute back campers this is on the larger size and is shown by its fairly hefty weight of 670 kg. It does however sit fairly snugly behind the cabin, reducing wind effects etc.
Where the Evron SC2 is unique is that it has a hard roof that converts to a hard floor camper and is set up with the aid of a worm drive electric motor. This is sure to attract attention at the camp ground as it looks really cool, not to mention easy to use.
This gives you a fairly large tent area, enough to sleep 2 people in comfort on a queen size mattress, with some clever storage areas beside the bed. Internally there is plenty of room to stand up and change or even have some chairs etc.
The canvas above the bed is tall enough with 4 windows and midge proof screens and provides an airy feel. The tropical roof assists with keeping the internal temperature ambient.
Internally storage is abundant with the afore mentioned beside bed areas but also two large under bed drawers that will hold all your clothes etc. They are carpet lined and deep allowing you to fit heaps in them!
The kitchen area has a row of shelves for storage with 6 sliding acrylic doors. The stainless steel kitchen is on a swivel and has a three burner stove and sink. There is hot and cold water courtesy of the 14l gas hot water system. Next to the shelves/ cupboards is room for a slide out fridge. The kitchen is at the very rear of the camper, which makes for easy access (especially on the go) but necessitates careful packing for weight distribution as it is behind the rear axle.
You are also supplied with a kitchen sun shade which protects you from the sun if you are stopping off in the middle of the day for a lunch break and want to sit under the kitchen area whilst eating and resting.
There is an 8 foot awning over the kitchen/ camper entry area, the side large window has a canvas flap that can be pegged out and the other side that houses room for a second fridge and the shower also has a canvas roof area.
The shower cubicle is effective and again there is hot and cold water, a luxury while camping.
Power is supplied courtesy of a 12 volt electrical system that runs throughout the main structure, with the allocation of two x 240 volt power plug outlets for your convenience; if running off the 240 volt power inlet. Solar panels can also be fitted aftermarket. The camper is fitted with a battery charger and inverter which are located inside the camper, along with two 120 amp hour batteries. These are charged as you are driving along by the aid of an Anderson plug.
Other features include 2 x 4kg gas bottles, 1kg fire extinguisher, LED lights both internally and externally, water tank monitor, 120L water tank and an Anderson plug.
The Travelander Evron SC2 Premium Slide on Camper is designed for those who have a single cab 4WD and want the convenience of taking a boat or bike trailer as well as the camper on their trips or holidays. At a starting price of $33,000 it isn't expensive or cheap. It does however come loaded with features, an Australian wide dealer network and a 2 year warranty.