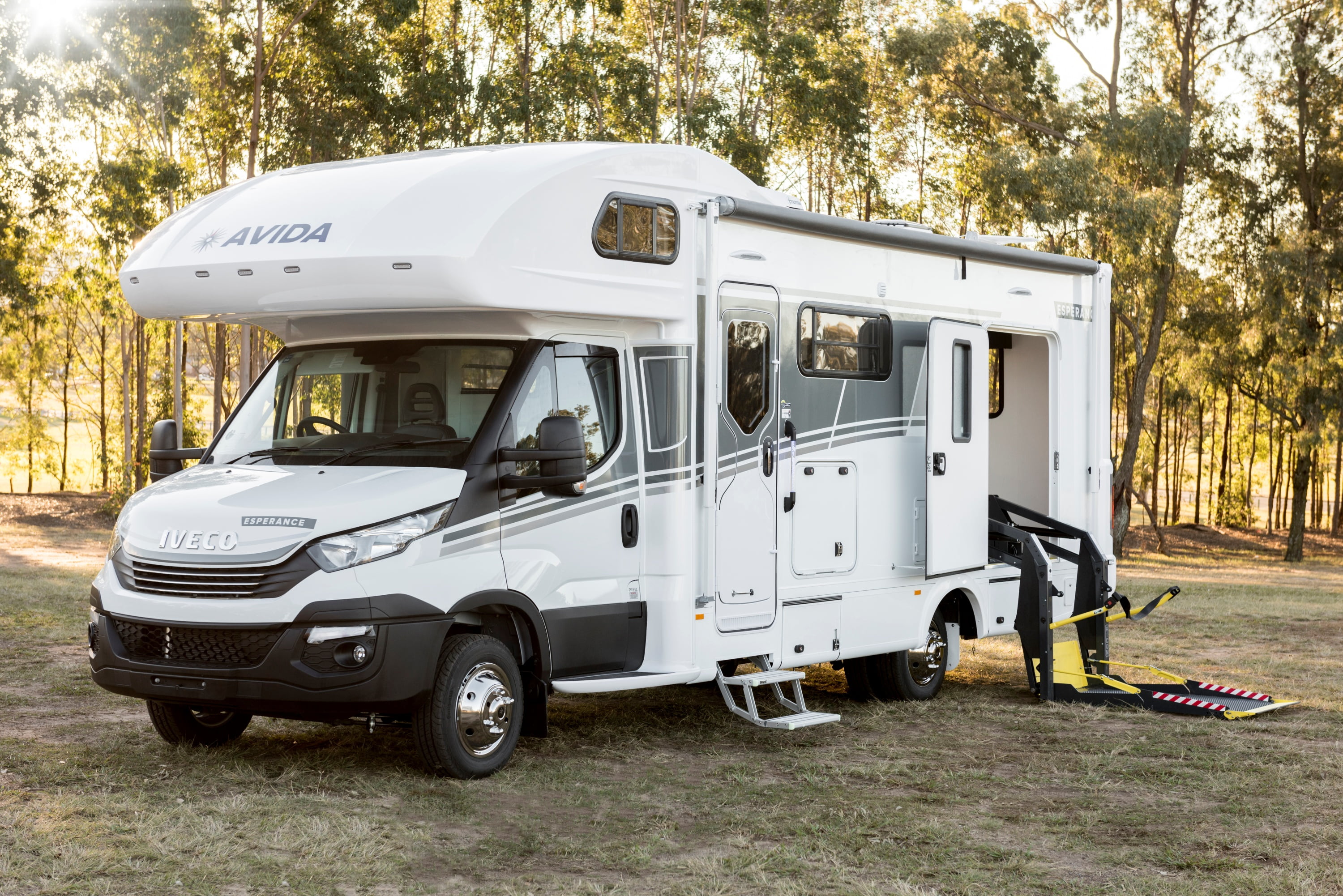 My parents were avid travelers, while they had their mobility. First my dad then my mum became wheelchair bound and that severely restricted their adventurous travels, if not their spirit. The availability of a motorhome with wheelchair design didn't exist very much then.
The MY2019 Avida Esperance's wheelchair friendly model reflects how the Avida design team are creating products for those with disabilities and are making them not just increasingly functional and practical, but super stylish as well. Built on the versatile Iveco 50C chassis, with its car like comfort and driveability, well weighted steering, and superb handling, you could almost forget what you are driving. The Iveco has its nose to the grindstone with its 170 horsepower, and its surprisingly quiet 3.0 litre turbo diesel engine. With 470Nm at your disposal and the eight-speed automatic transmission, it will soak up any road imperfections confidently. The considerably large cabin can sleep up to 4 people, with the wheelchair accessible layout designed to do its job and look good, stylish, current and cool.
What are the Safety Features
With an extensive array of active and passive safety features, like stability control, independent suspension and front and side airbags, along with a host of other benefits, you will feel safe to spend long periods on the road. You can now free yourself from daily routine and join other road trippers, on one of the great travelling fraternities.
Another glory of the road, the Avida Wheelchair friendly Esperance is classy and superior.  With the 'time-tested' electric slide-out, you can maximise the interior space of the living and dining area at a touch of a button. The ensuite bathroom has clean lines and a streamlined bathroom design, positioned in the middle of the motorhome. It opens via solid double doors to offer full privacy, and a roll-in full height shower that is ample in extent. With a corner sink to offer adequate leg and arm room and a swivel toilet, it will bring a touch of splendour to your motorhoming experience.
Avida's Sales and Marketing Manager Billy Falconer remarked "Avida is proud to manufacture the wheelchair friendly C7994WSL Esperance model as part of the Avida motorhome range, that provides freedom to people in a wheelchair or mobility scooter."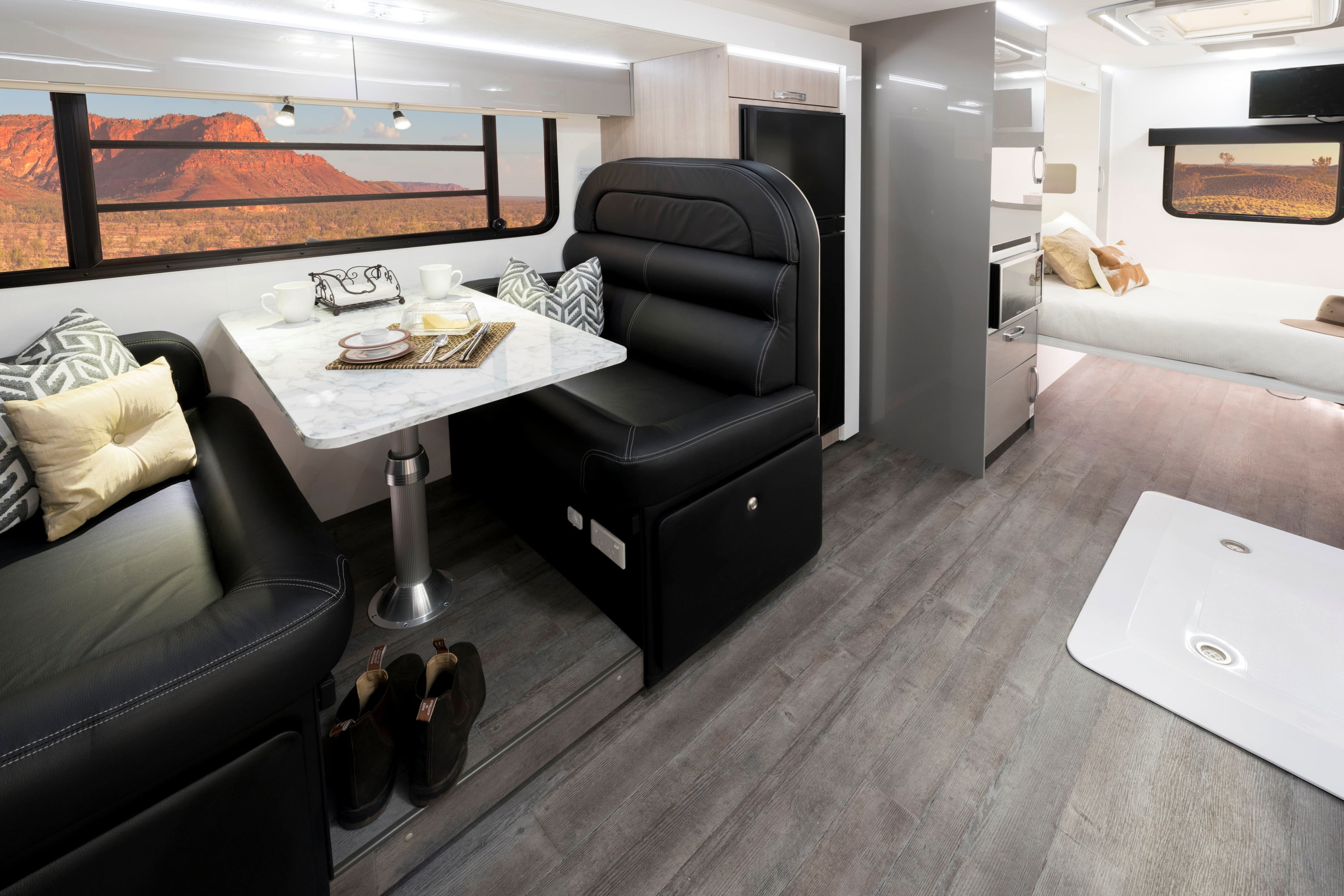 Open Design
The wheelchair friendly Esperance interior has a beautiful colour scheme with a neutral base and harmonising hues, which give it an integrated and modern look and feel. You walk into the expansive open plan dining and kitchen area with its action zone placed dinette and cabin seats on an optional rotational base. The design enhances the feeling of space within, a light filled area where you can entertain and unwind, making it ideal for singles, couples or families. The Avida Esperance wheelchair friendly motorhome is finished in the highest quality fixtures and fittings to provide an everlasting sense of quality and style whilst also being easy to maintain.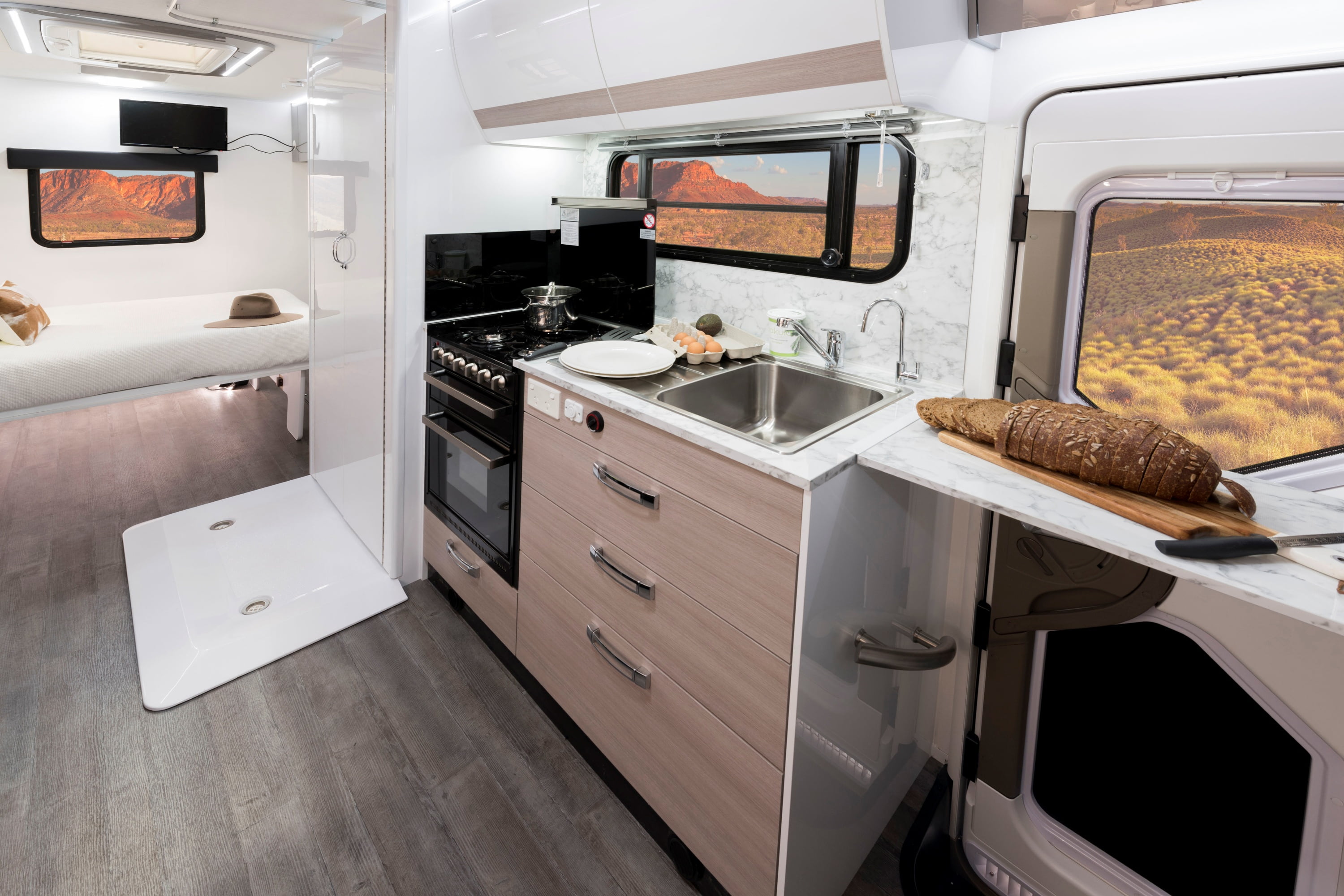 The kitchen effortlessly blends luxury and functionality and it boasts handle free overhead cupboards and soft close drawers. With a slide out pantry, your contents will be perfectly organised and easy to reach. There is plenty of storage available in the cabin and a pull-down bench extension that can be used as an extra food prep area or as a servery counter.  Complete with a gas stove, with griller and gas oven, and a glass top that offers even more bench space, a low down stainless-steel microwave and control panels for easier access, a 3-way fridge and a large sink with tapware inspired by latest bathroom trends, you will walk out of the Esperance being the envy of your fellow travelling neighbours.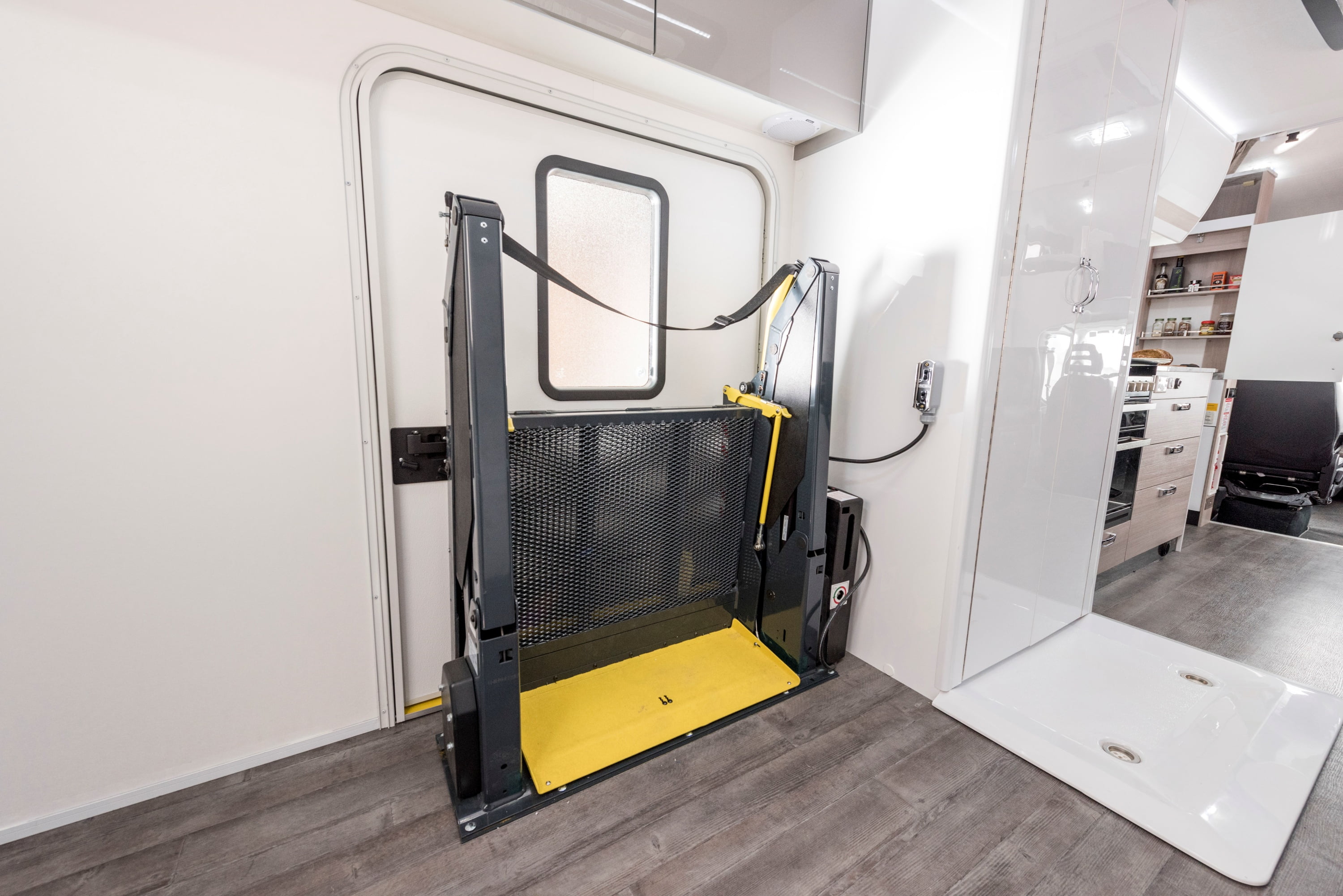 Standard Features
The wheelchair friendly Esperance showcases some impressive design elements packed with a load of features that make it stand out from the rest.
Where power and luxury meet ultimate accessibility, designed with a rear wheelchair power lift, an extra wide aisle, and thoughtful layout to allow the best positioning of the wheelchair in the vehicle, you will be a seasoned motorhome traveller in no time. It has an overhead cabin bed and an easily accessible fold-down bed that is a smart and practical space solution with memory foam mattress.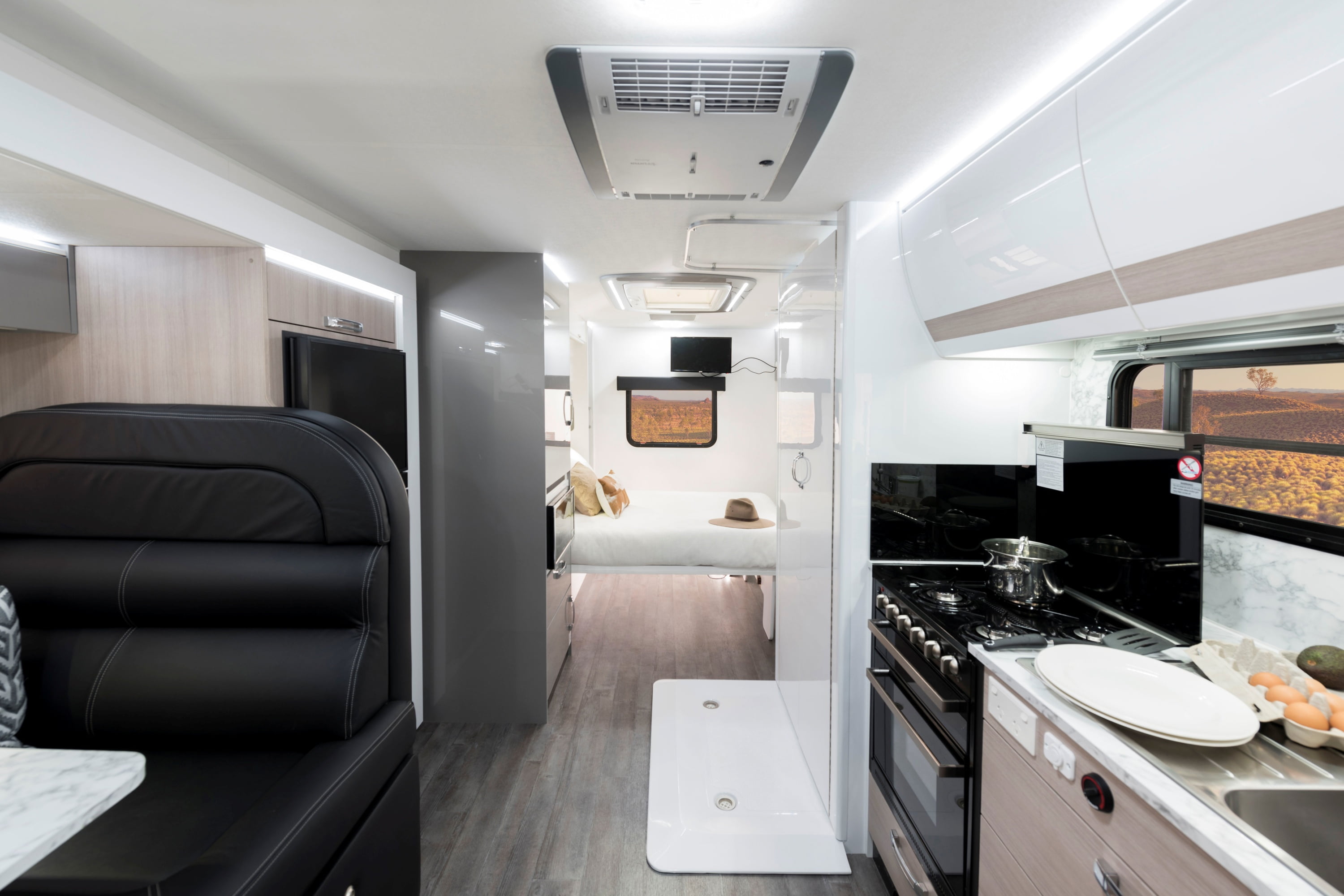 It has a full-length wardrobe and loads of cabinetry, a television that is strategically placed on the rear wall and louvre windows complete with modern roller blinds that allow for the gentleness of a cross flow summer breeze. This modern design enjoys both indoor and outdoor entertaining systems with a provision for an outdoor TV, plus an easy to use control panel
Mr Falconer said "Avida was the first in Australia to design and build a motorhome which caters for those that require a wheelchair or scooter. It has been designed to allow the disabled or not so agile of travellers to enjoy the open road with an electric lift strong enough to lift a wheelchair or electric scooter in and out of the motorhome with ease."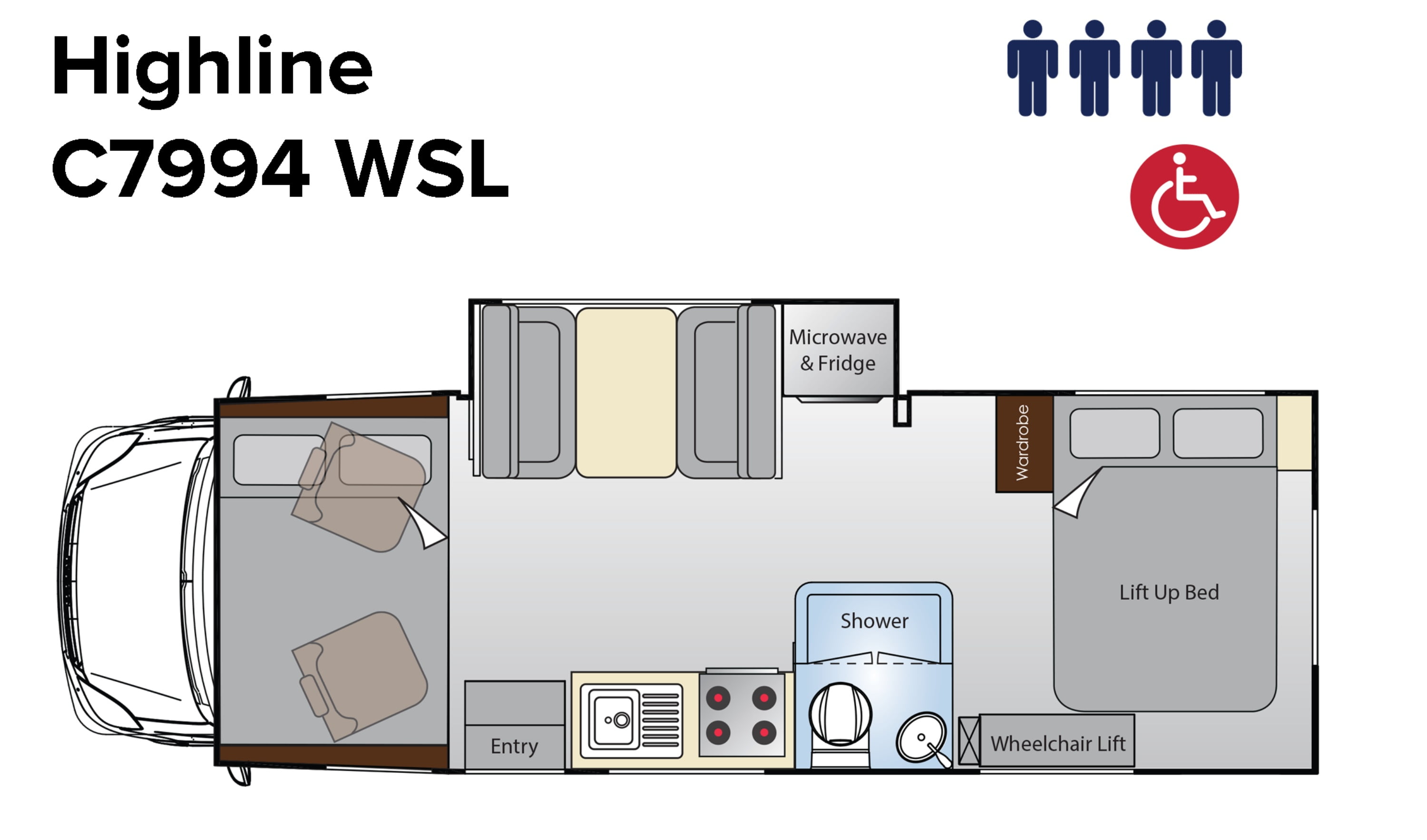 The wheelchair friendly Esperance makes a strong statement wherever it goes and has every application to fit into your day to day life, making it a versatile, adaptable option. A journey of a thousand miles will start from the electric wheelchair lift, through to the front door with its 4-point security lock and highly resistant safety mesh and an external grab handle complete with integrated lighting.
The aerodynamically moulded front and rear caps along with Avida's unique sandwich panel construction floor, walls and roof provide a sleek and stylish motorhome that will allow you to discover your dreams in style