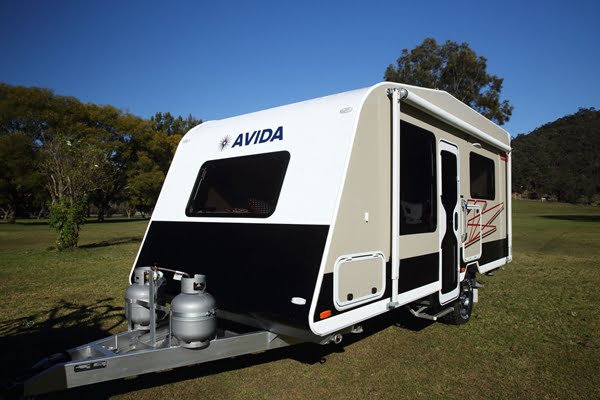 Avida, the maker of the Australian Winnebago, is launching its new and innovative range of Avida Caravans at a series of Caravan and Motorhome Shows being held along the east coast of Australia in 2013.
For the first time since 1978 Avida has commenced manufacturing caravans again and the public will be able to view the new Avida caravans at the Penrith RV Expo being held at Panthers Leagues Club in Penrith NSW on September 6th, 7th and 8th, 2013.
A select range of Avida Caravans (and Avida Motorhomes) will be on display and open for show patrons to inspect in detail to discover how very much different Avida caravans are to other caravans currently available in Australia today.
The Avida Sapphire caravan range will be available initially in four lengths, thirteen different layouts in all. The range is available in on road and off road variants with a choice of different suspension types including AL-KO leaf springs on road and off road, AL-KO IRS independent suspension and Cruisemaster XT off road independent suspension.
Avida have also announced an Australian industry first by offering a stylish, tough fibreglass exterior full sandwich panel body in three colours, arctic white, frosty silver and champagne gold, and with a choice of thirteen exterior decal colours. To enhance the interior of each caravan, thirteen modern fabric collections including three shades of soft luxurious ultra-leather trims are available.
The list of advances offered by Avida caravans over other brands of caravans is impressive and focuses on the strength, style and support of the Avida caravan.
Strength, using the most innovative and technologically advanced manufacturing processes in Australia, Avida has created the strongest and most durable caravan that's suited to the tough Australian conditions. A complete sandwich panel construction with the thickest floors and overall the most insulated Caravan on the market. If you think that's tough go to the website to watch the Avida caravan stack test in action.
Style is immediately apparent with its smooth aerodynamic looks, ultra large dual pane tinted windows to let in the natural light, contemporary style interiors and complimented by LED mood lighting throughout each Avida caravan.
Support after the sale, importantly, peace of mind for discerning customers who appreciate the best supported caravan warranty available, a two year nationwide factory backed warranty and a five year structural guarantee, two
years free roadside assistance, a free first service, the comfort of a very large accredited service network and the fact that Avida has been building all types of RV's for over 48 years makes Avida truly understand what is expected by customers.
There is a wide choice; queen size beds, single beds, bunk beds, slide out beds with loads of storage both inside and out, luxurious ensuite's with shower and a flushing toilet and some models even a washing machine.
Each Avida caravan has a plethora of stylish features such as remote controlled reverse cycle air conditioning, a battery system with charger, a dura-gal chassis with 6" main rails and large alloy wheels, an external hot and cold shower and an outdoor TV entertainment unit, an Australian first to be able to relax under the large roll out awning watching your favourite programs or the latest DVD movie.
Avida caravans can be viewed at these major caravan and RV Shows during the remainder of 2013 or if prefer, visit www.avidarv.com.au to locate your closest dealer.
Penrith RV Expo, Penrith NSW September 6 to 8
Henty Field Day Wagga Wagga September 17 to 19
Melbourne Leisurefest, Sandown Racecourse VIC October 5 to 8
Sunshine Coast RV Caravan and Camping Show, Kawana QLD October 18 to 20
Murrumbateman Field Day Yass NSW October 19 to 20
Canberra Caravan and Camping Show October 25 to 27
Toowoomba Camping and Lifestyle Show, Toowoomba QLD October 25 to 27
Brisbane Caravan Show, Brisbane QLD October 25 to 27
South Coast Caravan and Camping Show, Batemans Bay NSW November 8 to 10
Albury leisure and lifestyle Expo, Albury NSW November 15-17
Bendigo Leisurefest, Bendigo VIC November 22 to 24