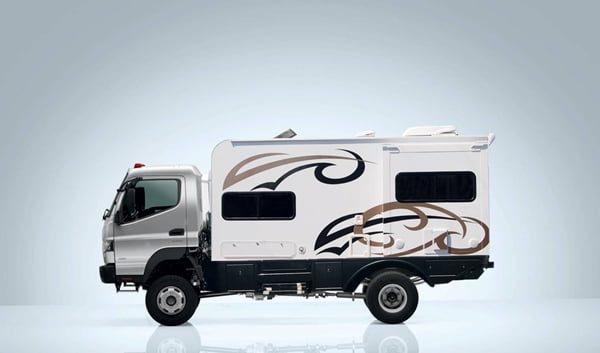 The Blue Dog camper bodies are designed by EarthCruiser Overland Vehicles (EOV), the manufacturer of the renowned EarthCruiser Expedition vehicles. Following on from its highly successful debut on the Australian market this year, the team at EarthCruiser is proud to announce a separate additional range of purpose-built modular camper bodies.
"Blue Dog" camper bodies have a highly versatile interior design that incorporates two slide-out sidewall sections to expand on the interior space available. This creates a spacious living and catering area and yet still provides sufficient room for separate shower and toilet compartments.
What makes the Blue Dog camper body unique is that it is supplied as a completed module, insulated and fitted out with air conditioning and all the interior equipment necessary, including a micro-wave and television, ready for fitment to the light truck chassis of your choice.
"A Blue Dog camper body can be fitted by the customer, at our own factory, or by any competent body builder to a number of chassis' including such well known Japanese manufacturers as FUSO, Hino and Isuzu plus the European makes of Mercedes-Benz with the Sprinter cab chassis, Iveco with the Daily and Volkswagen with the Crafter," said EarthCruiser's Australian MD Lance Gillies.
"The interchange between our American and Australian businesses provides the benefit of cost savings through our global manufacturing while maintaining the Aussie know-how of what works and lasts in our tough climate,"
"This flexibility of mounting options gives tremendous choice to the customer. It may well be they already have a light truck of their own. By purchasing a Blue Dog camper body they can immediately benefit from having all the versatility of a purpose-built camper for whatever leisure activities they choose.
"Where the customer travels is entirely their choice. Add the Blue Dog camper body to a 4×4 chassis and the options available for off road travel immediately take on a new and greater dimension," said Lance.
The EarthCruiser is an unique go anywhere Australian all-wheel-drive motorhome designed for extreme off road travel and easy transportation anywhere in the world. The Blue Dog camper range is designed for those that enjoy the adventurous lifestyle but don't want to turn their holiday into an extreme expedition.
Fitment of a Blue Dog camper body can be completed in under 16 hours by a competent tradesman, (dependent on whether through-cab access is required) and pricing is in the region of $67,000. (inc. GST). The total weight of a typical unit is 1,275 kgs.