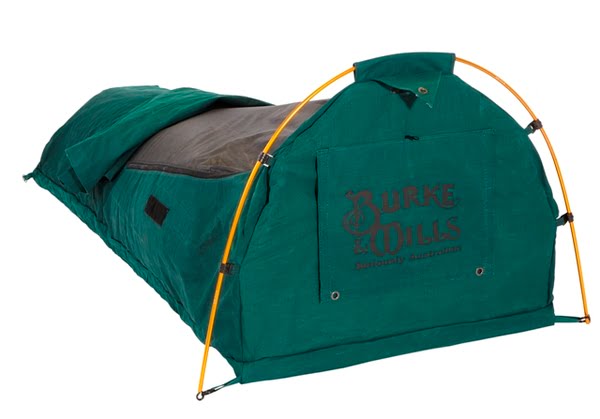 One of the most practical sleeping arrangements in the bush is the humble swag. We have for review the Burke and Wills Waratah standard dome swag.
Being slightly larger than the average bear we opted for the double with a length of 2150mm, width of 1420mm and height of 750mm. This allows plenty of room to sleep comfortably without feeling restricted. The down side of having the double is that it takes up more room on top of the 4wd.
The Waratah is made from heavy duty 15oz rip stop canvas that is waterproofed and proofed against rotting. Note that while all it is proofed careful care of your swag is needed to maintain and keep in good condition. Putting up the swag is easy and it comes with either a canvas or PVC base to help keep out the cold.
Entry is through the top with a Velcro flap and zip up sand fly mesh that runs for over half the length, vitally important if you don't want to be scratching for days. There is a large front window and aircraft quality alloy poles to keep everything upright. The top flap has 4 eyelets to allow for multiple tie up points.
You sleep on a 75mm convoluted high density foam mattress with a removable cover. I found it comfortable with the eggshell design however those of larger build may find it a little thin, but I'm not sure how thick the mattress can be and still keep the rolling quality. Inside there are pockets for keys, torch, phone etc which is handy.
Overall the Burke and Wills Waratah double swag allows for fuss free camping, easy to put up and down, comfortable and is priced around $500 which is pretty good value. For another $50 odd you can get the PVC swag bag to keep your swag clean and dry when travelling which is also a great idea.