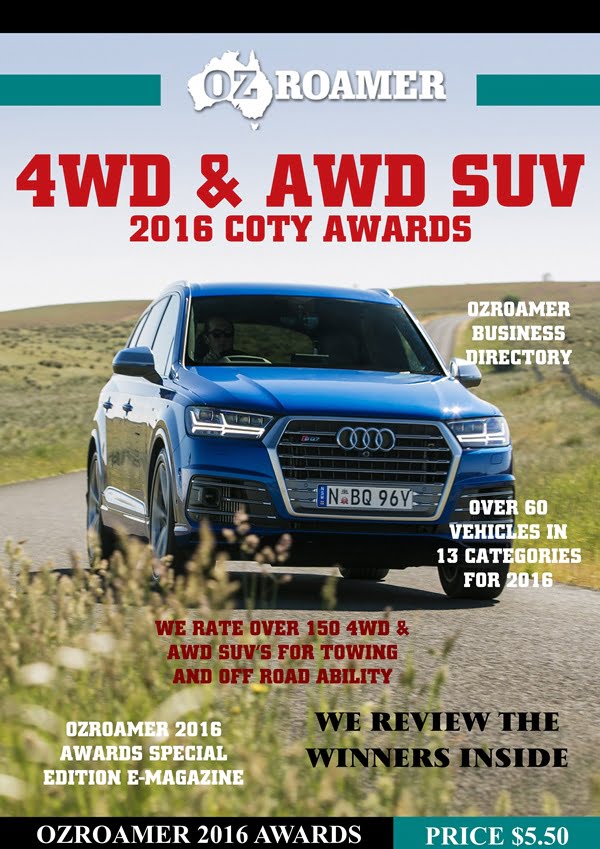 In December there seems to be a buzz around the Car Of The Year Awards (COTY), like Christmas carols in shopping malls,  the announcement of annual awards from the motoring magazines and websites also gets earlier each year. In an effort to beat each other we may end up with the situation where the Cars of the Year will be announced in June. I suppose that mixes well with Christmas in July.
However it has always struck us here at OzRoamer as just a little strange that COTY winners should be announced before the year is actually finished. This year we actually have a winner that was launched in December. So as we always seem to do things just a little differently here at OzRoamer to give our readers maximum information and benefit, our awards for 2016 are announced in this issue. This way we can actually assess all relevant vehicles for our awards.
The criteria for our awards is simple:
The vehicle must be currently available for sale to the general public;
The vehicle must meet the criteria for its category;
Final contenders are selected by the panel;
Each vehicle is subjectively and objectively measured against its competitors in the category
The vehicle with the most points wins;
That the judging criteria reflects real life situations because you our readers buy these vehicles for use in similar situations;
That the awards assist our readers make educated buying decisions; and
Advertising dollars and marketing hype doesn't sway the eventual winners or even the contenders.
Pricing comes from the industry website redbook.com.au with a Sydney 2000 postcode as the standard. If it is unavailable we used the manufacturers' website pricing. The categories, we think, reflect real world buying decisions. If you feel we have left a worthwhile contender out please let us know for next year.
To buy the e-magazine

So to the categories and contenders! This year there are 13 categories and over 60 contenders for various awards.
OzRoamer 2016 SUV under $45,000 Award
Fiat 500X Cross Plus AT AWD
Honda HRV VTI-L ADAS FWD
Jeep Renegade Trailhawk 4WD
Mazda CZ3 Akari AT AWD
Subaru Forester 2.5i-L AWD
OzRoamer 2016 AWD SUV $45,000 – $60,000 Award
Honda CRV VTI-L
Hyundai Tuscon Highlander 2.0R CRDi
Kia Sportage Platinum 2.0R CRDi
Jeep Cherokee Limited 0L I-4 Td
Mazda CX5 GT 2.2 DTD
Subaru Outback 2.0D Premium
OzRoamer 2016 AWD SUV $60,000 – $80,000 Award
Audi Q3 2.0 TDi Sp Quattro
BMW X3 xDrive 20d
Lexus NX 200t Sport Luxury
Mercedes Benz GLC 250d 4MATIC
VW Touareg 150TDi Element
OzRoamer 2016 AWD SUV $80,000 – $100,000 Award
Audi Q5 3.0 TDi Sp Quattro
BMW X4 xDrive 35d
Infiniti QX70 S Premium
Lexus RX 350 Luxury
OzRoamer 2016 4WD $50,000 – $80,000 Award
Jeep Wrangler Unlimited Rubicon
Jeep Cherokee Trailhawk
Mitsubishi Pajero Sport GLX
Jeep Grand Cherokee Laredo
Toyota Landcruiser Prado GX Auto
Toyota LC70 GXL Wagon V8 Diesel
OzRoamer 2016 7 Seat 4WD $45,000- $60,000 Award
Toyota Fortuner GXL
Holden Trailblazer LTZ
Isuzu MU-X LST
Mitsubishi Pajero Sport Exceed
OzRoamer 2016 7 Seat 4WD $60,000 – $80,000 Award
Toyota Fortuner Crusade
Toyota Prado GXL Turbo Diesel
Mitsubishi Pajero Exceed DiD
Ford Everest Trend
OzRoamer 2016 4WD $80,000 – $100,000 Award
Ford Everest Titanium
Jeep Grand Cherokee Overland
Toyota Landcruiser 200 V8 GXL
Toyota Prado Kakadu DiD
OzRoamer 2016 7 Seat AWD SUV $45,000 – $60,000 Award
Hyundai Santa Fe Elite 2.2R CRDi
Kia Sorento SLi 2.2 DT
Mazda CX-9 Touring
Toyota Kluger GX V6
OzRoamer 2016 7 Seat AWD SUV $60,000 – $80,000 Award
Hyundai Santa Fe Highlander
Kia Sorento Platinum
Mazda CX-9 Azami
Toyota Kluger Grande V6
OzRoamer Prestige SUV over $100,000 Award      
Audi Q7 Tdi Quattro
Ford F250 ( From Harrison F Trucks)
Lexus LX 570
Mercedes Benz GLS 350d
Porsche Cayenne S
OzRoamer 2016  Dual Cab Ute Award
Ford Ranger XLT
Holden Colorado LTZ
Isuzu D Max LST
Mitsubishi Triton Exceed
Mazda BT50 XTR
Toyota Hilux SR5 DiD
OzRoamer 2016 Prestige Sports SUV Award
Audi SQ7 V8 TDi
BMW X5 M50d
Jeep Grand Cherokee SRT
Mercedes Benz GLC 43 AMG 4MATIC
Porsche Macan Turbo
Volkswagen Touareg V8 TDi R Line
To find out the winners simply read the magazine and maybe there are a few surprises there. The results are sure to prompt a lot of emails like last year as we have alternate views on vehicles and aren't influenced by pressure from manufacturers, advertising dollars or reputations. Our view is that the reader should be able to rely on these awards to assist with buying decisions.