HILLBILLY Camping Gear is Australian Made cooking equipment ideal to use anywhere from the backyard to the bush. Made from uncoated blue steel, all Hillbilly frypans, camp ovens cook stands and BBQs are made to last a lifetime of camping use with minimum maintenance required
Hillbilly camp ovens have earned a reputation as the best camp oven cooking system available. The BushKing 12.5 litre is manufactured from spun blue steel, making this camp oven much tougher, harder wearing and easier to clean than cast iron alternatives.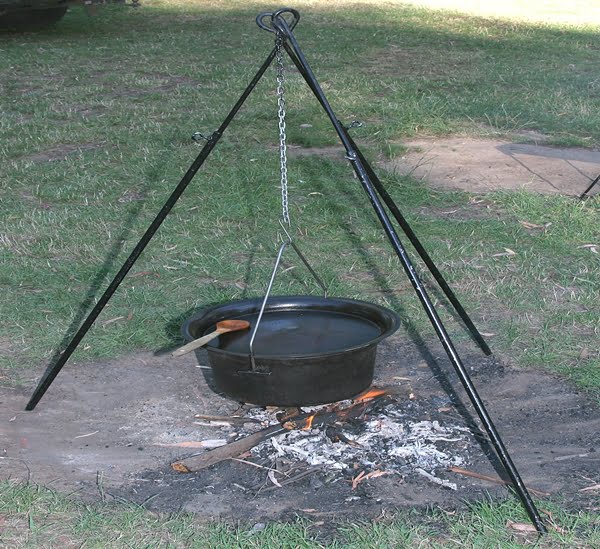 The unique design makes the BushKing a most versatile fireside companion as camp oven, frypan and saucepan. To heat the camp oven you can choose to use campfire coals, Heatbeads, dry sticks or the purpose designed Hillbilly KingCooker gas conversion for maximum flexibility in use across environmental and weather conditions.
Take a look at the range of accessories available (including baking trivet, vegie roasting ring, pot stand, gas conversion, carrybag and cookbook) and you'll know it really is the most versatile camp oven system available. Check out our complete BushKing Kit packages. Dimensions: 12.5 litre, 415mm widest diameter – lid, Weight 4.6Kg
The Hillbilly Cookbook – featuring 200 easy recipes to try out with your Hillbilly Camping Gear is written specifically for the Aussie camper, it is a must have to make your bush cooking a gourmet experience.
Hillbilly Camp Oven Carrybag Manufactured from a tough heavy weight canvas the carrybag keeps your camp oven and all its accessories together and easy to transport. Weight 0.8Kg
Now there is also a broad range of Hillbilly products that will add even more pleasure to your outdoor living experience. These include frypans, woks, cooking stands, tent pegs, tent peg puller, Billy cans, kettles, hot water boiler, BBQ grills, fireside spit, general camping accessories, etc.
Contact at: Hillbilly Camping Gear, 21A Kevin Avenue, Ferntree Gully, Vic, 3156.
P: 0407 540 005 F: 03 8678 3931 E: Sales@campingwithhillbilly.com