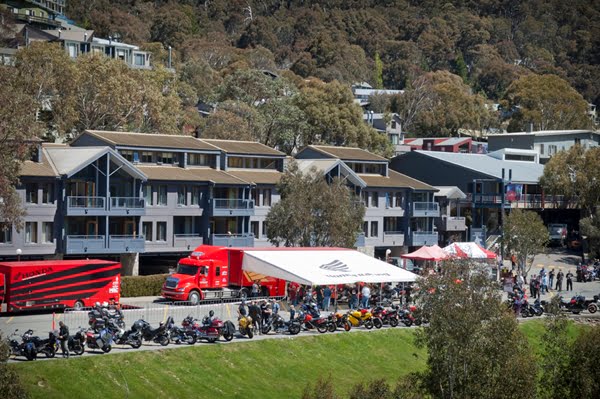 Registrations are now open for the 2013 Snowy Ride. This annual event, which has grown to be the largest of its kind, has helped the Steven Walter Children's Cancer Foundation raise around $5 million for childhood cancer research since its inception 13 years ago.
Honda Australia continues its unwavering support for the Snowy Ride and looks forward to the 2013 event which will take place on November 2, 2013 in the beautiful Snowy Mountain region of New South Wales.
For more information or to register visit: www.snowyride.org.au
For 2013, Honda has donated both a first and second prize motorcycle for two lucky Snowy Ride participants. First prize will be Honda's sports touring VFR800F which is a machine tuned so well that it feels just as comfortable and confident flying up and down mountain passes as it does cruising along the highway. The second prize will be a championship-winning CRF250X which offers riders light weight tractable power and exceptional handling for the ultimate in enduro riding. All participants will go in the draw to win.
Attracting riders, pillions, manufacturers and service providers from all over the country, the Snowy Ride has grown to become the largest community motorcycle event in Australia.
Every week on average three children in Australia lose their battle with cancer, the Steven Walter Children's Cancer Foundation has the vision of achieving 100% survival for all children and the prevention of their suffering. The Steven Walter Children's Cancer Foundation has a commitment to raising funds for much needed and vital cancer research, supporting the provision of a full range of clinical services to patients, tertiary care and health promotion and prevention programs for children and adolescents.
The origins of the foundation lay in the wishes of Steven Walter, a young man who lost his 8 year battle with cancer in 2000 at the age of 19. His love of motorcycling and personal wish led to the inception of both the Snowy Ride and the Steven Walter Children's Cancer Foundation.
Honda Australia is proud to have shown strong dedication to the Snowy Ride since its inception and looks forward to working with the Steven Walter Children's Cancer Foundation into the future.
Register now to participate in the 2013 Snowy Ride: www.snowyride.org.au