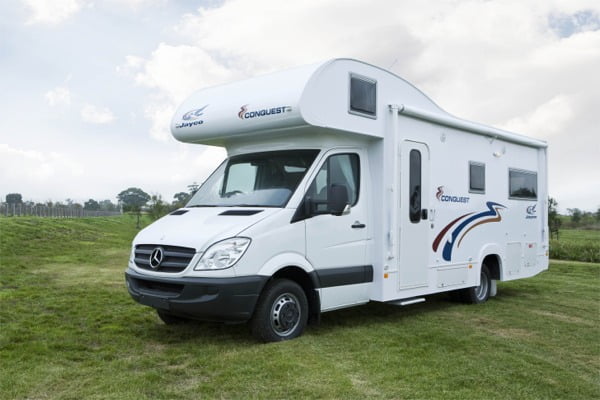 Jayco and Mercedes Benz have joined to produce the Conquest Motorhome on the Mercedes Benz Sprinter chassis and is available in three 25 foot models.
Australia's largest recreational vehicle manufacturer, Jayco, has joined forces with Mercedes Benz to create one of the highest quality and best value motorhomes on the market.
The Jayco Mercedes Conquest was launched in March this year, and Jayco's Motorhome Manager, Bruce Astbury, said sales figures so far are impressive.
"The new Conquest represents a partnership of two great companies, Jayco and Mercedes Benz. Both groups are known for quality in manufacturing and design, and our customers recognise this," Mr Astbury said.
The Mercedes Sprinter chassis offers rear wheel drive, a greater towing capability of up to two tonnes, and an increased carrying capacity of 4490 GVM.
Mercedes Benz also offers a 2 year / 200,000km warranty and roadside support.
"Owners of a Jayco Mercedes Conquest motorhome benefit from Mercedes' large nationwide service network," Mr Astbury said.
The 2010 Jayco Mercedes Conquest motorhome is available in three new 25 foot (7.7m) layouts. Each design has been created to optimise comfort and convenience for the discerning traveller.
Layout one sleeps up to six people with a separate shower and toilet, layout six offers single beds and layout five features an island bed – a rare feature in 25 foot motorhomes.
Like all 2010 Conquest models, the interior includes fresh fabric and upholstery design, as well as a choice of tasteful bench top finishes. Standard internal features include a microwave oven, three way fridge, innerspring mattress, four burner cooker and an LCD TV and DVD player.
Also standard is a reversing camera and sensors for driving ease, as well as an electric step for hassle-free entry and exit.
"Jayco has been making motorhomes for five years and is one of the country's biggest motorhome manufacturers. Our large buying power means that the Conquest offers RV owners tremendous value for money," Mr Ryan said.
"The 2010 Conquest will get you safely where you need to go in comfort and ease."