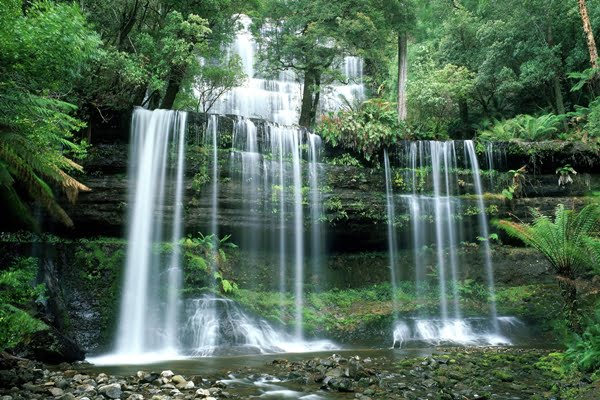 Nestled in some of the most picturesque scenery in Tasmania is Mt Field National Park, Tasmania's oldest national park, which is also one of the oldest reserves in Australia. I visited during January and whilst the days were beautifully sunny, by mid-afternoon the cool, crisp air descended and out came the layers.
We stayed in the camping ground at Russell Falls for a few days whilst we experienced nature in its purest form and de-stressed from daily living! Magic moments which will be etched in our minds forever. This is truly one of the most beautiful places to visit. If you can, stay a few days, you will leave renewed in mind, spirit and body.
Mt Field is one of Tasmania's most diverse national parks. At the base tall forests charm hikers whilst at the summit plant enthusiasts can submerge themselves in the unique alpine plants with 13 plant species recorded as rare in Tasmania. There are lots of facilities for day visitors, so if you can't stay a few days, a day is still a magical experience.
Essentially the park is divided into two visitor sections. The first is around the park entrance and includes the Visitor Centre, picnic facilities and Russell Falls. The second is centered at Lake Dobson and includes the long day walks and skiing areas. Between the two areas is a 16 kilometer unsealed road.
There's plenty of activities to be involved in from walking (even a wheel-chair access walk to Russell Falls) to skiing on the peaks. Here's my pick of the top 10.
1. Check out the visitor center at the entrance to the park. It really is worth it and it gives you an overall view of the area. You can also get a caffeine fix and some sugar hits there.
2. Russell Falls walk. Now this is worth it. It's a wheelchair grade walk to Russell Falls and it is the most popular track in the park. This three-tiered waterfall is approached through a forest of towering tree ferns with some of the tallest trees in the world to be found. A definite photo shoot.
3. Walks, walks and more walks, Horseshoe Falls, Lady Barron Falls, Seagers Lookout, Tarn Shelf,  Marriotts Falls,  Snow Gum Track
4. And for the more adventurous: Mt Field East via Lake Nicholls, Lakes Belton and Belcher, Tarn Shelf Circuit, Tarn Shelf return via Lake Newdega, Twilight Tarn and Lake Webster.
5. Have a picnic. Try the areas close to the visitor center or at Lake Dobson.
6. During summer, rangers lead a variety of activities such as walks and talks for both adults and children. Besides being lots of fun these are a great way to learn about our national parks, wildlife and heritage.
7. For the skiing enthusiast, Mt Field National Park is home to one of Tasmania's two downhill skiing areas.  There are three tows – two on the slopes of Mt Mawson and one on the slopes of the Rodway Range.
Where to Stay
1.  Camping Ground/Caravan Park
Camping and caravan facilities are available near the park entrance. The campground is set in a pleasant forest by the Tyenna River. It has excellent facilities, including 14 powered sites, unpowered sites, a toilet and shower block with coin-operated washing machines and clothes driers and a communal cooking shelter with free electric barbeques and sink with hot water.
2. Government Huts
Situated at approximately 1000m elevation, the Government Huts provide an excellent base for experiencing the alpine regions of the Park. There are many walks within the Park, of which many start only 10 minutes from the location of the huts. The huts are located 15 kilometres from the Park entrance along the Lake Dobson Road. They are nestled amongst snow gums, and overlook a beautiful alpine moorland. They are about a ten minute walk from Lake Dobson.